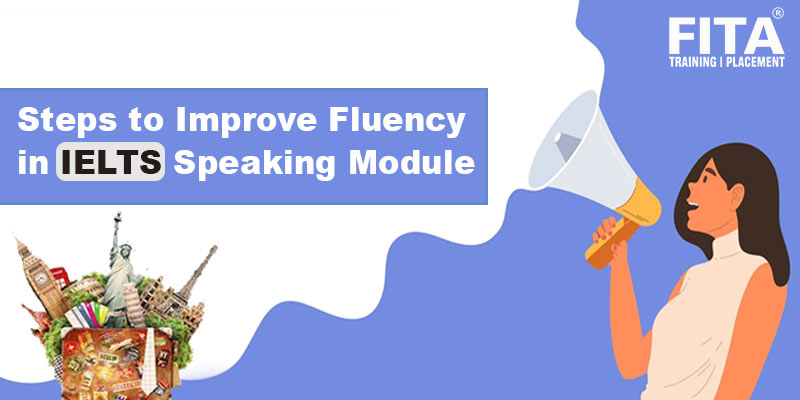 Fluency is crucial to getting higher band scores in IELTS speaking module. Fluency means something other than fast pace and talking with an accent. It is how you speak everyday English at a comfortable pace and good vocabulary. The examiner must understand what you say. The speaking test is just 11-14 minutes, so you must train to speak appropriately in that time without lag and with proper grammar. This blog lets us know how to improve fluency and other IELTS speaking tips necessary in the IELTS speaking module. Learn IELTS coaching in chennai and get trained to improve your fluency in the English language.
Not so fast or not so slow
When speaking, try to be not so fast or not so slow. English has a different pace compared to your native language. So do not speak English as you speak your native language. Give pause where needed and go at a reasonable speed so the examiner can understand you. Speaking clearly yet boldly gives you higher band scores.
How to do this? Practise yourself talking and record it in a short time of a minute. Listen to it again and see how clear you are. Make a list of words you cannot understand from your speech. Otherwise, please give it to a peer who can tell whether they understand. Practise the words that are not clear and speak more again and again.
Never think in your native language
Thinking in one's native language and translating to the English language never works. English has a separate set of grammar when compared to Indian languages. So when someone tries to translate the phrase as it is from their native language. It loses its meaning and gives a different sense that must be explained. Primarily try to think in English. Try to speak more to your peers in English so that you gain fluency in English like your native language.
Balance vocabulary and fluency
People tend to go either way: vocabulary or fluency. IELTS speaking tip is to balance it. People pause a lot in their speeches while finding the perfect word. Sometimes giving an easy word is not wrong. It is just that you need to convey what you have in your mind. It need not have fancy words. So try to polish your vocabulary but still keep the fluency.
Sometimes making mistakes is okay
Rather than pausing or waiting to think about the grammatical structure, you could make a mistake and move on. This does not make you waste time and go on the right track. It does not mean that we should talk with the wrong grammar. But one or two mistakes are better than losing a whole lot of time.
The examiner may need help finding it quickly or is okay with it. We make lots of mistakes while speaking compared to writing. The examiner may take it as a slip and let you off. But prioritise grammar. One or two errors are acceptable. You can also correct your mistakes after realising them. This saves you more time than pausing and thinking about it. This is an important speaking tips for IELTS.
Do not show off
Many candidates tend to show off in order to impress the examiner by using way more challenging vocabulary and lose the actual context of what they want to say. Keeping it simple works more than using more complex words. IELTS is a test for language proficiency, not ideas. So use proper language rather than complicated, complex ideas that are difficult to put into words.
The best suggestion is to talk about what you know and use proper language and grammar. Practise common topics with keywords or ideas beforehand to structure the speech efficiently.
Use Simple linkers
While speaking, use simple linkers like, for example, but, because, although, but also, hence and therefore. This makes your speech look polished and has good fluency too. Practise speaking about specific topics and summarise what you have read in under a minute. It hugely helps because we use lots of linking words when summarising. This also helps in your writing module. And you read a lot about specific topics, and you gather ideas which is an essential English speaking tip.
Structure what you want to speak
Start easy and build on the idea. Do not jump and make it complex while speaking. Practise what you know first and then slowly build on it. As they say, practice makes everyone perfect. It is okay if you can not think of anything at the start. Start speaking about what you know. Conceptualise your ideas into simple sentences, then build on them and improve them on the course. When the examiner asks a question, try to state the answer directly first and then extend your answer. This gives you time to think about it and also gains you more time.
If it is a more complex question and you can not think of the answer as it needs time to structure it, you can repeat the question to not pause in between. Again, this is in the motto of keep it simple.
Use appropriate vocabulary
Using topic-related vocabulary is a critical IELTS speaking tip. Take a list of words you can use for a particular topic and practise. If the topic is scientific or historical, try to use the facts. Use not-so-common phrases and vocabulary so that it shows your level of english. The use of a dictionary is also vital.
Pronunciation
Pronunciation in the English language is critical. It is the use of proper phonetics without being misunderstood. You should also know when to pause and give correct stress in the sentences.
Be Confident
Confidence is essential in speaking. Keep in mind that the examiner awards points for your body language. So try to be bold and audible in your speaking. Practise before a mirror or speak with a friend or colleague. This boosts your confidence. When you feel nervous, take deep breaths, which helps calm yourself. Have a positive thinking "you can do it" vibe. Never think it would not be possible; this makes you mentally strong and encourages your confidence. Make eye contact with the examiner throughout the exam, have a good smile and listen to what he says. Examiners like candidates who pay attention.
End summary
Candidates who are trying to get into a high tier college, must get a higher band score. If you are planning to go to Germany for higher studies, Learn German classes in Chennai to get good German skills. To conclude, follow these IELTS speaking tips. Firstly, reading and listening to English as much as possible is essential. This may help you to familiarise yourself with the language and improve your comprehension. You can read books, newspapers, and online articles or listen to podcasts, audiobooks, and music in English.
Secondly, practice speaking as much as possible. You can join English-speaking clubs, attend language classes, or converse with native speakers. Regular practice will help you build confidence, improve your pronunciation, and develop your vocabulary.
Thirdly, work on your grammar and sentence structure. Learning the rules of English grammar and sentence structure will help you to speak more accurately and confidently. You can use online resources and grammar books or hire a tutor to help you with this.
Fourthly, use online tools and resources to enhance your learning experience. Many online resources are available to help improve your fluency, such as language learning apps, grammar checkers, and online dictionaries.
Finally, focus on your nonverbal communication. It's amazing how much our facial expressions, body language, and tone of voice can affect the way our words are perceived. Pay attention to your nonverbal communication and convey confidence and enthusiasm when speaking. For more tips in IELTS speaking, Join IELTS coaching classes in Bangalore and ace your speaking test.