Course Highlights and Why Machine Learning Course in Bangalore at FITA Academy?

The Machine Learning Course in Bangalore is a certification-specific program that shares its syllabus with several MNC certifications.

FITA Academy training programs provide flexible learning options for the learners. They can choose to attend offline classes, live online, or recorded classes.

The Machine Learning Training in Bangalore offers regular pace and fast track options for the students.

This course adopts hands-on classes and live projects for a faster learning experience and outcomes.

The best Machine Learning Course in Bangalore covers relevant sections from scratch. It is appropriate for all types of individuals who are new or experienced in the subject.

Practice sessions and mock tests exist for self-evaluation after the conclusion of every topic.

The Machine Learning Training Institute in Bangalore has a placement support system with a distinct network of 1000+ small and large-scale companies.

Describe the role of Machine learning in the current industry.

Differentiate between supervised and unsupervised learning.

Explore logistic regression, classification, clustering, and association.

Learn to train your datasets using
Big Data
.

Master data exploration, preprocessing, and feature engineering.

Understand reinforcement learning, autoencoders, random forests, decision trees, association rule mining, etc.

Deploy popular libraries, packages, frameworks, and tools.

Navigate through data analysis, predictive analysis, time series analysis, etc.

Gain
AI
modeling, deep learning, neural networks, etc., skills.

Apply ML algorithms on natural language processing, recommendation systems, and computer vision.

Discuss the career opportunities for professionals with Machine Learning skills.
Upcoming Batches
11-12-2023
Weekdays
Monday (Monday - Friday)
14-12-2023
Weekdays
Thursday (Monday - Friday)
16-12-2023
Weekend
Saturday (Saturday - Sunday)
23-12-2023
Weekend
Saturday (Saturday - Sunday)

Classroom Training
Get trained by Industry Experts via Classroom Training at any of the FITA Academy branches near you
Why Wait? Jump Start your Career by taking the Machine Learning Course in Bangalore!
Instructor-Led Live Online Training
Take-up Instructor-led Live Online Training. Get the Recorded Videos of each session.
Travelling is a Constraint? Jump Start your Career by taking the Machine Learning Online Course!
Trainer Profile
Our Machine Learning mentors are certified experts in the topic.
The trainers at the Machine Learning Course in Bangalore share employment experience of 15+ years.
Mentors in this program have delivered innovative solutions and student success stories with their Machine Learning expertise.
Our trainers are responsible for the theoretical and practical development of learners in the top Machine Learning practices.
Mentors in the Machine Learning Training in Bangalore have taught almost 5,500 students every year.
Our trainers deploy up-to-date topics, techniques, and tools in the course syllabus to keep up with the changing times.
FITA Academy mentors adopt hands-on classes and live projects to ensure speedy understanding and performance.
Interested learners can avail of career counseling for queries and placement assistance.
Mentors in the best Machine Learning Course in Bangalore have encouraged more than 72% of learners to attempt global credentials. The success rate in passing or earning desired scores is 100%.
Learn at FITA Academy & Get Your
Dream IT Job in 60 Days
like these Successful Students!

Features of Machine Learning Course in Bangalore at FITA Academy
Real-Time Experts as Trainers
At FITA Academy, You will Learn from the Experts from industry who are Passionate in sharing their Knowledge with Learners. Get Personally Mentored by the Experts.
LIVE Project
Get an Opportunity to work in Real-time Projects that will give you a Deep Experience. Showcase your Project Experience & Increase your chance of getting Hired!
Certification
Get Certified by FITA Academy. Also, get Equipped to Clear Global Certifications. 72% FITA Academy Students appear for Global Certifications and 100% of them Clear it.
Affordable Fees
At FITA Academy, Course Fee is not only Affordable, but you have the option to pay it in Installments. Quality Training at an Affordable Price is our Motto.
Flexibility
At FITA Academy, you get Ultimate Flexibility. Classroom or Online Training? Early morning or Late evenings? Weekdays or Weekends? Regular Pace or Fast Track? - Pick whatever suits you the Best.
Placement Support
Tie-up & MOU with more than 1500+ Small & Medium Companies to Support you with Opportunities to Kick-Start & Step-up your Career.
Why Learn Machine Learning Course in Bangalore at FITA Academy?
Live Capstone Projects
Real time Industry Experts as Trainers
Placement Support till you get your Dream Job offer!
Free Interview Clearing Workshops
Free Resume Preparation & Aptitude Workshops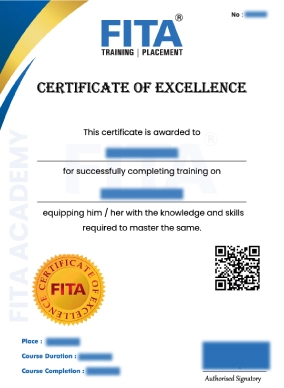 Machine Learning Certification Training in Bangalore
At the successful finishing of the Machine Learning Training in Bangalore, FITA Academy awards the candidate with a course completion certificate. Most organizations recognize this certificate as validation for the effort invested in this subject. This certificate provides credibility to the skills and concepts you acquired in the duration of enrollment. It acts as verification for passing all the assignments, assessments, and projects to become a successful Machine Learning expert.
The Machine Learning course certificate at FITA Academy is fit to confirm your proficiency in this field. However, mentors at FITA Academy motivate learners to test this expertise beyond the course, with relevant credentials.
The most well-known credentials to add to your achievements are known as:
AWS Machine Learning Certification
IBM Machine Learning Certifications
Google Machine Learning Certifications
Professional Certificate Program in Machine Learning and Artificial Intelligence by MIT
Some popular questions about these certifications are below:
1.How to enroll in these certification exams?
You can take up these exams online at your preferred location.
2.Who can qualify for these certifications?
There are no specific eligibility criteria for these certification exams. However, a bachelorette degree in computer science is best before attempting any of them.
3.What are the certification exam details?
The exam details cover multiple-choice questions or hands-on projects, depending on the certification you choose.
4.How long does it take to earn these certifications?
These certifications are self-paced and may take months to complete, depending on the speed of the learner.
5.What is the minimum score to earn these certifications?
The minimum passing score for these credentials is mostly around 80%.
6.After how many years do these certifications expire?
These certifications do not expire. Nonetheless, a professional should consider renewing them to stay credible to the industry.
7.What is the approximate cost for earning these certifications?
The price for each certification differs globally and with time.
For more information, feel free to consult with the trainer or support team from the official page.
Have Queries? Talk to our Career Counselor for more Guidance on picking the
right Career for you!
Placement Session & Job Opportunities after completing Machine Learning Course in Bangalore

Machine Learning is an established field in the industry today that pulls higher revenue each year. It is for individuals interested or working in job roles revolving around Engineering, Programming, Artificial Intelligence, Deep Learning, Robotics, Big Data, Business Intelligence, Data Analytics, Neural Networks, Software Development, Technical Support, etc. This subject is best for professionals motivated to explore a career in Machine Learning or related roles. As of now, naukri.com delivers around 64379 full-time and part-time job openings for Machine Learning and related careers in India. Some examples are Senior Artificial Intelligence Engineer, Machine Learning Engineer, Data Scientist, Data Science Engineer, Senior Software Engineer, Full Stack Data Science Engineer, Software Developer, Full Stack Machine Learning Engineer, MLOps Engineer, Senior Researcher, Machine Learning Architect, Technical Lead, Data Mining Engineer, R&D Engineer, Data Analyst, Associate, NLP Engineer, etc. Some enterprises hiring Machine Learning experts are Accenture, IBM India, RBS India Development, Mphasis, India Infoline, etc. After 2021, the average annual earnings for a Machine Learning expert are approximately $112K globally. In India, it amounts to around Rs 6.9 lakhs.
Nevertheless, these figures change exponentially with time, experience, location, proficiency level, enterprise, and position in the industry you hold. With the Machine Learning Training Institute in Bangalore, you can be at peace about your career goals or ambitions.
Success Story of Machine Learning Course in Bangalore
The Machine Learning Training in Bangalore has proven to be very knowledgeable for my career. I enrolled in this course hoping for some fascinating skills, but the trainers and team provide so much more. I am seriously considering taking up Machine learning as a career now. With FITA Academy's career assistance, I am confident there would be no issue in my undertaking.
I concluded the Artificial Intelligence Training from this institute recently. Therefore, I felt encouraged to take up the Machine Learning course in Bangalore. My opinion on academic programs has transformed post-FITA Academy. They include the best industrial concepts and practices in their modules. Thanks to them, I can now pursue projects independently.
FITA Academy has the best Machine Learning Course in Bangalore. It is proficient with industrial practices and also student-friendly for beginners. I did not have any issues with scheduling or missed classes because of the team. At the end of the course, I found myself an expert in more than just Machine Learning.
The Machine Learning Training Institute in Bangalore is a balanced program for learners. It has the right amount of theory and practical classes to aid learners who are new to the subject. As someone with an intermediate level of knowledge, there were still plenty of topics to learn and implement for me. My time at FITA Academy has been an enjoyable one.
Mentors at FITA Academy are cooperative and approachable without a doubt. It was due to their responsible nature that studying in this course has been a cakewalk. My friends are also happy to witness my newfound skills and confidence. The syllabus is well put together and to the point. Hence, the Machine Learning Course in Bangalore is not a waste of time.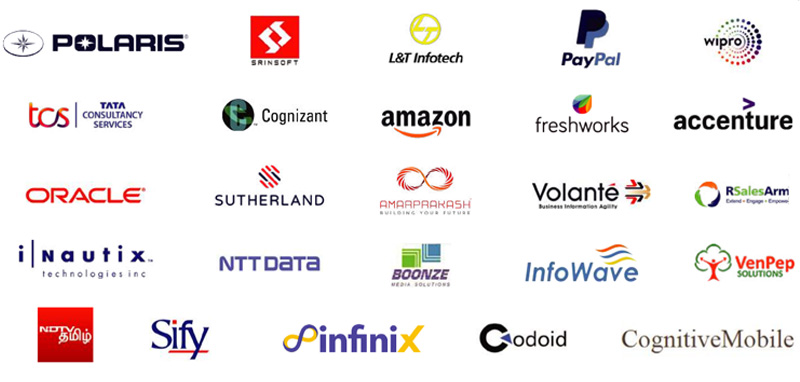 Frequently Asked Question (FAQ) about Machine Learning Course in Bangalore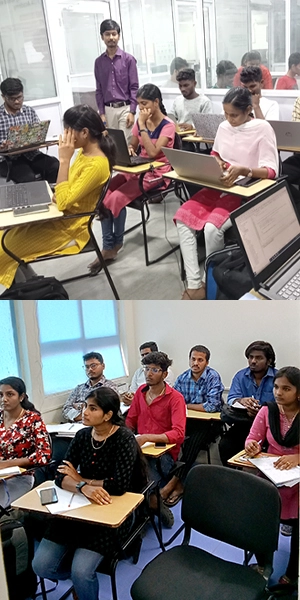 Machine Learning is the training of data using algorithms to bring about innovative solutions. It is an efficient method to reduce labor and speed up enterprise activities. As an interdisciplinary field, it houses several other domains like Big Data, Artificial Intelligence, Deep Learning, etc. It is also known for gathering insights and trends existing in the market today. With this skill, professionals can impact their lives and several others positively.
FITA Academy houses the best Machine Learning Course in Bangalore. It explores the necessary skills for building innovative projects and solutions. Thus, this course deals with some of the top concepts to ensure your absolute proficiency. They include supervised and unsupervised learning, regression, classification, clustering, deep learning, natural language processing, artificial intelligence, neural and convolution networks, computer vision, big data analytics, predictive analysis, etc.
The course syllabus is up-to-date with the overall enterprise expectations. The exercises, mock tests, hands-on sessions, and projects revise all the topics relevant for Machine Learning expertise or related industry benefits. With this course, you can attain career perks for various interdisciplinary fields or subjects.
Trainers in this course are certified experts in the subject. They ensure technical and soft skill proficiency for interviews relevant to most professions. Students from computer science and engineering backgrounds are best suited for enrolling in this course. You can choose to study at the Machine Learning Training Institute in Bangalore or through online methods. At FITA Academy, our programs ensure that your existing potential gets recognized in the industry.