Course Highlights and Why Machine Learning Course in Hyderabad at FITA Academy?

FITA Academy's Machine Learning Course in Hyderabad is meticulously structured to align with international industry standards. The curriculum has been thoughtfully crafted by industry experts to ensure a comprehensive understanding of the concepts.

The premier Machine Learning In Hyderabad offers comprehensive coverage of essential topics, starting from the fundamentals. This course is suitable for individuals of all backgrounds, whether they are newcomers to the subject or have prior experience.

Our course is led by expert machine learning instructors, each boasting over 8 years of practical experience in the field. Their wealth of knowledge ensures that students receive top-notch guidance.

The Machine Learning training program covers a wide range of concepts and methodologies, providing students with a strong foundation in this field.

We also offer regular review sessions to help students reinforce their understanding of previously covered material. FITA Academy in Hyderabad provides state-of-the-art smart classrooms for hands-on machine learning training, enhancing the learning experience.

Upon successful completion of the Machine Learning In Hyderabad, FITA Academy extends 100% Placement Assistance to eligible students. Our extensive network includes collaborations with more than 600 companies, ranging from small businesses to large corporations.

To further support our students in making informed career choices, FITA Academy has a dedicated Placement Cell that provides valuable guidance and assistance.
Upcoming Batches
| | | | |
| --- | --- | --- | --- |
| 09-12-2023 | Weekend | Saturday (Saturday - Sunday) | |
| 11-12-2023 | Weekdays | Monday (Monday - Friday) | |
| 14-12-2023 | Weekdays | Thursday (Monday - Friday) | |
| 16-12-2023 | Weekend | Saturday (Saturday - Sunday) | |

Classroom Training
Get trained by Industry Experts via Classroom Training at any of the FITA branches near you
Why Wait? Jump Start your Career by taking the Machine Learning Training in Chennai!
Instructor-Led Live Online Training
Take-up Instructor-led Live Online Training. Get the Recorded Videos of each session.
Travelling is a Constraint? Jump Start your Career by taking the Machine Learning Online Course!
Trainer Profile
The instructors at FITA Academy provide a hybrid approach that combines academic and practical knowledge of machine learning ideas.
The trainers are in charge of educating students in the best machine learning techniques, both theoretically and practically.
Students' knowledge is improved by FITA Academy Upskills by providing thorough training in machine learning algorithms and the most recent practises that are applicable to the industry.
The instructors have more than ten years of real-world experience.
The instructors update the course material to include modern topics, techniques, and resources in order to stay current.
Experienced specialists with active careers in the industry teach practical, hands-on Machine Learning techniques at Machine Learning In Hyderabad.
To keep up with changing trends, our instructors incorporate modern topics, approaches, and tools into the course curriculum.
The instructors help students prepare for job interviews by assisting them in creating professional resumes and boosting their confidence through insightful analysis of interview questions and simulated interview sessions.
Learn at FITA Academy & Get Your
Dream IT Job in 60 Days
like these Successful Students!

Features of Machine Learning Course in Hyderabad at FITA Academy
Real-Time Experts as Trainers
At FITA Academy, You will Learn from the Experts from industry who are Passionate in sharing their Knowledge with Learners. Get Personally Mentored by the Experts.
LIVE Project
Get an Opportunity to work in Real-time Projects that will give you a Deep Experience. Showcase your Project Experience & Increase your chance of getting Hired!
Certification
Get Certified by FITA Academy. Also, get Equipped to Clear Global Certifications. 72% FITA Academy Students appear for Global Certifications and 100% of them Clear it.
Affordable Fees
At FITA Academy, Course Fee is not only Affordable, but you have the option to pay it in Installments. Quality Training at an Affordable Price is our Motto.
Flexibility
At FITA Academy, you get Ultimate Flexibility. Classroom or Online Training? Early morning or Late evenings? Weekdays or Weekends? Regular Pace or Fast Track? - Pick whatever suits you the Best.
Placement Support
Tie-up & MOU with more than 1500+ Small & Medium Companies to Support you with Opportunities to Kick-Start & Step-up your Career.
Why Learn Machine Learning Course in Hyderabad at FITA Academy?
Live Capstone Projects
Real time Industry Experts as Trainers
Placement Support till you get your Dream Job offer!
Free Interview Clearing Workshops
Free Resume Preparation & Aptitude Workshops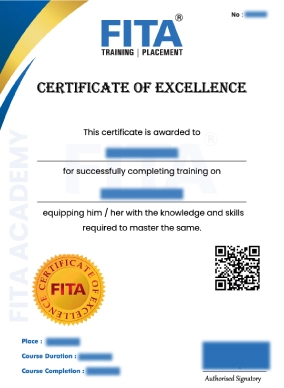 Machine Learning Certification Training in Hyderabad
A Machine Learning Course Certification represents a valuable professional accreditation, signifying a candidate's comprehensive grasp of Machine Learning Algorithms and their practical application. Machine learning is crucial in the field of artificial intelligence (AI), enabling software applications to make precise predictions without explicit programming. The completion of a real-time project as an integral part of this course certification validates the candidate's proficiency as a Machine Learning Engineer. The inclusion of this certification in one's resume enhances their standing in job interviews and opens up a multitude of career opportunities. FITA Academy extends 100% Placement Assistance to eligible students, boasting an extensive network of partnerships with over 600 companies, ranging from small enterprises to major corporations.
The Machine Learning Certification Course offered by FITA Academy in Hyderabad refines the fundamental skill sets necessary for excelling as a professional Machine Learning Engineer under the guidance of our industry-seasoned experts. Our Machine Learning Training in Hyderabad is conducted by professionals with more than 8 years of practical experience in the field of Machine Learning. Additionally, participants can avail themselves of advantages such as interview coaching and corporate training.
Have Queries? Talk to our Career Counselor for more Guidance on picking the
right Career for you!
Placement Session & Job Opportunities after completing Machine Learning Course in Hyderabad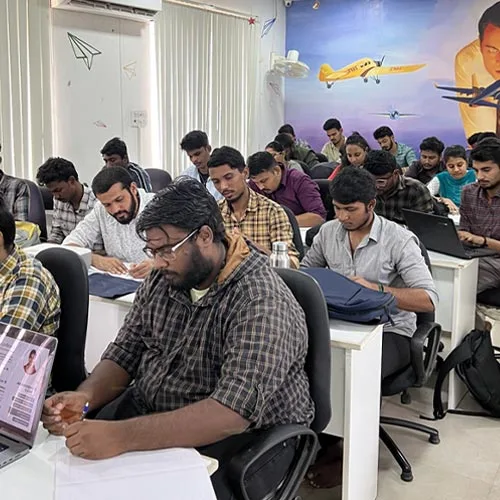 In recent years, the field of machine learning technology has attracted substantial attention from the IT community. This increased interest can be attributed to its widespread adoption across various sectors, including Automotive, Robotics, Information Technology, Gaming, Banking and Finance, Media, and Entertainment. In these industries, organisations are harnessing Machine Learning techniques to enhance their operations.
According to reports released by Gartner Inc., Machine Learning Technology was forecasted to create around 2.3 million job openings by the conclusion of 2020. Moreover, it was expected that Machine Learning would generate 9.8 times more jobs compared to three years prior. Notable companies actively hiring Machine Learning Engineers encompass renowned names such as Google, Amazon, Adobe, Facebook, Apple, Bosch Group, Accenture, Wipro, Uber, and JP Morgan Chase & Co.
Examples of roles within this domain include Senior Artificial Intelligence Engineers, Machine Learning Engineers, Data Scientists, Data Science Engineers, Senior Software Engineers, Full Stack Data Science Engineers, Software Developers, Full Stack Machine Learning Engineers, MLOps Engineers, Senior Researchers, Machine Learning Architects, Technical Leads, Data Mining Engineers, R&D Engineers, Data Analysts, Associates, NLP Engineers, among others.
Several prominent companies that actively recruit Machine Learning experts include Accenture, IBM India, RBS India Development, Mphasis, India Infoline, and more. On average, entry-level Machine Learning Engineers in India can anticipate an annual salary ranging from Rs. 7,50,000 to Rs. 8,20,000, while globally, Machine Learning Engineers earn an average yearly salary of approximately US $108,547. To access information about the salary prospects for Freshers in the field of Machine Learning Engineering, please visit our website. Completing the Machine Learning Course in Hyderabad at FITA Academy significantly enhances job prospects, as there is a robust demand for machine learning engineers in the industry. To know more about Machine Learning Engineer Salary for Freshers, visit our website now!
Success Story of Machine Learning Course in Hyderabad
I had an incredible experience learning machine learning at FITA Academy in Hyderabad. The course was well-structured, and the trainers were highly knowledgeable. They facilitated understanding of difficult ideas, and I appreciated their practical approach. The hands-on projects were my favourite part, as they gave me the confidence to apply what I learned in real-world scenarios. I'm now working on machine learning projects at my job, and I owe it all to FITA Academy for providing me with the skills and knowledge I needed.
My journey with FITA Academy for the Machine Learning course was truly transformative. The course content was up-to-date, and the instructors were patient and supportive throughout. They encouraged us to think creatively and solve real-world problems using ML techniques. The regular assessments and assignments helped me gauge my progress effectively. I now feel confident in my ML skills and have even started contributing to open-source ML projects. FITA Academy in Hyderabad is the place to be if you're serious about a career in machine learning.
I can't thank FITA Academy enough for their outstanding Machine Learning course in Hyderabad. The trainers were not only experts in the field but also excellent educators. They simplified complex algorithms and models, making them accessible to all students. The practical labs and group projects were enlightening, as they allowed us to collaborate and learn from our peers. The post-course support in terms of job placement assistance was invaluable. I landed a job in a leading tech company shortly after completing the course, and I attribute my success to FITA Academy.
FITA Academy's Machine Learning course in Hyderabad was a game-changer for me. The curriculum was comprehensive and covered both the fundamentals and advanced topics in ML. The trainers were approachable, and I felt comfortable asking questions. The hands-on experience I gained by working on real datasets and projects was instrumental in building my confidence. The course not only gave me the skills but also the necessary industry exposure. I'm currently employed as a machine learning engineer. and can't thank FITA Academy enough for their exceptional training.
My decision to enrol in the Machine Learning course at FITA Academy, Hyderabad, was one of the best I've made. The course was intensive and well-organized, and I appreciated the focus on practical applications. The trainers were dedicated to our success and provided individualised attention when needed. I particularly liked the career counselling and interview preparation sessions, which helped me secure a job as a data scientist at a reputed company. FITA Academy has been instrumental in shaping my career in machine learning, and I highly recommend their courses to anyone interested in this field.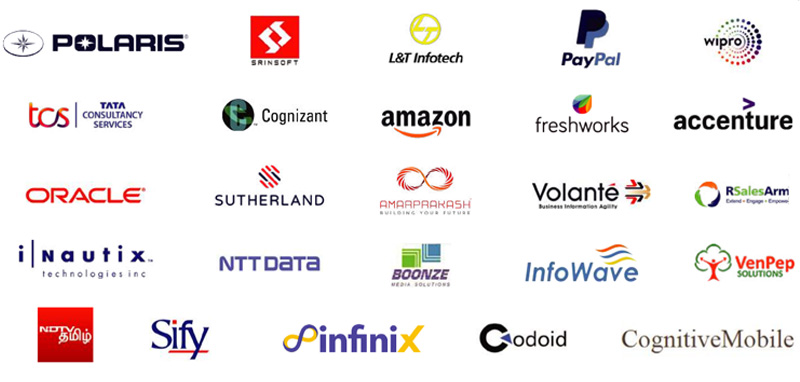 Frequently Asked Question (FAQ) about Machine Learning Course in Hyderabad
Additional Information of Machine Learning Course in Hyderabad
Machine Learning is the process of training data using algorithms to generate innovative solutions. It is a productive technique to improve productivity and streamline business operations. This interdisciplinary field encompasses various domains, including Big Data, Artificial Intelligence, and Deep Learning, among others. It is renowned for its ability to uncover market insights and trends, benefiting not only professionals but also broader audiences.
FITA Academy proudly offers the premier Machine Learning Course in Hyderabad, designed to equip participants with essential skills for developing cutting-edge projects and solutions. This comprehensive course covers key concepts to ensure mastery, including supervised and unsupervised learning, regression, classification, clustering, deep learning, natural language processing, artificial intelligence, neural and convolution networks, computer vision, big data analytics, and predictive analysis.
Our course syllabus is regularly updated to align with industry expectations, ensuring that participants are well-prepared for the demands of the business world. Through exercises, mock tests, hands-on sessions, and practical projects, all relevant topics related to Machine Learning expertise and its applications in various industries are thoroughly reviewed.
Our trainers are certified experts in the field, dedicated to enhancing both technical and soft skills, making participants interview-ready for a wide range of professions. While students with backgrounds in computer science and engineering are ideally suited for this course, It is accessible to everyone who wants to work in machine learning.
We offer flexibility in learning, allowing you to choose between in-person classes at our Machine Learning Training Institute in Hyderabad or online instruction. At FITA Academy, our programs are tailored to ensure that your untapped potential is recognised and valued by the industry.
There are several compelling reasons to choose Machine Learning Training in Hyderabad at FITA Academy:
Experienced and Competent Faculty: Our instructors are carefully chosen from industry professionals, ensuring that you receive high-quality education from experts who understand the subject matter thoroughly. They are not only knowledgeable but also approachable, making the learning experience engaging and effective.
Quality of Instruction: When you enrol in our, you can have confidence in the quality of instruction you'll receive. We are dedicated to providing you with high-quality training that gives you the abilities and information required to succeed in the field of machine learning.
Well-Equipped Infrastructure: Machine Learning Institutes In Hyderabad places a strong emphasis on providing a conducive learning environment. We have ensured that all necessary facilities are readily available at a convenient location. This includes state-of-the-art classrooms and hands-on resources to enhance both theoretical understanding and practical application.
Placement Assistance: Your career prospects are of paramount importance to us. Institutes In Hyderabad has a dedicated team of placement specialists who will guide you with valuable information about upcoming interviews and job opportunities. We are committed to helping you kickstart your career in Machine Learning.
Comprehensive Study Materials: We provide comprehensive study materials related to your course, ensuring that you have the necessary resources to support your learning journey. Even after completing your studies, we continue to offer ongoing guidance to facilitate your growth in the field.
By choosing the Machine Learning Institutes In Hyderabad, you are opting for a holistic solution that prepares you for a successful career in the field of Machine Learning. Join us today and take the first step toward a path of achievement and success.
What do you learn in the Machine Learning Course at FITA Academy in Hyderabad?
In the Machine Learning Course at FITA Academy in Hyderabad, Various themes and ideas pertaining to machine learning, artificial intelligence (AI), Deep Learning, Artificial Neural Networks, and Natural Language Processing (NLP). Here's an overview of what students can expect to learn:
Machine Learning: This course provides a solid foundation in Machine Learning, which is a key component of AI. Students learn how to create analytical models that can make accurate predictions without explicit programming. The focus is on enabling computer applications to independently access and utilise data. Visit our website for machine learning interview tips
Deep Learning: Deep Learning is a specialised subset of Machine Learning Institutes In Hyderabad. Students delve into the world of deep neural networks, which are capable of autonomous learning and intelligent decision-making. Deep Learning techniques are explored to solve complex problems.
Artificial Neural Networks (ANNs): ANNs are at the heart of Deep Learning. Students gain an understanding of how artificial neural networks are designed to mimic the functioning of human brain cells. They learn about the learning algorithms that allow ANNs to adapt and learn from new input, making them a critical component of many machine-learning applications.
Natural Language Processing (NLP): NLP is a crucial field within AI and Machine Learning. Students in the course focus on enabling computers to comprehend and work with text and spoken language, similar to human comprehension. This includes tasks like text analysis, sentiment analysis, language generation, and more.
Differentiate Variance and Bias in Machine Learning?
Variance and bias are two distinct concepts in machine learning that relate to the performance of algorithms.
Bias:
Definition: Bias refers to the error introduced by overly simplistic assumptions in the learning algorithm. It occurs when a model is too simple to capture the underlying patterns in the data.
Characteristics: A biased model has a high level of error and typically underfits the data. It doesn't generalise well to new, unseen data because it fails to capture the complexity of the underlying relationships.
Outcome: Bias leads to poor accuracy, as the model is too simplistic to make accurate predictions. It is often associated with underfitting.
Variance:
Definition: Variance refers to the error introduced by excessive complexity in the learning algorithm. When a model is extremely susceptible to the training data, it can pick up on random oscillations or noise in the data.
Characteristics: A high-variance model fits the training data very closely but may not generalise well to new data because it has essentially memorised the training examples rather than learning the underlying patterns.
Outcome: When a model is overfitted, it performs well on training data but poorly on fresh, untainted data. It frequently relates to models that are overly complicated.
In practice, The objective is to build a model that generalises well to new data by striking a balance between bias and variance. This balance is often referred to as the bias-variance trade-off. The mixture of these two components is used to reduce error and manage complexity in machine learning applications.
Taking Machine Learning In Hyderabad can be a valuable step to understanding and effectively addressing bias and variance issues in machine learning models, thereby preparing individuals for opportunities in the job market and professional advancement.
Mention some of the favourite algorithms in machine learning.
Here are some popular and widely used algorithms in machine learning:
Perceptron: The perceptron is a simple binary classification algorithm. It's the building block for more complex models like support vector machines and logistic regression. It learns by adjusting its weights using a technique like stochastic gradient descent.
Applications: Commonly used for binary classification tasks.
Boosted Trees: Boosted trees are a technique for ensemble learning that combines a number of weak learners (often decision trees) to produce a powerful predictive model. Algorithms like AdaBoost and Gradient Boosting are popular examples.
Applications: Used in a wide range of tasks, including classification and regression, and often excels in structured/tabular data scenarios.
Convolutional Neural Networks (CNNs): CNNs are a class of deep learning algorithms from Machine Learning Institutes In Hyderabad designed for tasks involving structured grid-like data, such as images and audio spectrograms. They consist of convolutional layers that automatically learn relevant features from the data.
Applications: Primarily used in computer vision tasks like image classification, object detection, and speech recognition.
Dynamic Programming: Dynamic programming is a general optimisation technique used for solving problems that can be broken down into overlapping subproblems. It's often used for searching for optimal solutions in large search spaces or with large datasets.
Applications: Widely used in various fields, including natural language processing, robotics, and operations research.
K-Nearest Neighbors (K-NN): K-NN is a simple, instance-based learning algorithm used for both classification and regression tasks. It classifies data points based on the majority class among their k-nearest neighbours in the feature space.
Applications: Used in pattern recognition, recommendation systems, and anomaly detection, among other tasks.
These algorithms are indeed among the most interesting and commonly employed in machine learning. Pursuing Machine Learning In Hyderabad can provide individuals with the knowledge and skills needed to work with these algorithms and open up career opportunities in top companies in the field.