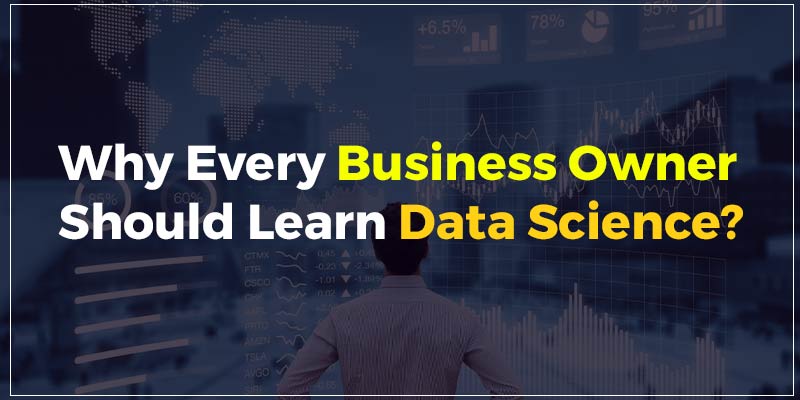 Data science is the process of finding meaningful insights in data so that companies can utilize them to solve problems. It involves analyzing data sets and using statistical methods to find patterns in the information. Data scientists use the analysis results to create predictive models for decision support systems.
Before we can understand why every business owner needs to learn data science, it's important to know what data science is and its major tasks.
Data Science Explained
Nowadays, businesses face problems because they don't have all the necessary information or misinterpret available information due to lack of skills. This is where a new type of professional – a data scientist – comes into the picture. The role of this data scientist is to help companies make better decisions.
The Data Scientist builds models that can be used for predictive analysis in various business areas, including marketing, finance, and production. A data scientist will also create mathematical formulas to analyze the impact of each decision on the company's performance or risk level.
Thus, they are responsible for making sure all information available in a company is in the right hands in order to enable executives to make smarter decisions. They utilize statistical methods to find meaningful insights in data sets. This allows them to come up with accurate predictions for upcoming events based on historical behaviour patterns.
Data Science Saves Time and Money by Boosting Businesses' Efficiency
At FITA Academy Data Science training you will have one of the most important tasks of a data scientist is to build models for predictive analysis. This means that they can predict what will happen next in the future based on past patterns and trends. Such insights are most valuable because they help companies make better decisions at less risk.
For example, suppose you own an e-commerce site. In that case, data science can provide insights on customer behaviour based on their browsing history using Big Data technologies like Hadoop (a framework of open-source software for storing and processing large amounts of data).
If your business is a retail store, it's important to know which products customers click or add to their online carts before buying them. The data science team will use this knowledge to optimize the store layout by placing goods that customers frequently purchase together on the shelves.
There are several ways that Data Science can save you money. For instance, if you own a hotel (or any other kind of business), that is resorting to service providers regularly. If you can predict how much specific services will cost in advance, it may help you save some money instead of overpaying for them.
However, if your business is an air carrier, it's important not to spend too much time and resources by constantly changing routes or trying out new ones that might not bring any benefits. The data science team will build models that will enable them to predict which routes are destined to become successful before actually starting the business.
Data Science Can Help You Understand Consumer Behavior
In today's digital world, consumers are bombarded with advertisements through all channels. As a result, they have become very good at ignoring ads that don't interest them anymore. Data science can help you capture attention by targeting the right audience and improving your marketing campaign based on insights from behavioural data analysis.
This means companies need to understand what kind of products their customers want to buy, which services or features might attract more people, etc. It also means understanding where their target market is hanging out online these days – e.g., Facebook, Twitter, Pinterest, etc.- and what kind of content caters to those potential customers' needs best. Finally, it involves making sure advertising campaigns reach as many people as possible, but not at the expense of wasting budget.
Predicting consumer behaviour means knowing what they want before they even come up with a specific wish list or idea to buy something. This can be achieved by tracking their online activities, which will provide insights into their needs, interests, and preferences. For example, suppose you are running an international cosmetics company. In that case, it might be worthwhile using data science tools for monitoring consumers' tweets about beauty problems that haven't been resolved yet. This information could then get conveyed back to your R&D department to create more effective products.
Data Science is Required for Predictive Analysis
In the present age dominated by Big Data analytics, predictive analysis is more crucial than ever before. After all, having the right information at the right time is vital for making smart business decisions. Data science companies can help you track customer behaviour based on their online activities and deliver analytics reports on what kind of products they want to buy next or which services might attract more customers.
End Summary
Even if your company already has data scientists in-house, it's always a good idea to outsource specific projects or tasks to data science firms specializing in particular industry areas like healthcare, e-commerce, etc. This is because they are familiar with Big Data technologies and advanced analysis tools companies use in your field. Besides giving you access to cutting-edge technology, outsourcing work to professionals will free up valuable time for your current employees (who can then focus on more complex projects) and guarantee the quality of the work provided.
Data growth is happening so fast, this explosive growth brings both benefits and problems for businesses with big data. To help your company thrive through this analytics boom, consider training your current workforce on advanced Data Science Online Course or how they can make effective use of this modern Data Science Course in Chennai if your business is in the metropolitan city.