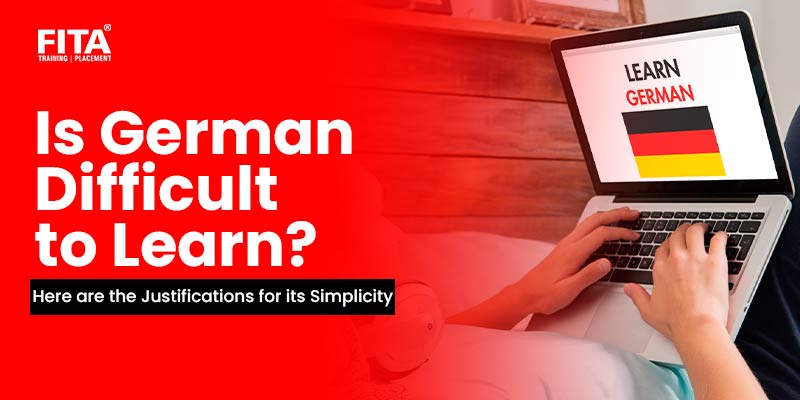 German is often considered one of the more difficult languages to learn, especially for English speakers. So is German an easy language to learn? Whether or not German is "hard" to learn and depends on various factors, such as your previous language learning experience, your level of motivation and dedication, and your learning style and preferences. Join German classes in Chennai to learn the German language perfectly and excel in your future.
Here are some elements that might make learning German a little more challenging:
Grammar
German grammar can be challenging to learn because of the variety of tenses, cases and gendered nouns. For English Speakers, the cases, in particular, are intimidating because they call for knowing and employing noun endings depending on the grammatical role of the phrase.
Vocabulary
German and English have a lot of words in common, but many words are very distinct from one another and might be difficult to learn and remember.
Pronunciation
German pronunciation is typically seen to be straightforward to master. However, specific consonants like the "ch" sound in "ich" and "ach" can be challenging for English speakers.
Now the question arises, Is German easy to learn? The answer to this is with the right approach and mindset; it can be an enjoyable and rewarding language to learn.
How long does it take to learn German?
The length of time it takes to learn German varies depending on several variables, including your prior experience learning languages, and your level of enthusiasm, considering the time you have to study each day.
German competency for English speakers requires roughly 750 hours of study, according to the Foreign Service Institute (FSI). According to this estimation, it would take roughly 30 weeks to learn the language if a learner spent about 25 hours each week doing so. It's important to remember that this estimate is based on a rigorous language-learning programme and might only apply to some. If you can commit a few hours a week to studying, learning German might be a lengthy effort with slow progress possible.
The amount of time it takes to learn German will also depend on the degree of skill you aim for. You can most likely master the fundamentals of conversation in a few months of study. However, it can take several years of steadfast practice and study if you want to master German fluency and advanced reading, writing, and speaking skills.
Here are some reasons why learning German may be easier than you think.
Similarities to English
While German may seem daunting at first glance, which makes you question, is German challenging to learn? But it actually shares many similarities with English. English and German are Germanic languages, meaning they share a common ancestor. As a result, many words in German are similar to their English counterparts, such as "Haus" (house), "Mutter" (mother), and "Vater" (Father).
Many English words have roots in German, such as "Kindergarten" and "Zeitgeist". German and English have similar grammatical structures, such as using articles and verb conjugations. They both have a similar word order, with the subject usually coming before the word.
Clear Grammar Rules
German grammar has a reputation for being complex, making people think; is German language easy to learn? But in reality, it has a clear and logical structure. Unlike English, which has many irregular verbs and rules, German follows a strict set of grammar rules that are consistent and predictable. German language also provides clear guidance on word order and the correct use of articles and pronouns. This is particularly crucial in German, where word order can vary depending on the clause type and conjunction used. And this also helps learners avoid common errors, such as confusing similar-looking words or using the wrong verb form. Once you comprehend the basic structure, you can apply it efficiently to many different situations.
Pronunciation
German pronunciation is generally easy to master. Unlike some languages that have tricky sounds or tones, German has a consistent set of sounds that are easy to recognise and reproduce. German has 14 vowel sounds, including short and long vowels. Some of these are similar to English, such as "ah" and "ee", while others are more challenging, like the umlauted vowels and special characters (ä,ü,ö,ß). Unlike English, German doesn't have many silent letters. Almost all the letters in a word are pronounced. Additionally, German has a standard pronunciation system that is used across all regions, so you would not need to worry about different accents or dialects.
Resources
Is German an easy language to learn? Learning German has always been challenging but thanks to the abundance of high-quality resources available today. One of the most popular resources for learning German is language courses. These German Language Courses can be taken in person(offline) or online and are usually taught by native speakers or experienced language instructors. Language courses typically cover all aspects of language learning, including grammar, vocabulary, reading, writing, listening and speaking. Additionally, many German language programs are designed with English speakers in mind, making them easier to understand and follow. Several options fit different learning styles and preferences, from textbooks to online classes.
Secondly, there are many language exchange programs that allow learners to practise speaking with native speakers of German. Other resources also include mobile apps, podcasts and websites. These resources offer a convenient and accessible way for learners to practise their language skills.
Opportunity for Immersion
Why learn German? German is widely spoken in many countries, including Germany, Austria and Switzerland. This means learners have plenty of opportunities to immerse themselves in the language and practise their skills in real-world settings. This is a highly effective way to develop language skills quickly. Immersion also provides learners with exposure to the culture and customs of German-speaking countries, which can enhance their understanding of the language and make it more meaningful. Additionally, many German speakers are eager to practise their English skills, so you may find it easier to communicate with them in a mutually beneficial language exchange.
Cultural Similarities
Learning a language involves more than just memorising vocabulary and grammar rules. It also involves gaining a deeper understanding of the culture and values that underpin the language. Luckily, German culture has many similarities to English-speaking cultures, particularly regarding shared history and traditions. This can make it easier to connect with and appreciate the language more deeply. German and English are both Germanic languages, which means they share a common linguistic heritage. Many words in English have German roots, and vice versa.
Both German and English have a rich literary tradition. The works of Shakespeare, for example, have been translated into German and widely read and studied in German-speaking countries and vice versa. Education is highly valued in both German and English-speaking cultures, with both countries having a strong tradition of academic excellence. Universities in both countries are highly respected and attract students worldwide. Germany and England have a strong sports culture, with football being prevalent in both countries drawing significant attention. So it is easy to learn German if you are already good at English. Learn more about the German language, from German Language courses online.
End Summary
In conclusion, While you think, Is German Hard to learn? It's important to remember that it's easier than it may appear. The languages share a common linguistic heritage, with similar words and grammar structures. The clear grammar rules and predictable sentence structure of German make learning easier. Additionally, many resources are available for language learners, including language courses, language exchange programs, and online resources. Finally, the opportunities for immersion in German-speaking countries can accelerate language learning and provide exposure to the culture and customs of German-speaking countries. Overall, with dedication and practice, English speakers can quickly gain proficiency in German and open up many opportunities for personal, academic, and professional growth. German can be a fun and rewarding language to learn. By adopting a positive attitude and consistent practice, anyone can learn German and enjoy the many benefits that come with it. Follow up on German classes in Bangalore for more tips and strategies about the German language and enhance your skills.