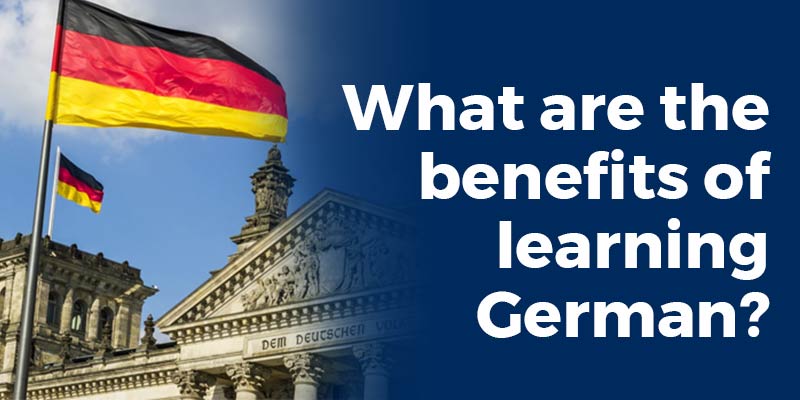 The German language is the prevailing lingua franca for international diplomacy, profession, science, and technology. At present, German is one of the influenced languages for education and extends to be notable in academia, especially science.
Germany is Europe's biggest economy in the world, the world's fourth-largest economic growth by gross Domestic product, and the world's second-largest manufacturer, making it an important language to master.
If you want to pursue your higher education or an international degree program in Germany, you can learn the German language to get in touch with Global Voices. From this blog, you can understand the importance of the German language.
To understand the nuances of the German language, you can enroll in Online German Language Course at FITA Academy which imparts the necessary skills to become a professional speaker under professional trainers. So, make use of this opportunity and learn from your comfort zone.
The German language is the popular language among various languages like Spanish, French, and Italian. Many countries owed the German language as their authentic language. The countries such as Liechtenstein, Switzerland, Austria, and Luxembourg.
There is a minimum of one million native speakers throughout the globe speaking the German language. Particularly, German has spoken language next to English and French.
Academically, there are more than 1,50,000 students learning German every year in India. purposely learning to get admission or for pursuing graduate studies in a German country.
Now, we shall see the importance of learning the German language:
Importance of Learning German Language
Germany is the world's third-largest economy, with companies like Audi, Siemens, Volkswagen, Adidas, and Lufthansa. Mastering German opens up an array of business and professional options in colleges and multinational corporations.
Germany's contribution to knowledge is immeasurable. Learning German will enable you to read literature, philosophy, and science in their native languages.
It is a necessary language for academic purposes. Germany is becoming a new appeal in the international student population for undergraduate and postgraduate degrees.
In Europe, German is the most widely spoken native language. The German language became part of education, and their culture is a part of the world's cultural heritage.
There are, however, plenty of benefits of learning German. Not only from a linguistic standpoint, but also in terms of economic prospects, networking opportunities, and cultural enrichment. German is an excellent option.
German is easy to understand
If you are an English speaker, then it is easy to learn and understand the German language. The Germanic root is inherited by both German and English. As a result, there exist tens of thousands of closely related words known as "cognates." For example, the English word Apple is Apfel in German, the word Welcome is Willkommen in German. there are plenty of similar words in German and in English. So, it is not so hard to learn, but only focus and interest are needed to acquire quickly.
In addition, like Chinese, Japanese, Korean, Russian, or Arabic, there is really no additional alphabet to acquire; only a few letters must be included. The umlauts (Vowels) ä, ö, and ü, as well as ß, which is really just a fancier German s, would be the only new arrivals if you already know Latin script. So, to learn and understand the German language you just need to follow smart strategies to have access to wider opportunities.
Job Opportunity
Fluency in German has opened up career opportunities in India in the fields such as medical and healthcare, education, logistics, automobiles, power and utilities, mass media, entertainment, tourism, information technology, financial services, outsourcing, and other fields.
You have wide asses of working in BMW, Volkswagen, Bosch, Daimler, Adidas, Allianz, Deutsche Bank, Siemens, SAP, BASF, and Lufthansa are world-renowned German companies.
In many of these international corporations, having German language abilities on your Curriculum vitae might help you advance your career.
Career Scope of German in India
Many international companies in India are looking for a German language speaker with a credential certificate. So, the german language learner has a wide scope in India and it also progresses your career opportunities with the German and international companies in India and abroad.
Many companies and academies looking, German Translators, Writers, proofreaders, content writers, and teachers are always in demand.
So, the range of German language is on growing.
Furthermore, you can also work in the german committee in New Delhi and the embassy in Chennai, Kolkata, Mumbai, and Bangalore.
Many Multinational companies like BMW, GE, Axa, Thomson, Hyundai, Accenture, Volkswagen, HP, Oracle, Samsung, Siemens, LG, Audi, Amazon, etc, hire German language specialists for enhancing their business to have wide exposure. Furthermore, to increase their business with German organizations, these companies seek good German communicators.
Widely Spoken Language
The German language is widely spoken by more than five million people including Europeans. German is the second popular language spoken after French in India.
In India, many schools and colleges have German classes and courses in their syllabus. So, this portrays that the German language has reached the growth of learning at an academic level.
Many people aspire to study French and German because they are two of the most widely spoken languages. For a variety of reasons, learning two languages may not be feasible for everyone. They must choose one of these two languages in such a case. However, they frequently become perplexed when deciding on one. They also include a number of questions, such as which language is easier to learn, French or German, and which is more advantageous to learn, and so forth.
Compared to the french language, the german language is easy to learn its syntax and German. however, to learn a second language, we need to follow strategies for learning it easily. Besides this, while learning a second language you need to focus on writing, reading, and speaking. So, apart from your native language, you are trying to learn a second language, which is completely different from syntax and Grammer.
A second language increases their chances of getting a job in a foreign country, receiving a shipment from that country, or even enrolling in a college or institution in that country.
If your choose to learn the German language then it is the right choice to pursue because it gives you a wider opportunity to study and work in the German countryside as well as in India.
Furthermore, it will enhance your career probabilities in engineering, industrialization, administration, pharmaceutical, and healthcare and if you are curious to start your interest in literature, music, arts, psychology, or philosophy, learning the german language would be your best option because you are other culture and history.
To acquire in-depth knowledge of the German language, join German Classes in Chennai at FITA Academy which provides high-level proficiency with a credential certificate
Learning German is the gateway to a world-class higher education:
If you intended to start your career in a German country, the german system facilitated to give the extensive opportunity to the student or employee, who want to pursue their career in their country.
The reason behind the growth of this language is, After the Chinese and English publishing sectors, the German book market is the world's third-largest. There are many books translated into the German language from the cognate text. So, to understand the texts, to pursue studies, work, culture, history, art, etc, only knowledge of the German language will help you to have wide access.
Germany has an influential presence on the Internet:
Germans possess a powerful Internet presence, with more than 18 million Internet domains. After English and Russian, German is recognized as one of the top languages inscribed on the Internet. Understanding German grants you to have accessibility to an additional more than 14 million websites, not to mention German sites ending in.net,.org, and.info. and many.
Since it has a broad range of accessibility, still it provides you with widespread access to knowledge.
You don't even need to meet any of those 100 million people face to face. You can do it right from the comfort of your own home! German websites account for a significant portion of the internet. In fact, when it comes to top-level domains that are obviously associated with a specific country, Germany's.de is the most popular.
German culture as part of the world heritage:
Apart from learning the german language, there is plenty of things to get admired in the German language. Besides the economical perspective, the german-speaking country is noted for its philosophy, art, music, literature, and in its history.
From this, you would have understood the importance of the German language, and learning German has access to wider opportunities. After all, learning German in India has numerous advantages, opportunities, and career prospects. If you want to learn a foreign language that will help you advance in your job, German could be an ideal choice. So, start to learn the German language and explore your career in German-speaking countries as well as in India. As an initial step, you can enroll in German Classes in Bangalore at FITA Academy to improve your Reading, Speaking, and Writing skills, which is essential to participate in a real-life environment.