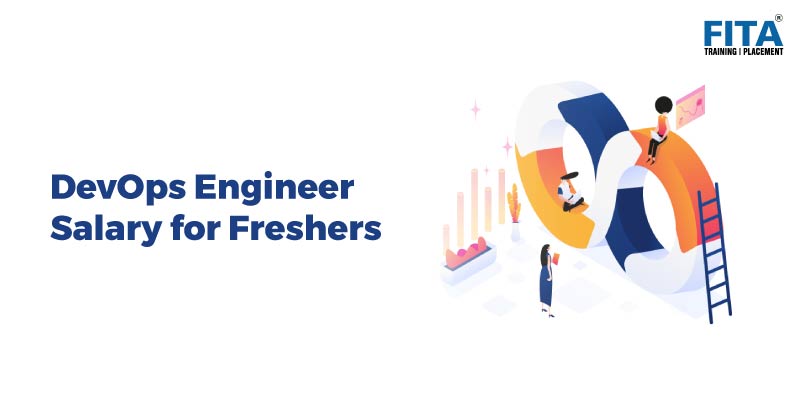 The demand for DevOps Engineers has increased globally as a result of developing technology and web-based applications. IT businesses have been compensating engineers with attractive DevOps Salary in India as a result of the large increase in demand. In this post, we'll discuss the DevOps Engineer pay in India for Freshers, as well as the growing demand in the cutting-edge tech era.
A DevOps engineer provides methodologies, tools, and approaches to balance needs throughout the software development life cycle, from coding to deployment to maintenance and updates. Let's discuss the job description, demand, and salary package.
DevOps Engineer Job Description
To manage and supervise code releases, DevOps Engineers collaborate closely with Software Developers, System Operators (SysOps), and other production IT employees. They must have a strong knowledge of IT infrastructure management, which is crucial for supporting software code in dedicated, multi-tenant, or hybrid cloud settings.
The development and operations teams integrate in a DevOps paradigm, rather than working separately as siloed' divisions. Furthermore, this kind of software development necessitates frequent and gradual adjustments. As a result, DevOps Engineers must undertake a variety of tasks across the application lifecycle, from development to testing to deployment and operations. This necessitates a skill set that is not restricted to a single function or role.
DevOps Engineer's Methodologies and Work Approach
DevOps Engineers are specialized in their way or approach of work which increases the chances of great DevOps Engineer Salary in India for Freshers. Some them are
Continuous Integration — This method necessitates developers merging their code changes into a central repository, following which automated builds and tests are done.

Continuous Delivery — In this method, code updates are automatically built, tested, and prepared for production release.

Infrastructure as Code fosters the provisioning and management of infrastructure through the use of specialized code and software development approaches (version control, continuous integration, etc.).

Monitoring and logging are required to monitor and measure the metrics of applications and infrastructure, as well as to see how their performance affects the user experience of a product or service.

Communication and Collaboration – DevOps pushes organizations to communicate and collaborate more.

Microservices Architecture is a design technique for creating a single application as part of a collection of small services. As a result, DevOps developers have a plethora of options, and the indispensability of their work assures that DevOps salaries in India are extremely high.
Basic Responsibilities of a DevOps Engineer
Increase in demand for DevOps Engineers and their DevOps fresher salary has been driving the attention of youngsters to seek this job roles in various IT firms. Before moving to the application stage, it is significant to know certain roles and responsibilities of different DevOps roles which are as follows 
Planning a Project

– DevOps Engineers are an important element of the project management process. Their expertise in software development and system options, as well as their business knowledge (risk, impact, and costs vs. benefits), enable them to anticipate project requirements and resources.

Development of a Product

– DevOps Engineers are in charge of designing, implementing, and maintaining IT systems. To accomplish this, they must, among other things, install and configure solutions, design reusable components, interpret technical requirements, perform script maintenance and upgrades, help operations teams during all phases of data testing, and develop interface stubs and simulators.

Management of Performance

– DevOps Engineers not only evaluate existing apps and platforms, but also make recommendations for improving performance.

Troubleshooting and Management

– DevOps Engineers' routine tasks include maintenance and troubleshooting. They provide the needs and methods for executing regular maintenance using strategy-building techniques.
To become an exceptional as well as high profile DevOps Engineer, enroll in for DevOps Training in Bangalore for better insight and experience to development operation and engineering. 
Additionally, DevOps engineers utilize the power of specific tools to showcase their uniqueness and work approaches. Let's brief some introductions to DevOps Engineer's tools and their functionalities.
Fundamental Tools Required for DevOps Engineer
DevOps Engineers need to get familiar with the following tools. They are
Source code management with Git and GitHub (Version Control System)

Jenkins is an automation server that includes plugins for building CI/CD pipelines.

Selenium is a tool for automating testing.

Docker is a piece of software. Platform for Containerization

Container orchestration tool Kubernetes

Configuration Management and Deployment with Puppet

Ansible – Configuration Management and Deployment Chef – Configuration Management and Deployment Chef – Configuration Management and Deployment

Nagios is a system for continuous monitoring.
Learn and Complete Selenium Training in Bangalore for better tool experience and knowledge to become a powerful DevOps Engineer.
Basic Skills Required to Become DevOps Engineer 
Apart from academic qualification, the applicant need to possess fundamental skills in the following domains, they are
Understanding of a single cloud platform (AWS,

Azure

, GCP)

Configuration management and deployment tools such as Puppet, Ansible, Chef, Terraform, and others should be well-known.

Scripting, Git, and Git workflows are all skills you'll need.

CI/CD (Continuous Integration/Continuous Delivery) pipeline development experience
Freshers seeking to DevOps roles with excellent DevOps Salary in India are advised to pursue AWS Training in Bangalore to gain additional hands-on experience in Amazon Web Services.
General Roles and Responsibilities of a DevOps Engineer
DevOps Engineers and their various forms of roles are concerned with certain duties and responsibilities to do at their workspace. Herein, we have categorized six different DevOps engineer roles and their appropriate responsibilities.
DevOps Architect

– A DevOps architect is in charge of analyzing and implementing DevOps methods inside a company or team. He designs the overall DevOps environment, incorporating all effective DevOps practices in accordance with industry standards. He brings in the appropriate tools for process automation.

Release Manager

– The release manager is concerned with management of schedules, software development programs, planning, monitoring, and controlling softwares. 

Security Engineer

– World security is referred to as DevSecOps in DevOps. To provide security, the tasks include employing various technologies such as log management and configuration management. A continuous security philosophy is emphasized in DevOps.

Automation Engineer

– An automation engineer in the DevOps sector is responsible for creating and maintaining the CI/CD process for all apps and their builds utilizing tools such as Maven, Jenkins, Git, Gerrit, Gradle, and others. Using configuration management tools like Ansible, Puppet, Fabric, SaltStack, Chef, and others, he would automate configuration management across infrastructure and platforms.

Software Tester

– In a DevOps culture, a test engineer must align their test design, test cases, and test automation with the DevOps framework. A software tester ensures that the code changes perform as intended and that they do not cause the software product to malfunction as a whole.

Integration Specialist

– An integration specialist collaborates with infrastructure operations teams and software development teams to ensure code consistency and integration. He develops a comprehensive view of the workplace. He works with the engineering and testing teams to ensure that infrastructure requirements are met.
DevOps Salary For Freshers in India
The DevOps average salary in India ranges from 2.5 to 4.6 LPA on an average. DevOps is in high demand, but employers expect employees to have the right skill sets. Furthermore, the higher the salary, the better the experience. According to Payscale, the typical DevOps pay in India is 2.5 to 4.8 LPA, including bonuses and profit-sharing. Increase the chances of getting highest pay through pursuing DevOps Course in Chennai at FITA Academy. The leading institute across India best known for successful IT training and placement.
Factors Influencing the DevOps Salary in India
The Company –

The salary you earn is directly proportional to the company you work for. DevOps engineers get paid at various levels, some of the approximations are shown in the below chart.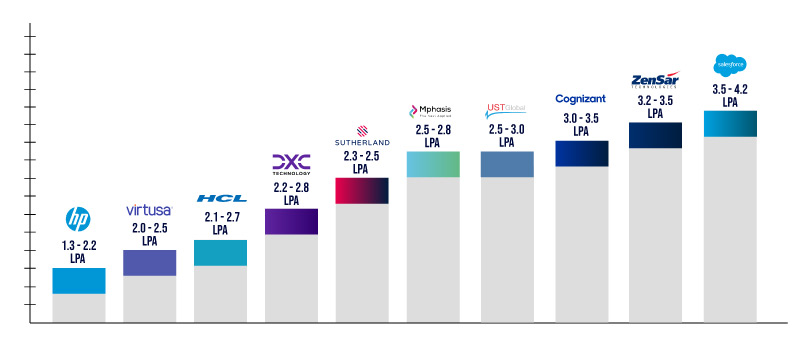 Work Experience

– The more experience you have, the better you will be able to recognise obstacles and deliver rapid software patches. Salary and positions are determined by a combination of experience and their sustenance in the company. Estimated Devops Engineer Salary in India for Freshers based on years of experience is shown in the below chart.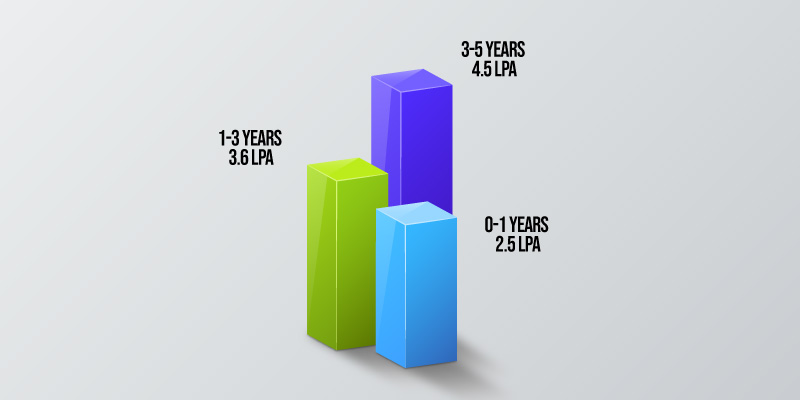 Location of Work

– Location is expected to play a smaller effect on the salary you can earn in the next few years. Even so, your location will have an impact on the compensation you can ask for and receive from a potential employment.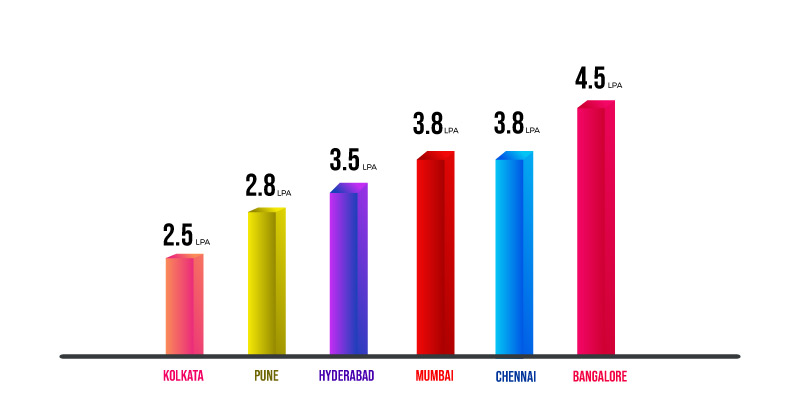 Skill Set of Engineers

– The skills of engineers also determines their salary package. The better your ability to understand, the more important skills you have. In India, location is going to play a significant influence in determining DevOps engineer pay. We have estimated the average salary package based on skill sets in the below chart.

If you are worried about the DevOps average Salary in India, then continue to learn and gain additional skills in DevOps through pursuing DevOps Course Online. 
Effective Pathway to Become Successful DevOps Engineer
Based on the demand, blog research, and DevOps salary in India. We intend to deliver some simplified and effective tips to become an exceptional DevOps Engineer. The tips are
Initiate and kick-start your DevOps training today through enrolling at

DevOps Training in Coimbatore.

One of the leading cities to accompany major IT firms and placement centers.

Gain and enhance all the necessary skills and computing programs.

Develop an Automation program to showcase your skills and great works with little effort. 

Develop and gain personal brand marks with community interactions and involvement.

Prove and Demonstrate the curiosity and empathy towards successful Development and Operations.
Interview and Preparatory Tips for DevOps Engineer Jobs
We will supply you with reliable materials for the Top Interview Preparation Tips in this section. There are numerous online interview preparation courses and accessible articles, but each has its own ingenuity and difficulties to consider for interview preparation. We've compiled a list of the major important, relevant, and required Fresher Interview Tips for knowledge base and freshers guidance. So, we highly appreciate freshers reading and reviewing the DevOps Interview Questions and Answers. These resources will provide you with the most crucial insights for both learners and professionals because they are written in a clear, concise, and engaging manner. Through these course materials and interview tips, we intend to motivate participants to improvise their abilities and enthusiastic interest in preparing for their next interview rounds.
IT workers who are desperate to start their career growth right away can pursue this option, according to our research on DevOps Engineer Salary in India. Enroll in DevOps Certification today, and the candidate will receive excellent training as well as a guarantee of jobs. Freshmen are recommended to begin pursuing a career path that will give them chances and skills in the future IT industry. In the IT employment market, DevOps Engineer positions are in high demand. Finally, we hope that this blog has given you all the knowledge you need to compete for DevOps Salary in India.