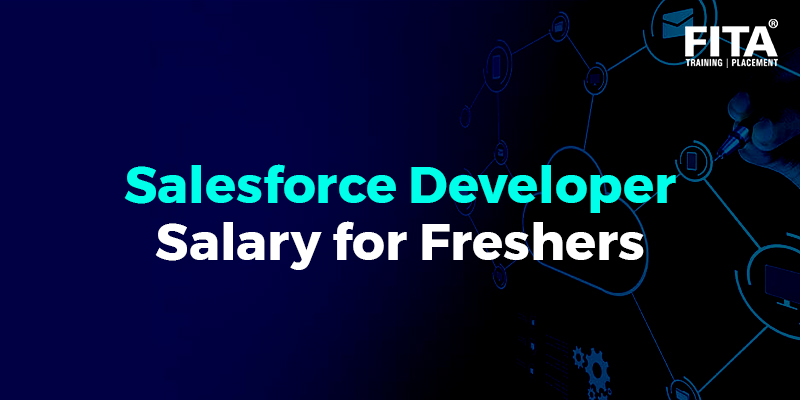 Salesforce Developers are competitive with Python and Java Developers. You have gone through different blogs showing the demands for Salesforce professionals. Definitely, it's true, the demand for Salesforce developers is growing exponentially along with their Salesforce Fresher Salary in India. The salary package varies in accordance with your upgraded skills and how updated you're with modern technologies.
In this blog, we are going to convey our thoughts about the salesforce demand and their insight into the future job market. Further, we will provide complete information on how to become a salesforce developer, and what are the effective steps to be taken in. Let's begin our discussion with a small definition of salesforce developers.
About Salesforce
Salesforce is a cloud computing SaaS (Service as a Software) Service that handles all IT companies' CRM (Customer Relationship Management). The salesforce can integrate with a wide range of applications, making it ideal for business solutions. One of the most beneficial things about the salesforce is that it is user-friendly and saves a lot of time and resources allocated for business ideas and strategies. Due to this significant demand in all sectors, Salesforce Developers are in great need across the nation. The hiring companies are ready to compensate the developers with an affordable Salesforce Developer Fresher Salary.
About Salesforce Developer
A Salesforce Developer is responsible for developing cloud and system-based tools to manage customer relations effectively. They are also concerned with designing and implementing cloud applications for the practical analysis of client management data, and it also provides the data for cloud development.
Demand for Salesforce Developers
According to the job statistics, the current century accommodates 62000+ vacancies for Salesforce developers in India. In addition, the tech giants across the world have started investing in cloud technologies, which will create more than 4.2 million jobs in upcoming years. Due to the effective customer relationship management services, the demand for Salesforce and Salesforce Developers is likely to rise in several years; therefore, choosing a salesforce developer career would be beneficial for present generation candidates. Let's discuss the Salesforce Developer Salary in India for Freshers.
Salesforce Developer Salary Structure
The annual salary for a Salesforce developer varies due to numerous factors. The factors include the various companies, work experience, acquired skills, and job location. We have estimated an average salary in the upcoming section based on these categories.
Salaries based on Company
Different IT companies compensate salesforce developers with different salary packages. However, we have approximated the average salary across other IT companies in the below-given image.
Salaries Based on Work Experience 
Similar to industries, if you have prior experience, then you are likely to get more salary across IT firms. An average Salesforce Fresher Salary is shown in the below image.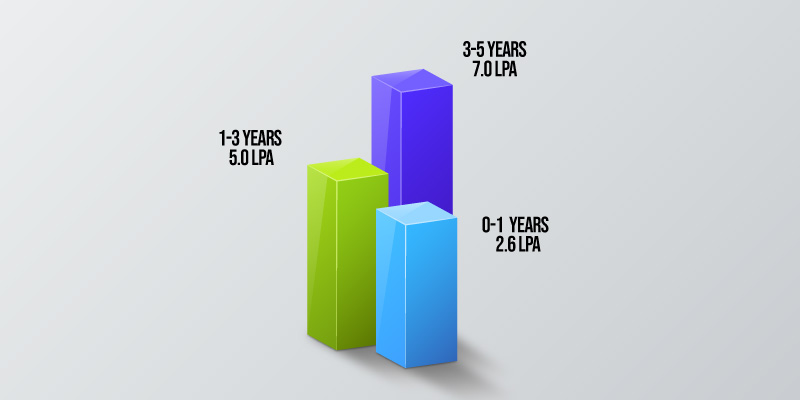 Salaries Based on Job Location
The annual salary packages for freshers rely on their work location. The cost of living and survival demand determines the salary structure. But, based on the salary rating provided by previous employees, we have estimated an average shown in the image below.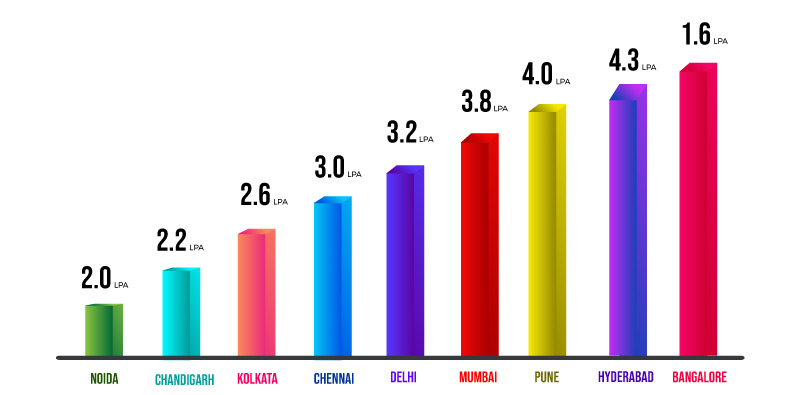 Salaries Based on Skills
Finally, as stated earlier, if you are upskilled, you are likely to get a high salary compensation from your employers. Some of the considerable skills are,

In this section, we have reviewed the salary structures of a Salesforce developer in India. Now, let us discuss the academic and skills qualification criteria necessary for applying for various Salesforce developer roles in the following section.
What are the academic qualification criteria to become a Salesforce Developer?
Salesforce has defined a minimum set of qualification criteria that freshers should meet before applying for job roles. Some of the qualifications are
A Degree in BBA, BCA, MBA, or MCA is mandatory.

Good understanding of salesforce platforms.

Salesforce certification will be a plus for you if you are looking for a good salesforce fresher salary.
In order to obtain a certification in salesforce development, we suggest you join Salesforce Training in Bangalore at FITA Academy. This course will enrich you with hands-on training in Salesforce with Salesforce Admin, Apex Development Platform, Salesforce App Builder, and Salesforce Lightning Development.
What are the basic skills required to become a Salesforce Developer?
In order to become a magnificent salesforce developer, you need to acquire important skills apart from academic qualifications, which are listed below.
Knowledge of Handling procedures and Salesforce Platform.

Understanding of lighting web components and other elements.

Good programming skills in

Javascript

.

Skills in designing, developing, and tracking the life cycle of an application.

Strong skills in object-oriented programming.

Knowledge of Apex and System Integration.

Excellent skills in SOQL, Web Development Services, and SQL.
Suppose you are looking to enhance your additional skills for becoming a Salesforce developer. In that case, we suggest you join Web Development Course in Chennai because you will be skilled with different techniques to design web-based salesforce applications in your company.
What are the key roles and responsibilities of a Salesforce Developer?
Salesforce Developers play a significant role in the sustenance of customers and clients. Many companies have lost their customers due to technical problems, system bugs, and inefficient systems management. Therefore, salesforce developers need to equip themselves with multiple capabilities to behold the customers and are required to accomplish specific vital roles and responsibilities, which are
Develop and Deploy various salesforce applications across Saas and PaaS platforms.

Create and Modify the existing platforms for more user experiences.

Test and Validate the salesforce apps and products.

Maintain the system consistencies and attempt to identify and resolve the system problems.

Keep track of the system fix process and ensure error-free solutions to clients.

Interact and collaborate with investors to meet the salesforce demand and operations.

Acquiring skills in the complete life-cycle of development strategies, especially in Agile and Scrum. 

Develop and Implement AppExchange products and applications.

Perform data import and export operations using the SFDC tool.

Study application drawbacks and implement new strategies to provide better solutions to cloud-based services.

Develop salesforce applications based on the system requirements.

Improve the performance and efficiency of salesforce apps for affording satisfactory services.
Do Salesforce Developers have Scope for future Careers?
Yes, Salesforce developer has broader scope and demand in upcoming years. Salesforce's customer relationship management software has more comprehensive applications in all the IT industries, and it will exponentially grow in the next few years. So, acquiring proper skills, training, and appropriate education is essential in building a featured salesforce career.
Mainly, the computer science graduates and software development professionals are recruited for the salesforce developer role with a feasible salesforce developer salary for freshers. But, you need to possess specific advanced skills in object-oriented programming, Dot Net, Python, Java, and several other OOP principles. 
How to prepare for becoming a Salesforce Developer?
Are you worried about becoming a good salesforce developer? Don't worry; we have compiled the best and most effective steps for you to achieve your dream career in Salesforce. So, we suggest you follow the below-mentioned guidelines for becoming an exceptional salesforce developer.
Enroll in a

Salesforce Training Online

Course to gain hands-on experience in application development.

Strengthen your basic skills in Salesforce by going through the best

Salesforce Tutorial

.

If you wish to advance your fundamental skills, refer to the

Top Books for Salesforce Developers

. These books are sorted especially for beginners like you.

Then search for different open positions available in various information technology industries and apply for them.

Once your application is shortlisted for the further interview process, we have an additional resource to train you well in advance. Refer to the best

Salesforce Interview Questions and Answers

.
So, in contrast to your interest and effort in preparing for your featured salesforce career, the resources mentioned above will guarantee your successful placement. Be confident and go ahead with the interview process to build your incredible career in Salesforce.
Further, the practical communication and answering approach will attract recruiters to consider your application. If you are interested in enhancing your English communication skills, we recommend joining Spoken English Classes in Bangalore. The language expertise will enrich you with a good communication personality and interpersonal skills.
Looking into the demand for Salesforce developers in the current IT market, choosing this career would bring you numerous benefits and growth. Therefore, you need to be well prepared while applying for a developer role. Further, certification in salesforce, commerce, sales, and cloud-based application is not the essential qualification skills considered by the recruiters. But, it readily relies on your credibility to sustain its customers. Therefore, we suggest taking part in Salesforce Training in Chennai would benefit from overcoming all the technical disciplines skills you require to become an incredible salesforce developer.