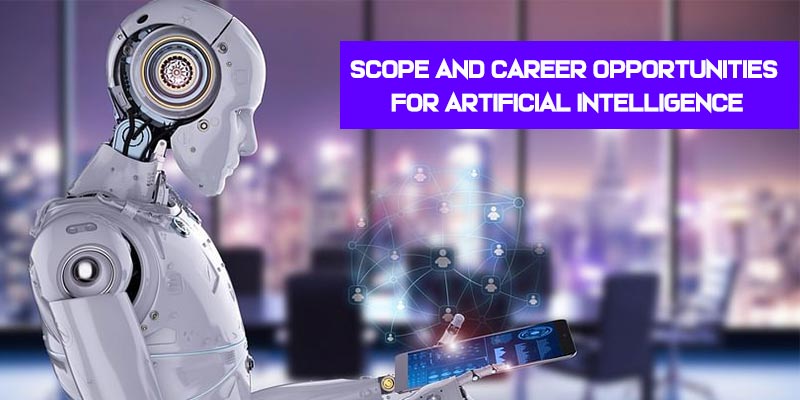 Artificial Intelligence- " The Science of making Intelligent Machines, especially Intelligent Computer programs".
It is the process of making a machine to think like a Human and copy the way they would do.
AI is primarily designed for understanding how humans work, think, and how they can face a problem and these features are instilled in the AI machines. The excellent characteristics of an Artificial Intelligence System are, it's the capacity to analyze and act on their own to achieve the specific goal.
Refer to this blog: The Importance Of Artificial Intelligence In Everyday Life
Some of the processes that can be performed by computers with Artificial Intelligence includes,
Planning
Learning
Speech/Face recognition
Problem-Solving
Scope of Artificial Intelligence
AI's latest goal is to generate computer programs that can resolve the problems and reach goals as a human does. There is a wider scope in developing machines in computer vision, robotics, game playing, language detection machine, speech recognition, expert systems, and much more. Join Artificial Intelligence Training in Chennai, at FITA, and gain more knowledge.
Below mentioned factors define a career in Artificial Intelligence
Robotics
Automation
The application of advanced computer software
Seeking a career in the AI field needs specific education based on the foundation of technology, Math, Logical thinking, and Engineering. Good communication skills are necessary to communicate how the AI machines and tools are helpful when they are used in the industry settings.
Subjects which an AI candidate should study
The knowledge of Mathematics is very important when considering Artificial Intelligence as a career.
The stream of Science includes- Knowledge of Physiology and Psychology of the nervous system and it is also helpful concerning biological access to AI.
Gaining knowledge in Machine learning, and Programming Languages like C C++ is necessary too.
Career Opportunities in Artificial Intelligence
Game Programmer
Everybody widely loves video games. Video game players need highly challenged and intelligent enemies to make their game exciting. Companies are looking for efficient Software engineers or Game Programmers who have a good knowledge of the basics of Artificial Intelligence and can design games that keep the players interested.
Robotic Scientist
The Robotics field requires programmers or engineers who can create the programming and implementing them in the robots to solve the problems like a human.
A master's degree in Robotic engineering or having a license can help for a great deal of career in this field.
Government Sector
The Government sector needs the help of the employees who are extremely skilled in Artificial Intelligence to work on various projects.
A Job in the government sector has great benefits and retirement packages.
Artificial Intelligence frequently plays a huge role in moving the world around us. This technology will improve the quality of life in various industry settings. If you are looking for a career in the Artificial Intelligence field, and willing to gain more knowledge, join the Artificial Intelligence Course in Chennai.
Some of the AI jobs roles are:
Big Data Architect
AI solution Architect
Research Scientist
Machine Learning Engineer
Business Intelligence Developer
Salary Package of Artificial Intelligence professionals
A fresher in the Artificial Intelligence field can earn a salary package of Rs 7 to 15 Lakhs per annum. An experienced professional can earn in the range of INR Rs 15 to 20 lakh per annum.
AI Course in Chennai at FITA can help you to secure a job in Artificial Intelligence with a good salary.
Related Blogs: