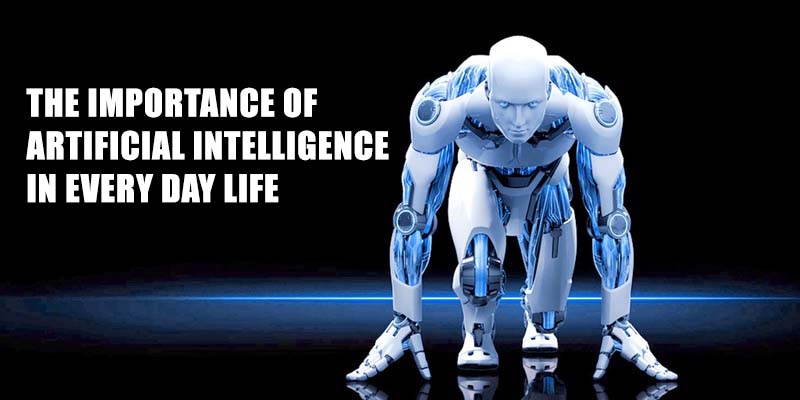 Artificial Intelligence is the possession of simulated human intelligence by machines, it is synonymous to machine intelligence. It is programmed and designed by developers and it can act and think like a human. AI becomes one of the important parts of daily life.
In a wide area of day-to-day services, AI technology is used. This technology reduces the human effort. People are using this technology in many industries to develop autonomous robots for performing various activities. The machine can increase the speed of work and process and give an accurate result.
AI technology is spreading wide across all the fields, to reduce the efforts of humans and provide optimised results. This blog will help you know the importance of Artificial intelligence in our daily lives. Artificial Intelligence Course helps you to attain a deeper understanding and necessary skills in the field of Artificial Intelligence.
The role of Artificial Intelligence in day-to-day life falls under two categories. They are, 
Artificial Intelligence in Software

Embodied Artificial Intelligence
Artificial Intelligence in Software
Artificial Intelligence software is a computer program designed to mimic human actions and does not require any peripheral devices to perform. Software with Artificial Intelligence can be downloaded from any online store and can be installed on the existing device.  They help in making the daily routine much simpler than before. The importance of Artificial Intelligence Software is of four types in the industry. They are, 
Artificial Intelligence Platforms

have built-in algorithms to provide space to build an application from the scratch. 

Chatbots

helps in providing active conversations imitating humans' response. 

Deep Learning Software

offers image recognition, speech recognition, etc. 

Machine Learning Software

helps the computer learn through the data and work accordingly.
Artificial Intelligence is an interesting area of field to explore and expand your knowledge. With the growing science and technology in human life, there could be twice a huge job vacancy in the field. Make the right choice and join Artificial Intelligence Course in Chennai to build a successful career!
Voice Assistants
AI backs up the voice assistants like Google Home, Siri, Cortona, and Alexa to decode the voice commands of their masters. AI also helps these applications to take up the databases from the cloud storage platforms to give back the tailored search engine results. Voice assistants are also deployed in healthcare to detect diseases through vocal biomarkers. In telehealth applications, voice-based chat boxes are made available for screening and classifying.

Face detection 
Face detection is one of the most popular uses of Artificial Intelligence in our daily life. It uses the Image Processing technology of Artificial Intelligence to identify faces with the help of distance between two eyes, shape of the face, edges, and other features. This face ID unlock feature is commonly seen in the smartphones of today. 
Face recognition software is using Generative Adversarial Neural Networks (GANN) to lower the margin of error. These neural networks are also being honed to detect fraudulent use of Deepfake technology. AI software, that detects facial expressions to determine mood and intent is also being developed by several sectors. Emotion AI or Affective Computing is a growing field of study for assessing client satisfaction.
Financial and Banking Sector
In Banking, Financial Services and Insurance(BFSI) Sector the AI technology is used to handle the numerous activities like the investment in stocks, financial operations, and much more. The AI technology can help the bank to provide better services to the customer and give them hassle-free banking solutions. Chatbots provide a strong return on investment in terms of cost reductions, making them one of the most widely deployed AI applications across industries.
Personalized Marketing
To increase engagement, brands use AI-driven personalization solutions based on customer data. According to a OneSpot Research report, 88 percent of surveyed consumers believe that more personalized content makes them feel better about a brand.
Recent AI innovations claim to use computer vision to predict the performance of an advertisement, assisting brands in reaching the right people and serving those who require those products. Learn the inner play of marketing by joining the Digital Marketing Course in Chennai and be the wolf in the marketing department. Depending on the marketing stage, AI marketing apps can assist both prospects and retargeted customers. Artificial Intelligence is used with Augmented (AU) Reality for the customers to choose from the wide range of product collections of an online shopping website or the store itself.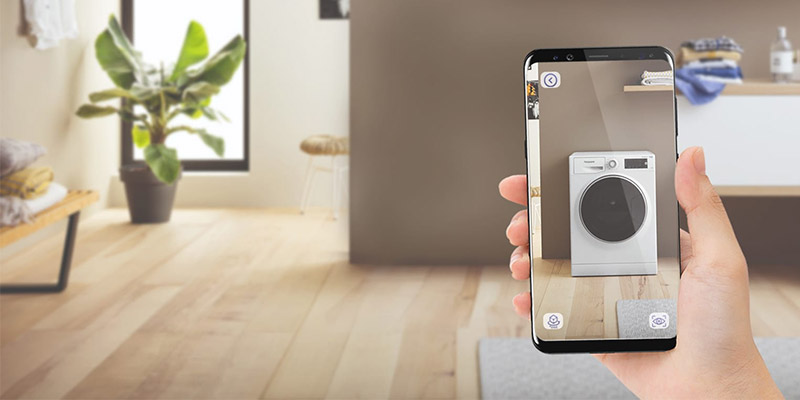 Healthcare
In the Medical Science sector, AI technology is used in the number of applications and gives an incredible value. AI technology is used for analytics, research and also used to develop a personal health care assistant. Bots are developed to give support to customers. It is used in a hospital for scheduling an appointment with 24/7 assistance. Image Processing in Artificial Intelligence helps in X-ray Imaging, PET Scans,  UV Imaging, Medical CT, Cancer Cell Image Processing, and much more.
Heavy Industries
In Heavy Industries AI is widely used in the production units. They are designed as a robot to carry out specific tasks autonomously. They can displace the materials from one place to another, without a reduction in the efficiency of the machines.
Not only in the production they are also used in the planning phase to manage stocks, raw materials and inventories. Using AI technology in the big industry can help them to complete their tasks on time and help them to generate more profits in businesses.
Cyber Security
The major role of Artificial Intelligence is that it can improve cyber security systems. It performs by leveraging data from previous threats and learning patterns and indicators that appear to predict and prevent attacks. In addition to preventing external threats, AI can monitor internal threats or breaches and recommend corrective actions, resulting in data theft or abuse prevention. Enhance your skills in interpreting threat patterns and indicators by enrolling in Data Analytics Training in Chennai.
 AI-based cyber security systems can provide the most up-to-date knowledge of global and industry-specific threats, allowing you to make more informed prioritization decisions based not just on what could be used to attack your systems, but also on what is most likely to be used to attack your systems.
Air Transport
Artificial Intelligence in Air ways is used for fuel efficiency optimization. The deployed AI systems with Machine Learning algorithms collect and analyze flight data such as aircraft type and weight, route distance and altitudes, weather, and so on. These data help in estimating the optimal amount of fuel needed for the flight. 
Many airlines improve their customer service with AI-powered chatbots that assist passengers with flight booking and management, baggage tracking, answering questions, and other types of assistance.
Gaming and Entertainment
The importance of Artificial Intelligence in streaming apps is that they recommend custom content based on the user's interaction with various media. These apps create catalogues of music, movies, and TV shows tailored to each individual user's preferences by using AI to parse through ever-increasing user data.
Innovations in gaming Artificial Intelligence has concentrated on giving more interesting challenges to the gamer rather than assessing the gamer's mindset. Some of these gaming applications use Virtual Reality (VR) headsets to provide Cognitive Behavioral Therapy (CBT) for better engagement with the person. As the game progresses, AI assists these games in adapting to the user's behaviour based on examined stimuli.
Navigation and Travel
The Artificial Intelligence programmers' work behind navigation apps like Waze and Google Maps never ends. The digital maps are created based on geographical images provided by the satellite. The importance of Artificial Intelligence is that with the use of predictive models, it assists in determining paths on satellite photos covered by natural overgrowth. Regular route changes have been made easier because of the imaging methods based on Convolutional Neural Networks (CNN) and Graph Neural Networks (GNN).
Security and Surveillance
It is practically hard for a human to keep a continual check on many CCTV network monitors at the same time. As a result, we've felt compelled to automate such monitoring operations and improve them using machine learning approaches. 
Artificial Intelligence frees up human surveillants to focus on verifying and responding to critical situations. AI video monitoring software handles the ongoing monitoring and detection aspect of surveillance. You could ask, Why do we need Artificial Intelligence if humans could perform the same task effortlessly? The reason is Artificial intelligence can detect abnormal activity that human eyes may overlook.
Surveillance systems in high-risk public venues, such as government buildings, use an extension of AI-based facial recognition software. At the moment, liberal governments are attempting to mitigate the possibility of privacy breaches as a result of AI spies.
Embodied Artificial Intelligence
Embodied Artificial Intelligence is the hardware created for installing Al to mimic human actions and to work on automation. Thus, Embodied Artificial Intelligence entails the creation of specific devices with AI capabilities. They move through the physical world and affect it with their actions just like a human would do. The hardware with AI can be seen in Self-driven cars, drones, etc. 
Self-Driven Vehicles
Autonomous Vehicle Technology with AI innovation is taking place as a result of worldwide corporate interest. Beyond cruise control and blind-spot detection, AI is advancing to fully autonomous capabilities.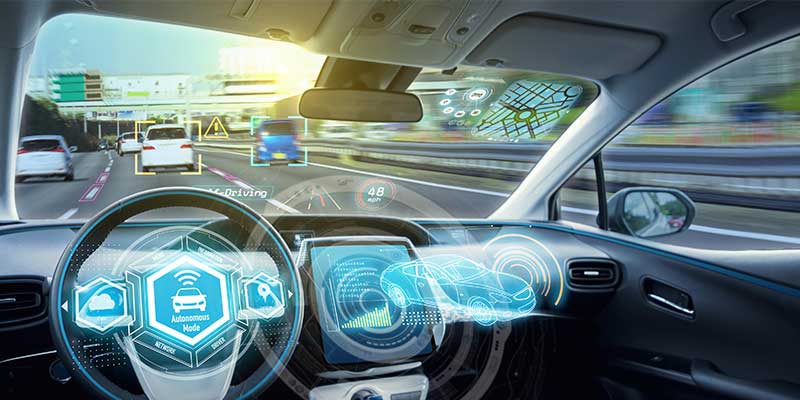 Vehicles are being taught to run independently using Deep Reinforcement Learning (DRL), a form of machine learning. The role of Artificial Intelligence is to make predictions in planning the route with possible static and dynamic impediments.
It swerves corresponding to the neighboring vehicles and other unforeseeable circumstances. Simultaneous Localization and Mapping (SLAM) technology enables this with real-time sensor-based orientation to the environment.
Internet of Things (IoT)
The convergence of AI and the Internet of Things (IoT) creates a plethora of opportunities for developing smarter home appliances that operate with minimal human intervention. While IoT is concerned with devices interacting with the internet, AI assists these devices in learning from data. 
Artificial Intelligence is important in unlocking the power of data collected by IoT devices via sensors. Learnings from this data over multiple iterations improve the ability of IoT devices to respond to human stimuli and requirements.
Artificial Intelligence is the backbone of tremendous technological growth. The role of Artificial Intelligence is crucial in today's world as it has already mended the daily life of commoners with it. Artificial Intelligence could be a lucrative field in the future with booming job opportunities. Join Artificial Intelligence Course in Bangalore and build a strong career in this competitive world.