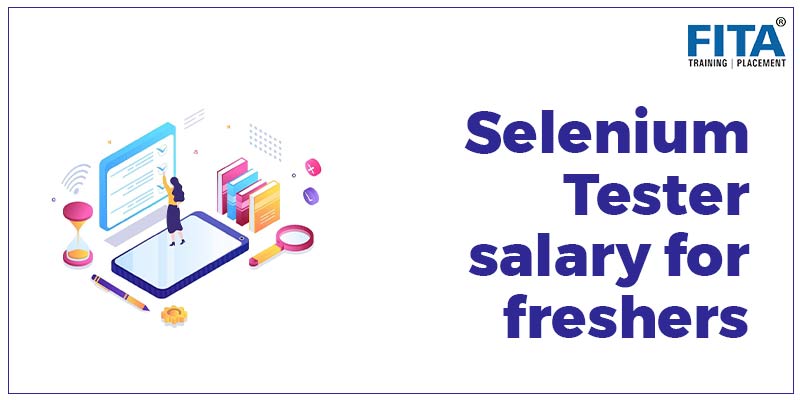 Selenium is an emerging and ever-demanding tool that boosts global business in a pioneering way. Likewise, the demand for Selenium testers has increased exponentially through the years. If you wish to work in the field of information technology, selenium testing could be a good place to start. The pay scale of Java and Python developers is comparable to the selenium automation tester salary. With this job, you'll not only gain valuable work experience, but you'll also earn a good salary.
Selenium and its Features
Selenium is an open-source tool with a license that puts it competitive against all fields. It's a framework for automating programs in the most effective way. Its outstanding characteristics for automating each after the other make it most popular. Continue to read this blog to learn functional and regression testing. Besides, the language accepts a variety of written codes from different languages like Ruby, Java, C++, and Python. Also, Selenium remains an excellent tool to test cross-browser multiple times. These are some of the unique features of Selenium, which will make you certified for Selenium Tester's role.
Learn Selenium Training in Chennai to enhance your skill set for becoming a great Selenium Automation Test Engineer.
Impact of Selenium in Software Testing
Software testing is an ever-demanding field as manual testing procedures are very challenging. Throughout the test procedure, the tester has to go through numerous difficulties and issues. That's why automated testing remains unique and comfortably detects and resolves an issue. In automation testing, softwares like DevOps and Agile played an essential role in the expansion and development of testing platforms. Also, Selenium has acquired a unique position in the era of continuous development and fastest delivery. It also remains speedy, cost-effective, and compatible for all the automation engineers.
Scope of Selenium Software
When it comes to the top automation testing tools on the market, selenium automation testing is well ahead of the competition. Here are some of the scopes of Selenium:
It's free to download and use from any online resource.
Earns you high employment opportunities at top IT firms across the world.
Selenium testing has a broader scope and applications in all computer core areas.
Enable you to learn Web-developer Script, Frameworks and Hibernates.
Prospect of a Selenium Tester's Career
Due to its open-source nature, this testing tool has long-term evaluation to both testers and stakeholders who wish to cut down the testing expenditures. Almost everyone gets benefited from this technology, from small businesses, significant corporations to independent quality experts. Selenium has broader applications that come compatible with the majority of operating systems and web-browsers. In addition, testers may examine the performance of their apps on platforms like Safari, Opera, Internet Explorer, Chrome, Firefox, and other iOS. Selenium also affords versatility in supportive languages such as PHP, Perl, Java, and Ruby. With support from Selenium IDE, testers can record, edit, and debug easily. In contrast to this prospect, the Selenium Quality Control Salary in India for Fresher is very impressive and satisfactory compared to other IT Jobs.
Skills Required for Selenium Tester Fresher Jobs
During data validation, knowledge of Oracle and MySQL are significant because sorting and testing massive data are complex. Then, Linux commands are crucial during the test and career prospects. In addition, relevant experience in Selenium testing, VBScript, JavaScript, C#Shell, and Perl are essential. Further, knowledge of fundamental tools and procedures are some of the practical aspects of attracting and retaining customers.
Enhance and Improve your coding skills through learning Java Training in Chennai at FITA Academy.
Roles and Responsibilities of Selenium Freshers Jobs
Let's discuss the various fresher job roles and their key tasks. There are eight responsive fresher job roles concerned with Selenium testing. They are as follows
Selenium Automation Engineer
Selenium Tester
Junior Quality Engineer
Mobile Testing Lead
Java-Selenium Automation Engineer
Selenium Test Analyst
Junior Quality Assurance Engineer
Software Development Test Engineer
Now, we will discuss the key roles and responsibilities of top three freshers' selenium jobs.
Automation Test Engineer
Identification of test cases for earlier document
Proposing a automation strategy and designing
Configuring Java, Webdriver, TestNG with Selenium Test Environment.
Generating a software defect tracking report for clients.
Junior Quality Assurance
Junior quality assurance and test automation engineers are in charge of creating apps that automate the manual test preparation process.
Their primary goal is to automate the manual testing process associated with group members.
 They collaborate with external group members to diagnose, identify, and resolve all issues with zero errors assurance.
Test Automation Engineer
Test automation engineers have a wide range of tasks, which can change depending on the stage of the testing process.
The unit test phase is the first stage of testing, during which the test automation engineer uses application code.
During this phase, test automation engineers design automated solutions to improve the efficiency and speed of the test preparation process.
This follows a similar pattern to the previous two phases. The test designer is notified if adjustments are required so that they can assess the improvements and make changes.
Register for Selenium Course in Chennai to become an expertised professional in Software Testing.
Key Responsibilities of a Selenium Tester
Selenium Testers are associated with numerous critical and responsive tasks. The tasks and responsibilities vary for different IT companies. However, some general key responsibilities are as follows:
Selenium Automation Test Engineer
As a Selenium Automation Test Engineer, they have numerous roles and key responsibilities to complete. The following tasks are
Track and Fix Issues related to softwares and testing strategies
Creating automation test plans for faster approvals.
Configuring and Testing Selenium Test Environment (STE).
Participating in IDE (Integrated Development Environment with Selenium Environment Setup).
Designing and Automating the Frameworks.
Supervising and collaborating the defect management process.
Identifying exact solutions to all the problems and expertised error handling.
Managing Test procedures, and manuals.
Automate and Improve software setup and testing strategies.
Develop and Execute the test cases to diagnose flaws and other concerns.
Communicating with clients to resolve all the issues.
Become an exceptional Quality Test Engineer through learning Software Testing Course in Bangalore.
Manual Test Engineer
A Manual Test Engineer is concerned with the following key responsibilities. They are as follows:
Analyzing the recruitment and hiring process
Writing and Creating Test plans
Writing and Documenting Test Cases
Reviewing and Validation of Test plans
Detecting the requirements of a test data and trying to accomplish it.
Testing of Automation and Execution Process
Keeping the records of all the defects
Summarizing and reporting the test result
Enroll for Selenium Course in Bangalore to perceive more knowledge on Selenium and its software testing procedures.
Factors Influence the Salary of Selenium Test Engineer
The Selenium Automation Tester Salary in India for Freshers varies greatly depending on the workspace and experience. So, in this section, we will try to figure out the salary package for Selenium testers in India.
Employer – When it comes to employees, the quality control salary in India for fresher varies for different companies. Average payscale of Selenium Tester in India is shown in the below graph.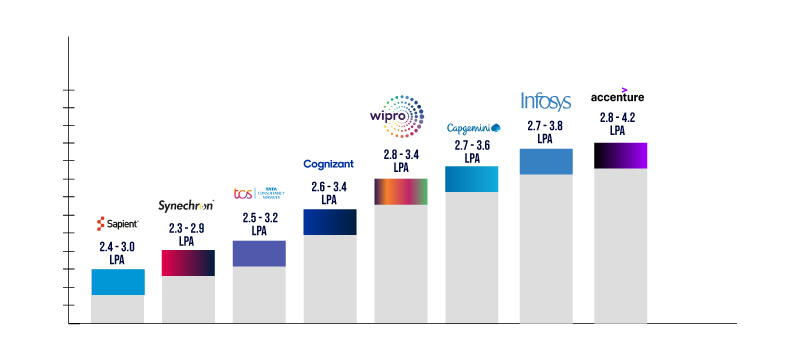 Experience – In this area, experience is also a significant component that influences pay. Selenium testers with more than three years of experience have a higher probability of salary increment during successive years. A graphical illustration shows an average payscale of Selenium tester with respect to experience.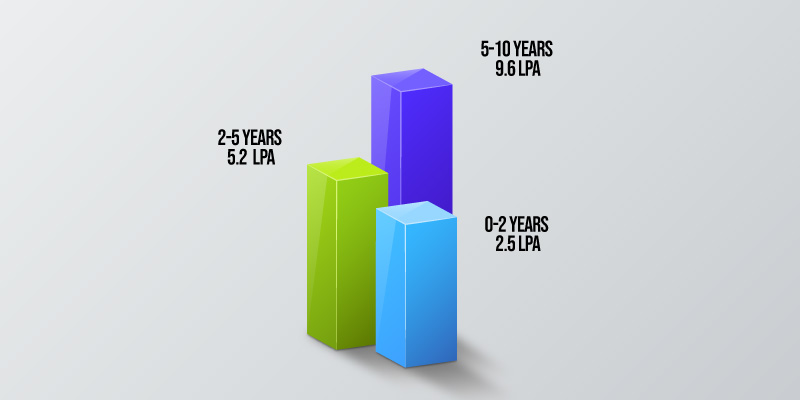 Work Location – The Software Tester Salary for Freshers differs from various work locations. We have presented an average payscale of Selenium Tester across India in the below mentioned graph.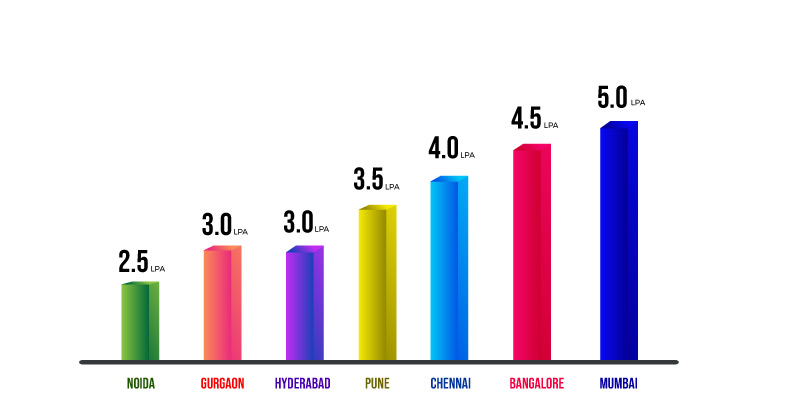 Increase the chances of getting more salary and availing international Selenium tester opportunity through learning IELTS Coaching in Chennai.
Preparation Guide to Become Professional Selenium Tester
Since the demand for Selenium Testers in the IT job market keeps on rising, so we wish to provide some resources and preparation tips to get placed into various firms.
Preparing for Interview
Discussion on guidelines on course materials is essential before suggesting interview tips. Choosing credible resources for course content, tutorials, and textbook chapters is crucial, as the correct resource will convey the appropriate facts. Learn Selenium Testing Tutorial and Best Selenium Frameworks for Beginners are highly recommended for Freshers looking for a good selenium tester salary package. These resources will provide adequate knowledge because they are prepared in a simple, accessible format that is pertinent for both learners and experts. It will also enhance enthusiasts' skill set and confidence in anticipation of the interview session.
Interview Questions and Answers
Freshers searching for different Selenium Tester Fresher Jobs should really concentrate on Interview Questions and Answers. We have a profusion of study materials, resources and selenium interview questions and answers available on the web; locate the Best Interview Tips for a promising Selenium Tester's job. These tips were evaluated, technically modified, and published through experts. All the interview questions, answers, and tips are prepared through the best leading institute (FITA Academy), famous for major freshers' training and placement.
Learn additional courses to test softwares using massive data sets through Data Science Courses in Bangalore.
Based on our research and explanation, Selenium certification might be a valuable credit to your professional career. If you want to advance your quality control and software tester career, enroll for Selenium Training in Bangalore for the best coaching and guaranteed placement. Also, it will increase the value of your skills in the IT Job market. Besides, the demanding trend has given rise to increased selenium tester salary for freshers in India. Hope this blog has unlocked your vision to take an effective step towards a software testing career with wider opportunities.