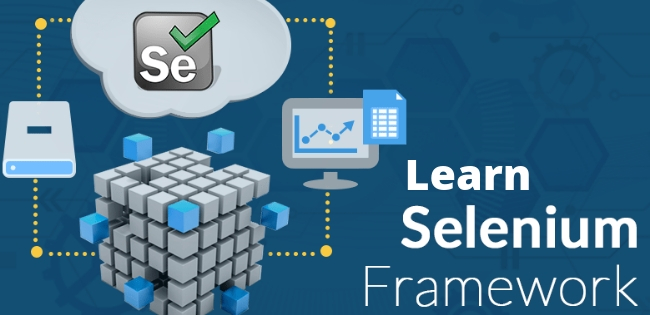 Why selenium is most preferred automation testing framework and used by leading tech giants like Microsoft and Facebook? Check this article to know about what is Selenium automation testing framework, its advantages and disadvantages and why you must to take Selenium Training to learn Selenium automation testing framework.
In this highly competitive market, software development industries need to develop and deploy highly robust web application, with good user interface and to perform all desired functionalities without any issue. As we all know, most important part in software or web application development phase is testing. Test automation is considered more cost effective, accurate and faster than the manual method of extensive regression testing. Of late, Selenium automation testing tools make life easier for software developers and testing professionals to speed up the testing process.
What Is Selenium?
Selenium is the most powerful and open source automation testing tool, developed by Jason Huggins and his team. This testing framework is used to test the GUI and functionality of web applications. Released under Apache 2.0 license, this automation testing framework can be downloaded and used without any restrictions. Selenium is easy to get started with the help of FITA Selenium Course in Chennai and it's compatible with the most of the web browsers available in the market.
Selenium offers a highly efficient way to generate test scripts, validate its functionality and, reuse such scripts in an automated framework. Once set up, the selenium automation testing framework executes the test cases in three modes.
Selenium IDE– the record-playback mode, logs the test scenarios, and offers a good start to write tests, and group it together, to form a test suite.
Selenium RCor remote-control mode launches multiple browsers, one at a time, and executes the pre-recorded test-cases.
Selenium Gridrecords and replays Selenium IDE and RC test cases, to validate the tests.
Features Of Selenium:
The selenium automation testing framework comes with several features that make the process of developing automated test scripts easy. It also offers a comfortable solution to test the large web application in smaller modules. Some of its features include easy to use interface, easier to create a unit test, exploratory tests, one bug reproduction tests, compatible with most of the web browsers and much more.
Selenium is the most robust testing framework and it works on all operating systems – Windows, Linux, Mac, Ubuntu, etc… and browsers in the market – Mozilla Firefox, Chrome, IE, Opera, and Safari. Selenium is also compatible with multiple programming languages like Perl, Python, PHP, Ruby, Java, and .NET. Software testers no need to use selenium's own script to write test codes rather they use a programming language that they are familiar with. Also, it's not necessary that the programming language used to develop the web application to be used for writing the test scripts. You can use the programming language that you are comfortable with.
Advantages Of Selenium Testing Framework:
Selenium is a pure open source, free to use and portable testing tool.
Selenium comes with the different component to provide support to its parent which is Selenium IDE, Selenium Grid and Selenium Remote Control (RC).
Selenium testing tool supports many operating systems like Windows, Macintosh, Linux, Unix etc.
Selenium supports a variety of languages that include Java, Perl, Python, C#, Ruby, Groovy, JavaScript, and VB Script. etc.
Selenium supports many browsers like Internet Explorer, Chrome, Firefox, Opera, and Safari etc.
The selenium automation testing framework can be used with TestNG testing framework for testing our applications and generating reports.
It can be integrated with Maven or ANT types of framework for source code compilation.
Selenium can be also used for smart phones based application testing.
It can be integrated with Hudson or Jenkins for continual integration.
Selenium can be integrated with other open source tools for supporting other features.
The Selenium automation testing framework requires less CPU and RAM resource for test script execution.
Disadvantages Of Selenium Automation Testing Framework:
The selenium automation testing tool requires strong technical skills. Software testers need to have the strong understanding of selenium tools as well as framework architecture.
Selenium is only used to test web-based application and does not support windows or desktop based application.
It is difficult to test Image-based application with the selenium automation testing framework.
Selenium requires third party support for report generation activity like dependence on TestNG or Jenkins.
Selenium does not have online support facility to the problem that testers face.
Selenium does not support built-in add-ins support.
Selenium does not support file upload facility.
Selenium does not provide any built-in IDE for script generation and it needs other IDE like Eclipse for writing scripts.
Selenium Automation Engineers are the bit in scarcity these days.
Why To Take Selenium Training?
Being the most used automation software testing industry; there is massive demand for trained and skilled selenium testing professionals across the world. As the industry is slowing moving to automation testing from complicated and time-consuming manual testing process – automation testing jobs are raised and highly valued and paid. With more and more web applications are developed these, web application testing tool ensure huge career prospects for job aspirants.
Selenium training is designed to help job seekers, software developers and manual testing professionals to learn how to web applications with a robust framework, and integrate it within the DevOps processes of an organization. It helps you gain an in-depth knowledge of concepts such as Selenium WebDriver, TestNG, Wait, Locating Techniques, AutoIT, Sikuli, Page Object Design Pattern, mobile testing with Appium and Selenium Grid.
Looking to enhance your automation testing skills? The FITA will be the ideal place to learn selenium automation testing tool from industry professionals. We offer 100% practical based Selenium Training in Chennai. Our selenium course syllabus contains lot of real-life examples and situations to demonstrate how to use Selenium WebDriver effectively.
Who Can Take Our Selenium Training?
Our selenium automation testing course is suitable for
Test Managers
Test Engineers
Test Lead
Test Analyst
QA Engineers
Software Developers
Engineers who want to learn Automation testing
As a leading Software Testing Training Institute in Chennai, We also offer placement assistance to all our students and help to start their dream career as Automation Tester. To know about Selenium Course in Chennai contact us via our enquiry form or call us @ 93450 45466