Selenium is an open-source Automation test framework for testing various functionalities of web-based applications. Selenium allows the usage of a variety of programming languages such as Java, Ruby, PHP, Python, C, Perl, etc to script automated testing on web-applications. Selenese comprises of a set of commands used in Selenium automation testing of web-based applications.
Selenium can be used to test web-based applications for a wide range of platforms such as Windows, Linux, and macOS. Selenium Automation Engineers are hired to perform automation testing in top Software Development Companies with a handsome salary package.
Candidates with expertise in Manual testing can easily learn the Selenium Framework and become a certified Selenium Automation Testing Professional through Selenium Training in Bangalore at FITA.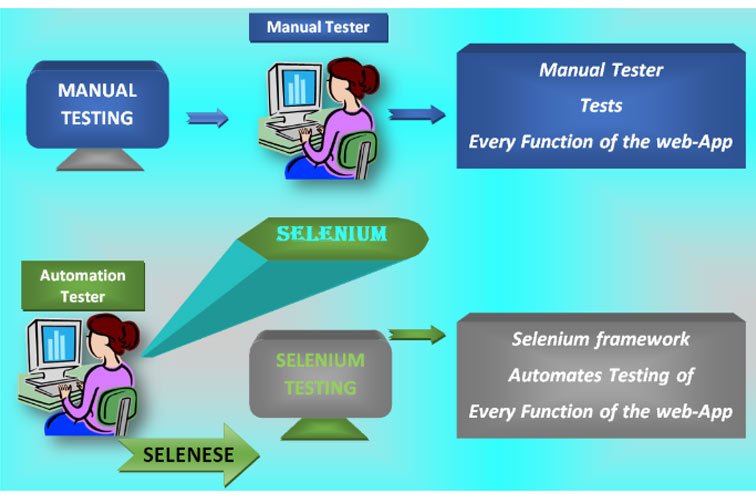 Why Selenium?
Candidates interested in DevOps can join DevOps Training in Bangalore at FITA.
Benefits of Selenium
Types of Testing using Selenium
Below listed are a few types of tests that can be performed using Selenium Testing Framework. Selenium facilitates various tests on web-based applications and provides the best results due to its flexibility and efficiency.
Functional testing- Functionality test is performed to examine the functionality of the application and to ensure the fulfilment of the application's purpose.
Regression Testing - Regression testing is performed to check whether the recent changes in the coding do not affect the existing features of the software or web-based application.
Smoke/Sanity Testing - This test is carried out to test the prime functionality of the software, failing which could hold the launch of the web-based application.
Responsive Testing - Responsive testing is performed to check the compatibility of the webpages on a variety of devices such as Desktops, mobile, Tablets, Laptops, etc.
Cross Browser Testing- Cross Browser testing checks the functionality of the web-pages on multiple browsers such as Chrome, Mozilla, Safari, Internet Explorer, etc.
GUI testing - GUI testing is performed to analyse the Graphical User Interface of the web-based application.
Integration Testing - In Integration testing, various individual modules of the application is tested in a group to examine the integration of the modules.
Various Job roles in Selenium Automation Testing
Any candidate willing to make a career in automation testing can imbibe the necessary skills through Selenium Training in Bangalore at FITA, and gets placed in any of the below-mentioned roles; based on experience, in top MNC.
On average, a fresher in Selenium Automation Testing can earn between Rs. 4-6 Lakhs per annum. With 4-5 years of experience and excellent skill set, a Professional Selenium Automation Tester earns between Rs. 10-12 Lakhs per annum.
Google Trends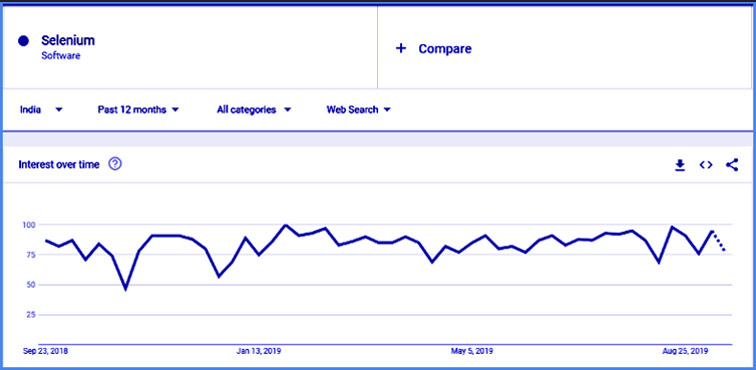 The data from Google Trends(above image) reflect the increasing demand for Selenium Automation Testing in India between September 2018- August 2019.
Top companies using Selenium Test Framework
Following the dynamic growth in software technologies, many organisations are incorporating the latest technological tools and techniques into their workflow. Companies are aiming towards improved efficiency of the process and optimal usage of skilled human resources. Automation serves both the requirements of the company by taking the wheels from humans of repetitive & mundane tasks aiding better utilisation of human skills and improved efficiency.
Below we have listed a few of the top Organisations that use Selenium Automation as their testing framework.
With numerous small-to-large scale organisations in the pipeline to automate their testing processes, ample opportunities will be created soon.
Join Selenium Course in Bangalore at FITA and learn industry-relevant skills from industry experts with more than a decade of cumulative experience in Manual as well as Automation Software Testing
Key Skills of Selenium Testing Professionals
To become a Professional Selenium Automation Tester few key skills (listed below) are expected from a candidate.
Selenium Training in Bangalore at FITA helps aspirants to equip themselves with the necessary skills from experienced Testing Professionals. FITA aids in bridging the skill gap between academia and recent industrial practices.
Responsibilities of Selenium Automation Tester
The responsibilities of Professional Selenium Automation Testers may vary depending on the organisations but certain common responsibilities exists and are listed below.
Selenium Training in Bangalore at FITA exposes the candidates to best industry practices in software automation testing.
Limitations of Selenium
Selenium has certain limitations though it possesses huge benefits compared to other software testing tools.
These limitations are futile when compared to the excellent automation testing features available in Selenium. Candidates interested to join organisations utilising QTP as testing tool can also become a certified QTP automation Tester through QTP Training in Bangalore or UFT Training in Bangalore at FITA.
Relevance and Beyond
Manual Testing is the traditional way by which the software development companies test their web-applications for a variety of functionalities. Manual testing do not allow simultaneous testing, thus manual tester has to wait till the developer completes coding. Automated Testing of web-applications is not feasible in early stages of development, where manual testing comes handy. Though Manual testing is still relevant to test certain features related to the dynamic graphical user interface of the application, Automation testing has become popular since the majority of tests can be automated and it reduces time and cost. Candidates willing to become automation test engineers should possess strong fundamentals in Manual test cases. Anyone interested to learn Manual testing can join Manual Testing Training in Bangalore at FITA.
Selenium is the best framework to perform various automated tests in less time with improved efficiency. Being an Open-source framework, Selenium is accessible to everyone and most preferred by various organisations due to its codability. With the world moving towards automation through DevOps practices, Selenium will be the most preferred cutting edge technology in automated testing.
Data from Google Trends (refer below image) highlights the increasing demand for Selenium Automation Testers in the majority of the southern states of India, especially Karnataka. Selenium Training in Bangalore at FITA will serve as a nurturing ground for aspirants to acquire the necessary skills in Selenium Automation Testing Framework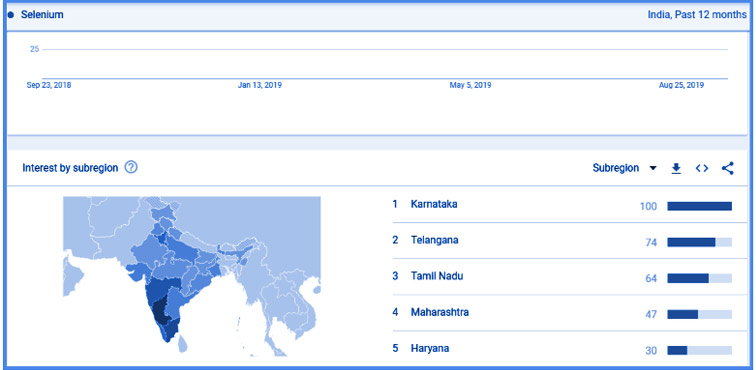 Demand for Selenium Automation Testers is growing due to increased adoption of Selenium in a wide range of organisations worldwide. Due to its ability to evolve & adapt in tune with the recent technological changes and provide a better performance, Selenium is the most sought automation test suite. The IT industry is undergoing rapid changes and requires a dynamic workforce equipped with excellent skills in the recent technologies and tools utilised. To be in line with technological changes, manual testers are expected to learn the tools and techniques of software automation testing. Data Science, Artificial intelligence and DevOps are set to make a paradigm shift in the way organisations conduct their business and workflow.
With cloud-based technologies spreading across organisations, automated testing can be performed simultaneously from the development phase to reduce opportunity costs and better delivery of products and services. This can enable incorporation of various DevOps concepts such as Continuous Development, Continuous implementation and Continuous Deployment. It helps organisations to meet client requirements in optimum time and increases the credibility of the businesses. Continuous Testing requires huge volume and high-speed configurations that are lacking in traditional cross-browser testing.
Various browsers such as PhantomJS, Headless chrome, NodeJS, etc. are helpful for Development and Testing teams to achieve reliable and accurate test results in Headless Testing.
Selenium possesses huge potential to transform the workflow of numerous Software development companies with increased productivity and reduced downtime; opening the door of opportunities for Certified Selenium Automation Test Engineer.
Candidates from the non-programming background can also learn Selenium Framework easily through Selenium Training Institute in Bangalore at FITA, provided they have an affinity towards Automation Testing to make an excellent career in software testing.
Explain the components of Selenium Suite.
Selenium suite encomposes various software tools with specific functionalities. Below listed are the components in Selenium Suite.
Selenium 3.0 – Selenium 3.0 is the new entrant to the selenium software toolkit. It provides object-oriented API in a cohesive environment negating the limitations of the previous implementation. Selenium 3.0 is an update of Selenium 2.0, providing accurate test results in no time. The browser drivers are developed by the Selenium Project in Selenium 2.0 whereas for Selenium 3.0 provides better integration since the web browsers develop their browser drivers compatible with Selenium.
Selenium 1 – Selenium Webdriver is the successor of Selenium RC or Selenium 1. Selenium RC is redundant and supports only in maintenance mode.
Selenium IDE – Selenium IDE tool provides a convenient user interface to run software automation tests and helps in writing test scripts using multiple programming languages and Selenese commands. Selenium IDE captures user actions with a recording feature as a browser plugin and exports the recorded actions as a programmable script in any of the programming languages.
Selenium-Grid – Selenium grid helps in performing larger test suites running in multiple platforms. Using the Selenium grid, tests can be performed simultaneously even on remote machines and low-speed test suite.
Other Cities
Related Courses at FITA