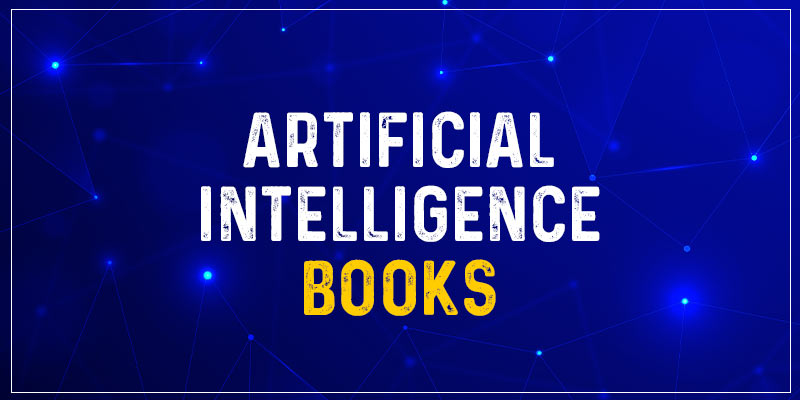 Artificial Intelligence is an emerging and game-changing technology revolutionizing the digital and computer tech era. Machine learning and artificial algorithms have been employed in all the information technology sectors to automate and produce resilient results. Besides, a candidate's interest to learn and pursue a featured career in artificial intelligence holds a merit compared to other IT careers. Therefore, we enlist the Top 25 Artificial Intelligence Books in this blog. The listed books were sorted out from millions of publications based on the readers' experience and ratings. Furthermore, we have given a short description about the book and its chapters for the introductory benefit for freshers. Let's begin our blog discussion from the succeeding section.
Apart from reading books, materials, and online resources, we recommend you to enroll for Artificial Intelligence Course in Chennai at FITA Academy for gaining and enhancing knowledge on artificial intelligence and automation programs.
Make Your Own Neural Network
Tariq Rashid wrote this book. This Artificial Intelligence books takes you on a step-by-step journey into neural network mathematics and how to create your own using the Python programming language. This reference book will take you on an enjoyable and leisurely tour. The book begins with fundamental concepts and progressively progresses to a comprehensive understanding of how neural networks work. This book will also teach you how to write in Python and how to develop your neural network into a professionally created network.
The book talks about a gentle introduction to neural network mathematics and how to create your own using the Python programming language. Deep learning and artificial intelligence rely on neural networks, which are capable of some pretty amazing feats today. This is one of the best AI books for beginners.
To Read this Book
Artificial Intelligence For Dummies
John Paul Mueller and Luca Massaron wrote the book Artificial Intelligence For Dummies. The book provides a simple introduction to artificial intelligence (AI) and its applications. This book will give you an overview of the technology. It also addresses some of the typical misunderstandings regarding it. The book talks about the usage of AI in computer applications and its scopes.
The book consists of 20 chapters from introduction to artificial intelligence to the areas where artificial intelligence has failed (the significant core areas). The book helps to learn more about the technological contribution of AI to society, AI in computer applications, limitations of the AI and history in artificial intelligence. This is an excellent book and holds the second most demanding book in our book listing and remains the best among artificial intelligence books for beginners.
To Read this Book
Machine Learning for Absolute Beginners
Oliver Theobald wrote the book Machine Learning For Absolute Beginners. This book covers topics such as Machine Learning, forms of machine learning, the machine learning toolbox, data cleansing, setting up your data, and regression analysis are all covered in this book. Clustering, support vector machines, artificial neural networks, and building a model in Python. Cross-validation, Ensemble Modeling, Grid Search, Feature Engineering, and One-hot Encoding are some of the algorithms that are also included in this book.
This book has a total of six chapters beginning from Introduction to Machine Learning, and its relationship with Artificial Intelligence, then the book completes its description of the real world artificial intelligence. This seems to be one of the Best AI Books for Beginners, and it will incorporate all the algorithms and neural networks for redefining newer projects. It holds the third most leading position in our book listing.
To Read this Book
SuperIntelligence
Stuart Russell and Peter Norvig wrote this book Superintelligence which remains an excellent resource. This book provides the most complete and up-to-date introduction to Artificial Intelligence theory and practice. This AI book updates the readers on the most recent technologies and comprehensively explains the principles. Further, this book covers wider topics such as Machine learning, deep learning, transfer learning, multi-agent systems, robotics, and other topics. It is a great and best book for artificial intelligence for beginners.
This book affords great resources for learning multiple-approach of artificial intelligence algorithms; machine learning techniques and its applications; various approaches to transfer and multi-agent learning; and artificial intelligence based robotics and its functions. This is a great book for AI aspirants and readers.
To Read this Book
Artificial Intelligence: A Modern Approach
Stuart J. Russell and Peter Narvig wrote this book. The underlying conceptual theory of artificial intelligence is presented in this book. For beginners, it serves as a comprehensive reference guide. It is beneficial to students taking Artificial Intelligence courses at the undergraduate or graduate level. This version contains thorough information on the changes in the field of artificial intelligence since the previous edition. Many major applications of AI technology are discussed in detail, including the deployment of practical speech recognition, machine translation, and domestic robotics.
This book has a total of twenty six chapters (26 chapters), whereas the first chapter overviews about the Turing test approach followed by the foundation of artificial intelligence, history, and problem-solving algorithms. Then, it concludes with robotics and other safety measures. This book is lengthy and remains the best books on artificial intelligence for beginners.
To Read this Book
Artificial Intelligence Engines: A Tutorial Introduction to the Mathematics of Deep Learning
James V Stone wrote the book Artificial Intelligence Engines. The book describes how deep neural networks, which are AI algorithms, work. Deep neural networks are used in a variety of business applications, including cancer detection, object recognition, speech recognition, robotic control, chess, and poker. This book discusses critical neural network learning algorithms in this book, followed by comprehensive mathematical evaluations.
The book covers interesting topics such as deep neural networks, adaptive algorithms, object recognition, robotic control chess, and online computer programs. This is one of the most interesting books for Artificial Intelligence aspirants.
To Read this Book
Life 3.0: Being Human in the Age of Artificial Intelligence
Max Tegmark wrote the book Life 3.0: Being Human in the Age of Artificial Intelligence. The book discusses the rise of AI and how, more than any other technology, it has the ability to revolutionize our future. This book also covers a broad spectrum of points of view as well as the most contentious themes. It discusses the significance of life in the cosmos and awareness and the ultimate physical constraints of existence.
This book covers spectral properties of robots, and provides an overview of the future of robotics. Since numerous theories on robotic age goes on, this book gives a prospective vision of robotic and human age. This is an excellent book specially made for future artificial intelligence enthusiasts, and also remains unique among the artificial intelligence books for beginners.
To Read this Book
Deep Learning Illustrated
Jon Kohn, Grant Beyleveld, and Aglae Basens wrote a Deep Learning Illustrated Book. This book discusses a variety of advanced artificial intelligence skills as well as algorithm performance. Deep Learning Illustrated provides a comprehensive introduction to the techniques of the discipline. AI Engineers, researchers, analysts, and students can use this book as a reference to their multiple projects.
Apart from the basic introductions, this book deeply covers the newer technologies in artificial intelligence, potential capabilities to revolutionize the world, and various algorithms along with its performances. It is one of the most important books suggested for intermediate AI executives.
To Read this Book
Predictive Analytics For Dummies
Anasse Bari, Mohamed Chaouchi, and Tommy Jung wrote the book Predictive Analytics For Dummies. This reference book will teach you about the fundamentals of predictive analytics. To get you started, the book provides some famous use cases. It also goes over modeling and k-means clustering in depth. The book also includes advice on how to achieve corporate objectives and techniques.
Predictive analytics is a subset of data mining that aids in forecasting probability and trends. Predictive Analytics For Dummies delves into the power of predictive analytics and how to use it in your business or other sectors such as advertising, fraud detection, politics, etc. This practical book doesn't bog you down with many mathematical or scientific theories; instead, it shows you how to quickly understand how to collect, evaluate, and use data to create predictions using the correct techniques and tools. The topics covered include using structured and unstructured data, establishing models, creating a predictive analytic roadmap, defining realistic goals, budgeting, and miscellaneous. This remains the best books to learn about artificial intelligence.
To Read this Book
Data Science from Scratch: First Principles with Python
Joel Gurus wrote the book Data Science from Scratch. This book will assist you in learning the fundamentals of data science, such as arithmetic and statistics. You'll also gain the necessary hacking abilities to get started as a data scientist. Implementing k-nearest neighbors, naive Bayes, linear and logistic regression, decision trees, and clustering models are among the subjects covered in the books. You'll also have the opportunity to learn about natural language processing, network analysis, and other topics. The AI Books for beginners among all the competitive books written for Artificial Intelligence.
This book has a total of 27 chapters and helps advanced AI programmers to learn the following: crash course in python programming, fundamentals of algebra, statistics, probability, and data science. Besides, it teaches the algorithms to gather, explore, clear, munge, and modify the data; fundamentals of machine learning; teaches how to implement the models such as Naive Bayes, logistic and linear regression, decision trees, clustering, and neural networks. Further, it also recommends systems, natural language processing techniques, Mapreduce, network analysis, and databases. We greatly encourage freshers to read out this book to become an artificial intelligence executive or engineer.
To Read this Book
Hands-On Machine Learning
Aurélien Géron wrote the book Hands-On Machine Learning. The book will assist you in developing an intuitive knowledge of the concepts and technologies used in developing intelligent systems. This reference material offers you strategies starting with simple linear regression and moving to deep neural networks. Support vector machines, decision trees, random forests, and ensemble approaches are among the training models covered in this book. Deep neural network training and scaling techniques can also be learned from this book.
Reading this book will give an overview of machine learning landscapes, neural networks, end-to-end strategies about the machine learning project, explore and review several training models, knowledge on support vector machines, decision trees, ensemble methods, and random forests. In addition, the book also affords fundamentals of Tensorflow libraries for building the train neural nets. It also provides deep knowledge on neural network architectures, convolutional nets, deep reinforcement learning and recurrent nets. Finally, the book ends its description of techniques and training to scale the deep neural networks. Due to its wider and interesting topics, this book remains the best book to learn artificial intelligence.
To Read this Book
Applied Artificial Intelligence: A Handbook For Business Leaders
Mariya Yao, Adelyn Zhou, and Marlene Jia wrote the book Applied Artificial Intelligence. This book is a step-by-step approach for corporate leaders interested in exploiting machine intelligence—this aids in increasing the productivity of their businesses and improving the quality of life in their communities. Through the use of AI and machine learning, the book also assists you in making business judgments.
In addition to this, Applied Artificial Intelligence provides a solid framework for AI and machine learning and numerous examples. It's a comprehensive and practical guide to comprehending and applying AI solutions in a business, including both technical and non-technical issues. Suppose you want to learn more about artificial intelligence in business. In that case, this book gives you a short overview of the area while also explaining the inner workings of AI to provide you with a qualitative grasp of knowledge. AI aspirants who want to increase their business model can read this book as it remains the top books on AI for beginners.
Learn more about artificial intelligence through enrolling for a certification by learning Artificial Intelligence Course in Bangalore.
To Read this Book
Prediction Machines: The Simple Economics of Artificial Intelligence
Ajay Agrawal, Joshua Gans, and Avi Goldfarb wrote the book Prediction Machines. The book delves into the essence of making judgments in the face of ambiguity. It also explains how efficiency may be increased by using prediction tools to operate machinery, handle paperwork, and communicate with customers. Finally, the book analyses how improved prediction opens the door to new business forms.
This is an excellent book where it attempts to convey the predictions algorithm of AI to define the future. The prediction plays a most significant role in any commercial business. Prediction software increases the productivity in a variety of areas, including machine operation, document handling, and customer relations. So, a better prediction opens new opportunities for initiating a new business and strategies.
To Read this Book
Human + Machine: Reimagining Work in the Age of AI
Paul R. Daugherty and H. James Wilson wrote the book Human Plus Machine: Reimagining Work in the Age of AI. The book discusses the essence of the AI paradigm, which can assist you in shifting all business operations within a single corporation. The book illustrates how businesses leverage AI's new rules to innovate faster. It also identifies six new hybrid human-machine roles that every business should build.
The book explains how firms are leveraging the new laws of AI to leap ahead on innovation and profitability and what you can do to achieve comparable results, based on the authors' experience and study with 1,500 enterprises. It outlines six new types of hybrid human-machine positions that every firm should create and a "leader's handbook" that outlines the five fundamental principles needed to become an AI-powered organization.
To Read this Book
Architects of Intelligence: The truth about AI from the people building it
Martin Ford explains the reality behind these issues in Architects of Intelligence, which includes a series of in-depth, one-on-one interviews. He has elicited the best ideas from the Artificial Intelligence community. This AI book brings together the perspectives of industry heavyweights such as Stuart Russell, Rodney Brooks, Demis Hassabis, and Yoshua Bengi. It would be best to read this book to gain a thorough understanding of AI and its future prospects.
This book mostly covers the experiences and interviews conducted between the experts and interviewers. Here is a short description about this book: The author's task is to ask the correct questions, which he excels at, and the book itself is almost entirely composed of transcripts of these interviews, so this book consists of the direct answers from these experts. The author keeps things technical enough to ensure that we get the complete story from each subject, but the talks flow smoothly in an enjoyable way to read. Almost everything is simple to comprehend, even if you don't have a technical background. Among all the books, this remains the second most and best book to learn artificial intelligence in our book listing.
To Read this Book
Artificial Intelligence for Humans: Fundamental Algorithms
Jeff Heaton wrote the book Artificial Intelligence for Humans. The core Artificial Intelligence algorithms are covered in this AI book. Dimensionality, clustering, error computation, hill climbing, Nelder Mead, and linear regression are only a few of the techniques used. This Artificial Intelligence book explains all algorithms with real-world numerical computations that you can do at home. This book provides a programming example in each chapter. Java, C#, Python, and C examples are now available. Other languages are in the works.
This book has a total of 10 Chapters. The first chapter introduces AI and its relationship with human brains, modeling problems, normalization, distance metrics, random number generation, K-means clustering, error approximations, scientific approach to machine learning, optimization training, and discrete optimization. The final chapter ends with linear regression and its related algorithms. It remains a beautiful book for AI aspirants with a keen interest in mathematics.
To Read this Book
HBR's 10 Must Reads on AI, Analytics, and the New Machine Age
Micheal E. Porter, Thomas H. Davenport, Paul Daugherty, and H. James Wilson wrote HBR's 10 Must Reads on AI, Analytics, and the New Machine Age. The book sifted through hundreds of Harvard Business Review articles to find the most important. This book will teach you how to comprehend various AI consents and how to implement them. You will learn data science in this book based on artificial intelligence and machine learning. It also includes sections on blockchain and augmented reality.
This book has a total of 7 chapters, where the first chapter introduces about the artificial intelligence required for the real world, algorithms for managers, marketing in the age of alexa, drones go to work, blockchain, 3-D playbook, marketing our hub-economy. Numerous authors have covered diverse topics, and readers can find diverse sorts of reading experience. It is an excellent book recommended for artificial intelligence experts.
To Read this Book
TensorFlow in 1 Day: Make your own Neural Network
The most popular Deep Learning Library on the market is TensorFlow. It features a very accurate graph calculation function that aids in visualizing and creating neural networks. Convolutions and Recurrent Neural Networks are covered in this helpful Machine Learning book. The book covers TensorFlow-supported machine learning models such as Deep Learning Classification, Boston Tree, and wipe and deep layer approaches. Complete professional deep learning procedures with extensive examples are included in the book.
This book has a total of 7 chapters, where the first chapter introduces the artificial intelligence required for the real world, algorithms for managers, marketing in the age of Alexa, drones go to work, blockchain, 3-D playbook, marketing our hub-economy. Numerous authors have covered diverse topics, and readers can find various sorts of the reading experience. It is an excellent book recommended for artificial intelligence experts. This seems to be the best book to learn artificial intelligence for neural network developers.
To Read this Book
Deep Learning (Adaptive Computation and Machine Learning series)
This book provides a mathematical and conceptual foundation and relevant topics in linear algebra, probability and information theory, and machine learning. Regularization, optimization methods, and sequence modeling are among the many important deep learning techniques covered in the book. This book covers a variety of chapters such as linear factor models, autoencoders, structured probabilistic models, the partition function, and other research-related topics.
This book has a total of 20 chapters that covers a wide range of topics required for AI Experts. The topics includes fundamentals of applied mathematics; probability and information theory; numerical computation; fundamentals of machine learning; modern deep networks; deep feedback networks, regularization for deep learning; optimization of training deep models; convolutional networks; Sequence Modeling: Recurrent and Recursive Nets; practical methodology, and the last chapter discusses with deep generative models. Aspirants who want to learn advanced concepts in AI can read this book.
To Read this Book
Python Machine Learning, 1st Edition
Python Machine Learning is a book that introduces you to the world of predictive analytics using Python. It teaches you how to develop and optimize machine learning systems and algorithms by using best practices and approaches. Do you want to learn how to use Python? Then Python Machine Learning is the course for you. The book will assist you in either starting from scratch or expanding your data science knowledge.
This book totally consists of 11 chapters. The first chapter discusses the python machine learning ecosystem followed by python libraries and various stages of data science workflow. Besides, it also discusses the AI modded data modeling, predictive analysis, and creating a chatbot for hybrid systems. This book is recommended for intermediates and experts who want to execute chatbot models for various applications. It also remains the Artificial Intelligence Books for Beginners who are passionate about AI and Machine learning.
To Read this Book
Deep Learning with R
Deep Learning with R uses the Keras library and its R language interface to expose you to the world of deep learning. Keras inventor and Google wrote it for Python as Deep Learning using Python. The books will assist you in establishing your deep-learning environment. You can also put your new skills to the test with R-based computer vision, natural language processing, and generative models applications. Furthermore, no prior knowledge of machine learning or deep learning is required to take this course.
The book consists of 14 chapters. The book majorly consists of advanced topics in artificial intelligence such as AI algorithms, analysis algorithms, data structures, programming languages, web technologies, software designs, and numerous mathematics skills. This book is suggested for experts and intermediates who want to become an AI engineer or AI Executive.
To Read this Book
Human Compatible – Artificial Intelligence and the Problem of Control
The author Stuart Russel wrote this book. The author investigates the concept of intelligence in humans and machines in this book. He discusses the near-term benefits that intelligent personal assistants can provide, such as dramatically quicker scientific research. The author proposes that AI be developed on a new foundation in which machines are structured in such a way that they are unsure of the human preference they must fulfill. These machines would be humble, selfless, and dedicated to achieving human goals.
It is an non-fiction AI Book which defines wonderful ways to achieve rigid-specified goals which have been dangerously misguided by the engineers. It also discusses the future of AI with self-driving cars, personal assistant softwares, and AI based research models. Though this book is not deeply discussed, it gives a futuristic approach to the future of artificial intelligence. This is one of the Artificial Intelligence Books for Beginners and its future prospects.
To Read this Book
Applied Analytics through Case Studies Using SAS and R: Implementing Predictive Models and Machine Learning Techniques
Deepti Gupta wrote this book. It's a Data Science Book that knows how to use R and SAS to run machine learning algorithms. This book contains industrial data sets that are updated in real-time. It examines the role of analytics in a variety of industries, including banking, retail, telecommunications, healthcare, airlines, and FMCG, as well as analytical solutions.
This book has a total of 7 distinctive chapters. It begins with data analytics and its application in various industries, and ends with FMCG case study. Reading these books, you will gain an understanding of data analytics and concepts, various analytical approaches to resolve industrial business, machine learning algorithms, predictive data modeling, and numerous analytical strategies for creating graphical data models.
To Read this Book
Machine Learning – The New AI
The author Chris Sebastian wrote this book. It's a quick review of machine learning, which is at the heart of applications like recommendation systems, face recognition, and self-driving cars. The author provides a concise introduction of the subject for the general reader, detailing its evolution, explaining key learning algorithms, and showing examples of applications.
This book has a total of 7 chapters. It begins its introduction from the interesting sections in machine learning and ends with the career prospects for AI modded machine learning engineers. Besides, some other topics include: statistics and data analytics, machine learning, pattern recognition, deep learning, neural networks, various clusters and recommendations, and actions concerning machine learning. This book is opted for AI beginners and intermediates.
To Read this Book
Are you bored with reading AI books? Then join the Artificial Intelligence Online Course. This online course will teach you entire subjects from topics such as AI leveraging Machine Learning, Deep Learning and Neural Networks, Deep Learning with TensorFlow, Natural Language Processing, Predictive Analysis, and Reinforcement Learning.
Artificial Intelligence: Learning Automation Skills with Python
One of the most famous authors known for massive publications related to Python and Artificial Intelligence "Chris Baker" wrote this book. The book introduces all the potential consequences and results of Artificial Intelligence along with their role in shaping the world (in the present and upcoming years). The book familiarizes the use of Artificial Intelligence to human beings as per the cognitive limitations. In addition, it covers a variety of topics such as a brief history and evaluation of artificial intelligence; the artistic state of machine learning; application of machine learning to the artificial neural networks; fundamentals of artificial intelligence culture; and the effects of Ai in our day-to-day lives.
This book consists of 19 chapters which covers wide range of topics such as preliminary concepts of AI with Python, how to get started with AI and Python, what are the machine learning algorithms, data preparation methods, classification of AI and Python based classifiers, regression models with python, fundamentals of logic programming, and AI clustering. This is the best AI learning books suggested for both beginners and experts.
To Read this Book
Supplementary Resources for Other Books
We have reviewed numerous books and developed an online page for reference purposes, in contrast to the recommendation of the top leading and top-rated books for freshers. As a result, we recommend that you study the Best Python Books for Beginners and Advanced Programmers to become a more effective Python developer. These books and lessons have been reviewed and rated by experts, and they may help you enhance your highlighted information technology profession.
Similarly, we encourage everyone to read the Top rated Ethical Hacking Books From Beginners to Advanced Level for IT aspirants who wish to become professional white ethical hackers. These materials will provide you with everything you need to learn to become a great ethical hacker before being exposed to the commercial market. These materials and resources are reviewed, validated, and recommended by the aspirants who got successfully placed into reputed IT firms across various nations.
Furthermore, we present a variety of books and resources which are best suited for networking and servers and also obtaining a networking certification through referring to The Best CCNA Certification Books. These certification publications can help you develop your networking, network security infrastructure, and network management experience. Apart from CCNA Books, we also archived best books for Java that may enhance the skill set of upcoming Java developers, therefore we suggest you read the Best Book for Java Developers - From Beginners to the Experts.
Finally, we conclude that our book listing is selected and emphasized according to the reader's preference and Advanced Artificial Intelligence Engineers. Since Artificial Intelligence and Machine Learning Engineer roles are closely associated, we recommend you read Machine Learning Engineer Salary for Freshers and Artificial Engineer Salary For Freshers, where this blog will walk through complete information concerning the demand, job positions, and their overall salary packages. So, we hope that this blog will have suggested the Artificial Intelligence Books for Beginners and have provided enough information to begin a featured AI career.
---
---
Are You Located in Any of these Areas
Adyar, Adambakkam, Anna Salai, Ambattur, Ashok Nagar, Aminjikarai, Anna Nagar, Besant Nagar, Chromepet, Choolaimedu, Guindy, Egmore, K.K. Nagar, Kodambakkam, Koyambedu, Ekkattuthangal, Kilpauk, Meenambakkam, Medavakkam, Nandanam, Nungambakkam, Madipakkam, Teynampet, Nanganallur, Navalur, Mylapore, Pallavaram, Purasaiwakkam, OMR, Porur, Pallikaranai, Poonamallee, Perambur, Saidapet, Siruseri, St.Thomas Mount, Perungudi, T.Nagar, Sholinganallur, Triplicane, Thoraipakkam, Tambaram, Vadapalani, Valasaravakkam, Villivakkam, Thiruvanmiyur, West Mambalam, Velachery and Virugambakkam.
FITA Velachery or T Nagar or Thoraipakkam OMR or Anna Nagar or Tambaram branch is just few kilometre away from your location. If you need the best training in Chennai, driving a couple of extra kilometres is worth it!