Course Highlights and Why Selenium with Python Training in Chennai at FITA?
You will learn all the important skills to create your automation suite integrated with Python for Selenium with Python Training Chennai at FITA Academy, including Selenium WebDriver, Java concepts, integration with Python, IDE generation, Github, and the other important tools.
FITA Academy is trusted by more than 50,000 students, and this Selenium with python Course in Chennai has assisted innumerable students, including those like you, in using Selenium to advance their careers as automation testers.
In the course of the Python integration with Selenium, IDE creation and automation with Selenium for applications and websites will be conducted as part of the practical exercises.
Our team of expert trainers are carefully selected through an accurate interview process, which includes feedback from numerous professionals and students like you.
We provide a systematic approach to learning web automation, aligning with the methodologies practised in the software industry.
We offer flexible classroom training options that can be tailored to your schedule, skill level, and budget, ensuring a personalised learning experience.
Upon completing our Selenium with Python Training in Chennai, you'll gain access to a network of over 1500+ companies through our placement tie-ups, offering you exceptional career opportunities.
Our Selenium course syllabus is meticulously crafted to adhere to global industry standards, aligning with the requirements for industry certifications.
Throughout this hands-on course, you'll become proficient in utilizing Selenium integrated with Python and effectively managing its Integrated Development Environments (IDEs) for building and working on various applications.
To ensure productive interaction and effective comprehension among our trainees, we intentionally maintain small batch sizes. You'll have the opportunity to gain hands-on experience through live projects, boosting your confidence and proficiency.
Our experienced trainers will guide you in creating your own automation framework, empowering you with practical skills.
Upcoming Batches
| | | | |
| --- | --- | --- | --- |
| 23-09-2023 | Weekend | Saturday (Saturday - Sunday) | |
| 25-09-2023 | Weekdays | Monday (Monday - Friday) | |
| 28-09-2023 | Weekdays | Thursday (Monday - Friday) | |
| 30-09-2023 | Weekend | Saturday (Saturday - Sunday) | |

Classroom Training
Get trained by Industry Experts via Classroom Training at any of the FITA branches near you
Why Wait? Jump Start your Career by taking the Selenium with Python Classroom Training in Chennai!
Instructor-Led Live Online Training
Take-up Instructor-led Live Online Training. Get the Recorded Videos of each session.
Travelling is a Constraint? Jump Start your Career by taking the Selenium with Python Course Online!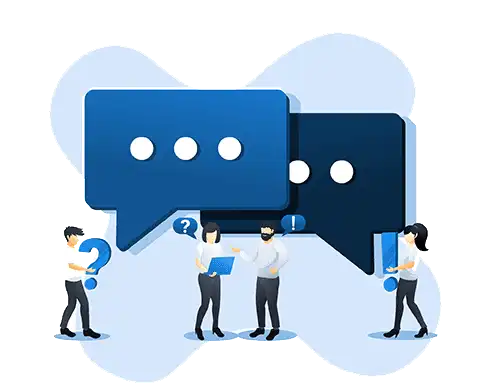 Have Queries? Talk to our Career Counselor
for more Guidance on picking the right Career for you! .
Trainer Profile
At FITA Academy, our instructors offer a comprehensive approach to education by seamlessly blending different learning modalities. We are deeply committed to this dynamic form of learning.
Through immersive training involving real-world projects and scenarios, our trainers ensure that students gain substantial practical exposure to the subject matter.
Our teaching team comprises seasoned experts with a cumulative experience exceeding 12 years in their respective fields.
At FITA Academy, our trainers are professionals actively engaged in their industries, providing students with the latest skills and knowledge directly applicable to the job market.
Our instructors prioritize giving individualized attention to students, addressing their queries, and facilitating a clearer understanding of the learning process.
In addition to imparting technical knowledge, we focus on enhancing students' interpersonal skills and assisting them in crafting impressive resumes to set them on the path to a successful career.
We are dedicated to nurturing students' interpersonal abilities while also guiding them in the development of resumes, ultimately equipping them for a prosperous career journey.
Features
Real-Time Experts as Trainers
At FITA Academy, You will Learn from the Experts from industry who are Passionate in sharing their Knowledge with Learners. Get Personally Mentored by the Experts.
LIVE Project
Get an Opportunity to work in Real-time Projects that will give you a Deep Experience. Showcase your Project Experience & Increase your chance of getting Hired!
Certification
Get Certified by FITA Academy. Also, get Equipped to Clear Global Certifications. 72% FITA Academy Students appear for Global Certifications and 100% of them Clear it.
Affordable Fees
At FITA Academy, Course Fee is not only Affordable, but you have the option to pay it in Installments. Quality Training at an Affordable Price is our Motto.
Flexibility
At FITA Academy, you get Ultimate Flexibility. Classroom or Online Training? Early morning or Late evenings? Weekdays or Weekends? Regular Pace or Fast Track? - Pick whatever suits you the Best.
Placement Support
Tie-up & MOU with more than 1500+ Small & Medium Companies to Support you with Opportunities to Kick-Start & Step-up your Career.
Selenium with Python Certification Training
About Selenium with Python Certification Training in Chennai
at FITA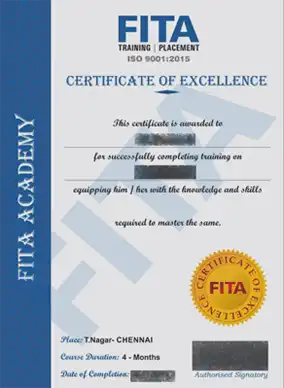 Selenium with Python Certification Training in Chennai
Selenium with Python Training in Chennai Certification is one of the professional accreditations that you can present to your company along with your CV during the interview. FITA Academy's Selenium Certification Course validates your technical knowledge earned during the training program. After completing the Selenium with Python Training at FITA Academy, you will have a comprehensive knowledge and practical experience with the automation testing process and its application. FITA Academy's experienced Selenium testing professionals deliver the Selenium with Python training in Chennai. They teach the necessary testing information as well as intensive hands-on instruction to the pupils.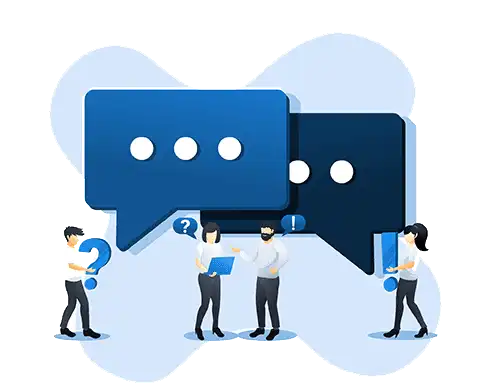 Have Queries? Talk to our Career Counselor
for more Guidance on picking the right Career for you! .
Job Opportunities After Completing Selenium with Python Training in Chennai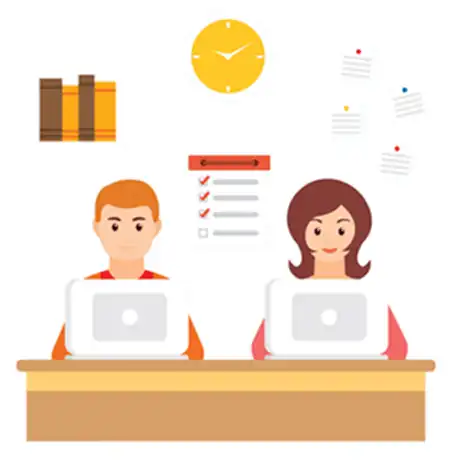 In the ever-evolving landscape of technology, Python stands tall as one of the most sought-after programming languages, promising lucrative careers for aspiring tech professionals. According to recent reports from Forbes, Python has claimed the coveted top position among the most in-demand skills in 2020. Impressively, Python boasts a staggering 8.2 million developers, surpassing other popular languages like Java, with only 7.2 million developers. These statistics were revealed by SlashData.
The phenomenal growth of Python can be attributed to its versatility and flexibility. Python is renowned for its simplicity, making it an ideal choice for newcomers. It finds applications in diverse fields, including web application development, game development, and data science. Furthermore, Python is instrumental in shaping the future of technologies like Artificial Intelligence, Networking, and Big Data.
A multitude of prestigious organizations, such as NASA, Google, Yahoo Maps, YouTube, Dropbox, Facebook, Amazon, PayPal, Instagram, Quora, Spotify, Flipkart, Slack, Uber, and IBM, rely on Python for their operations.
A wide array of career opportunities awaits those proficient in Python, with job titles like Software Developer, Software Programmer, Python Developer, Software Engineer, Data Analyst, and Research Analyst being commonplace in these organisations. According to leading job portals in India, there are a staggering 20,000 to 40,000+ Python job openings on each site, showcasing the growing demand for Python developers.
Python professionals in India enjoy competitive salaries, with entry-level Python Developers earning between Rs. 3,60,000 to Rs. 4,20,000 per annum. Those with 3-5 years of experience can expect to earn around Rs. 4,50,000 to Rs. 6,20,000 yearly, while seasoned experts with 5+ years of experience and specialised skill sets command salaries ranging from Rs. 6,50,000 to Rs. 8,00,000 per annum. Globally, Python Developers earn an average annual salary of $71,789. Compensation packages may vary depending on experience, skill sets, and organisational policies.
Embark on a promising career path by mastering Selenium with Python at FITA Academy. You receive the skills you need to be successful in this dynamic area through our extensive training programme, opening doors to a world of opportunities in the ever-expanding realm of technology. Join us today to shape your future with Python expertise.
Student Testimonials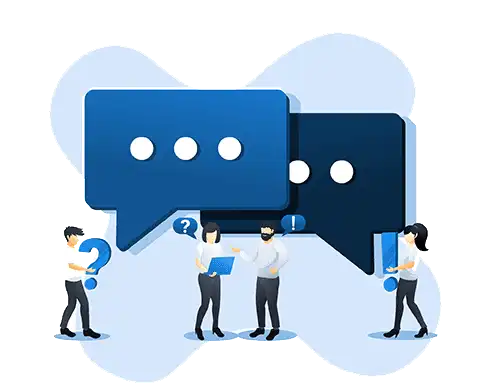 Have Queries? Talk to our Career Counselor
for more Guidance on picking the right Career for you! .
Additional Information
Python, in conjunction with Selenium, offers a powerful combination for various applications, especially in web development and automation. Let's explore the features of Selenium with Python:
Flexibility and Power: Python, as a language, is known for its flexibility and power. When combined with Selenium, it becomes a potent tool for web automation, enabling you to manage online browsers and carry out a variety of tasks, including web scraping, testing, and interaction with web applications.
Ease of Learning: Python is renowned for its ease of learning, and this trait extends to Selenium as well. The Python programming language's straightforward syntax makes it accessible for beginners and experienced developers alike, easing the learning curve for Selenium automation.
Libraries for Web Automation: Selenium is a popular framework for automating web browsers, and Python boasts a robust ecosystem of libraries and modules that complement Selenium's capabilities. This combination enhances your ability to manipulate web elements and automate complex tasks efficiently.
Data Mining and Analysis: Python's extensive libraries for data mining and analysis seamlessly integrate with Selenium. This synergy allows you to extract, process, and analyze web data effortlessly, making it invaluable for tasks like web scraping and gathering insights from web content.
Scientific Computing: Python is a popular language used for scientific computing, and when combined with Selenium, it becomes a versatile tool for automating scientific data collection and analysis from web sources. This is particularly valuable in research and data-driven fields.
Quantitative Domains: Python is prevalent in highly quantitative domains such as finance, banking, and signal processing. Selenium extends its capabilities to automate tasks related to data retrieval, analysis, and reporting in these domains, enhancing productivity.
Industry Adoption: Numerous organizations across various industries are migrating to Python for their web automation needs. Companies like Dropbox, Zenefits, Google, and Nasdaq are notable examples. This trend highlights the demand for professionals skilled in both Python and Selenium.
Google's use of Python: Google engineers rely heavily on Python, and the company actively seeks individuals with strong Python skills. This further emphasises the career prospects and relevance of Python and Selenium training.
Versatile Programming Models: Python supports multiple programming paradigms, including imperative, functional, object-oriented, and procedural styles. When combined with Selenium, it accommodates diverse automation requirements, allowing you to choose the most suitable approach for a given task.
Open Source and Inclusive Libraries: Python is open-source, which means it's widely accessible and fosters collaboration. Selenium also aligns with this ethos, offering a robust open-source platform for web automation. The inclusive libraries available in Python and Selenium simplify development and expand the range of automation possibilities.
 Python's flexibility, ease of learning, extensive libraries, and compatibility with Selenium makes it an ideal choice for web automation, web scraping, and data-driven tasks across various industries.
Benefits of Selenium with Python Certification Training
Comprehensive Skill Set: Upon successful completion of this advanced certification course, you will emerge proficient in the art of testing web applications and mobile apps across a wide spectrum of platforms. This expertise is powered by Selenium with Python, a potent automation tool.
Thriving Career Opportunities: Automation testing is witnessing exponential growth, resulting in an escalating demand for Quality Assurance professionals, Software Testers, and Test Engineers. Armed with this certification, you'll find yourself well-positioned to seize the abundance of job opportunities.
Real-World Project Exposure: In addition to comprehensive Selenium with Python Training, you will have the privilege of engaging in a real-time project. This hands-on experience will not only enhance your career prospects but also provide invaluable practical insights, preparing you for the challenges of the professional realm.
Alignment with Best Practices: The curriculum at FITA Academy is meticulously designed to adhere to industry best practices. This ensures that the training is highly effective, industry-focused, and easily digestible, priming you for real-world scenarios.
Guidance from Seasoned Experts: Learning from industry veterans with extensive experience is an invaluable aspect of this program. FITA Academy's trainers are certified Selenium professionals boasting over 8 years of hands-on experience, providing you with unparalleled insights into the field.
State-of-the-Art Tools and Techniques: The Selenium with Python Training regimen is built on the foundation of the latest tools and techniques. This empowers you to elevate your testing prowess to a professional level, which is essential for a successful career as a Quality Assurance tester.
Streamlined Curriculum: The course structure is intelligently crafted to facilitate easy comprehension. Complex topics are presented in a clear and straightforward manner, ensuring a seamless and enjoyable learning experience.
Certification Recognition: Upon completing the course, you'll be eligible for certification as a Selenium Certified Tester with Python knowledge. This certification serves as a testament to your skills, enhancing your credibility and career prospects.
Assured Placement Support: FITA Academy is committed to your success. The Selenium with Python Training Institute in Chennai provides guaranteed 100% placement assistance, guiding and supporting you in securing fulfilling job opportunities within the industry. Selenium with Python Training in Chennai Certification is one of the professional accreditations that you can present to your company along with your CV during the interview.