Course Highlights and Why Struts Training In Chennai at FITA Academy?

Expertly designed Struts Course Curriculum to meet the global industry requirements in the Web Application Development field.

Courseware that is devised by Certified Experts to have an in-depth understanding of how to build Java-based web applications using the Struts Framework.

Highly Qualified Struts Framework Mentors with 10+ years of practice and experience in using the framework in real-time.

Exhaustive Struts Training in Chennai to get you equipped with its Plug-ins, Packages, and Architecture.

Immersive Expert-led Struts Framework Classes in Chennai at FITA Academy.

Regular Brushing-up of the previous Struts Classes are given to the participants to strengthen their skillsets.

Experiential Method of Learning of the Struts Framework in Chennai at FITA Academy with Technically Updated Classrooms

Professional Struts Training at an affordable price along with Struts Course Completion certification for the students.

Flexible Struts Course Batch Timings - Weekday, Fast Track, and Weekend Struts Training in Chennai

FITA Academy bestows the students with 100% of the Placement Support for all the participants who have accomplished the Struts Training successfully.

FITA Academy has a Placement Network with 1500+ established Corporate Companies of all scales

FITA Academy's Training & Placement Cell helps the students to head-start their career in the desired path by guiding them with a correct career path.
Upcoming Batches
11-12-2023
Weekdays
Monday (Monday - Friday)
14-12-2023
Weekdays
Thursday (Monday - Friday)
16-12-2023
Weekend
Saturday (Saturday - Sunday)
23-12-2023
Weekend
Saturday (Saturday - Sunday)

Classroom Training
Get trained by Industry Experts via Classroom Training at any of the FITA Academy branches near you
Why Wait? Jump Start your Career by taking the Struts Training in Chennai!
Instructor-Led Live Online Training
Take-up Instructor-led Live Online Training. Get the Recorded Videos of each session.
Travelling is a Constraint? Jump Start your Career by taking the Struts Course Online!
Syllabus of Struts Training in Chennai
Why Struts 2, Introduction To Struts Framework
Struts 1.x vs Struts 2.x Main Differences
Struts Execution Flow Diagram, How Struts Works
Configuring Struts2
Struts 2 Store User Input Details In Separate Java Bean
How To Use Resource Bundle In Struts2
Programmatic Validations With Resource Bundle In Struts2
Aware Interfaces of struts 2
Example on Application-Aware Interface of struts 2
Example of Struts 2 Session Aware Interface
XML Validations In Struts2 With Examples
Struts2 Validation Rules and Their Syntax
How To Apply Multiple Validations On Same Field In Struts 2
Struts2 XML Validations Example, Declarative Validations In Struts
Struts 2 date time picker Example
Struts 2 Tabbed panel Example
Using Struts 2 Auto completer With Example
Struts 2 Iterator Tag Example
Working With Struts 2 Interceptor(s) With Example
Working With Struts 2 Tiles, Struts 2 Tiles Example
Struts 2 File Upload & Save Example
Struts2 Insert, Update, Delete, Operations Through JDBC [ Real-Time Application ]
Struts2 Custom Interceptor Example, Struts2 Interceptors
Trainer Profile
The Struts Mentors at FITA Academy Institute trains the concepts of the Struts Framework with the correct blend of Practical and Theoretical sessions for the students.
Struts Framework Instructors at FITA Academy equips the participants with the Job-ready skillsets.
Struts Framework Trainers at FITA Academy are Professional Java Expertise with a decade of experience in using the Struts Framework.
Struts Framework Tutors at FITA Academy Institute are Real-time Java Struts Developer professionals, and they render hands-on training of the Struts Framework.
The Struts Framework Instructors at FITA Academy Institute enriches the knowledge of the students by training them intensively on the recent industry practices.
Struts Framework Mentors at FITA Academy provides the required individual guidance to all the students and provide complete hands-on training of the Struts Framework
The Struts Framework Instructors at FITA Academy Training Institute supports the students in the Resume Building process.
The Mentors at FITA Academy also boost confidence in the students by giving them rigorous mock interview training practices and tips to handle the interviews efficiently.
Learn at FITA Academy & Get Your
Dream IT Job in 60 Days
like these Successful Students!

Features of Struts Training In Chennai at FITA Academy
Real-Time Experts as Trainers
At FITA Academy, You will Learn from the Experts from industry who are Passionate in sharing their Knowledge with Learners. Get Personally Mentored by the Experts.
LIVE Project
Get an Opportunity to work in Real-time Projects that will give you a Deep Experience. Showcase your Project Experience & Increase your chance of getting Hired!
Certification
Get Certified by FITA Academy. Also, get Equipped to Clear Global Certifications. 72% FITA Academy Students appear for Global Certifications and 100% of them Clear it.
Affordable Fees
At FITA Academy, Course Fee is not only Affordable, but you have the option to pay it in Installments. Quality Training at an Affordable Price is our Motto.
Flexibility
At FITA Academy, you get Ultimate Flexibility. Classroom or Online Training? Early morning or Late evenings? Weekdays or Weekends? Regular Pace or Fast Track? - Pick whatever suits you the Best.
Placement Support
Tie-up & MOU with more than 1500+ Small & Medium Companies to Support you with Opportunities to Kick-Start & Step-up your Career.
Why Learn Struts Training In Chennai at FITA Academy?
Live Capstone Projects
Real time Industry Experts as Trainers
Placement Support till you get your Dream Job offer!
Free Interview Clearing Workshops
Free Resume Preparation & Aptitude Workshops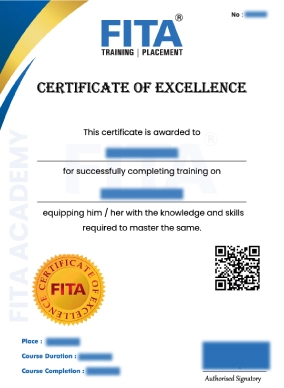 Struts Certification Training in Chennai
Struts Course Certification is one of the professional accreditation which demonstrates that the learning participants had obtained extensive knowledge of the Struts Framework and its Architecture. With a real-time project experience by the end of the Struts Course, it mentions that the candidate has gained the necessary skills to work as a Java Struts Developer. Showcasing this accomplishment certificate with your resume at the time of the interview helps in bolstering your profile and helps you to ace wider career opportunities.
Struts Certification Course in Chennai at FITA Academy imparts the required professional skills that are mandatory for a Java Struts Developer under the guidance of expert mentorship. Struts Training in Chennai at FITA Academy is rendered by real-time professionals who have 8+ years of experience in using the Struts framework. The Struts Trainers at FITA Academy equips the knowledge of the students and trains them efficiently to use the Struts Framework.
Have Queries? Talk to our Career Counselor for more Guidance on picking the
right Career for you!
Placement Session & Job Opportunities after completing Struts Training In Chennai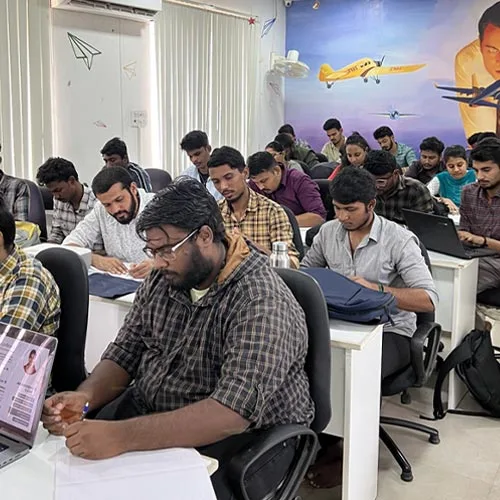 Java is undoubtedly the most popular programming language that is primarily used in the Web Development and Application field. According to the reports published by the TIOBE 2020 Popular Index Java is the commonly used programming language among developers in the Web Development community. The reason behind the exponential growth of this language is because of its stability and code compilation features. Furthermore, Java also supports its developers with a number of frameworks to ease their workload. Java Struts is one of the popular frameworks that are preferred by the developers in the Web Development community.
With Struts, the Developers can deploy the MVC pattern without the separation of the three components namely Business Logic presentation, Change of the Databases, Modification, and Debugging of code developed by the designer. One of the key highlight features of the struts framework is that we can easily integrate it into different frameworks like Spring and Hibernate. These are the major reasons why most of the developers prefer the Struts Framework. Also, there is a huge demand for Java Struts Developers in the market. The average remuneration offered to an entrant -level Java Strut Developer is Rs.3,70,000 to Rs.4,50,000 per annum. The number of job openings for the Struts Developer in Naukri.com is 95530. Struts Training in Chennai at FITA Academy provides in-depth training on how to use the Struts Framework under Expert guidance. The Struts Instructors at FITA Academy hone the necessary professional skills that are required to excel in your career in the Web Application Development field.
Success Story of Struts Training In Chennai
Overall learning experience at FITA Academy's Struts Training was very well conducted. An updated Struts Course Curriculum that caters to the current market requirements. Also, the Struts Trainer at FITA Academy was so proficient, and he taught us everything practical examples. At FITA Academy, we had a regular assessment session with proper evaluation. Very nice work FITA Academy! Keep it up!
My training acquaintance with FITA Academy for the Struts course was good. The training schedule was so flexible at FITA Academy. I must say that I had a very good learning experience. The Struts Trainers at FITA Academy were real-time professionals and they taught us with complete hands-on learning. A sincere thanks to my trainer who helped me in building my professional resume. Also, FITA Academy helped me with Placement guidance.
The Struts Course in Chennai at FITA Academy was nice. I am glad that I choose FITA Academy for Struts Training. I joined FITA Academy for the Struts Training Course at my friend's suggestion. FITA Academy provided the best practical approach to the Struts framework. They provided in-depth training on how to create enterprise applications. The Trainers at FITA Academy provide the best in class training of the Sturt Framework. Thanks to my trainer.
The Struts Course in Chennai at FITA Academy provides in-depth training on the Strut Framework. The Struts Trainers at FITA Academy provided the correct mix of practical and theoretical concepts of the Struts Framework. Thanks to my Strut Trainer who was patient enough to clear all our doubts. I recommend FITA Academy for all the Freshers.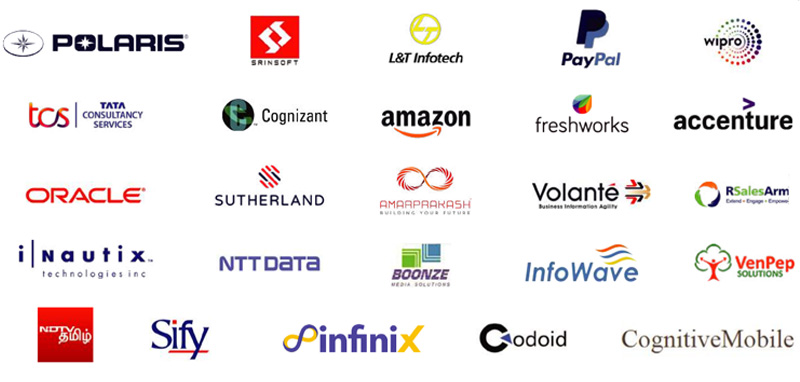 Frequently Asked Question (FAQ) about Struts Training In Chennai
Additional Information of Struts Training In Chennai
Java is a leading programming language since it was launched in 1995 for developing web-based applications, web services & desktop applications. Java's durability roots in its object-oriented programming methodology, platform compatibility, and enduring frameworks & libraries that enable and encourage the developer to build a highly scalable application.
FITA Academy offers a remarkably wide array of Java training in Chennai which includes Struts training in-depth covering the usage, implementation, & benefits of using struts. Struts being a powerful & popular framework for developing Java web application, trainees will learn how this powerful framework, when used along with the Model-View-Controller (MVC) design pattern, can create magical & scalable data-driven web applications.
Prerequisites and Eligibility Criteria for the Struts Course in Chennai
Prerequisites: There are no prerequisites to learn the Struts Course in Chennai at FITA Academy. However, having prior knowledge of Java programming language is of added advantage for you to learn the Struts Course rapidly.
Struts Training in Chennai at FITA Academy imparts the knowledge and architecture of the Struts framework.
Eligibility Criteria: The Struts Course in Chennai at FITA Academy can be chosen by any fresher graduates. Yet, this Struts Course is also suitable for professionals such as Java Developers, Java Programmer, and Project Manager. Struts Training in Chennai at FITA Academy renders the students with extensive training of the Struts Framework from its basics to advanced level.
By end of the training, students will have,
Enormous knowledge of the mechanics of the Struts framework
Understanding of MVC design pattern
How MVC design pattern is best applied to develop Java web application
Students will also learn how to follow and prepare a perfect Structs architecture process to build/develop their web applications
FITA Academy is rated as the best Struts Training Institute in Chennai offering a quality training program with a well-equipped infrastructure & lab facility. Trainers are from leading MNCs having more than a decade of experience in Java & Struts. In fact, they are more friendly & interactive so you can get all your clarification cleared before you step out of the class.
In any domain of IT, theoretical knowledge is not helpful for cracking the interview, and therefore core knowledge is highly required to clear the interviews from the practical environment. Struts are the part of the advanced level Java and Struts, Spring and Hibernate are the three advanced-level courses for the specialized category of learners. After learning the Struts framework the project management skills are improved. Struts are the framework with modular techniques and highly demanded the trending projects in the IT industry. The famous SocialMedia WebSites like YouTube, Twitter, and Gmail are built on Java. Shopping portals like Amazon, blogger, and Ebay use java. The performance of Java and the availability of the language through open-source demand for the knowledge of Java. Join FITA Academy for the best Struts Training Center in Chennai and balance the knowledge needed to manage the latest project in the working environment. The scope of the language Java increases the career growth to the struts. To create the native infrastructure it is essential to know all the frameworks as a skilled Java developer. Struts Course in Chennai is the best course for the Java developer to climb up high on the career ladder.
What is the future of struts?
The struts framework works with java beans and saves the request. The presentational element such as JSP pages uses the struts framework. The Struts2 is now into the market and there are so many other frameworks like Spring, Stripes, and JSF which works like Struts2. The big things in the internet world like server virtualization and cloud computing require Java frameworks to function. Struts Training Institutes in Chennai will train the learners with ample training to take up the challenging project with struts. Struts2 is much easier to learn with proper guidance than struts1. Struts are more demanding as it provides the Struts MVC architecture. Many big business applications are developed with struts. So, the future is booming as it has 10X more users than any other frameworks of the same time. Java is used for different purposes like server-side programming, query fetching, and Android development, etc. The demand for Java frameworks like struts, spring, hibernate, grails, and play is always on the rise due to its usage in the IT world. Struts are used in many projects for the quantity and quality aspects.
Core Java is the base and the three frameworks are the cover over the base. So, knowing the base core java is essential and the knowledge of the advanced concept will open up huge job opportunities. New frameworks and old frameworks both are essential as the new frameworks are created with an advanced element which is demanding with the old framework. Legacy technologies and emerging technologies both are essential to handle the multiple aspects and develop different types of products. Join the Struts Training Chennai at FITA Academy as the trainers are from top companies with a good background. FITA Academy is named the best institute with a good reputation over years with a good number of happy students. So, join the learning community with a learning passion.