Course Highlights and Why Spark Training in Chennai at FITA Academy?

Skilfully tailored Apache Spark Course modules to adhere to the current global industry requirements.

Courseware that is designed by Certified Big Data Experts enables the students to obtain a holistic understanding of the concepts of the Spark in the Advance Processing platform.

Recognized and Hand-picked Apache Spark Tutors with a decade of work experience in the Big Data platform.

Exhaustive Spark Training in Chennai at FITA to get you acquainted with Spark Streaming Ecosystem, GraphX Spark, and Spark SQL.

Interactive Expert-led Apache Spark Training in Chennai at FITA Academy.

Regular Brushing-up of the previous Spark Classes are provided to strengthen the memory of the students.

Applied Method of learning of the Apache Spark framework in an updated classroom environment with a hands-on learning experience in Chennai at FITA.

Professional Spark Training in Chennai at FITA at a nominal price with a Spark Certification on the successful accomplishment of the course.

Feasible Spark Batch Timings options - Fast Track, Weekday, & Weekend Classes in Chennai at FITA to suit the comfortability of Students and Professionals.

FITA Training Institute bestows the students with 100% Placement Assistance for all the learning participants on completing the Spark Training successfully.

FITA Training Institute has a firm network and tie-ups for Placement with 600+ Corporate Companies of all scales.

FITA has an Active Placement Portal that renders the students with complete guidance to land in their desired career path.
Upcoming Batches
09-12-2023
Weekend
Saturday (Saturday - Sunday)
11-12-2023
Weekdays
Monday (Monday - Friday)
14-12-2023
Weekdays
Thursday (Monday - Friday)
16-12-2023
Weekend
Saturday (Saturday - Sunday)

Classroom Training
Get trained by Industry Experts via Classroom Training at any of the FITA branches near you
Why Wait? Jump Start your Career by taking the Spark Training in Chennai
Instructor-Led Live Online Training
Take-up Instructor-led Live Online Training. Get the Recorded Videos of each session.
Travelling is a Constraint? Jump Start your Career by taking the Spark Training Online!
Syllabus
Module 1: Getting Familiar with Spark
Apache Spark in Big Data Landscape and purpose of Spark
Apache Spark vs. Apache MapReduce
Components of Spark Stack
Downloading and installing Spark
Launch Spark
Module 2: Working with Resilient Distributed Dataset (RDD)
Transformations and Actions in RDD
Loading and Saving Data in RDD
Key-Value Pair RDD
MapReduce and Pair RDD Operations
Playing with Sequence Files
Using Partitioner and its impact on performance improvement
Module 3: Spark Application Programming
Master SparkContext
Initialize Spark with Java
Create and Run Real-time Project with Spark
Pass functions to Spark
Submit Spark applications to the cluster
Module 4: Spark Libraries
Module 5: Spark configuration, monitoring, and tuning
Understand various components of Spark cluster
Configure Spark to modify
Spark properties
Environmental variables
logging properties
Visualizing Jobs and DAGs
Monitor Spark using the web UIs, metrics, and external instrumentation
Understand performance tuning requirements
Module 6: Spark Streaming
Understanding the Streaming Architecture - DStreams and RDD batches
Receivers
Common transformations and actions on DStreams
Module 7: MLlib and GraphX
Spark Documentation and Resources
Trainer Profile
Apache Spark Trainers at FITA Institute explains the concepts of the Spark framework extensively with the correct aspects of the practical and theoretical sessions.
Apache Spark Mentors at FITA Institute train and make the students ready with Job-Specific skill sets.
Spark Framework Tutors at FITA Institute are Expertise in the Big Data platform.
Apache Spark Trainers at FITA Institute are Real-time Big Data Professionals, and they train the students with hands-on training of the Spark framework.
Spark Instructors at FITA Institute sharpens the technical knowledge of the participants by training them exhaustively on real-time industry practices.
Apache Spark Tutors at FITA Institute trains all the students with equal one-to-one attention and equips their skill sets to use the Spark Framework efficiently by training them in-depth.
Spark Framework Trainers at FITA Institute guide and mentor the students in Building their Profile for Interviews and train them rigorously with useful interview techniques & tips to face the interviews confidently.
Learn at FITA Academy & Get Your
Dream IT Job in 60 Days
like these Successful Students!

Features of Spark Training in Chennai at FITA Academy
Real-Time Experts as Trainers
At FITA Academy, You will Learn from the Experts from industry who are Passionate in sharing their Knowledge with Learners. Get Personally Mentored by the Experts.
LIVE Project
Get an Opportunity to work in Real-time Projects that will give you a Deep Experience. Showcase your Project Experience & Increase your chance of getting Hired!
Certification
Get Certified by FITA Academy. Also, get Equipped to Clear Global Certifications. 72% FITA Academy Students appear for Global Certifications and 100% of them Clear it.
Affordable Fees
At FITA Academy, Course Fee is not only Affordable, but you have the option to pay it in Installments. Quality Training at an Affordable Price is our Motto.
Flexibility
At FITA Academy, you get Ultimate Flexibility. Classroom or Online Training? Early morning or Late evenings? Weekdays or Weekends? Regular Pace or Fast Track? - Pick whatever suits you the Best.
Placement Support
Tie-up & MOU with more than 1500+ Small & Medium Companies to Support you with Opportunities to Kick-Start & Step-up your Career.
Why Learn Spark Training in Chennai at FITA Academy?
Live Capstone Projects
Real time Industry Experts as Trainers
Placement Support till you get your Dream Job offer!
Free Interview Clearing Workshops
Free Resume Preparation & Aptitude Workshops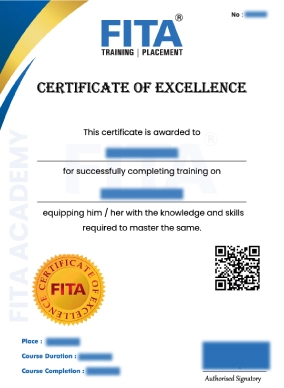 Spark Certification Training in Chennai
Apache Spark Course Certification is one of the valid proof that specifies that the participant has obtained a holistic knowledge of the Spark Framework and its Ecosystems. With real-time exposure and project experience provided in the Spark course, this certificate demonstrates that the learning participant has obtained the required coveted skills to work as Apache Spark Developer. Providing this Apache Spark accomplishment certificate with your resume helps in advancing your profile among your peers at the time of the interview and opens the door for accessing broader career horizons. 
Spark Certification Course in Chennai at FITA Institute supports you to hone in the required professional skill sets that are mandatory for an Apache Spark Developer under the training of Real-time Apache Spark Experts. Apache Spark Training in Chennai at FITA Academy Institute is delivered by Spark Professionals who hold a minimum of 8+ years of experience in the Big Data platform. Apache Spark Mentors at FITA Institute trains proficiently on the developments and techniques that are prevalent in the Big Data industry.
Have Queries? Talk to our Career Counselor for more Guidance on picking the
right Career for you!
Placement Session & Job Opportunities after completing Spark Training in Chennai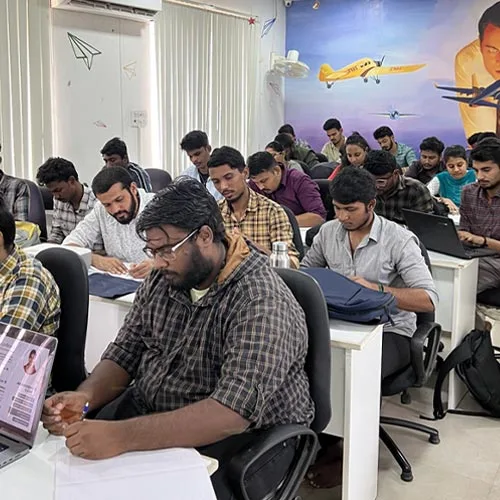 In the present arena of Data Explosion where organizations are seeking algorithms that are capable of running on the Distributed Iterative computation to make the functions of computing and distributing large volumes of Data at ease. Spark is one such framework that aids the Big Data Professionals with multi-purposes. The Spark is framed in a manner that can perform the Stream and Batch processing efficiently and thus it is known as a Cluster Computing platform. Based on the report submitted by MarketAnalysis.com it is stated that the global value of the Spark Market revenue is expected to grow up to $ 4.2 billion by the end of the year 2022. It is anticipated that the Spark Market value is expected to grow at a CAGR of 67% within 2019-2022.
The various industries where the Spark Apache Professionals are highly demanded are E-Commerce, Retail, Oil & Gas, Enterprise technology, and Healthcare & Life Sciences.
The reputed organizations that recruit the Apache Spark Developer are NetFlix, Facebook, Uber, Mastercard, Google, Apple Inc, Microsoft, Amazon, LinkedIn, Twitter, Accenture, Goldman Sachs, Hewlett Packard Enterprises, and IBM. The general job profiles that are offered in these companies Spark Developer, Apache Spark Developer, and Big Data – Spark Developer. The median package offered to these professionals in India is Rs. 6,50,000 to Rs. 8,20,000 per annum.
Globally, a Spark Developer is paid $ 132, 927 yearly. According to the reports published in Indeed.com it is stated that only in India there are over 7,000+ job openings for the Spark Developer. If you are looking for a lucrative career this is a perfect time, to begin with, Spark Training and kick-start your career in the Big Data field. The Apache Spark Training in Chennai at FITA endeavors the students with in-depth training of the Apache Spark framework and imbibes the required professional skills that should be obtained by a Spark Developer.
Success Story of Spark Training in Chennai
The Spark Training in Chennai at FITA Institute was one of the best training sessions. Extensive training of the Apache Spark Framework was provided. My tutor trained us efficiently on how to use the Apache Framework from its basics. Thanks, FITA Academy for the best Spark Training. I will recommend FITA Institute to all my friends.
I did my Apache Spark Training in Chennai at FITA. The entire training session was interesting. My Apache Spark trainer thought of everything with practical examples. Also, sufficient focus was given to the assessment session. At FITA Academy for the Spark Course, we had a routine assessment test and it was evaluated by my trainer regularly. This is the best part of the Spark Training program which made me learn the Spark Framework quickly.
Apache Spark Training @ FITA was a bundle pack training course that everything, which a Spark Developer should be aware of. Excellent Syllabus with Efficient Spark Trainers made the complete learning session a useful one. I recommend FITA for freshers and experienced candidates as well. Thank you FITA Academy! Great Work.
I completed the Apache Spark Training @ FITA! A very good training approach is practiced at FITA. The correct proposition of training and practice sessions was provided. Good coverage of the Big Data Hadoop concepts was also provided. Besides, all these things the FITA Institute was so flexible in scheduling the classes. Sincere thanks to FITA Institute and to my Apache Spark Trainer.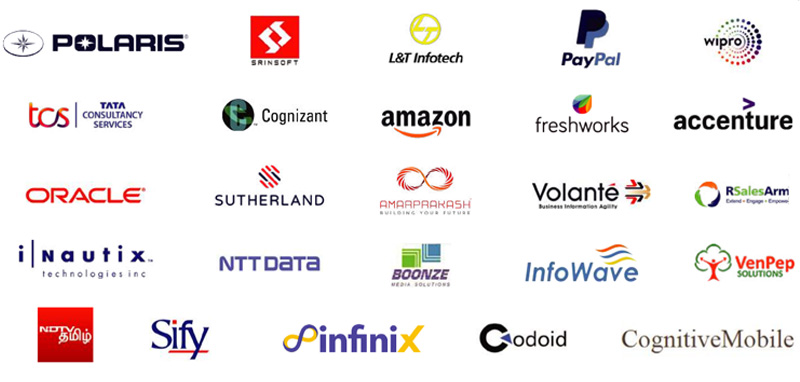 Frequently Asked Question (FAQ) about Spark Training in Chennai
Additional Information of Spark Training in Chennai
Today, Apache Spark is one of the leading platforms that is used for processing data sets on a large scale. This framework is designed in a manner to support the users with Scalability, Programmability, and Computational Speed that are required forBig Data professionals for streaming the Data, Machine Learning, Streaming Data, and Artificial Intelligence applications. It is stated that the Spark Analytics engine is capable of processing data 10 to 100 times faster when compared to its alternatives in the market. The Apache Spark Engine scales the distribution process work on large clusters of computers that are built-in with fault tolerance and parallelism features. The Apache Spark also supports the APIs for programming languages that are widely used among the Big Data Analysts, Data Scientists to name a few R, Python, and Java. These are the major reasons why Apache Spark has gained a competitive edge over its rivalries in the Big Data domain. Owing to its robust features the Apache Spark is widely adopted among different industries and big giants like Microsoft, IBM, Apple, and Facebook.
Prerequisites and Eligibility Criteria for the Spark Training in Chennai
Prerequisites: We don't ask for any specific requisites to learn the Spark Training in Chennai at FITA. Yet, having a good understanding of the SQL, Query Language, Database and firm understanding or knowledge of using the Linux or Unix based systems is of added advantage for you to understand the concepts of Spark at ease.
Eligibility Criteria: Any fresher graduates who want to begin their career in the Big Data domain can go with the Spark Training in Chennai at FITA. The Apache Spark Training in Chennai at FITA is more useful for professionals such as,
Database Developer
BI Professionals
Software Architects
Mainframe Professionals
Apache Spark Training in Chennai at FITA trains the students from the fundamentals of the Spark framework and its application in real-time life with certification under the mentorship of Big Data Experts.
What will you gain from the Spark Training in Chennai at FITA?
Demonstrable knowledge of the Spark Applications and Spark Shell for processing, exploring, and analyzing the distributed data.
In-depth knowledge of how the data querying is done using the Data Frames, Spark SQL, and Datasets
Know-how to perform a Spark Streaming for processing the live data stream
Able to implement a Spark Cluster
A better understanding of the Spark Object-oriented and Functional programming paradigms
Become familiar with the Big Data Hadoop Platform and the essential concepts
Understand the purpose of using Spark
Use Resilient Distributed Datasets operations
Use Java to create and run Spark applications practically
Create applications using Spark SQL, MLlib, Spark Streaming, and GraphX
Configure, Monitor, and Tune Spark Applications
Apache Spark is created for in-memory computing for the lightning speed processing of applications. Apache Spark is a processing engine built with the objective of quicker processing, ease of use, and better analytics. Spark is a better alternative to Map Reduce where a large amount of data can be processed with much lower latency than Map Reduce. Apache Spark supportsJava, Python APIs, and Scala, unlike Map-Reduce that supports only Java. Spark can access diverse data sources like Amazon S3, No SQL databases like Cassandra, HBase, and Hadoop Distributed File System. Spark Training in Chennai at FITA supports and instills the knowledge of the students efficiently from the basics to the complex features of the Spark Engine under the training of real-time professionals.