Course Highlights and Why Power BI Training in Chennai at FITA Academy?

The Power BI course offers a hands-on learning experience with live projects, facilitating a practical understanding of Business Intelligence.

The course provides a comprehensive grasp of Power BI concepts, covering desktop layouts, BI reports, dashboards, DAX commands, and functions.

It caters to individuals of all skill levels, from beginners to experienced professionals, by covering essential topics from the ground up.

Regular exercises and mock tests are integrated after each topic to assess your progress and understanding.

FITA Academy prioritises flexibility in learning, allowing you to select from classes on weekdays, weekends and fast-track to accommodate your schedule.

Upon completing the Power BI Course, we provide a valuable certification that enhances your profile when included.

With a robust placement support system, the Power BI Training in Chennai connects you to a network of over 1,500 small and large-scale companies, offering ample career opportunities.

Our Placement cell is dedicated to helping students explore the high-paying career opportunities available for professionals with Power BI skills.
Upcoming Batches
11-12-2023
Weekdays
Monday (Monday - Friday)
14-12-2023
Weekdays
Thursday (Monday - Friday)
16-12-2023
Weekend
Saturday (Saturday - Sunday)
23-12-2023
Weekend
Saturday (Saturday - Sunday)

Classroom Training
Get trained by Industry Experts via Classroom Training at any of the FITA Academy branches near you
Why Wait? Jump Start your Career by taking the Power BI Training in Chennai!
Instructor-Led Live Online Training
Take-up Instructor-led Live Online Training. Get the Recorded Videos of each session.
Travelling is a Constraint? Jump Start your Career by taking the Power BI Course Online!
Course Objectives
Understanding the fundamental features of Power BI and differentiating between Business Intelligence (BI) and Power BI (PBI).
To gain proficiency in Power BI's user interface and its essential components, including building Blocks, Architecture, and Regional Settings.
Installation and Configuration of Power BI Desktop, setting it up for optimal use.
To Learn about various connectors in Power BI and effectively utilise query editing tools to transform and manipulate data.
Mastering data transformation techniques, including working with text, numbers, and dates, creating index columns, and grouping and aggregating data.
To Explore the "Report" view in Power BI Desktop, create reports, and employ basic charts, visuals, and conditional formatting.
Building a solid understanding of data modelling in Power BI, including creating table relationships, differentiating between data and lookup tables, and managing relationships.
Developing the skills necessary for data analysis using DAX calculations, understanding DAX syntax and operators, and applying various DAX functions to analyse data effectively.
Power BI Course Syllabus
Module 1: Getting Started with Power BI & Its Interface
An Overview of Power BI Features
Course Resources to help you get started
Understanding BI vs PBI
Analogy of waves to explain the different behavioral patterns
Optimisation techniques in Power BI
Key components of Power BI
Power BI Architecture and its working
Building blocks of Power BI
Microsoft Power BI future demand and other key metrics
Power BI Desktop Download & installation settings
The Regional settings in PBI
Module 2: Mastering Important Power BI Desktop Features
Choose the right type of Connector in Power BI
Using Power BI query Editor with query editing tools
Create basic data transformations in your table in Power BI
Working with Text, Number & Date Tools
Generate Index and create conditional index column
Group a column by using an aggregate function
Power BI Grouping & Aggregating Data
Pivoting and Unpivoting data
Append Queries vs Merge Queries
PRO TIP for Appending Files from a Folder
Configure the connection to the data source
Configuring PBI Query Refresh Settings
Additional Data Types & Categories in PowerBI
Module 3: Visualizing Data with PBI Reports
Exploring the "Report" View in PBI Desktop
Adding Simple Objects to the PBI Report Canvas
Inserting Basic Charts & Visuals
Conditional formatting in Power bi
Report Formatting and Filtering Options
Exploring Data with Matrix Visuals
Filtering with Date Slicers
Showing Key Metrics with Cards & KPI Visuals
Inserting Text Cards
Visualising Geospatial Data with Maps
Visualising Data with Treemaps
Showing Trends with Line & Area Charts
Adding Trend Lines & Forecasts
Goal Pacing with Gauge Charts
Editing Power BI Report Interactions
Adding Drillthrough Filters
Using Power BI Report Bookmarks
PREVIEW: Designing for Phone vs. Desktop Report Viewers
PREVIEW: Publishing to Power BI Service
Module 4: Creating Table Relationships & Data Models in Power BI
The data model in Power BI
Understanding Data Tables vs Lookup Tables
Understanding Table Relationships vs Merged Tables
Creating Table Relationships
Understanding Filter Flow
Filtering & Cross-Filtering
Hiding Fields from the Power BI Report View
Use of snowflake schema in Power BI
Managing & Editing Table Relationships
Managing Active vs Inactive Relationships
Understanding Relationship Cardinality
Module 5: Analyzing Data with DAX Calculations in Power BI
Intro to Data Analysis Expressions (DAX)
DAX Columns vs Measures
Adding Columns & DAX Measures in Power BI Desktop
Implicit vs Explicit DAX Measures
Understanding DAX Syntax & Operators
Common DAX Function Categories
Basic Date & Time Functions
Conditional & Logical Functions (IF/AND/OR)
Text, Math & Stats Functions
COUNT Functions (COUNTA, DISTINCTCOUNT, COUNTROWS)
CALCULATE, ALL & FILTER Functions
Power BI Course Trainer Profile
Our Trainers are certified by CBIP, SAS and Microsoft and have over a decade of experience as Data Analysts and Business Intelligence experts.
Trainers of Power BI Course in Chennai at FITA Academy are experts in Business Intelligence, sharing their extensive knowledge with students.
At FITA Academy, we employ an experiential method for teaching all technologies and tools, ensuring that our students gain practical, hands-on experience.
The Trainers expand students' horizons and technical skills by imparting the most recent industry practices, ensuring they are job-ready.
Trainers provide one-to-one guidance and deep training on Power BI tools, promoting hands-on learning that enhances proficiency.
Instructors actively assist and support students in crafting effective resumes and boosting their confidence for job interviews.
The Trainer's ultimate goal is to ensure that all students master the skills required to become proficient Power BI users, empowering them for success in the field.
Learn at FITA Academy & Get Your
Dream IT Job in 60 Days
like these Successful Students!

Student Success Story of Power BI Training in Chennai
Harshini, a BBA graduate from chennai, was interested in starting her career in the Data Analytics and Business Operations domain. She had heard about the potential of Power BI, a powerful data visualisation tool, and decided to explore the world of data analytics. When she was looking for the right place to learn the Power BI Course in Chennai, she came to know that one of her friends told her about FITA Academy's Power BI Course transformed her life.
She wanted to start her journey by enrolling in the Power BI Course at FITA Academy. She visited our branch and our co-ordinators gave her the details about the course. She joined the program with a determination to excel in the field of data analytics. Under the guidance of experienced instructors, she quickly realised that Power BI was more than just a tool; it was a gateway to unlocking data-driven insights and creating compelling visualisations.
The practical knowledge and real-world projects she worked on during the course gave her the confidence to tackle even the most intricate data analysis tasks. Collaborating on projects and engaging in lively discussions with fellow learners enhanced her learning experience. The academy's dedicated faculty was always ready to clarify doubts and provide guidance, ensuring no questions were unanswered.
Upon completing the Power BI course, she was certified by FITA Academy. She was well-prepared to face the job interviews with the assistance of our placement cell. She attended the Power BI developer interview scheduled by our placement cell confidently and is now placed in NTT Data as a Power BI developer with a package of 3.6 LPA. Our Power BI Course in Chennai offers placement assistance to all our students through tie-ups with more than 1,500 companies.
Features of Power BI Training in Chennai at FITA Academy
Real-Time Experts as Trainers
At FITA Academy, You will Learn from the Experts from industry who are Passionate in sharing their Knowledge with Learners. Get Personally Mentored by the Experts.
LIVE Project
Get an Opportunity to work in Real-time Projects that will give you a Deep Experience. Showcase your Project Experience & Increase your chance of getting Hired!
Certification
Get Certified by FITA Academy. Also, get Equipped to Clear Global Certifications. 72% FITA Academy Students appear for Global Certifications and 100% of them Clear it.
Affordable Fees
At FITA Academy, Course Fee is not only Affordable, but you have the option to pay it in Installments. Quality Training at an Affordable Price is our Motto.
Flexibility
At FITA Academy, you get Ultimate Flexibility. Classroom or Online Training? Early morning or Late evenings? Weekdays or Weekends? Regular Pace or Fast Track? - Pick whatever suits you the Best.
Placement Support
Tie-up & MOU with more than 1500+ Small & Medium Companies to Support you with Opportunities to Kick-Start & Step-up your Career.
Why Learn Power BI Training in Chennai at FITA Academy?
Live Capstone Projects
Real time Industry Experts as Trainers
Placement Support till you get your Dream Job offer!
Free Interview Clearing Workshops
Free Resume Preparation & Aptitude Workshops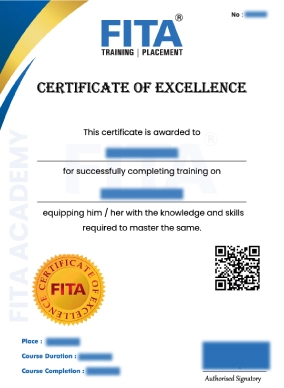 Power BI Certification Training in Chennai
FITA Academy takes great pride in being one of the Best Power BI Training Institutes in Chennai, offering an exceptional Power BI Course that not only equips you with the skills to master Business Intelligence but also provides you with a prestigious certification upon successful completion. Our Power BI Course Certification stands as a testament to your dedication, knowledge, and expertise in the realm of data analysis and visualisation.
The Power BI Certification is highly recognised in the industry. It is a valuable addition to your resume, setting you apart from the competition. Whether you are an aspiring data analyst, a seasoned IT professional, or someone looking to switch careers, this certification demonstrates your proficiency in using Power BI to analyse, visualise, and share data-driven insights.
The Power BI program provided by FITA Academy in Chennai offers a thorough understanding of Power BI, greatly enhancing the preparation for numerous global certifications. Some of these Power BI certifications are detailed below:
Microsoft Certified: Power BI Data Analyst Associate
The Power BI Data Analyst Associate certification by Microsoft affirms that candidates possess a foundational comprehension of data repositories and data processes, encompassing both on-premises and cloud-based systems. These certified professionals are recognised as experts in their field, with the capacity to conceive and construct scalable data models, refine and manipulate data, and deliver valuable insights through data visualisations.
PL-300 Exam: Microsoft Power BI Data Analyst
This examination evaluates your capacity to perform the following technical activities: Data Preparation, Data Modelling, Data Visualisation and Analysis, and Asset Deployment and Maintenance.
Certified Business Intelligence Professional (CBIP)
The CBIP is designed for experienced professionals in the information systems and technology sector, focusing on data management and business analytics. This certification attests that you are well-versed in the latest business intelligence (BI) technologies and possess a deep understanding of best practices, solutions, and emerging trends. The CBIP certification offers four specialised tracks: Leadership and Management, Business Analytics, Data Analysis and Design, and Data Integration.
To obtain this certification, you should successfully pass two mandatory exams, where you can select either the IS Core or Business Core Exam, in addition to the Data Foundations Exam. These exams consist of multiple-choice questions, and candidates are allotted 90 minutes for each of the 110-question exams.
The initial certification is valid for four years, after which it must be renewed every three years. Recertification necessitates submitting proof of having earned 120 credit hours of continuing education since the last renewal, along with an annual fee of $125 commencing after the first year.
FITA Academy, one of the top Power BI Training Institutes in Chennai, equips you with the skills, knowledge, and confidence to outperform your peers. Throughout the program, you will acquire an in-depth comprehension of the effective utilisation of Power BI, making it a valuable resource for organisations aiming to enhance their revenue and profits using improved data analysis and visualisation.
Have Queries? Talk to our Career Counselor for more Guidance on picking the
right Career for you!
Placement Session & Job Opportunities after completing Power BI Training in Chennai

In today's data-driven business landscape, the demand for professionals proficient in Power BI is high. With your newfound expertise, you become a valuable asset to industries seeking to harness data for informed decision-making. Power BI professionals are in high demand, and this trend is expected to continue, making it an excellent time to enter this field.
Upon successfully finishing the Power BI Course at FITA Academy, you gain access to our robust placement support system. We understand the importance of not just acquiring skills but also leveraging them to secure promising career opportunities. Our placement cell works tirelessly to connect you with a vast network of over 1,500 small and large-scale companies.
"Students will receive 100% placement training upon completing the Power BI Training in Chennai, so students are guaranteed to land jobs after the course."
Our placement sessions are meticulously designed to prepare you for job interviews, ensuring you're well-equipped to showcase your Power BI skills to potential employers. We guide crafting an impressive resume, conducting mock interviews to boost your confidence, and offering insights into industry expectations and trends.
As per recent statistics within the Business Intelligence field, more than 18,000 companies are currently leveraging the Power BI tool. The widespread adoption of Power BI can be primarily attributed to its user-friendly interface and cost-effective nature when connecting various data sources. Moreover, the tool's seamless accessibility, data-sharing capabilities, and collaborative features from any location have made it a preferred choice for businesses of all scales. These factors have significantly contributed to the tool's extensive use across corporations.
Reports from Gartner Inc. indicate that the Business Intelligence market is poised to witness a compounded annual growth rate of 12% in the upcoming years. Leading companies in the industry actively recruit Business Intelligence professionals, including prominent names such as Dell, Capgemini, IBM, Accenture, Hexaware Technologies, Alliance Global Services, TCS, HCL, Infosys, Amazon, E&Y, and Cognizant. These organisations offer positions with titles such as Power BI Analysts, Power BI Architects, Power BI Developers, Power BI Data Scientists, Power BI Consultants, and Power BI Managers.
Power BI Analyst Salary for Freshers ranges from Rs. 3.5 to 4.2 lakhs annually, while the global average hovers around $62,379 annually. The Power BI Training in Chennai at FITA Academy provides comprehensive education on the Power BI tool, guided by real-time professionals. Our experienced instructors at FITA Academy impart both the technical and professional skills that are highly sought after in the Business Intelligence industry.
If you're aspiring to build a career in Business Intelligence, enrolling in the Power BI Training in Chennai at FITA Academy is a wise choice. Our training program is thoughtfully crafted to equip you with the skills and knowledge to utilise Power BI tools and conduct data analysis effectively. By the end of the course, you will have a solid grasp of creating impactful reports, dashboards, and visualisations using the Power BI platform.
Power BI Analyst: The responsibility of a Power BI analyst is to design and implement Power BI solutions that are in line with the organisational goals. This role entails working closely with clients to understand their requirements and utilising Power BI tools to craft customised reports and dashboards. Enrolling in Power BI Training in Chennai can equip individuals with the essential knowledge and abilities to create and analyse data using this platform.
Power BI Designer: In your role as a Power BI Designer, you are crucial in crafting visually engaging and efficient reports and dashboards through Power BI tools. Your primary responsibility is to work closely with Power BI Analysts and Developers to create tailor-made solutions that empower end-users to gain a clear insight into their data and make well-informed choices. By enrolling in Power BI Training in Chennai, you can hone your expertise in Power BI tools, and your skill in producing captivating visual representations will be the linchpin for the success of the reporting solutions you create.
Power BI Developer: As a Power BI developer, you have a pivotal role in elevating the performance and capabilities of the Power BI platform. Your primary duty involves writing custom code to extend Power BI's functionality, thus delivering a distinctive user experience. Your collaboration with designers and analysts is essential in turning your concepts into reality, guaranteeing that the code you create aligns with the intended objectives. Your proficiency in coding and technical prowess are vital in producing top-notch outcomes that align with the organisation's requirements.
The roles above and duties offer a glimpse into the career journey as a Power BI Developer. The Power BI Course in Chennai is meticulously designed to furnish individuals with the essential proficiencies required to effectively employ Power BI tools such as Power Query, Power Pivot, and Power View. These tools are indispensable for crafting data visualisation dashboards and reports, as well as enhancing Power BI's capabilities to cater to an organisation's distinct requirements. The course is structured to provide a holistic grasp of the platform and to empower students with the expertise needed to excel as proficient Power BI developers.
Benefits of Enrolling in Power BI Course in Chennai at FITA Academy 
Expand Your Career Horizons: In today's job market, the demand for professionals with a blend of technical and leadership skills is rising. Pursuing the Power BI Certification can set you apart and open doors to higher positions in your field.
Stay Ahead of the Curve: Technology is ever-evolving, and staying ahead with the latest tools and practices is essential. The Power BI Certification equips you with the skills to thrive in the future job market.
Master Power Tools:  With technology increasingly increasing in our daily lives, knowing how to leverage these tools effectively is crucial. The Power BI Certification teaches you how to utilise cutting-edge software like Microsoft Power BI to your advantage.
Drive Business Excellence:Businesses are perpetually searching for ways to enhance their performance and productivity. The Power BI Training in Chennai at FITA Academy imparts the knowledge and skills to implement these principles in your business, elevating performance.
Expand Your Knowledge: Staying updated with industry trends and practices is paramount in today's rapidly evolving job market. The Power BI Certification helps you build a robust professional portfolio and gain a competitive edge.
Leverage Your Skills:Upon completing the Power BI Training, you'll possess a solid grasp of Power BI and the ability to create compelling dashboards, reports, models, and visualisations. This expertise will be invaluable for your future projects.
Sharpen Your Presentation Skills:Presenting data in an engaging and meaningful manner is essential in today's world. The Power BI Certification program teaches you to design captivating visuals and infographics while informing you about the latest features and updates.
Boost Your Confidence: Confidence is a cornerstone of success, particularly in a competitive job market.
Success Story of Power BI Training in Chennai
I took my Microsoft Power BI Training in Chennai at FITA Academy. I liked the complete learning session at FITA Academy. The classrooms were well-equipped and so my trainer often thought concepts with live examples. Also, he holds more than 7+ years of experience in the BI and Data Analytics platform. So he was able to train the concepts at ease and clear all our doubts. Thanks to my Power BI Trainer and FITA Academy.
I joined FITA Academy for the Power BI Course. The entire training program was an interesting one. My Trainer extensively taught us how to extract data and how to share and collaborate with those data. Also, he trained us on how to create compelling reports that are reliable. My sincere thanks to my BI Trainer, it is because of him, I have gained the confidence to apply for a BI job post. Also, FITA Academy helped me very well in placement assistance. FITA Academy is truly a good platform to learn about the Power BI tool.
I enrolled for the Power BI Training in Chennai at FITA Academy. Well-designed BI Course structure that matches the current market trends. In-depth training in the Power BI Course was provided by experienced trainers. Thanks to my Power BI Mentor who was so friendly and easy to approach. This kind of attitude helped me to clarify my doubts at ease. I strongly suggest FITA Academy to my friends. Great work FITA Academy!
My overall training experience at FITA Academy's Power BI Training in Chennai at FITA Academy was superb. Before FITA Academy's Power BI Training I did not know anything about the Business Intelligence concepts. But, now I have a better understanding of it. Over here I would like to thank my friend who suggested the FITA Academy platform for the BI Training. Very nice work. Thank you FITA Academy!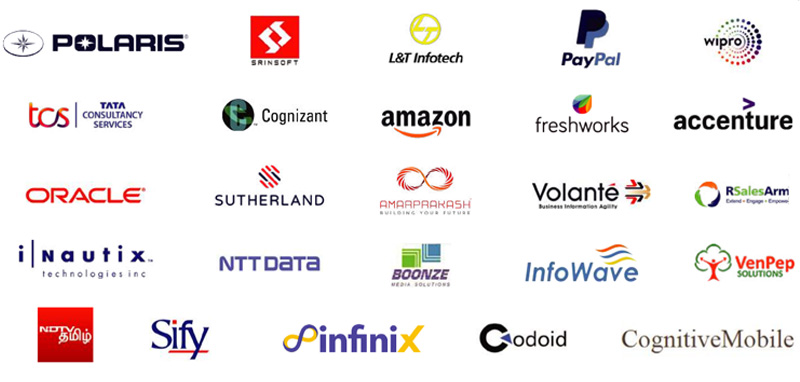 Frequently Asked Question (FAQ) about Power BI Training in Chennai
General Q & A about Power BI Training in Chennai
How much does a Power BI course cost?
The cost of Power BI certification in India ranges from Rs.15,000 to Rs.20,000.
Is a Power BI course worth it?
Understanding Power BI has become an integral part of data analysis, visualisation, and decision-making across various industries. With applications in marketing, retail management, and finance, knowledge of Power BI is an essential skill for anyone aiming to advance in these fields.
Is Power BI in demand?
After assessing the promising opportunities for Power BI developers in the job market, it is evident that there is a high demand for their skills. In our data-driven world, businesses of all sizes heavily depend on professionals who can create compelling data visualisations. Here are some of the leading companies currently seeking to hire Power BI developers.
Is Power BI certification challenging?
Obtaining a Power BI certification is easy because there are no stringent requirements or prerequisites.
What is the eligibility for the Power BI course?
Professionals who work with data in any sector can pursue Power BI courses. Candidates aspiring to become a data analyst must have completed a bachelor's or master's degree in computer science or data analytics.
Can I learn Power BI in two days?
The installation and setup of Power BI can typically be completed in less than a day. Integrating various data sources takes around two to four days, while data preparation and management typically require three to five days for most users. Learning the basics of creating data visualisations typically takes about five to seven days.
Which certification is required for Power BI expertise?
You'll need to pass the PL-300 exam, known as the Microsoft Power BI Data Analyst certification exam.
This assessment evaluates your proficiency in various technical tasks, including data preparation, data modelling, data visualisation and analysis, asset deployment and maintenance. The exam cost varies depending on the country or region where it is administered.
How much does a Power BI exam cost?
The Power BI Data Analyst Associate certification, offered by Microsoft, the creators of Power BI, can be obtained by completing the PL-300 exam, which is a 90-minute assessment. The exam fee is $165, but we will discuss a potential cost-saving method later in this article.
Is PL 300 easy to pass?
PL-300 necessitates candidates to possess the skill of creating and implementing practical solutions, which is often the more demanding aspect. Achieving success in the exam can be quite challenging unless you are already employed at a company that actively utilises Power BI with a deep familiarity with the procedures for deploying and sustaining assets.
How much does a PL 300 certified person make?
The role of a Power Platform Developer typically offers an annual salary between $85,000 and $125,000 for entry-level positions, with an average of approximately $105,000. This job has considerable growth potential, mainly as more organisations adopt the Microsoft Power Platform to streamline business processes.
Is PL-300 an MCQ exam?
Question Pattern
The 25 questions were scenario-based, similar to what we had in our PL-300 exam. They were in the form of MCQ and fill-in-the-blanks.
What is the minimum passing score in the Microsoft exam?
Attaining a passing score requires a minimum of 700 points or more. It's important to note that this is a scaled score and may not necessarily correspond to achieving 70% of the total points. The passing score is determined by combining the required knowledge and skills to showcase competence, as well as the complexity of the questions.
Do I have to pay again if I fail the Microsoft exam?
If you do not pass an exam on your initial attempt, you can reschedule and retake it within 24-30 hours from the moment of your initial attempt. It's essential to be aware that you must make another payment for the retake. To reschedule the exam, you should access the exam's webpage and use the web interface to book a new appointment.
How long does Power BI training take?
Mastering Power BI can be a challenging endeavour, with Data Analysis Expressions (DAX) often posing one of the most formidable learning hurdles. DAX has gained widespread usage across various data platforms, such as SQL Server Analysis Services, PowerPivot, and Power BI. Due to these significant challenges, it typically takes the average individual anywhere from one to six months to achieve a comprehensive mastery of Power BI.
Is Power BI enough to get a job?
Power BI is undeniably a frontrunner in the analytics and business intelligence industry. Consequently, featuring Power BI as a skill on your resume will broaden your career prospects and provide opportunities for long-term professional advancement.