Course Highlights and Why Node JS Training In Chennai at FITA Academy?

Meticulously tailored Node JS Course Curriculum to cater to the standards that are set in the Web Application Development industry at a global level.

Coursewares that are crafted by Certified Node JS Developers to have a comprehensive understanding of the Node JS functions and its attributes such as FileSystems, HTTP, Express, Data Sources, MongoDB, and SQLite CRUD operations.

Skilled Node JS Trainers with a decade of experience in the Node and the Web Development platform.

In-depth Node JS Training Program to get you acquainted with the Node JS Scripts, Synchronous & Asynchronous programming, HTTP Server, Grunt & Gulp, End-to-end Unit Testing, and Express JS.

Engaging and Lively Mentors-led Node JS Training in Chennai at FITA Academy.

A regular summing up of the previous Node JS Classes are given to the students for strengthening their memory and technical competence.

Technology Enhanced Classrooms with Applied Method of Node JS Learning in Chennai at FITA Academy.

Professional Node JS Training at an affordable price with accomplishment certification on completing the Node JS Training.

The Node JS Batch Timings are designed flexibly, the participants can opt for Fast Track, Weekend, or Weekday Node JS Training in Chennai at FITA Academy.

FITA Academy renders 100% of Placement Guidance to all the eligible learning participants who have accomplished the Node JS Training at FITA Academy.

FITA Academy has a Placement Network with 1500+ Corporate Business Enterprises of all scales.

The Placement Cell at FITA Academy aids the students with proper career guidance and enables them to head-start their career in the desired path.
Upcoming Batches
09-12-2023
Weekend
Saturday (Saturday - Sunday)
11-12-2023
Weekdays
Monday (Monday - Friday)
14-12-2023
Weekdays
Thursday (Monday - Friday)
16-12-2023
Weekend
Saturday (Saturday - Sunday)

Classroom Training
Get trained by Industry Experts via Classroom Training at any of the FITA Academy branches near you
Why Wait? Jump Start your Career by taking the Node JS Training in Chennai!
Instructor-Led Live Online Training
Take-up Instructor-led Live Online Training. Get the Recorded Videos of each session.
Travelling is a Constraint? Jump Start your Career by taking the Node JS Course Online!
Trainer Profile
Node JS Trainers pool at FITA Academy has been practicing the blended method of training, and we upskill the knowledge of the students with the correct Practical and Theoretical Aspects of the Node JS Framework.
Node JS Tutors at FITA Academy trains and hone the students with the Job-Ready skill sets.
Node JS Mentors at FITA Academy are Certified Node JS Developers from the Web Development field.
Node JS Instructors at FITA Academy are Real-time professionals and they train you with hands-on learning practices of the Node JS Framework.
The Node Trainers at FITA Academy extends the knowledge of the learning participants by training them exhaustively on industry practice and making them build a real-time Web Application using Node JS.
Node JS Instructors at FITA Academy bestows the participants with required one-to-one mentorship and complete hands-on exercises.
Node JS Mentors at FITA Academy shed their guidance in Building the Curriculum Vitae of the Students and boosts up them to face the interview confidently by training them intensively on different interview questions and scenarios.
Learn at FITA Academy & Get Your
Dream IT Job in 60 Days
like these Successful Students!

Features of Node JS Training In Chennai at FITA Academy
Real-Time Experts as Trainers
At FITA Academy, You will Learn from the Experts from industry who are Passionate in sharing their Knowledge with Learners. Get Personally Mentored by the Experts.
LIVE Project
Get an Opportunity to work in Real-time Projects that will give you a Deep Experience. Showcase your Project Experience & Increase your chance of getting Hired!
Certification
Get Certified by FITA Academy. Also, get Equipped to Clear Global Certifications. 72% FITA Academy Students appear for Global Certifications and 100% of them Clear it.
Affordable Fees
At FITA Academy, Course Fee is not only Affordable, but you have the option to pay it in Installments. Quality Training at an Affordable Price is our Motto.
Flexibility
At FITA Academy, you get Ultimate Flexibility. Classroom or Online Training? Early morning or Late evenings? Weekdays or Weekends? Regular Pace or Fast Track? - Pick whatever suits you the Best.
Placement Support
Tie-up & MOU with more than 1500+ Small & Medium Companies to Support you with Opportunities to Kick-Start & Step-up your Career.
Why Learn Node JS Training In Chennai at FITA Academy?
Live Capstone Projects
Real time Industry Experts as Trainers
Placement Support till you get your Dream Job offer!
Free Interview Clearing Workshops
Free Resume Preparation & Aptitude Workshops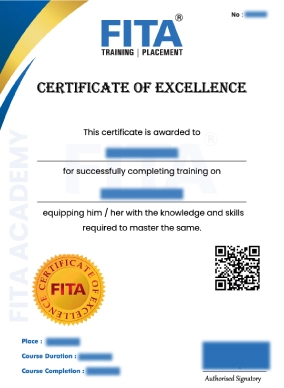 Node JS Certification Training in Chennai
The Node JS Course Certification is the professional credentials that illustrate that the learning participant has gained in-depth knowledge of the Node JS Runtime environment and the NodeJS Scripts. With real-time projects provided at the end of the Node JS Training program, this certificate specifies that the candidate has incorporated the required professional skill sets to work as Node JS Developer. Submitting this Node JS Course completion certification with your resume helps in boosting the credibility of your profile and also prioritizes it over your peers at the time of the interview. This certificate also helps in accessing career opportunities at a broader range.
The Node JS Certification Course in Chennai at FITA Academy imparts the in-demand professional skills that are necessary for a Node JS Developer under the mentorship of real-time professionals. The Node JS Training in Chennai at FITA Academy is delivered by professionals who have 8+ years of experience in the Server-side development and Web Application Development platform. Node JS Mentors at FITA Academy upskills the technical competence of the students by training them on the skill sets that are applied in the industry.
Have Queries? Talk to our Career Counselor for more Guidance on picking the
right Career for you!
Placement Session & Job Opportunities after completing Node JS Training In Chennai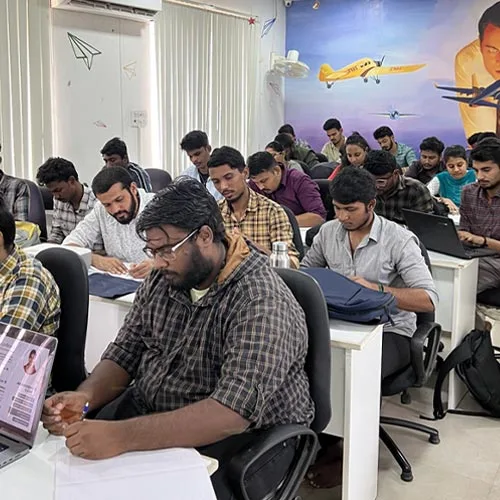 The Node JS is claimed to be the mere future of Web Applications in real-time since it has a competitive edge over other applications in the market. Node JS has occupied a prominent position in the web application industry owing to its distinct push technology feature. This technology enables the application to communicate in two-way i.e between the client and server and permitting them to exchange the data or information in real-time. Since Node JS runs primarily on the JavaScripts it is flexible, lightweight, easily maintainable, and scalable for the developers.
Currently, Web Developers are having a tremendous scope in the Web Application development field, and in that the Node JS Developers are gaining significant traction when compared to other developers in the market. Based on a recent survey it is mentioned that Node JS download has been increased to 49% last year alone.
Furthermore, with its early adopters namely LinkedIn, PayPal, NetFlix, and NASA the popularity and the impact of the Node JS grew at an exponential rate. These are the key features why Node JS Developers can have a promising future if they opt for this course.
The top-notch companies that hire the Node JS Developers are TCS, CTS, Wipro, General Electric, Uber, Paypal, Yahoo,eBay, Wikipins, LinkedIn, Paypal, and much more. The common designations that are offered in these companies are Node JS Developer, Node JS Application Developer, and Node JS Application Designer. On average in India, an entrant Node JS Developer gets an annual remuneration of Rs. 4,35,000 to Rs. 5,70,000 per annum. Globally, a Node JS Developer is getting a yearly income of $ 115,000.  Node JS Training in Chennai at FITA Academy gives extensive training on the Node JS Framework and its application under the guidance of expert mentors. The Node JS Mentors at FITA Academy incorporate the required in-demand skill sets for a Node JS Developer in the market and help them to flourish in their career.
Also Read: Node JS Interview Questions and Answers
Success Story of Node JS Training In Chennai
I am a PHP Developer by profession. Recently, in my office, most of the projects assigned to me are related to Node JS. And mostly I am asked to build an application using Node JS. So, I thought of joining a coaching center for the Node JS Training. Two of my friends referred to FITA Academy and that's how I enrolled here. The Node JS Training in Chennai at FITA Academy was so precise and clear. Also, the training timings were so flexible it was easy for me to switch classes before or after. Thanks, FITA Academy! I will surely suggest for all the working professionals who want to upskill their knowledge of Node JS.
I did my Node JS Training in Chennai @ FITA Academy! The complete training period was lively and had many practical classes in it. My Node JS Developer was a well-equipped person of the Server-Side Development concepts. You can almost ask him any doubts and he was so spontaneous in clearing the doubts. Thanks to my Node JS trainer.
The Node JS Training in Chennai @ FITA Academy was conducted well. The coursewares were neatly designed and it was up to the market standards. I would also like to extend my appreciation to the Placement Team who notified me constantly of the job Node JS Openings. And they also helped me in building my resume. To conclude FITA Academy is a very good platform for all the freshers who want to know about Node JS runtime.
My overall experience at the Node JS Training in Chennai @ FITA Academy was too good. This training course taught me how to write the Node JS Script. In-depth training of key concepts like Buffers, Events, and Working on the file system was provided. I found the Node JS Course at FITA Academy a perfect training program with the updated course syllabus and regular assessment training sessions. Good Work FITA Academy!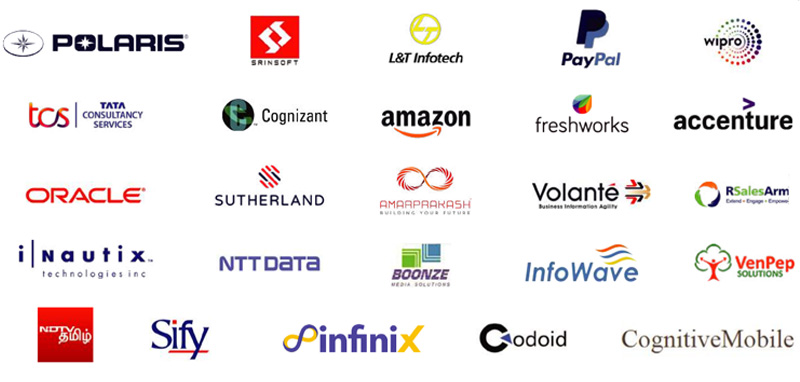 Frequently Asked Question (FAQ) about Node JS Training In Chennai
Additional Information of Node JS Training In Chennai
Node JS is a Cross-platform environment and runs on the server-side. It develops both networking and server-side applications. Node JS lets you build scalable and faster web applications. Node JS can also use a non-blocking I/O model and event-driven that is efficient and lightweight for data-intensive applications that can run across the shared devices. Javascript applications written by Node JS can be run within the Node JS runtime engine. It supports Mac OS X, Unix, Linux, and Microsoft Windows operating systems efficiently. Further, it is easier to modify, delete, or add the data in the database with Node JS. Node JS basically helps in reducing the waiting time and proceeds with the next request spontaneously.
Prerequisites and Intended Audience for the Node JS Course in Chennai
Prerequisites: It is preferable to have a basic understanding of the JavaScripts and HTML. Though, if you don't have prior knowledge of any of the prerequisites mentioned above you need not worry about it. The Node JS Training in Chennai at FITA Academy is a comprehensive training program that equips the participants from its basics. We provide a complete brush-up on the prerequisites before heading to the main concepts.
Intended Audiences: This course can be chosen by any fresh grads who are planning to ace their career in the Web development domain. However, this course is also intended for professionals such as Full Stack Developer, Web Developers, Architects, Testing Professionals, Software Architects, Project Managers, and Leads. Node JS Training in Chennai at FITA Academy trains the learning participants holistically on the key concepts such as the Application of the Node JS and its scripts in real-time practices under the guidance of Industry experts with certification.
What are the take-away skills from the Node JS Training in Chennai at FITA Academy?
A better understanding of the Node JS Framework
In-depth knowledge of the Node JS Scripts
Able to work with the Streams and Events for nonblocking i/o in a better manner
Demonstrable knowledge on how to write the asynchronous code using various techniques
Know-how to configure, install, uninstall, and update the Node Packages using the npm
Capable of using the Jade Templates while expressing the applications
Extensive training on middleware, rendering, authentication, routing, and authentication of the Express is provided
Know-how to build the Socket.io platform for building the Chat Application
Obtain the skills to develop a scalable, rapid, and feature-rich RESTful API
Features Of Node JS:
The APIs of Node JS provide an event-driven approach and hence are non-blocking. So multiple requests can be guided at the same time.
The code execution will be very fast since they use low-level machine language.
It has a single-threaded model with event looping, hence it is highly scalable.
It will not buffer any data, it will output the data in chunks.
It is licensed under the MIT License.
Where To Use Node JS?
In technology today, Single Page Applications are widely used. For creating Single Page Applications Node JS can be used to a greater extent. It is also used in the Data Streaming applications, DIRT Application (Data Intensive Real-time Applications), I/O bound Applications, JSON, and API based applications. It gives them complete working practical knowledge on the Node JS Course.
Node JS Certification
Node JS Certification is a developer-oriented certification Node.JS Certified Developer (NCD). It demonstrates the skill and knowledge competency of the professionals. It helps to identify the companies to recruit skilled professionals for their organization. Professionals are very eager to learn the Node JS Course in Chennai. It helps them to clear the NCD certification, and also makes them technically competent.
Node JS With FITA Academy
FITA Academy is the Best Node JS Training Institute in Chennai. All the trainers are working with Corporate Professionals. We offer classes with complete hands-on experience. We are the best in the industry to provide the Node JS Course. FITA Academy is known for its excellent training record. We have trained more than 12000+ students. To add the feather to the cap, we also provide placement support to our competent students. We have close to 1500+ tie-ups with companies for placements. That's why FITA Academy is rated as the No.1 Academy for Node JS Training in Chennai.
Node JS Opportunities
Node JS is a "JavaScript Everywhere" paradigm, it uses a single language for programming for both the server-side and client-side. Node JS Applications can be used to a greater extent for its fastness and robustness. Some of the Companies which use Node JS Applications include eBay, Wikipins, General Electric, Uber, Paypal, Yahoo!, Cognizant, Wipro, TCS, etc. Opportunities are wide, Grab them when you can!