Course Highlights and Why Content Writing Training Online at FITA Academy?

The Content Writing Certification Training at FITA is delivered by industry experience with a professional experience of a minimum of 10+ years in the content writing industry

Our content writing course is focused on giving maximum practical exposure to ensure the trainees have an overall grasp over the different content writing techniques

FITA gives high flexibility in the course structure to accommodate a diverse range of learners; we provide instructor based online training, and offline training in selected cities

Our course structure and curriculum is designed to equip you with the latest practices and styles to ensure you can write high quality content with flair and flexibility

Our professional course introduces and guides you through the intricacies of the different content writing genres

Our course provides the theoretical underpinnings and the practical exposure to find the perfect blend for a content writing expert with up-to-date course material

FITA's content writing training covers the different aspects of content writing like content planning, management, writing, restructuring, promotion, and content optimization

Our course provides insights into different genres of content writing like website, technical content, blogs, SEO content, etc and introduces you to the most widely used CMSs

FITA has a network of more than 600 recruiters to assist you in all your placement needs

Our trainers use the latest technology and industry best practices for an engaging and impactful learning experience

To equip the learners with the skills to write in different styles like websites, technical content, blogs, emails, CMS, SEO optimized content, copywriting, and social media

To train the students in the various aspects of professional content writing like content planning, execution, management, restructuring, optimization, and content analysis

To impart the latest techniques and strategies of creating content across different platforms

To introduce and guide the trainees through the intricacies of different content styles and ensure they can write high quality content

To provide maximum practical exposure and encouragement to write content for different kinds of organizations to gain confidence and clarity of style

To help the students develop content strategies for different platforms and requirements to create impactful content tailored to the specific needs of the organization

To train the candidates to meet the quality and ethical standards in content for different organizations, and encourage them to write original and powerful content

To ensure that the trainees can write optimum content to attract online user traffic, and develop a unique style that gives them a competitive edge

To equip our trainees with the latest skills in professional content writing like keyword research and targeting, indexing, scheduling, and user research

To impart industry best practices, techniques and professional skills that makes our trainees experts in writing content across different genres
Upcoming Batches
| | | | |
| --- | --- | --- | --- |
| 09-12-2023 | Weekend | Saturday (Saturday - Sunday) | |
| 11-12-2023 | Weekdays | Monday (Monday - Friday) | |
| 14-12-2023 | Weekdays | Thursday (Monday - Friday) | |
| 16-12-2023 | Weekend | Saturday (Saturday - Sunday) | |

Classroom Training
Get trained by Industry Experts via Classroom Training at any of the FITA branches near you
Why Wait? Jump Start your Career by taking the Content Writing Classroom Training!
Instructor-Led Live Online Training
Take-up Instructor-led Live Online Training. Get the Recorded Videos of each session.
Travelling is a Constraint? Jump Start your Career by taking the Content Writing Course Online!
Trainer Profile
The Content Writing Course at FITA is delivered by professional experts with a minimum of 10+ years of experience in the content writing industry
Our mentors have extensive practical experience having successfully designed and written content for several organizations
Our trainers have the latest and industry best practices, techniques and skills to help you have a competitive edge in your professional experiences
Our mentors guide you through the intricacies of content writing across different genres and platforms to give you expertise over the different writing styles and media
Our trainers help you find your unique style of content writing and content strategizing to give you a distinct identity in the world of content writing
Our mentors drive you to write content that is focused on results using the different content writing and management tools with SEO best practices
Our trainers will inspire and encourage you to take up practical content writing assignments and develop and write powerful and result-oriented content, providing expert support and guidance wherever necessary
Learn at FITA Academy & Get Your
Dream IT Job in 60 Days
like these Successful Students!

Features of Content Writing Training Online at FITA Academy
Real-Time Experts as Trainers
At FITA Academy, You will Learn from the Experts from industry who are Passionate in sharing their Knowledge with Learners. Get Personally Mentored by the Experts.
LIVE Project
Get an Opportunity to work in Real-time Projects that will give you a Deep Experience. Showcase your Project Experience & Increase your chance of getting Hired!
Certification
Get Certified by FITA Academy. Also, get Equipped to Clear Global Certifications. 72% FITA Academy Students appear for Global Certifications and 100% of them Clear it.
Affordable Fees
At FITA Academy, Course Fee is not only Affordable, but you have the option to pay it in Installments. Quality Training at an Affordable Price is our Motto.
Flexibility
At FITA Academy, you get Ultimate Flexibility. Classroom or Online Training? Early morning or Late evenings? Weekdays or Weekends? Regular Pace or Fast Track? - Pick whatever suits you the Best.
Placement Support
Tie-up & MOU with more than 1500+ Small & Medium Companies to Support you with Opportunities to Kick-Start & Step-up your Career.
Why Learn Content Writing Training Online at FITA Academy?
Live Capstone Projects
Real time Industry Experts as Trainers
Placement Support till you get your Dream Job offer!
Free Interview Clearing Workshops
Free Resume Preparation & Aptitude Workshops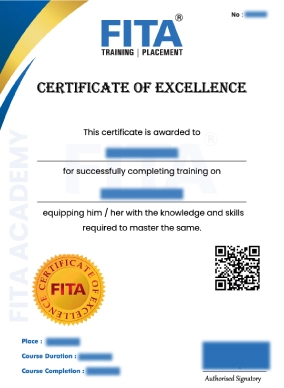 Content Writing Certification Training
After the successful completion of the content writing training at FITA Academy, you will receive a certificate as a testimony to the skills and professional knowledge you have acquired. Our certificate is accepted by a wide range of business and non-business organizations as being evident of a rigorous training and practical exposure in sync with the latest trends and practices of the content writing industry. We are renowned for training our candidates in the industry best practices and focusing on written assignments that give you a competitive edge.
The Content Writing Certification Training at FITA will give you the professional credibility to significantly improve your resume and increase your job opportunities. Our certificate will help you expand your career prospects and our training ensures that you have the skills and competence to find the employment of your choice. Apart from our certificate, you can also apply for different professional assessments to improve your professional credibility. Our mentors will help you prepare and pass through the professional assessments, so that you can expand your employment prospects.
Have Queries? Talk to our Career Counselor for more Guidance on picking the
right Career for you!
Placement Session & Job Opportunities after completing Content Writing Training Online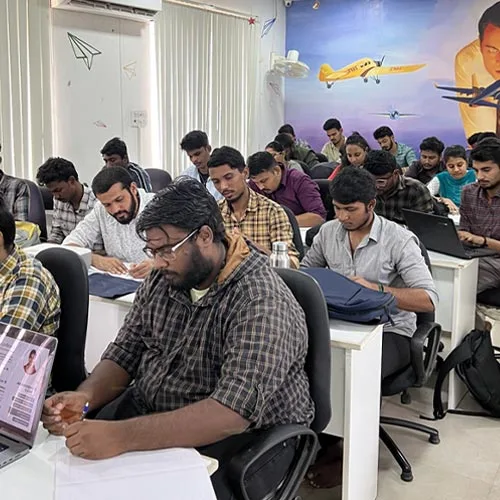 Content writing is a dynamic and diverse field with immense opportunities for diversification and specialization. Content writers can write in a variety of different roles; you can be a business promoter, writing product descriptions and reviews, and service details; or write for offline mediums.
You can write content for websites, optimize content according to SEO techniques, articles and essays; or become a copywriter. Content writing also includes the subfield of creative writing which is involved in writing content and scripts for audio visual mediums, and creating brand image and marketing campaigns. Content writers also create awareness about different issues and events that have local, national and international importance.
After our online content writing training, you can work as a freelancer, join a content writing or digital marketing agency, or become the inhouse content expert for an organization. A good content writer clearly understands the objectives of the intended content and creates and develops content and content strategies in line with the needs, tastes and preferences of the target audiences. They can give improved visibility to organizations, improve sales and business performance, increase SERP rankings, convince future customers and clients, create brand awareness, and inform and educate people. Content writers can enormously expand the influence of businesses, and create new needs and tastes among consumers using clever words, intelligent allusions and careful resemblances to create content that is both genuine and persuasive.
The world of content writing is ever increasing and evolving and brings new opportunities to the skilled and creative writers. With the enormous power of social media, there is a huge surge in the demand for content writers for different social media like Facebook, Instagram, LinkedIn and Twitter, and they are being used to enhance brand image and awareness. As a content writer, you can also specialize in blogging and write on a variety of niches that you find comfortable and interesting.
Our online content writing training ensures you have the professional skills and practical knowledge of planning, developing and creating content for different organizations in varying capacities and objectives. We focus on imparting skills that help you write high-quality content meeting all the technical and ethical standards of organizations. We have a network of more than 600 recruiters to assist you in all your placement requirements, giving you professional leverage and the work environment you prefer. Starting with no experience, a content writer can earn anywhere between INR 180,000 to 600,000 per annum. With work experience and professional credibility, you can easily earn more than INR 1,200,000 per annum. The remuneration varies significant due to the wide spectrum of quality of content, type of content and medium, and work experience and credibility. Our training helps you find the best jobs and assignments that give you professional satisfaction.
Success Story of Content Writing Training Online
I took the online content writing training at FITA and am grateful for the in-depth understanding it helped me get of the different writing styles. I am now a successful freelance content writer
The content writing training at FITA is great for anyone who wants to make a career in this field. I had joined as a fresher and learned the nuances of content writing across genres. The skills I learnt here have been helpful in making me a successful marketing content writer.
The online content writing course at FITA is a wonderful experience. I had a bit of writing experience before I joined the course, and it helped me greatly in improving the speed and quality of my writings, as well as finding new and better projects and assignments.
FITA's content writing course has helped me become a successful freelance writer. No matter how well you think you write, there is always scope for improvement; and this course helped me find my strengths and weaknesses, and trained me to work on them.
The online content writing course at FITA does not only consist of extensive practical training and industry insights; it also helps you in identifying your niche and unique style of writing that you can use to stand out from the crowd. I would recommend this course to anyone who wants to be a good writer.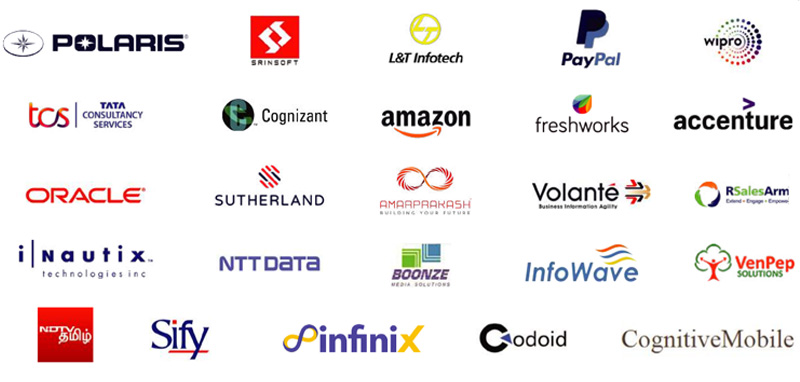 Frequently Asked Question (FAQ) about Content Writing Training Online
Additional Information of Content Writing Training Online
Content writing is the art of creating written and non-written content for viewers and target audiences that have multiple objectives and functions. Content writers may write content to enhance brand awareness, promote a business, product or service, draw attention to general causes, create awareness about technologies and arts, provide reviews, counter criticism levelled against an organization, change public consensus, build public consensus, start new trends, and much more. A content writer is one of the most important people in the success of an organization; they plan and strategize, and deliver and optimize on the type of content and the type of medium to publish the content. With the increasing influence of digital and social media, and increased online accessibility, content writing has become a dynamic and competitive world full of immense possibilities.
In the world of content, the medium is as important as the words, and a good content writer can change the meaning and implications of the words with as little as a punctuation mark. They must know which medium to select, which audience to target, how to attract attention, how to retain attention, how to be visible to the wider audience, how best to present the content in a way that is both genuine and persuasive, and how to remain relevant in a fast changing world. The current content writing requirement is mostly for online and digital means, and can include anything from copywriting to blogging, keyword targeting, social media management, writing scripts for online campaigns, to writing taglines and powerful brand images.
At FITA we understand and appreciate the efforts and skills that go into creating successful and impactful content. Our online content writing course focuses on the different aspects of content writing and trains the students in the different stages of writing and publishing content right from content planning and strategy, to creation, publishing, reorganization, analysis and content optimization. Our mentors equip you with the latest techniques, softwares and strategies to help you write content that is appealing, powerful and caters to the new age of content consumers; we cover everything from keyword research and targeting, to indexing, building backlink profiles, competitor analysis, and other SEO (Search Engine Optimization) techniques to attract greater organic data traffic to your content.
Our SEO training takes you through all the aspects of improving your online visibility and staying relevant to the latest online consumer demands. We provide the skills and professional exposure to ensure you gain confidence over the different kinds of content. Our training introduces you to the nuances of content creation across different platforms; and we equip our trainees with the strategies to write technical content, blogs, website content, copywriting, SEO optimized content, blogs, articles, social media content, and promotional content like product descriptions and reviews.
FITA's offline and online content writing training is provided by professional experts who have an extensive industry experience of more than 10 years in the content writing industry. Our mentors arm you with the industry best practices and strategies to give you the competitive edge to survive and thrive in the ever changing world of content writing. Our course is an integrated study and training that not only gives you rigorous practical exposure and rigorous experience but also focuses on understanding the underlying concepts and motivations behind the different platforms and content styles. We are renowned to provide the best study material in the domain of content writing.