Course Highlights and Why MEAN Stack Online Course at FITA Academy?
Coursework is chosen by experts in the field to fully comprehend all MEAN Stack technologies, including MongoDB, Express, Angular, and Node.js.
Expert MEAN Stack Trainers have an experience of more than ten years in the field of Web Application Development.
In order to enhance quicker learning and performance, this course incorporates practical courses and real-world projects.
The MEAN Stack Online Developer Course is broad and starts from the beginning. Everyone can use it, regardless of prior understanding of the subject.
Explore frameworks and libraries like
AngularJS
, NodeJS, Bootstrap, and jQuery for implementation in web development.
After successfully completing the course, you will receive certification in professional MEAN Stack Online training.
The FITA Academy's MEAN Stack Online Course offers students a flexible schedule. You can select to attend live classes or self-paced ones based on your schedule.
After successfully finishing the course, FITA Academy gives qualified students 100% Placement Assistance.
Upcoming Batches
| | | | |
| --- | --- | --- | --- |
| 23-09-2023 | Weekend | Saturday (Saturday - Sunday) | |
| 25-09-2023 | Weekdays | Monday (Monday - Friday) | |
| 28-09-2023 | Weekdays | Thursday (Monday - Friday) | |
| 30-09-2023 | Weekend | Saturday (Saturday - Sunday) | |

Classroom Training
Get trained by Industry Experts via Classroom Training at any of the FITA Academy branches near you
Why Wait? Jump Start your Career by taking the Mean Stack Training!
Instructor-Led Live Online Training
Take-up Instructor-led Live Online Training. Get the Recorded Videos of each session.
Travelling is a Constraint? Jump Start your Career by taking the Mean Stack Online training!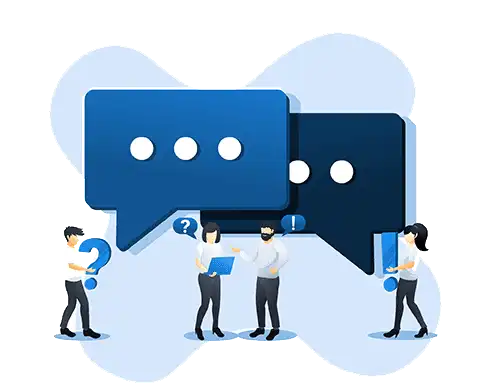 Have Queries? Talk to our Career Counselor
for more Guidance on picking the right Career for you!
Trainer Profile
The MEAN Stack concepts are taught to students at FITA Academy in the optimal combination of academic and practical knowledge since we firmly believe in the blended learning method.
The MEAN Stack Developer Course Trainers at FITA Academy are Real-Time trained professionals who provide hands-on training on MEAN Stack's fundamental components.
By teaching students in-depth MEAN Stack coding techniques, the FITA Academy teachers help students expand their knowledge.
The MEAN Stack Development Course Online's Trainers at FITA Academy give every student the personalised attention and thorough training they need to create Web Applications.
Our trainers provide the students with insightful guidance on interview questions and managing interviews through mock interview sessions, which helps the students develop solid resumes and boosts their confidence.
Features
Real-Time Experts as Trainers
At FITA Academy, You will Learn from the Experts from industry who are Passionate in sharing their Knowledge with Learners. Get Personally Mentored by the Experts.
LIVE Project
Get an Opportunity to work in Real-time Projects that will give you a Deep Experience. Showcase your Project Experience & Increase your chance of getting Hired!
Certification
Get Certified by FITA Academy. Also, get Equipped to Clear Global Certifications. 72% FITA Academy Students appear for Global Certifications and 100% of them Clear it.
Affordable Fees
At FITA Academy, Course Fee is not only Affordable, but you have the option to pay it in Installments. Quality Training at an Affordable Price is our Motto.
Flexibility
At FITA Academy, you get Ultimate Flexibility. Classroom or Online Training? Early morning or Late evenings? Weekdays or Weekends? Regular Pace or Fast Track? - Pick whatever suits you the Best.
Placement Support
Tie-up & MOU with more than 1500+ Small & Medium Companies to Support you with Opportunities to Kick-Start & Step-up your Career.
MEAN Stack Certification Training
About MEAN Stack Certification Training
at FITA Academy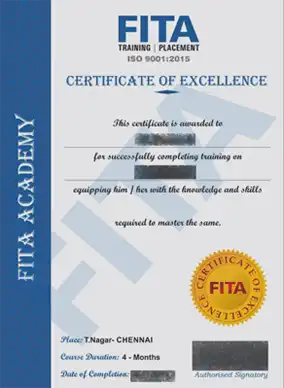 MEAN Stack Online Course Certification
The MEAN Stack Online Course Certification demonstrates that a candidate has a thorough understanding of and proficiency with the MEAN Stack Platform for developing web pages. This certification attests to the fact that the applicant has acquired the skills necessary to work as a MEAN Stack Developer or Full Stack Developer. By presenting this certificate with your resume, you open up a wide range of professional and career options and ensure that the interviewer pays close attention to your profile.
The MEAN Stack Online Training offered by FITA Academy is created to help aspiring MEAN Stack Developers improve their skills under the direction of experienced business experts. With more than 8 years of experience in Web Application Development, the instructors of the course guarantee a thorough learning environment. Our MEAN Stack Developer Course Online Trainers offer priceless insights into the newest market trends, enhancing your knowledge and keeping you updated with market demands.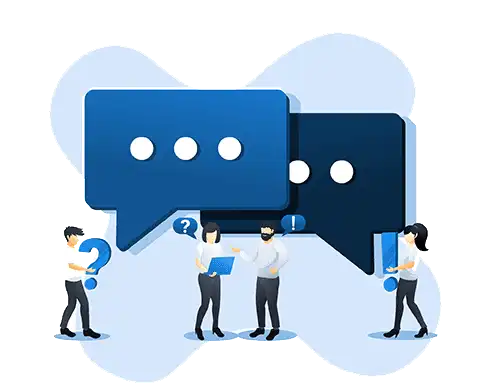 Have Queries? Talk to our Career Counselor
for more Guidance on picking the right Career for you!
Job Opportunities After Completed MEAN Stack Online Course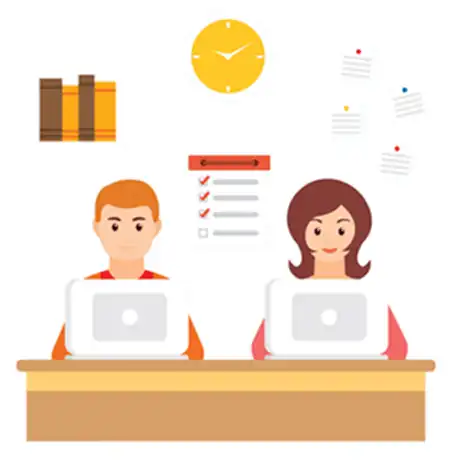 Most companies today favour developers who can efficiently create each component of an application from top to bottom. In that case, MEAN is a well-known Full Stack Development solution that aids companies in producing successful apps with little expense. MEAN Stack Developer is a well-liked career option for those seeking rewarding career opportunities in the Web Applications Development field.
Career growth in the MEAN Stack is expected to increase by a total of 18% between 2017 and 2026. This is a result of the growing demand for trustworthy online applications on a global scale. Businesses are currently looking for capable people who can work on both front-end and back-end apps as well as manage the database system.
MEAN Stack developers are employed by reputable companies like Accenture, Bosch, Cognizant, HCL, Capgemini, Infosys, and TCS. A MEAN Stack Developer in India can anticipate earning an average yearly salary of Rs. 5,28,436.
As one gains expertise, the average salary is expected to rise from Rs.12,00,000 to Rs.15,00,000 annually. Around the world, a MEAN Stack Developer earns about $ 120,000. Additionally, you can work as a Freelancer if you have years of experience and the necessary skill sets. The MEAN Stack Developer Course Online at FITA Academy imparts to the students the professional skill sets necessary for a MEAN Stack Developer under the supervision of Real-Time professionals.
Student Testimonials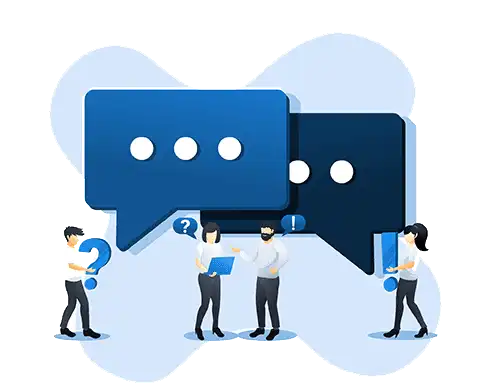 Have Queries? Talk to our Career Counselor
for more Guidance on picking the right Career for you!
Additional Information
The MEAN Stack is a widely used technology stack for web development that combines four key technologies: MongoDB, Express.js, Angular.js, and Node.js. Each component of the stack plays a critical role in creating dynamic and scalable web applications. In this, we will delve into the MEAN Stack, exploring each technology in detail, discussing their significance, and examining the advantages and use cases of this powerful stack.
MongoDB
MongoDB is a NoSQL database that offers a flexible and scalable solution for handling data. It stores data in a JSON-like format called BSON, allowing seamless integration with JavaScript applications. MongoDB's document-oriented data model provides a more intuitive way to work with data compared to traditional relational databases. It eliminates the need for predefined schemas, enabling agile development and effortlessly handling evolving data structures. Mongo DB also offers automatic sharding and replication features, making it highly scalable and fault-tolerant.
Advantages of MongoDB
Flexible and schema-less data model: MongoDB's document-oriented approach allows for dynamic and evolving data structures without the need for predefined schemas.
Scalability: MongoDB supports automatic sharding, allowing applications to handle large amounts of data and high traffic loads.
High Performance: With features like in-memory computing, indexing, and query optimisation, MongoDB delivers and efficient data processing.
Easy Integration with JavaScript: MongoDB's JSON-like data format makes it seamless to work with JavaScript-based applications.
Use Cases of MongoDB
Content Management Systems (CMS): MongoDB's flexible schema and scalability make it suitable for handling content-rich applications.
Real-time Analytics: The ability to handle large volumes of data and high concurrency makes MongoDB well-suited for real-time analytics applications.
Internet of Things (IoT): MongoDB's Document-oriented model is ideal for managing the varying and evolving data structures commonly found in IoT applications.
Mobile Applications: MongoDB's flexibility and ease of integration with the JavaScript framework make it a good choice for mobile app back-ends.
Express.js
Express.js is a fast and minimalist web application framework built on top of Node.js. It simplifies the process of building web applications by providing a robust set of features and utilities. Express.js handles routing, middleware management, and other everyday tasks, allowing developers to focus on writing business logic. It follows the "middleware" architecture, which enables the creation of modular and reusable components. Express.js also has a vast ecosystem of plugins and extensions, making it highly customisable and adaptable to different project requirements.
Advantages of Express.js
Lightweight and Minimalist: Express.js is designed to be unopinionated, allowing developers to make their own choices regarding project structure and components.
Modular and Reusable: Developers can produce simple reusable components to include in other applications thanks to the middleware design.
Easy Routing: Express.js provides a simple and intuitive routing system for handling HTTP requests and defining API endpoints.
Integration with other libraries: Express.js seamlessly integrates with various middleware and third-party libraries, giving developers flexibility in building their applications.
Use Cases of Express.js
RESTful APIs: Express.js is widely used for building RESTful APIs due to its simplicity, flexibility, and robust routing capabilities.
Single-Page Applications (SPA): Express.js can server as the back-end for SPAs, allowing developers to build efficient and interactive user interfaces.
Microservices: The lightweight nature of Express.js makes it a suitable choice for building microservices architectures.
Real-time Applications: Express.js, when combined with frameworks like Socket.io, enables the development of real-time applications that require instant data updates.
Angular.JS
Angular JS is a robust JavaScript framework developed by Google for building dynamic single-page applications (SPAs). It follows the Model-view Controller (MVC) architectural pattern, promoting a clear separation of concerns. AngularJS provides a rich set of features that simplify the development of complex user interfaces. Some of the Key features include two-way data binding, dependency injection, templating, and reusable components.
Advantages of AngularJS
Two-way data binding: AngularJS's two-way binding eliminates the need for manual DOM manipulation, allowing developers to keep data and UI elements in sync easily.
Modular architecture: AngularJS promotes a modular approach to building applications, enabling code reusability and maintainability.
Dependency injection: AngularJS's built-in dependency injection system helps manage dependencies and facilitates unit testing.
Templating: With the help of AngularJS's robust templating system, developers can make responsive and dynamic user interfaces.
Extensive community and ecosystem: AngularJS has a large and active community, providing extensive resources, tutorials, and third-party libraries.
Use Cases of AngularJS
Single Page Application (SPAs): AngularJS is particularly suitable for building SPAs, where dynamic user interfaces and efficient data binding are required.
Interactive Dashboards: AngularJS can be used to develop interactive dashboards that display real-time data and allows users to perform actions on the data.
Data-intensive Applications: AngularJS's robust data binding and templating capabilities make it a good choice for applications that heavily rely on data manipulation and visualisation.
Enterprise Applications: AngularJS's modular architecture, dependency injection, and strong community support make it well-suited for building large-scale enterprise applications.
Node.js
Developers can run JavaScript code on the server side using the runtime environment Node.js. It is based on Google's V8 JavaScript engine, which offers high-performance JavaScript code execution. Node.js utilises an event-driven, non-blocking I/O model, making it highly scalable and efficient for handling concurrent requests. It has a vast ecosystem of modules and libraries available throughout the npm package manager, enabling developers to leverage existing solutions and accelerate development.
Advantages of Node.js
High scalability: Node.js's non-blocking I/O model allows it to handle many concurrent requests with low resource consumption.
Fast Execution: Node.js's event-driven architecture and V8 engine provide high-performance execution of JavaScript code.
Large ecosystem: Node.js has a massive ecosystem of modules and libraries, making finding pre-built solutions for various functionalities easy.
Easy sharing of code: Node.js allows developers to share code between the front-end and back-end, reducing duplication and improving code maintainability.
Use Cases of Node.js
Real-time Applications: Node.js's event-driven architecture and support for WebSockets make it ideal for building real-time applications such as chat apps, collaboration tools, and gaming platforms.
Microservices: Node.js and frameworks like Express.js are commonly used for building robust and scalable APIs.
API Development: Node.js and frameworks like Express.js are commonly used for building robust and scalable APIs.
Single-page Applications (SPAs): Node.js can be the back-end for SPA built with frameworks like AngularJS, providing efficient data retrieval and processing.
Benefits of MEAN Stack
The MEAN Stack offers several benefits for web developers. Let us explore some of the critical advantages of using the MEAN Stack:
Single Language
One of the significant benefits of the MEAN Stack is the use of a single language, JavaScript, throughout the entire development stack. This eliminates the need to learn multiple programming languages for front-end and back-end development. Developers can seamlessly switch between front-end and back-end tasks, improving productivity and collaboration between team members.
Full-stack JavaScript
With the MEAN Stack, developers can leverage their JavaScript skills across the entire application stack. This streamlines the development process and allows for code reuse, easier debugging, and faster development cycles. JavaScript's versatility and extensive community support contribute to the popularity of the MEAN Stack.
Isomorphic/Universal JavaScript
The MEAN Stack supports isomorphic/universal JavaScript, which allows developers to write code that can isomorphic/universal JavaScript and write code that can run on both the client and server sides. This approach enables efficient server-side rendering of web pages, leading to improved performance, better SEO (Search Engine Optimisation), and enhanced user experience.
JSON-Based Communication
JSON( JavaScript Object Notation) serves as the standard data interchange format within the MEAN Stack. This ensures smooth communication between the front-end and back-end components, as both AngularJS and Node.js can seamlessly process and manipulate JSON data. The use of JSON simplifies data transfer and integration, making it easier to build robust and scalable applications.
Scalability
The MEAN Stack offers excellent scalability options. MongoDB, the NoSQL database, provides built-in horizontal scalability through automatic sharding, allowing applications to handle large amounts of data and high traffic loads. Node.js, with its event-driven, non-blocking I/O model, is highly scalable and efficient in handling concurrent requests. This scalability is crucial for applications that need to handle rapid growth and high user demand.
Open-Source and Active Community
All components of the MEAN Stack are open-source and have large and active communities. As a result, developers have access to a wealth of tutorials, documentation, and libraries and frameworks. The vibrant community ensures continuous improvement, regular updates, and support for the MEAN Stack, making it easier to find solutions to problems and stay up to date with the latest trends in web development.
Rapid Prototyping and Development
The MEAN Stack, with its modular architecture and rich set of tools, enables rapid prototyping and development. Express.js provides a lightweight and flexible framework for building web applications, AngularJS simplifies the creation of dynamic user interfaces, and Node.js facilitates fast and scalable server-side deployment. These components, combined with the ability to reuse code across the stack, contribute to faster development cycles and quicker time-to-market.
Flexibility and Customisation
Each component of the MEAN Stack offers a high level of flexibility and customisation options. Developers can choose from various modules, libraries, and tools to suit their specific project requirements. The modular nature of Express.js and AngularJS allows developers to create reusable components, reducing development time and effort.
Robust Ecosystem
The MEAN Stack benefits from a robust tools, frameworks, and libraries ecosystem. For example, AngularJS has a vast collection of modules and extensions, enabling developers to add complex functionalities to their applications easily. Node.js has the npm (Node Package Manager) repository, which provides access to thousands of open-source packages. This ecosystem empowers developers to leverage existing solutions, accelerating development and reducing code complexity.
Future-Proof
The MEAN Stack is built on popular and widely adopted technologies, making it a future-proof choice for web development. JavaScript has proven its longevity and adaptability, and the MEAN Stack leverages the power of JavaScript, which is consistently evolving and improving. The MEAN Stack also aligns with modern web development principles such as single-page applications (SPAs), RESTful APIs, and real-time applications. By mastering the MEAN Stack, developers can stay ahead of the curve and ensure their skills remain relevant in the ever-changing web development landscape.
MEAN Stack offers a powerful and cohesive set of technologies for building modern web applications. MongoDB provides a flexible and scalable database solution, Express.js simplifies server-side development, AngularJS facilitates the creation of dynamic user interfaces, and Node.js enables efficient server-side execution of the JavaScript code. The MEAN Stack's flexibility, scalability, and ability to use a single programming language throughout the development process make it a popular choice for building full-stack web applications. Whether you are developing a real-time application, a content-rich website, or a single-page application, mastering the MEAN Stack can unlock a wide range of possibilities for web development.