Course Highlights and Why GST Training in Hyderabad at FITA Academy?

Meticulously Structured GST Course Modules Aligned with the Current Income Tax Act of the Government of India.

Course Curriculum Crafted by Seasoned Industry Experts to Foster a Comprehensive Grasp of GST and Taxation Principles.

Proficient GST Instructors Boasting Over a Decade of Expertise as Certified Chartered Accountants and Indirect Tax Specialists.

Comprehensive GST Training Program Encompassing Vital Aspects of the GST Act, Such as Return Filing, Registration, Utilization of Input Tax Credits, Refunds, and TDS Compliance.

Engaging and Interactive Instructor-Led GST Classes Conducted in Hyderabad at FITA Academy.

Modern Classrooms Equipped for Experiential Learning in the Field of GST are offered at our training centre.

FITA Academy is one of the Professional GST Training centres at an Affordable Rate, Culminating in Certification Upon Successful Course Completion.

Flexible Batch Schedules, Including Weekday and Weekend Options for GST Training, are available.

Assured 100% Placement Support Extended to Eligible Students Following Successful Training Completion.
Upcoming Batches
| | | | |
| --- | --- | --- | --- |
| 09-12-2023 | Weekend | Saturday (Saturday - Sunday) | |
| 11-12-2023 | Weekdays | Monday (Monday - Friday) | |
| 14-12-2023 | Weekdays | Thursday (Monday - Friday) | |
| 16-12-2023 | Weekend | Saturday (Saturday - Sunday) | |

Classroom Training
Get trained by Industry Experts via Classroom Training at any of the FITA branches near you
Why Wait? Jump Start your Career by taking the GST Classroom Training in Hyderabad!
Instructor-Led Live Online Training
Take-up Instructor-led Live Online Training. Get the Recorded Videos of each session.
Travelling is a Constraint? Jump Start your Career by taking the GST Course Online!
Trainer Profile
FITA Academy offers the best GST Training In Hyderabad, which is designed to help students improve their GST calculation skills in social situations.
We ardently embrace a blended approach to learning, meticulously imparting a harmonious fusion of theoretical and practical facets of GST to our students.
The GST Instructors are dedicated to nurturing students with industry-relevant skills honed through their extensive experience in the realms of taxation and accounting.
These adept GST Trainers are seasoned professionals actively engaged in the field, offering immersive, hands-on training covering the GST structure, compliance, and computation.
The Trainers are committed to enriching students' knowledge with a comprehensive understanding of taxation practices, equipping them for real-world challenges.
Trainers at FITA Academy extend personalised attention to each student, ensuring an in-depth training experience in GST filing, supplemented by practical exercises.
The Trainers are dedicated to assisting students in crafting a professional portfolio and bolstering their confidence by providing invaluable insights into interview preparation, including mock interview sessions.
Learn at FITA Academy & Get Your
Dream IT Job in 60 Days
like these Successful Students!

Features of GST Training in Hyderabad at FITA Academy
Real-Time Experts as Trainers
At FITA Academy, You will Learn from the Experts from industry who are Passionate in sharing their Knowledge with Learners. Get Personally Mentored by the Experts.
LIVE Project
Get an Opportunity to work in Real-time Projects that will give you a Deep Experience. Showcase your Project Experience & Increase your chance of getting Hired!
Certification
Get Certified by FITA Academy. Also, get Equipped to Clear Global Certifications. 72% FITA Academy Students appear for Global Certifications and 100% of them Clear it.
Affordable Fees
At FITA Academy, Course Fee is not only Affordable, but you have the option to pay it in Installments. Quality Training at an Affordable Price is our Motto.
Flexibility
At FITA Academy, you get Ultimate Flexibility. Classroom or Online Training? Early morning or Late evenings? Weekdays or Weekends? Regular Pace or Fast Track? - Pick whatever suits you the Best.
Placement Support
Tie-up & MOU with more than 1500+ Small & Medium Companies to Support you with Opportunities to Kick-Start & Step-up your Career.
Why Learn GST Training in Hyderabad at FITA Academy?
Live Capstone Projects
Real time Industry Experts as Trainers
Placement Support till you get your Dream Job offer!
Free Interview Clearing Workshops
Free Resume Preparation & Aptitude Workshops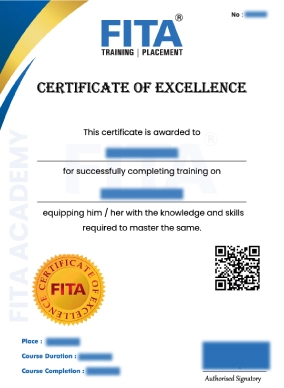 GST Training Certification Course in Hyderabad
The GST Course Certification is a distinguished professional credential that signifies the candidate's profound understanding of GST filing and taxation principles. It encompasses real-time case studies, endorsing that the candidate has acquired the essential expertise to excel as a GST Tax Consultant. Possessing this GST Course completion certificate, when included in your resume, confers a competitive advantage during interviews and expands the spectrum of career prospects.
FITA Academy's GST Classes in Hyderabad refine the requisite skill sets for aspiring Tax Consultants, all under the guidance of seasoned industry professionals. Our GST Training in Hyderabad is delivered by instructors with over 8 years of practical experience in the fields of taxation and auditing, ensuring a comprehensive and practical education.
Have Queries? Talk to our Career Counselor for more Guidance on picking the
right Career for you!
Placement Session & Job Opportunities after completing GST Training in Hyderabad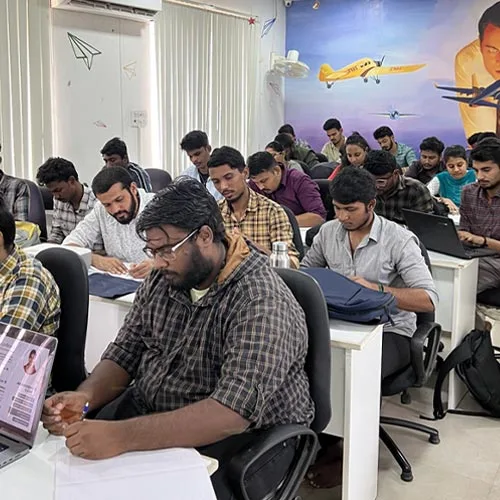 A recent survey found that the introduction of the GST has led to a significant surge in the operations of organisations across various sectors. This new tax system has streamlined business operations, simplifying compliance. Prior to GST, businesses had to manage multiple returns to demonstrate their adherence to government guidelines.
However, GST has consolidated taxes like VAT, Service Tax, and Octroi into a single, unified tax, making tax payment more straightforward. This change has eased the burden on businesses. Despite this, some businesses opt to hire tax consultants to handle their tax filing and returns. Many business owners prioritise expanding their operations and enlist the services of professional accountants or tax experts to oversee their financial matters. A report by "The Hindu Business Line" reveals that there is a demand for tax consultants with GST knowledge, with approximately 1,00,000 job seekers seeking opportunities in this field.
This sector is projected to experience substantial growth in the near future, given the frequent changes in India's tax laws and regulations. Individuals without a background in commerce or accounting often require the assistance of consultants to navigate the complexities of tax filing.
In this sector, common job titles include GST Tax Practitioner, GST Tax Consultant, and GST Tax Filer. In general, GST consultants can earn between Rs 2,50,000 to Rs. 3,00,000 annually. Salary packages vary depending on the organisation and the individual's skill set. FITA Academy's GST Classes in Hyderabad offer comprehensive training on GST structure and compliance under the guidance of expert tax professionals. Our mentors provide valuable guidance and equip students with the necessary skills to excel as certified professional GST tax consultants.
Success Story of GST Training in Hyderabad
At first, I was initially hesitant about delving into the intricacies of Goods and Services Tax (GST), but FITA Academy GST Training Institute In Hyderabad changed my perspective completely. The trainers at FITA Academy were not just professionals; they were friendly, approachable, and masters at making learning enjoyable because of their recommendations and knowledge, I now feel exceptionally confident about my GST skills and can't wait to utilise them in my budding career. FITA Academy truly rocks!
FITA Academy in Hyderabad stands out as the ultimate destination for GST training. The instructors there are truly top-notch, bringing a wealth of expertise and real-world experience that goes beyond what any textbook can offer. What set FITA Academy apart for me was the hands-on experience they provided, allowing me to gain a deeper understanding of the GST concepts through practical applications. I am immensely grateful for this invaluable learning experience that has broadened my horizons in the field of taxation.
I simply can't express enough gratitude to FITA Academy for their Best GST Training Institute In Hyderabad. The classes were highly interactive, fostering an engaging and participatory learning environment. Furthermore, the study materials provided by FITA Academy were of the highest quality, making it easy for someone like me, who had zero prior knowledge of GST, to grasp the intricacies of this taxation system. Thanks to FITA Academy, I now feel like an expert in GST and wholeheartedly recommend their training to anyone eager to dive into this subject.
My recent completion of the GST Training in Hyderabad left me in awe of the experience. The trainers there were incredibly patient, breaking down complex GST concepts into digestible pieces making them easy to understand. This newfound knowledge has instilled in me a sense of confidence, and I am now fully prepared to apply it in my burgeoning career. FITA Academy, thank you for providing me with the skills and confidence to face the world of taxation head-on!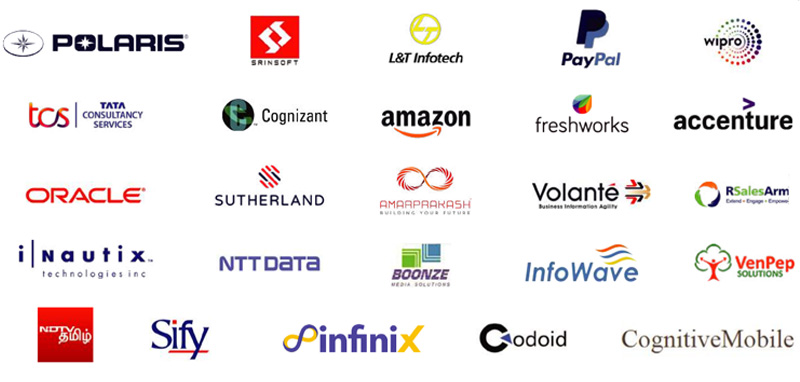 Frequently Asked Question (FAQ) about GST Training in Hyderabad
Additional Information of GST Training in Hyderabad
Overview of the Goods and Services Tax
GST, or Goods and Services Tax, is a unified tax system designed to replace multiple indirect taxes currently imposed on the sale of goods and services. This comprehensive tax is applicable to the production, numerous commodities and services are sold and consumed nationally.
The primary objective of introducing GST is to consolidate numerous indirect taxes into a single tax structure. This simplification aims to address various limitations inherent in the existing complex indirect tax system. Ultimately, the implementation of GST is expected to enhance the efficiency of tax administration.
The introduction of GST represents a significant milestone as it consolidates various central and state taxes into a unified tax regime. This transition eliminates the issue of cascading double taxation and establishes a unified national market.
Why Should You Attend GST Training in Hyderabad at FITA Academy?
Participating in GST Training in Hyderabad at FITA Academy presents a valuable opportunity for individuals seeking a thorough understanding of Goods and Services Tax regulations. The GST program delivered by FITA Academy, specifically designed for the Hyderabad region, encompasses a comprehensive exploration of practical elements associated with GST. These include but are not limited to, aspects like registration procedures, return filing, proper accounting practices, and meticulous record-keeping of GST transactions.
Who can enrol in GST Course in Hyderabad?
Eligibility criteria for enrolling in GST Classes in Hyderabad at FITA Academy include individuals from various educational and professional backgrounds. This course is accessible to graduates and postgraduates in fields such as commerce, law, banking, and business administration. Additionally, it is suitable for those who are actively working as tax consultants, accountants, or aspiring GST experts within different types of firms.
After successfully obtaining your GST certification from FITA Academy in Hyderabad, you will emerge as the most qualified candidate for esteemed positions, such as a tax adviser or GST expert, within any organisation. This comprehensive course is strategically designed to equip you with an in-depth understanding of GST computation and compliance, allowing you to seamlessly manage all GST-related responsibilities within your firm. Following the completion of the GST Classes in Hyderabad, you will possess the proficiency required to excel in this field, eliminating the need for any further training.
Moreover, this certification will have a positive impact on your salary scale within any organisation. Your GST qualification will not only enhance your earning potential but also pave the way for promising career growth opportunities in the future. FITA Academy Hyderabad serves as the ultimate destination to fulfil all your GST training needs, ensuring you are well-prepared to thrive in the domain of taxation and GST compliance.
What Sets FITA Academy Apart as the Ideal Destination for GST Training in Hyderabad?
FITA Academy in Hyderabad stands out as a premier institution for GST training, owing to several key factors. Our GST courses are meticulously curated and instructed by certified public accountants and seasoned tax professionals, each boasting more than 12 years of invaluable industry experience. To foster an optimal learning environment, classes are intentionally kept small, guaranteeing individualised attention for each student.
Our pedagogical approach incorporates the use of clear and visually engaging PowerPoint presentations and instructional videos during theory lectures, enhancing the comprehension of complex topics. At the conclusion of each lesson, every student is afforded personalised attention to ensure a robust grasp of the fundamental principles.
Upon successfully completing the course, students are duly rewarded with a certificate of completion, a testament to their acquired expertise. Additionally, FITA Academy goes the extra mile by providing placement assistance, thereby empowering our students to identify and secure promising job opportunities in their desired fields.
Utilise FITA Academy's GST Training in Hyderabad to Your Advantage!
FITA Academy's GST training program is a gateway to becoming a certified tax advisor or GST expert.
The curriculum extensively addresses GST computation and compliance, making certain that you acquire a thorough understanding of this area.
Upon successfully completing the course, you will possess the confidence and expertise needed to proficiently handle all GST-related responsibilities, obviating the necessity for further training.
Earning a GST certification from FITA Academy can significantly boost your earning potential in any organisation.
Furthermore, this qualification can pave the way for enhanced career growth prospects in the future.