Course Highlights and Why React JS Training in Hyderabad at FITA Academy?

The React JS course curriculum is meticulously tailored to meet global industry demands.

The course materials are expertly crafted by industry professionals, offering a deep dive into React JS fundamentals, key features, and its extensive ecosystem, including third-party libraries.

You will learn from skilled and qualified React JS trainers, each with over a decade of experience in front-end application development.

The immersive React JS training program covers React, Redux, and Flux, equipping you to build complex and robust applications.

The classes are led by experts and are highly interactive, with regular review sessions to reinforce your understanding.

We provide a hands-on learning environment in well-equipped classrooms.

We offer professional React JS training at an affordable cost, and successful completion results in certification.

We offer flexible batch timings, including weekday and weekend options.

On completion of the React JS training, we provide 100% placement assistance and career guidance.

FITA Academy Training Institute boasts a network of over 1500+ corporate partners, spanning from small businesses to large enterprises.
Upcoming Batches
| | | | |
| --- | --- | --- | --- |
| 09-12-2023 | Weekend | Saturday (Saturday - Sunday) | |
| 11-12-2023 | Weekdays | Monday (Monday - Friday) | |
| 14-12-2023 | Weekdays | Thursday (Monday - Friday) | |
| 16-12-2023 | Weekend | Saturday (Saturday - Sunday) | |

Classroom Training
Get trained by Industry Experts via Classroom Training at any of the FITA Academy branches near you
Why Wait? Jump Start your Career by taking the React JS Training in Hyderabad!
Instructor-Led Live Online Training
Take-up Instructor-led Live Online Training. Get the Recorded Videos of each session.
Travelling is a Constraint? Jump Start your Career by taking the React JS Course Online!
Trainer Profile
FITA Academy Training Institute adopts a blended learning approach, combining theory and practical application in teaching concepts and tools.
Students receive a well-rounded combination of theoretical knowledge and practical skills from the React JS instructors at FITA Academy.
The React JS mentors equip students with industry-specific skill sets tailored to meet real-world demands.
FITA Academy's React JS tutors are experts in the field of front-end application development.
The trainers are React JS professionals who impart hands-on training in the single-page application process.
React JS trainers at FITA Academy enhance students' skill sets by delivering comprehensive training in front-end application development practices.
FITA Academy's React JS mentors offer personalised attention to every student in the batch, ensuring in-depth learning of React JS concepts through hands-on practice.
React JS Training in Hyderabad at FITA Academy guides students in building professional portfolios and provides efficient training in mock interviews, empowering them to approach real interviews with confidence.
Learn at FITA Academy & Get Your
Dream IT Job in 60 Days
like these Successful Students!

Features of React JS Training in Hyderabad at FITA Academy
Real-Time Experts as Trainers
At FITA Academy, You will Learn from the Experts from industry who are Passionate in sharing their Knowledge with Learners. Get Personally Mentored by the Experts.
LIVE Project
Get an Opportunity to work in Real-time Projects that will give you a Deep Experience. Showcase your Project Experience & Increase your chance of getting Hired!
Certification
Get Certified by FITA Academy. Also, get Equipped to Clear Global Certifications. 72% FITA Academy Students appear for Global Certifications and 100% of them Clear it.
Affordable Fees
At FITA Academy, Course Fee is not only Affordable, but you have the option to pay it in Installments. Quality Training at an Affordable Price is our Motto.
Flexibility
At FITA Academy, you get Ultimate Flexibility. Classroom or Online Training? Early morning or Late evenings? Weekdays or Weekends? Regular Pace or Fast Track? - Pick whatever suits you the Best.
Placement Support
Tie-up & MOU with more than 1500+ Small & Medium Companies to Support you with Opportunities to Kick-Start & Step-up your Career.
Why Learn React JS Training in Hyderabad at FITA Academy?
Live Capstone Projects
Real time Industry Experts as Trainers
Placement Support till you get your Dream Job offer!
Free Interview Clearing Workshops
Free Resume Preparation & Aptitude Workshops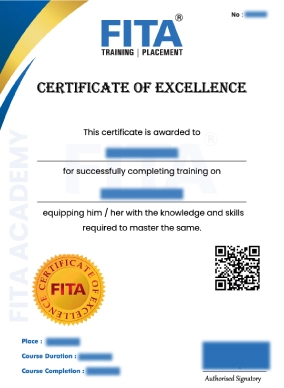 React JS Certification Training in Hyderabad
The React JS Course Certification, a recognised professional credential, serves as tangible evidence of learners' profound comprehension of React JS applications and their components. This certification signifies that participants have acquired the vital technical skills necessary to function effectively as React JS Developers, thanks to the hands-on experience gained through real-world Front-end Application projects offered at the conclusion of the training at React JS Training Institute in Hyderabad. The presentation of this certificate in interviews and inclusion on your resume or CV substantially enhances employment prospects.
Under the mentorship of seasoned professionals, FITA Academy's React JS Certification Course in Hyderabad is meticulously designed to cultivate and encompass the crucial skill sets sought after by React JS Developers. In Hyderabad, React JS Training is delivered by certified experts boasting over eight years of expertise in the front-end and single-page application domains.
Have Queries? Talk to our Career Counselor for more Guidance on picking the
right Career for you!
Placement Session & Job Opportunities after completing React JS Training in Hyderabad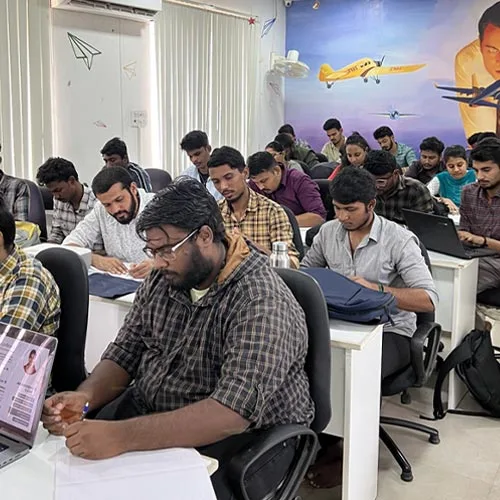 React JS has emerged as one of the foremost and most sought-after JavaScript libraries for building Graphical User Interfaces (GUI) and Front-End Web Applications. Its exponential growth in recent years can be attributed to its remarkable scalability and simplicity. React JS empowers developers to create independent and reusable components, streamlining the development process. Moreover, its relatively gentle learning curve sets it apart from other JavaScript libraries.
Prominent companies such as Facebook, Airbnb, Yahoo Mail, Netflix, and WhatsApp rely on React JS to power their web applications. According to reports from India's leading job portals, LinkedIn alone boasts over 9,000 React JS job listings. Notable organisations like Amazon, Accenture, Wipro, TCS, Directi, Cognizant, Infosys, and Ernst & Young actively seek React JS Developers.
Fresh entrants into the field can anticipate a median annual salary ranging from Rs. 3,50,000 to Rs. 4,50,000 in India. Those with 2-4 years of React JS experience can command annual earnings between Rs. 5,50,000 and Rs. 8,00,000.
Globally, React JS Developers enjoy a median annual income of approximately $100,741. FITA Academy in Hyderabad offers comprehensive React JS training, imparting students with in-depth knowledge of React JS concepts and proficient application skills. Seasoned professionals guide students in honing the essential skill sets required for a successful career as a React JS developer. Starting your new journey on React? Check out our updated ReactJs Interview Questions and Answers
Success Story of React JS Training in Hyderabad
I recently completed React JS Training in Hyderabad, and I must say it was an exceptional learning experience. The course was comprehensive, covering everything from the basics to advanced concepts. The trainers were highly knowledgeable and made complex topics easy to understand. The hands-on projects and practical exercises were invaluable in honing my skills. React JS Training Institute in Hyderabad's commitment to student success is commendable, as they provided excellent support throughout the course. I feel confident in my React skills and am grateful to FITA Academy's Best React JS Training In Hyderabad.
My journey with FITA Academy's React JS Training in Hyderabad was truly transformative. The trainers' expertise and teaching methods were top-notch. They encouraged active participation and ensured that I grasped the intricacies of React. The real-world projects gave me the confidence to apply my knowledge in practical scenarios. FITA Academy's support team was always there to assist with any queries or concerns. I now feel well-prepared to pursue a career in React development, thanks to FITA Academy's Best React JS Training In Hyderabad. I highly recommend it to anyone looking to master React.
React JS Training in Hyderabad is the best place to learn React JS. I recently completed their training program, and I'm amazed at how much I've grown as a developer. The curriculum is structured excellently, starting from the fundamentals and gradually progressing to advanced topics. The trainers are not only experts in React but also great mentors who are always ready to help. The hands-on approach, with real-world projects, was a game-changer for me. Thanks to FITA Academy's Best React JS Training In Hyderabad, dedication to student success is truly remarkable, and I'm grateful for the knowledge and skills I've gained.
Enrolling in React JS Training in Hyderabad was one of the best decisions I've made in my career. The course content is up-to-date, and the instructors are incredibly knowledgeable. They have a talent for breaking down difficult ideas into terms that are easy to comprehend. The practical exercises and projects were invaluable in reinforcing what I learned in class. FITA Academy's support system, including career guidance and placement assistance, is exceptional. I now feel confident in my React skills and am excited to embark on a new career path in web development, all thanks to FITA Academy's React JS Training Institute in Hyderabad.
FITA Academy's React JS Training in Hyderabad exceeded my expectations in every way. The course is comprehensive, covering all aspects of React development, and the instructors are not only experts but also passionate about teaching. The hands-on approach, with numerous real-world projects, made learning engaging and practical. FITA Academy's commitment to students is evident through their constant support and guidance. I can state with confidence that I've developed a solid foundation in React, and I'm well-prepared for a successful career in web development, thanks to FITA Academy. Anyone wishing to master React should definitely check out this training facility.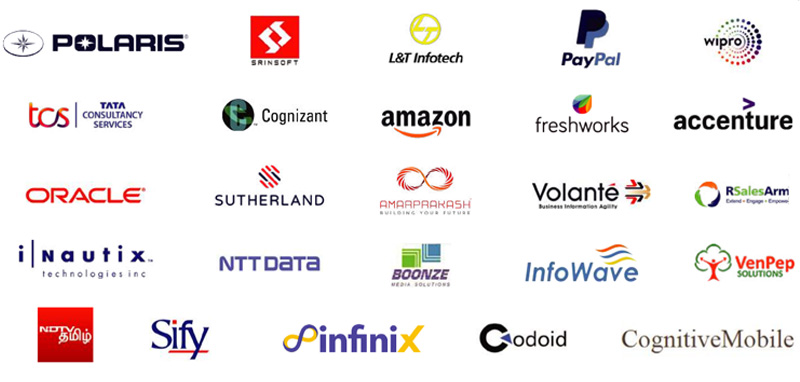 Frequently Asked Question (FAQ) about React JS Training in Hyderabad
Additional Information of React JS Training in Hyderabad
The renowned JavaScript library, React JS, often referred to simply as React or React.js, plays a pivotal role in crafting user interfaces (UIs) for web applications. Developed by Facebook, React JS has earned widespread acclaim and adoption within the web development community due to its notable efficiency, modularity, and reusability.
React JS adheres to a component-centric approach, wherein the user interface is systematically deconstructed into reusable building blocks termed "components." These components serve as self-contained units, encapsulating both the structural layout and interactive behaviour of specific UI elements. This component-based paradigm simplifies the management and maintenance of intricate applications. For Interview Tips on Reactjs, visit our website.
To harness React JS effectively, developers must grasp several fundamental concepts integral to React's component-based architecture and its streamlined rendering mechanisms. Let's delve into these key concepts:
Components
The essential building elements of ReactJS apps are components. Each component represents a self-contained and reusable piece of the user interface, encapsulating both its structure and behaviour. React advocates for breaking down the UI into smaller, more manageable components, which can then be composed to create intricate UI hierarchies. Depending on the version of React being used, components can take the form of either class components or functional components.
JSX (JavaScript XML)
JSX is a syntax extension within ReactJS that empowers developers to author HTML-like code directly within JavaScript. This feature offers a concise and intuitive way to define the structure of UI components. JSX combines the capabilities of JavaScript and HTML, enabling developers to fashion dynamic and interactive user interfaces. JSX is transpiled into standard JavaScript using tools like Babel, allowing it to be executed in web browsers.
Virtual DOM (Document Object Model)
The virtual DOM stands as a memory-based replica of the actual DOM. It serves as a lightweight, in-memory copy of the real DOM and is maintained by React. When changes occur in the application's state or props, React employs a virtual DOM diffing algorithm to identify the minimal set of alterations needed to update the UI. This methodology enables React to optimise the rendering process by selectively refreshing only those components that have changed, resulting in enhanced performance.
State and Props
State and props are foundational concepts in ReactJS for data management and communication between components. The state represents a component's internal data, changeable over time, through the 'setState()' method. On the other hand, props (short for properties) are read-only data passed from parent components to their child components. Props facilitate data flow from top to bottom in the component hierarchy. By skillfully handling state and props, developers can construct dynamic and interactive user interfaces.
Component Lifecycle
React components adhere to a lifecycle that encompasses stages like initialisation, rendering, updating, and unmounting. This lifecycle offers hooks or methods enabling developers to execute specific actions at each stage. For instance, the 'componentDidMount()' method triggers after the initial rendering, making it suitable for tasks like fetching data from an API. Proficiency in understanding the component lifecycle empowers developers to efficiently manage component behaviour and event handling.
React Hooks
React hooks, introduced in React 16.8, provide functional components with the capability to harness state and other React functionalities. Hooks allow for the sharing of logic across various components, reducing the reliance on class components in many instances. Notable hooks include 'useState()' for state management, 'useEffect()' for managing side effects, and 'useContext()' for accessing shared state across components. React hooks have transformed the way developers construct React components, making them more concise, reusable, and amenable to testing.
These pivotal concepts constitute the bedrock of React JS, laying the groundwork for the development of scalable, efficient, and maintainable web applications. A firm grasp of these concepts is paramount for harnessing React's potential and crafting top-notch user interfaces.
What is the Purpose of this Course?
The React JS Course's main goal is to give students the information and abilities they need to use React JS efficiently, a technology known for its ability to facilitate seamless updates and create user interface components. This instructor-led training program, offered by our expert organisation, covers a comprehensive range of topics, starting from the fundamentals and progressing to advanced concepts within React JS.
React JS, often referred to as Facebook's framework, is widely recognised for its transparency and utilisation in various products. Its strengths lie in its design, which aligns with data, offers a user-friendly interface, provides reusable components, maintains a clean architecture, and ensures swift operations with the Document Object Model (DOM). These qualities make React JS stand out as a preferred choice among other front-end technologies. Notably, React is JavaScript-based, distinguishing it from Angular, which relies on HTML. Both React and Angular are robust JavaScript-based products.
Enrolling in the React JS Training in Hyderabad can put you on a good career path as the demand for dynamic websites and front-end technologies continues to grow and dominate a significant portion of the internet landscape.