Course Highlights and Why Google Ads - PPC Training in Chennai at FITA Academy?

The Google Ads PPC Training in Chennai at FITA Academy is taught under the mentorship of professional experts who have a minimum of 8+ years of industry experience in digital marketing.

FITA Academy's Google Ad Certification Course aims to provide practical as well as technical training to all the students which helps them to have in-depth knowledge about the strategies and trends prevailing in the current market.

We aim to adapt to the needs of our students coming from diverse backgrounds by providing a flexible course structure.

FITA Academy trainers make use of the latest technology so that the students are exposed to the maximum knowledge and completely understanding the working of the Google Ads.

We have a placement network of 1500+ companies and our support experts provide full assistance to our students for the placements, inside and outside the country.

Our professional trainers ensure that the students are well versed with the concepts of Google ads.

The students are taught about the applications of Google Ad networks and the creation of ads, their contents, and the pages required.

The Google Adwords Training in Chennai in Chennai provides hostile training to the candidates which helps them to take up professional certification exams like the Google Ads Certification exam.

FITA Academy aims to equip the students with the desired professional skills which helps in the successful running of Google Ads. The students also gain expertise helping them with monitoring and development of Google Ads.

During the entire duration of the program, the students are motivated and encouraged to have the confidence required in the professional industry and how they can showcase their skills to prospective clients.
Upcoming Batches
09-12-2023
Weekend
Saturday (Saturday - Sunday)
11-12-2023
Weekdays
Monday (Monday - Friday)
14-12-2023
Weekdays
Thursday (Monday - Friday)
16-12-2023
Weekend
Saturday (Saturday - Sunday)

Classroom Training
Get trained by Industry Experts via Classroom Training at any of the FITA Academy branches near you
Why Wait? Jump Start your Career by taking Google Ads PPC Training in Chennai!
Instructor-Led Live Online Training
Take-up Instructor-led Live Online Training. Get the Recorded Videos of each session.
Travelling is a Constraint? Jump Start your Career by taking the Google Ads Online Course!
Trainer Profile
The instructors for Google Ads Certification Course in Chennai at FITA Academy are handpicked professional experts who help the candidate to achieve their goals.
The FITA Academy mentors have worked on various complex real-time Google Ads projects and have extensive practical experience.
Our trainers have worked across several industries successfully designing and running numerous profitable digital marketing campaigns.
The Google Ads Certification Mentors are real-time professionals instructors having industry experience of 10+ years in digital marketing.
The FITA Academy Trainers nurture the students by training and motivating them to uplift their career prospects.
The mentors provide proper guidance to the students to take up the Google Ads Certification Exam.
The Google Ads Certification Trainers provide mentorship and career guidance to all students by giving them equal amounts of attention.
Our instructors provide interview tips and valuable insights to the students to help them prepare for various interviews.
Learn at FITA Academy & Get Your
Dream IT Job in 60 Days
like these Successful Students!

Features of Google Ads - PPC Training in Chennai at FITA Academy
Real-Time Experts as Trainers
At FITA Academy, You will Learn from the Experts from industry who are Passionate in sharing their Knowledge with Learners. Get Personally Mentored by the Experts.
LIVE Project
Get an Opportunity to work in Real-time Projects that will give you a Deep Experience. Showcase your Project Experience & Increase your chance of getting Hired!
Certification
Get Certified by FITA Academy. Also, get Equipped to Clear Global Certifications. 72% FITA Academy Students appear for Global Certifications and 100% of them Clear it.
Affordable Fees
At FITA Academy, Course Fee is not only Affordable, but you have the option to pay it in Installments. Quality Training at an Affordable Price is our Motto.
Flexibility
At FITA Academy, you get Ultimate Flexibility. Classroom or Online Training? Early morning or Late evenings? Weekdays or Weekends? Regular Pace or Fast Track? - Pick whatever suits you the Best.
Placement Support
Tie-up & MOU with more than 1500+ Small & Medium Companies to Support you with Opportunities to Kick-Start & Step-up your Career.
Why Learn Google Ads - PPC Training in Chennai at FITA Academy?
Live Capstone Projects
Real time Industry Experts as Trainers
Placement Support till you get your Dream Job offer!
Free Interview Clearing Workshops
Free Resume Preparation & Aptitude Workshops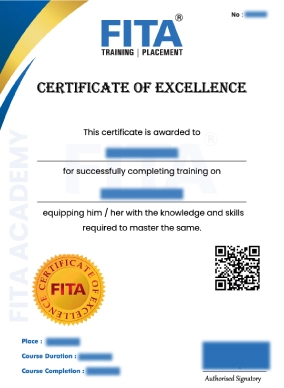 Google Adwords Certification Training in Chennai
Upon the successful completion of the Google Ads PPC Training in Chennai, the candidates would be rewarded with a certificate that would serve as a testimonial to their knowledge and training gained throughout the program. The Google Ads Training Certificate would assert that the specific candidate has been successful in completing the training in Google Ads provided by FITA Academy and now has skills and knowledge essential for working in a digital marketing environment. The certificate from FITA Academy is recognized among numerous business industries and corporate employers and is used to prove your expertise in Google Ads and digital marketing which helps accredit your professional prospects. Apart from FITA Academy's Google Ads Training Certification, you can take up the global certification provided by Google Inc. called the Google Ads certification. This certification acts as an assurance for technical and practical knowledge a candidate has and is used to showcase their skills in digital marketing. The professional experts at FITA Academy will mentor you to prepare for the global assessment of the Google Ads Certification and would guide you to successfully pass it, remarkably upskilling your professional credibility.
Have Queries? Talk to our Career Counselor for more Guidance on picking the
right Career for you!
Placement Session & Job Opportunities after completing Google Ads - PPC Training in Chennai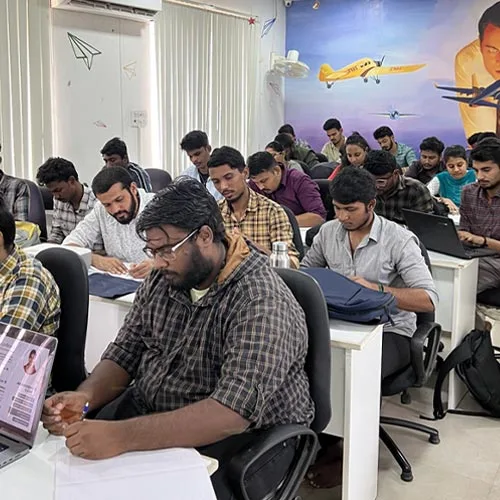 Digital marketing refers to the advertisement of a product, service, or brand through different digital mediums like email, websites, social media, mobile apps, etc. Digital marketing engages customers in a digital world by building awareness about brands, setting themselves as an industry leader, and placing a business at the frontline as soon as the customer decides to buy. Since consumers all around the world rely heavily on digital means to research a product, the digital marketing industry is in great demand. The digital marketing world has made its own place in the market industry as it is the preferred channel for all businesses and advertisers. FITA's Google Adwords Training in Chennai provides exposure to our trainees about the practical and technical knowledge on how to work with various ad campaigns in a range of genres and styles respective to a company's demand. We also teach how to plan your strategies according to the target audiences and different budget sizes. We train the candidates with the aim to guide them to become leading specialists therefore we furnish them with the best industry strategies and digital marketing practices which would help them achieve success and credibility.
Since the digital marketing world is dynamic and ever-changing, we at FITA Academy ensure to provide a candidate with the best possible caliber training so that you always are one step ahead of your competitors. Once you have completed the Google Ads PPC Training in Chennai you can either work for various organizations as a freelancer or join a corporate firm as a full-time digital marketing specialist. You also have an option of joining other digital marketing firms that work on projects for a wide range of businesses, this will enhance your experience as you get diversified exposure.
The starting salary of a Google Ads Certified expert ranges from 5 lakh to 8 lakh rupees in India. The salary package entirely depends upon an individual's experience, training expertise, and credibility. The professional mentors at FITA Academy also assist you to ace various professional certification courses which help increase the worthiness of your resume and professional reputation.
The digital advertising world is evolving and growing constantly therefore there are enormous opportunities for well-trained Google Ads certified experts and digital marketing specialists who are able to adapt to the dynamic work culture. With the increase in the number of consumers using the internet for research the demand for digital marketing professionals has seen a surge. FITA's Google Ads Certification Training allows you to adjust to the dynamic work environment by equipping you with the required skills, training, and exposure.
Your placement needs are taken care of by FITA's special placement officers who have a network of 1500+ companies for placement. According to your skills, aptitude, and preferences, you can opt for a domestic or an international organization, and our placement experts will ensure your career growth by offering you top placements with high packages. Besides providing exposure and acknowledgment to the candidates, our Google Ads Certification course also helps in adapting to a variety of work cultures and ensures scope of improvement, development, and enhancement.
Success Story of Google Ads - PPC Training in Chennai
I completed my Google Adwords Training in Chennai in Chennai from FITA Academy. I am now a professional digital marketer working for a top organization. All the credits go to my expert mentors who taught me about the applications of Google Ads and helped me improve my resume and job prospects. I am glad I chose FITA Academy.
FITA Academy's Google Ads Certification Program helped me build my career in the digital marketing industry and adapt to the fast work pace. The training sessions contained practical assignments which provided an actual working environment of the digital marketing industry. I would highly recommend the Google Ads Certification Course to people who want to pursue their career in the digital marketing domain.
I Completed my Google Ads PPC Training in Chennai at FITA Academy. The Google Ads Certification Course provided an easy and flexible way of learning through its neatly composed syllabus. We were under the guidance of top-level Google Ads experts who were very supportive and encouraged us throughout the entire duration of the program. In conclusion, this program on the whole provides the optimized level of learning a student requires to build their career in digital marketing.
I had a wonderful experience attending the Google Ads Certification Course in Chennai at FITA Academy. The course is equipped with a variety of knowledge that covers multiple fields of Google Ads. Under the mentorship of professional experts, I learned about the practical applications of Google Ads. For a fresher like me, I was personally benefited by the interview preparation session of the program. Thank you FITA Academy for providing thorough knowledge about the concepts of Google Ads and the digital marketing industry environment.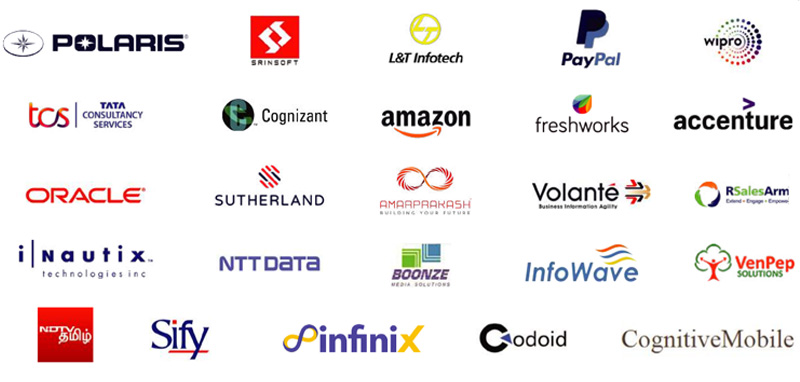 Frequently Asked Question (FAQ) about Google Ads - PPC Training in Chennai
Additional Information of Google Ads - PPC Training in Chennai
Google Ads earlier known as Google Adwords is the foremost digital marketing platform for various ad campaigns. Google Ads was launched in 2000 and since then it has become the most globally used and admired digital marketing system. Companies use the Google Ads platform for displaying ads on search engines like bing and google as well as on numerous websites and mobile applications. Considering the large-scale reach of Google and its partner websites, Google Ads has become a leading platform for marketing. Its easy functionality and remarkable Return on Investment have also added to its popularity.
Google Ads various models like the first click model, last-click model, PPC (Pay per click) model, etc allows the users to choose the advertising scheme according to their needs. This helps in enhancing cost-efficiency and finer evaluation of digital marketing campaigns. There are a number of factors that are required for making a successful ad such as overall display, knowing the target audience, ease of accessibility, visual impact, and content strategy. Google Ads dispenses various features for the optimization of cost like ad extensions, reach planner, keyword planner, ads editors, Adwords express, etc.
The creation and running of a successful Google Ad campaign require expertise, skills, and effort. We at FITA Academy understand this fact and therefore our Google Ads Certification Course in Chennai ensures a candidate acquires strategic foresight besides learning about the working knowledge. The development of a competitive edge is a must if you want to survive and thrive in this competitive digital marketing world. Our mentors who have experience of 8+ years in the digital marketing industry furnish a candidate with maximum exposure and practical experience.
We at FITA Academy have handcrafted our curriculum of Google Ads Certification Training according to the current trends, technologies, and practices in the market. Our primary focus is to make a candidate proficient in Google Ads services so they are able to design effective ads with increased efficiency. We ensure our trainees are equipped with the best industry practices and are prepared to deal with the dynamic digital marketing industry by staying in sync with modern practices and business trends.
Our mentors also guide you to appear for the Google Ads Certificate which helps in further improvement of your credibility and employment prospects. The FITA Academy's extensive network of recruiters supports you in your placements. We at FITA Academy are proud of the spectacular results we have obtained through our rigorous and hostile training. We are also renowned for providing the best Google Adwords Training in Chennai.
Related Courses