Course Highlights and Why Scrum Master Certification in Chennai at FITA Academy?

The Scrum Master Certification Coursewares FITA Academy is curated in compliance with the core principles of Agile Principles and Philosophy

The Scrum Master Certification in Chennai at FITA Academy aligned to cater to the standards set by Scrum.org

A finer understanding of the Scrum and Agile methodologies

Getting acquainted with Scrum Lifecycle and Scrum Terminologies

A holistic understanding of the 12 Principles and the 4 major values that are enlisted in the Agile principles

Demonstrable knowledge on the three pillars of the Scrum - Transparency, Adaption, and Induction

Comprehensive coverage of the three major roles of the Scrum - Scrum Master, Product Owners, and Development Team Members

Become familiar with the key topics of Scrum namely - Scrum Ceremonies, Scrum Artifacts, Sprint Execution, and Daily Scrum & Sprint Retrospective

Able to help the team members to deliver quality products and services by abiding by the protocols of the Scrum framework

The Scrum Training Program at FITA Academy supports the participants of the Program with necessary Career Assistance and Guidance
Upcoming Batches
09-12-2023
Weekend
Saturday (Saturday - Sunday)
11-12-2023
Weekdays
Monday (Monday - Friday)
14-12-2023
Weekdays
Thursday (Monday - Friday)
16-12-2023
Weekend
Saturday (Saturday - Sunday)

Classroom Training
Get trained by Industry Experts via Classroom Training at any of the FITA Academy branches near you
Why Wait? Jump Start your Career by taking Scrum Master Certification in Chennai!
Instructor-Led Live Online Training
Take-up Instructor-led Live Online Training. Get the Recorded Videos of each session.
Travelling is a Constraint? Jump Start your Career by taking the Scrum Master Online Training!
Trainer Profile
The Scrum Master Certification in Chennai at FITA Academy are prudently recruited trainers to equip the students proficiently on the Scrum Framework
The Scrum Instructors at FITA Academy are Professionals who hold 8+ years of Expertise in the Agile Principles and Scrum Frameworks
The Scrum Framework Tutors at FITA Academy have worked on above 25+ Scrum projects
The Tutors imparts hands-on training of the Scrum terminologies and concepts
The CSM Tutors at FITA Academy also helps in uplifting the career prospects of the students by training and motivating them to take up the global certification exams conducted by Scrum.org
The Scrum Framework Instructors at FITA supports and encourage the students of the Scrum course by shedding equal attention on all the students
The CSM Trainers at FITA Academy help the students in the Interview Prep Process by sharing numerous Interview tips and Valuable insights with the students
Learn at FITA Academy & Get Your
Dream IT Job in 60 Days
like these Successful Students!

Features of Scrum Master Certification in Chennai at FITA Academy
Real-Time Experts as Trainers
At FITA Academy, You will Learn from the Experts from industry who are Passionate in sharing their Knowledge with Learners. Get Personally Mentored by the Experts.
LIVE Project
Get an Opportunity to work in Real-time Projects that will give you a Deep Experience. Showcase your Project Experience & Increase your chance of getting Hired!
Certification
Get Certified by FITA Academy. Also, get Equipped to Clear Global Certifications. 72% FITA Academy Students appear for Global Certifications and 100% of them Clear it.
Affordable Fees
At FITA Academy, Course Fee is not only Affordable, but you have the option to pay it in Installments. Quality Training at an Affordable Price is our Motto.
Flexibility
At FITA Academy, you get Ultimate Flexibility. Classroom or Online Training? Early morning or Late evenings? Weekdays or Weekends? Regular Pace or Fast Track? - Pick whatever suits you the Best.
Placement Support
Tie-up & MOU with more than 1500+ Small & Medium Companies to Support you with Opportunities to Kick-Start & Step-up your Career.
Why Learn Scrum Master Certification in Chennai at FITA Academy?
Live Capstone Projects
Real time Industry Experts as Trainers
Placement Support till you get your Dream Job offer!
Free Interview Clearing Workshops
Free Resume Preparation & Aptitude Workshops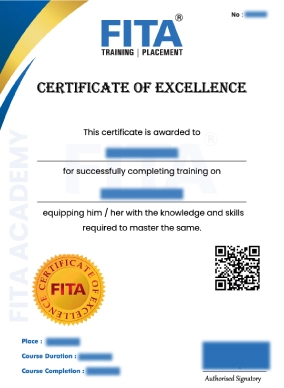 Scrum Master Certification Training in Chennai
On accomplishing the Scrum Master Training in Chennai at FITA Academy the participants of the program would be rewarded with certification. This certificate accredits that the respective candidate has obtained the required skillsets and knowledge to work in an office setup. Demonstrating this certificate to your potential employer or in your professional network helps in accrediting your skills and profile. Apart from FITA Academy's Scrum Master Certification that are other global certifications that help you to unlock wider career opportunities. They are,
Certified Scrum Master (CSM)
Certified Scrum Product Owner(CSPO)
Certified Scrum Developer(CSD)
Certified Scrum Professional (CSP)
Obtaining any of these global certificates aids you immensely to explore broader career horizons and to excel in your career.
This Scrum Master certification in Chennai is conducted by highly experienced instructors who have vast industry experience. The course material includes all the relevant topics such as Agile Project Management, Scrum Fundamentals, Scrum Modeling, Scrum Metrics, Scrum Retrospectives, Scrum Roles & Responsibilities, Scrum for Startups, Scrum for Large Enterprises, etc.
At FITA Academy, we believe in imparting quality training and thus our curriculum is designed keeping in mind the current market trends. We train our students on live projects which makes them job ready upon completion of the course. Our experienced faculty members hold expertise in their respective fields and they use real time examples to explain the concepts covered under each topic.
Benefits of Scrum Master Certification Training in Chennai
The benefits of becoming a certified scrum master can be immense. The skills and knowledge that come with this Scrum Master training in Chennai can help you lead a successful team, improve communication, and resolve conflict more efficiently. Additionally, a scrum master's understanding of agile methodology can benefit your business in many ways. Here are some of the key benefits that you can expect from earning certification: 
It will enhance your employability:

The Scrum Master Certification in Chennai will set you apart from other candidates. This will show your customers, clients, project managers, and coworkers that you are knowledgeable and trustworthy.

You can get a better salary package:

When you apply for a new job, it's important to highlight your qualifications. If you are a certified Scrum Master, you will be able to negotiate a higher salary than other people.

Your career growth will be faster:

Having a CSM certification in chennai will make you more visible and give you more power within the company. When you have more responsibilities, you get paid more.

You will learn how to manage people effectively:

Managing people is one of the most challenging tasks. But if you are good at managing people, you can command respect easily. Getting certified as a ScrumMaster can help you become a great manager.

You will gain better leadership skills:

To be a leader, you need to be able to inspire and guide people well. To do this, you need to have empathy, confidence, self-awareness, and good communication skills, among other things. Getting your ScrumMaster certification will help you develop these important

leadership

skills.

You will master several tools and techniques:

Having a CSM certification in chennai can open up newer avenues in your career. As a certified ScrumMaster, you can take advantage of several agile tools and techniques.

You will understand the business needs better:

If you have been working in the same domain for years without taking much initiative then there might be a gap between your expectations and reality. This gap leads to frustration and resentment towards the company. Scrum Master certification in Bangalore will enable you to bridge this gap by understanding the business needs.

You will gain practical knowledge:

Using the Scrum framework to build a real product or service will give you both theoretical knowledge and hands-on experience. This will definitely boost your resume.

You will develop problem-solving abilities:

As a Scrum Master, you must be very proactive in addressing issues that arise during the implementation process. Being proactive will help you solve problems efficiently.

You will improve your management style:

Being a Scrum Master, your management style should be based on transparency, collaboration, commitment, empowerment, accountability, adaptability, ownership, and value delivery. These attributes are needed in order to run an effective team.
Have Queries? Talk to our Career Counselor for more Guidance on picking the
right Career for you!
Placement Session & Job Opportunities after completing Scrum Master Certification in Chennai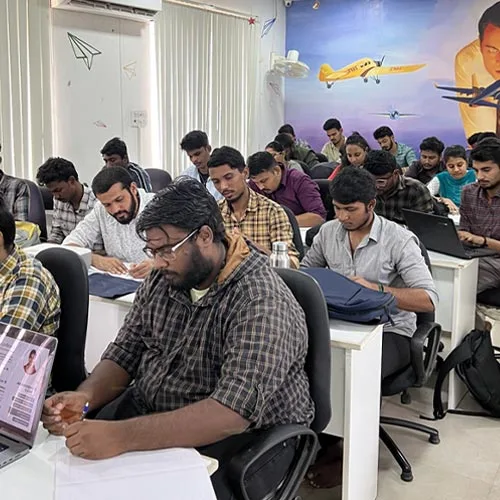 Today, Scrum Master is one of the popular frameworks that are being widely embraced by enterprises of different scales and domains significantly. The reason behind the increased acceptance of the ScrumFramework is due to the functionalities that it offers to its users. A Scrum is an all-inclusive framework that any organization would need for handling its projects. This tool helps Enterprises with required pre-defined sets of plans, tools, values, and guidelines to accomplish a project or goal. It is proven that if the Scrum concepts are implemented effectively then the enterprises could easily overcome the dysfunctions in their work and enhance their workflow efficiency. Because when a company adopts Scrum Framework it gives priority to people and interaction rather than just focusing on a specific process. The Developers and the Customers are always in constant interaction and this helps the organizations to get rid of miscommunication and produce the desired output in the desired time along without compromising its quality.
To go by the above statement, based on the recent survey report gathered from the Scrum Alliance, it is stated that above 81% of the respondents strongly affirms that when an organization has adopted the Scrum framework and along with the leverage of Certified Scrum Master professionals, they were able to enhance the overall outcomes of the projects diligently. Further, it is also mentioned that not only Scrum is limited to the IT sector rather it has spread its wing on a range of sectors namely – Product Development, Financial Services, construction, Consulting firms, Advertising & Marketing agencies, Government offices, and Disrupters like (Airbnb and Uber). The reputed organizations that hire these professionals are from various sectors are as given below
Information Technology – Dell, Philips, Allstate India, IBM, Goldman Sachs, Siemens, Intel, Capgemini, Informatica, Honeywell, Accenture, and Zensar Technologies.
Telecom – Nokia Siemens Networks Ltd, Vodafone India, Techstar Software Development, ENGIE Insight, France Telecom, Rockwell Automation, Synacor, NewWave Telecom & Technologies, Frontier Communications Corporation.
Federal – Applied Materials, Johnson Controls, and First Tech Federal Credit Union. These statistics clearly highlight the scope of skilled and Scrum-certified professionals globally. The different career paths that one could have after the completion of the CSM Training are – Agile Coach, Manager, Product Owner, Mentors, and Scrum Master.
Having seen that the demand for CSM professionals is unprecedently higher in different industries, similarly, the packages offered for these professionals are equally higher. The basic level package for the CSM-certified professional in India is around Rs. 9,80,000 to Rs. 11,50,000 yearly. And now you think about the global packages. It is literally more than you could imagine. Thus, taking up the Scrum certification course will surely pave the way for a better career option. The CSM Certification in Chennai at FITA Academy incorporates the aspirants with the skills and knowledge that are immensely sought in the industry. The Scrum Trainers at FITA Academy are par excellence professionals from global platforms. We have recruited trainers who have profound and sound knowledge of the Scrum framework and Agile principles.
If you are looking for a new job opportunity in the software development industry, consider becoming a scrum master. A scrum master is a role that requires knowledge of agile methodology and practices. As a scrum master, you will be responsible for leading and managing a team of developers while ensuring that they are meeting the project goals. After completing the FITA Academy's Scrum Master certification in chennai, you will be well-prepared to take on this challenging role. Here are some Job Opportunities with their roles and responsibilities:
Project Manager: As a project manager, you will be responsible for overseeing the development and execution of scrum projects. In this role, you will work closely with the scrum master to ensure that all team members are adhering to scrum methodology and principles. You will also be responsible for tracking progress and reporting back to upper management on the status of projects.
Project managers are responsible for the completion of a project on time and within budget. After completing the Scrum Master certification in Chennai from FITA Academy, graduates will be better prepared to take on this role. You will learn how to effectively communicate with team members, manage resources, and create a plan for success.
Roles and Responsibilities of Project Manager 
Play a vital role in setting up the project plan: A project manager will set up a project plan before starting any project. The purpose of this plan is to define the scope and provide direction to the team. It also helps in measuring the success of the project as well as helping the team stay focused throughout the entire project.
Keep track of resource utilization: The project manager's main responsibility is to track how resources are being utilized. He/she has the authority to assign tasks to other team members and monitor their progress.

Make sure that team members adhere to deadlines: Project managers are in charge of maintaining deadlines. They will communicate with the client about any changes or delays.

Manage risk and issue resolution:

In case of any unforeseen circumstances, the project manager will take necessary actions to resolve it.

Provide appropriate training:

Providing adequate training to the team ensures that everyone knows what they need to do.

Communicate effectively:

Project managers should be able to explain things clearly. Hence, they need to know how to write reports, e-mails, and presentations.

Monitor performance: Project managers have to evaluate the performance of each member of the team. Any change in behavior can lead to a loss in productivity and quality.

Promote continuous improvement: Project managers encourage continuous improvement by providing feedback to the team.

Help design the organization structure:

To design the organizational structure, the project manager needs to analyze the current structure of the company. Also, he/she must ensure that there is no overlap between different departments.

Coordinate activities across teams:

The project manager is responsible for coordinating activities within Their own team as well as across multiple teams.
Scrum Master: As a scrum master, you will be responsible for leading and managing scrum teams. In this role, you will be responsible for ensuring that all team members are adhering to scrum methodology and principles. You will also be responsible for tracking progress and reporting back to upper management on the status of projects.
As the Scrum Master, it is your responsibility to ensure that the scrum process is followed and that the team meets its goals. After completing our  csm certification in chennai, you'll be well-equipped to carry out these important roles.
Roles and Responsibilities of  Scrum Master:
Coordinate the sprint planning process: This involves creating a backlog of user stories based on analysis of requirements. These user stories are then broken down into smaller tasks. This allows the team to more easily estimate effort required to complete each task. Once the estimated time to complete each task is determined, the team estimates how long the whole story will take. This is called "Sprint Planning."

Monitor and report on product delivery: The goal here is to maintain an accurate record of work completed. If the team encounters problems while working on the project, they will discuss these issues with the project manager. This can include whether the problem was caused by the team or outside factors such as lack of funding. The project manager will inform the client so that corrective action can be taken.

Provide coaching and mentoring to the team: Mentors play a critical role in helping individuals grow throughout their careers. Mentors often guide new employees through difficult times. They may even offer advice when someone doesn't understand a concept. A good mentor encourages people to improve themselves and helps them achieve success.

Help the team identify roadblocks and obstacles: If the team encounters any difficulties during the course of the project, it's important to figure out why this occurred. By doing this, the team can avoid similar obstacles in future projects.

Identify risks: Risks occur when something unexpected happens during a project. When a risk does happen, the scrum master should identify what the impact of the risk would be if it occurs. He or she will try to mitigate the negative effects of the risk by making sure that other parts of the project are not affected.

Facilitate discussions among stakeholders: Once a decision has been made about what to do next, the team will meet again to determine who will perform the next step. During this meeting, everyone will have an opportunity to voice their opinions. Everyone should feel comfortable enough to share ideas and concerns.

Ensure safety and security: Safety practices help ensure that your company operates safely. This includes making sure that there aren't too many people present at meetings or that no one is working alone. Security measures prevent people from accessing sensitive information that shouldn't be shared with others.

Establish effective communication channels: Good communications make it easier to collaborate effectively. However, poor communications create barriers between team members. This can lead to confusion and unnecessary delays. Effective communication channels include email, instant messaging, text messages, video chat, conference calls, etc.

Communicate changes to the plan:

Changes to the plan occur frequently. When there is a change, everyone needs to know about it. Good communication ensures that all team members understand what's going on.
Encourage continuous improvement: Continuous improvement is the process of continually improving processes and products. This means that team members need to be open-minded when facing challenges. For example, if a team member discovers that an idea isn't working, he/she should try something different rather than just giving up.
Success Story of Scrum Master Certification in Chennai
I did my Scrum Master Training @ FITA Academy was so useful and I found the course interesting. My Scrum Master Trainer thought the framework in-depth with numerous projects and case studies. My Scrum Trainer was a skilled professional and he conducted the entire training program with life and made the learning path an interesting one! Thanks to my Scrum Trainer! Good Work FITA
I took my Scrum Certification in Chennai @ FITA Academy! This program was recommended by a colleague. I was looking for a shift over. I am working as a Software developer! Thought I should something interesting and that which pays me off equally well. That's how I decided of taking the Scrum Training. To be frank this course was too good. It had the exact training approach that any learner would look for. Excellent coverage of the syllabus with Skilled & Efficient trainers helped me to complete the CSM successfully! I do suggest this program for anyone who really likes to learn about ScrumMaster!
Completed my Scrum Master Training @ FITA Academy! A very good program with a proper syllabus, training schedules, and experienced trainers. The concepts like Daily Scrum Review and the Roles that are involved in the Scrum were thought so profoundly that you wouldn't forget it again. Also, this program had very good assessment sessions to grow and learn our skills regularly! Thank you FITA for your excellent services.
I did the Scrum training at FITA (Chennai Branch). The trainers and the Support team had a very good approach. They were professional! Also, I must say, the training was up to my expectation. FITA Academy's Support team also helped me in the resume-building process and interview prep process. Overall this program is a perfect mix of all the things that a student would expect from a training program!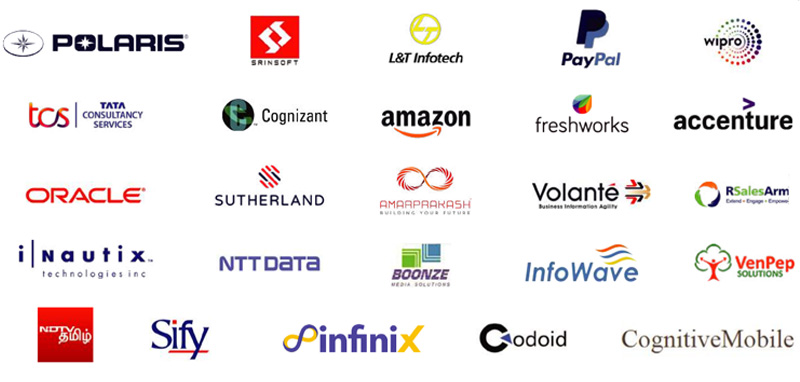 Frequently Asked Question (FAQ) about Scrum Master Certification in Chennai
Additional Information of Scrum Master Certification in Chennai
Scrum is one of the popular Agile Frameworks that focuses on the principle of "incremental product development" in the software development field. Scrum is the crux of iteration which repeats until the product needs have been met and implemented. Firstly, to comprehend the term Scrum, you should learn the meaning of the Agile concept. Though these terms are used interchangeably however there is a significant distinction between them. The term Agile is the compilation of practices and methods that are based on the principles and values that are specified in the Agile Manifesto and it includes the approaches such as self-organization, collaboration (teamwork), and cross functionalities between the teams. Whereas, Scrum Master is the framework that implements the principles of Agile and it could be used for handling all kinds of incremental projects and iterative. Similarly, an organization or a team can still be Agile without practicing ScrumMaster. A Scrum is only a framework that implements the Agile principles in the project or an organization. Scrum is just one of the means or methods to develop the agile process and that it is more specific on the approach of the team management at the time of software development.
Based on the original definition, Scrum is the framework in which people could address all the complex and adaptive problems while creatively and productively rendering the products at a higher value. The thing is the creators of Scrum labeled it as the framework rather than referring it to a process, technique, or method.
When an enterprise embraces the Scrum Master Framework to accomplish a project, then the complete project is completely divided into smaller chunks for different teams and is executed promptly. With Scrum, the enterprises could deliver even the smaller work of the software product to its stakeholders and receive the suggestions and ideas to enhance or modify the product based on response. And this is one of the core values of the Agile Approach. The reason to use Scrum is that it is more flexible to use the Scrum Master framework than the traditional "waterfall approach" for project management.
Scrum helps the team better to be more flexible to meet the growing business needs and the altered requirements in a process. When an enterprise follows a Waterfall approach it can only comply with the sequential process of the designs. And over here they have to complete one entire stage of the process before progressing to the next step. One of the major downsides of using the Waterfall model is that it highly lacks the feature of flexibility. Also, the rectification of errors with this process is tedious and the developers can not step back once they proceed with the next one.
However, with Scrum Master, it is not like that. It supports immensely the productivity and flexibility of a team, as it allows the developers to check the flaws at any time and that the teams could easily rectify its errors in this process quickly. The key highlight feature of the Scrum Framework is that it is transparent, collaborative, and flexible. Now, let us understand the key functions of the Scrum Framework.
A Scrum has three major roles and they are,
Development team
Scrum master
Product owner
Development Team: This is exactly like how it sounds. This team may be a set of Testers, Designers, Developers, and Operation Engineers or a team of all together. This team discreetly works on the development process to execute the goal or the assigned project successfully. Also, the Development team has all the liberty to organize or handle their work for maximizing the overall team's efficacy.
Scrum Master: The Master is responsible to help all the team members to abide by the Scrum rules, theories, and practices. The Scrum master is held responsible for completing the work, removing the roadblocks which occur in the progress.
Product Owner: The Owner is accountable for the functioning of the team and the owner should check whether the work is being accomplished within the specified period. Also, the Product Owner is always the single person and not a group or a committee. These owners can get input and suggestions from others when it is regarding the decision-making process and then the Product owner could sum up the final decision.
Scrum Events
The Scrum Framework is eventually summed up by five major events and they are as follows.
Sprint: The Sprint is the specific time ( generally one week or one month) during which the Scrum team produces the product. It could be series of reports, a version of the application, multiple smaller projects, and much more
Sprint Planning: It is the meeting where the work that has to be accomplished during the sprint is summarized. At this meeting, the complete team defines or expresses the deliverables of Sprint and then assigns those work that is important to reach the goal.
Daily Scrum: At times it is also called "Daily or Stand-Up". This meeting is conducted daily for 15 minutes where the team has an opportunity to share their work plan for the next 24 hours. Also, the Work of the previous day is discussed and analyzed here. They also discuss the recent changes and updates.
Sprint Review: It takes place right after when a Sprint is completed. At the time of the Review, the Product Owner could explain whether the planned work has been accomplished or not during the Sprint. The team also presents the work that has been completed and compliments whether if the work has been performed well or not.
Sprint Retrospective: This takes place right after the Sprint. The Retros are the dedicated forum that supports the team for analyzing their process at the time of the previous Sprint and also implement the suggestions as provided.
This the cycle of the Scrum Master framework and it is s repetitive process. To conclude with Scrum the organizations were able to deliver their performance within the allotted budget, timeframe, and also meet the quality guidelines of the organization. Upon adopting the Scrum Framework the organizations could significantly increase their sales and reduce the other support cost that is involved in the process. Also, the Errors or Bugs could be fixed then and there, rather than prolonging it till the end. Thus, the Scrum Master Framework is used as one of the important tools in the industry for Project and Software development. The CSM Certification in Chennai at FITA Academy trains the concepts of the Scrum Master Framework proficiently under the mentorship of Expert Scrum Master professionals.
Scrum-Artifacts are a key part of the Scrum framework and can be used to improve the efficiency and effectiveness of your Scrum process. In this article, we will explore what artifacts are, how they can be used, and some tips for creating effective Scrum-artifacts.
What are Scrum-Artifacts defined in Scrum Process Framework
To create a successful product using the Scrum process framework, it is necessary to understand its various artifacts and how they interact with each other. CSM certification in Chennai can help you gain this knowledge and become proficient in using Scrum techniques in your workplace.
The following list explains the meaning of each artifact from the Scrum framework.
Product Backlog 

Sprint Backlog

Burn-Down Chart

Increment
Product backlog represents a collection of features, enhancements and bug fixes for a product that are planned for release within a time frame. These items are called "stories". It also shows the prioritization of these stories based on importance. The product owner (PO) is responsible for managing this backlog.
Sprint backlog is a subset of the product backlog. It consists only of those stories that are ready for implementation within a sprint. In other words, the PO should get all the features ready before starting a sprint. This helps the developer(s) to focus on implementing a single story instead of implementing several stories simultaneously.
Burn down chart represents the percentage of work completed against the total work expected to complete the iteration. It is used to measure progress towards the goal set by the team.
Increment represents the unit of measurement for the burn down chart. Each increment represents 1 day of work.
The Scrum Master training in Chennai provides you with an understanding of how an agile project works. You'll learn the basics of scrum which include planning, daily standup, estimation, tracking and more. With this knowledge, you'll become more familiar with Agile methodology and will be able to train others in the organization to use Scrum.