Course Highlights and Why PLC Training In Chennai at FITA Academy?

Meticulously devised PLC Course modules to adhere to the standards set in industrial automation at a global level.

Courseware that is crafted by Certified Automation Engineers to have a wider understanding of different sensors, sensing techniques, open architecture systems, and process control strategies for automating the machines.

Efficient and Skilled PLC SCADA Trainers with over 10+ years of experience in the Industrial Automation process.

Exhaustive PLC SCADA Instructors at FITA Academy to make you proficient on how to integrate the smart controls and sensors to improvise productivity of the functions and operations.

Interactive Mentor-led PLC SCADA Training in Chennai at FITA Academy

Regular Brushing-up of the previous PLC Classes are provided to the participants to strengthen their technical skill sets.

Technically Enhanced Classrooms with Immersive method of PLC Training in Chennai at FITA Academy.

Professional PLC Training at a nominal price with PLC Course accomplishment certificate on completing the PLC SCADA Training in Chennai at FITA Academy.

Feasible PLC SCADA Batch Timings - Weekday, Fast Track, and Weekend PLC Training in Chennai at FITA Academy.

FITA Academy bestows the participants with 100% Placement Assistance to all the students who have completed the PLC SCADA Training.

FITA Academy Training Academy has a strong Placement Association and Tie-ups with 600+ Corporate Business Enterprises.

FITA Academy Training Academy has a Dedicated Placement Cell and Executives to guide the students in securing the desired career path.
Upcoming Batches
09-12-2023
Weekend
Saturday (Saturday - Sunday)
11-12-2023
Weekdays
Monday (Monday - Friday)
14-12-2023
Weekdays
Thursday (Monday - Friday)
16-12-2023
Weekend
Saturday (Saturday - Sunday)

Classroom Training
Get trained by Industry Experts via Classroom Training at any of the FITA branches near you
Why Wait? Jump Start your Career by taking the PLC Training in Chennai!
Instructor-Led Live Online Training
Take-up Instructor-led Live Online Training. Get the Recorded Videos of each session.
Travelling is a Constraint? Jump Start your Career by taking the PLC Course Online!
Trainer Profile
The PLC SCADA Trainers at FITA Academy provide equal emphasis on the conceptual and practical aspects, and they train the students efficiently.
The PLC SCADA Mentors at FITA Academy equips the skillsets of the students with Job-Ready skills.
The PLC SCADA Tutora Cadere at FITA Academy are Certified Expertise from Industrial Automation.
PLC SCADA Instructors at FITA Academy are Real-time PLC Automation Engineers, and they train the participants efficiently to program for automating numerous machinery processes.
PLC SCADA Mentors at FITA Academy enrich the technical knowledge and skill sets of the students with recent updates and practices that are applied in the industry.
The PLC SCADA Trainers at FITA Academy provides the required individual mentorship to all the learning participants and they upsurge the career prospects of the students by giving them hands-on training practices.
The PLC SCADA Instructors at FITA Academy mentor the students in the Profile Building Process.
The PLC SCADA Trainers at FITA Academy boost the confidence of the students by training them exhaustively on different Interview scenarios and tips to handle the interview session efficiently.
Learn at FITA Academy & Get Your
Dream IT Job in 60 Days
like these Successful Students!

Features of PLC Training In Chennai at FITA Academy
Real-Time Experts as Trainers
At FITA Academy, You will Learn from the Experts from industry who are Passionate in sharing their Knowledge with Learners. Get Personally Mentored by the Experts.
LIVE Project
Get an Opportunity to work in Real-time Projects that will give you a Deep Experience. Showcase your Project Experience & Increase your chance of getting Hired!
Certification
Get Certified by FITA Academy. Also, get Equipped to Clear Global Certifications. 72% FITA Academy Students appear for Global Certifications and 100% of them Clear it.
Affordable Fees
At FITA Academy, Course Fee is not only Affordable, but you have the option to pay it in Installments. Quality Training at an Affordable Price is our Motto.
Flexibility
At FITA Academy, you get Ultimate Flexibility. Classroom or Online Training? Early morning or Late evenings? Weekdays or Weekends? Regular Pace or Fast Track? - Pick whatever suits you the Best.
Placement Support
Tie-up & MOU with more than 1500+ Small & Medium Companies to Support you with Opportunities to Kick-Start & Step-up your Career.
Why Learn PLC Training In Chennai at FITA Academy?
Live Capstone Projects
Real time Industry Experts as Trainers
Placement Support till you get your Dream Job offer!
Free Interview Clearing Workshops
Free Resume Preparation & Aptitude Workshops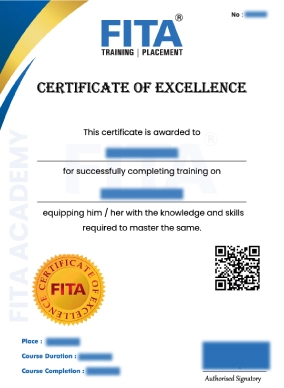 PLC Certification Training in Chennai
PLC Course Certification is the valid professional accreditation that illustrates that the participant has gained in-depth knowledge of the PLC SCADA and its application. With real-time Automation based case studies and project experience provided at the end of the PLC SCADA course, this certificate authenticates that the participants have incorporated the required professional skills to work as a PLC SCADA Programmer. Showcasing this PLC SCADA Course accomplishment certificate with your resume at the time of the Interview aids in prioritizing your profile and helps in unlocking the gate for wider career horizons.
PLC Certification Course in Chennai at FITA Academy instills the market-relevant skill sets that are mandatory for a PLC SCADA Programmer under the mentorship of Expertise. PLC Training in Chennai at FITA Academy is delivered by Real-time PCL professionals who hold more than 8+ years of experience in the Industrial Automation of machinery processes. The PLC Trainers at FITA Academy helps you in upgrading your career opportunities by training you intensively on the industry-relevant practices
Have Queries? Talk to our Career Counselor for more Guidance on picking the
right Career for you!
Placement Session & Job Opportunities after completing PLC Training In Chennai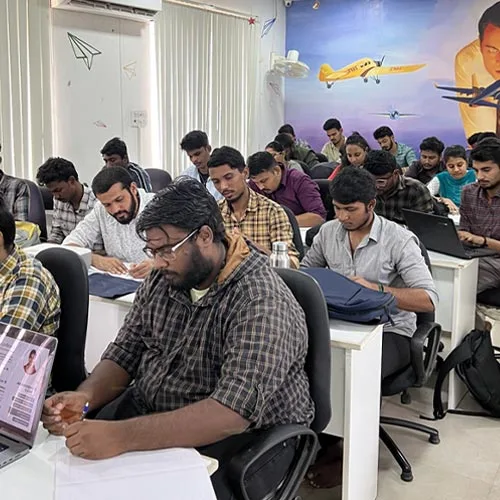 With the robust technical advancements that are emerging in the current scenario, most of the industrial processes are now pushed to a situation where they must switch from mechanization to automatization. When we say the term automatization here it indicates the term reduction of human intervention in a process and the management of these processes by deploying the control devices like PLC/DCS/PAC. The organizations were able to see increased productivity, better quality product, higher efficiency, and best safety measures on using the PLC in the industries.
Today, PLC Programmers/Technicians are one of the highly demanded professionals in industries like Oil, Gas, Electronics, and Manufacturing industries. This because these industries are currently in dire need of skilled PLC Programmers/ Technicians who can efficiently repair, install the electronic equipment comprising data highways, process control equipment, I/O networks, and proficiently write the PLC program for the fundamental on-off control to robotics.
Apart from this field, the PLC Professionals have a significant demand in the industrial engineering domain where they are vigorously engaged in building and implementing the PLC controls for the Systems. The general job profiles that are offered in the above-mentioned industries are PLC Programmer, PLC Technician, Assembly Engineer, Design Engineer, Control Technician, Automation Technician, Maintenance Technician, Field Service Technician, Process Automation Technician, Instrumentation & Control Technician, Electrical Controls Technician, Automation Product Manager, and Industrial Automation Sales Engineer. The average remittance offered for PLC professionals in India is Rs 4,20,00 to Rs.5,35,000 per annum. Since Automation is tremendously gaining consent across a wide range of industries having enough technical skill sets and knowledge in this field assures you a promising and guaranteed career path. So, this is the right time to ace your career in the Industrial Automation field. The PLC Training in Chennai at FITA Academy instills the students with coveted professional skill sets and technical competence under the training of real-time Automation Engineers.
Success Story of PLC Training In Chennai
The PLC Course in Chennai at FITA Academy was good. I never thought of engaging myself in a training course but with the current technology updates I had to take up this course and that is how I came to know about FITA Academy. The training was good and the content of the syllabus was up to current market needs. Overall I will recommend FITA Academy to my colleagues as well if they aren't aware of PLC.
The PLC SCADA Training at FITA Academy was so impressive. I thoroughly enjoyed the learning experience at FITA Academy. I completed my Electrical Engineer degree last year. I am seeking a job, one of my seniors suggested that I complete the PLC Course so that it will add on to the skill sets and also it is one of the demanded skills in the industries. Also, he only referred FITA Academy to me. Thanks to him and also FITA Academy for supporting me now with Placement Assistance.
I completed the PLC Training in Chennai @ FITA Academy! The training was so excellent and in-depth. I had a very good exposure to the PLC Computer Control and its applications. Wider coverage of the importance of Digital manufacturing was given at FITA Academy. The Trainers had real-time work experience and they explained the intricacies in using the PLC Computers very well to us. I recommend this program to all! Good work!
The PLC Course @ FITA Academy is a complete hands-on learning program where you will get utmost practical exposure to the PLC Computer and its process application. The Training had a good weightage on both the theoretical and practical aspects. FITA Academy is one of the best platforms to learn about PLC SCADA concepts. Moreover, they guide you in Placement as well. Thank You FITA Academy for the Wonderful training program!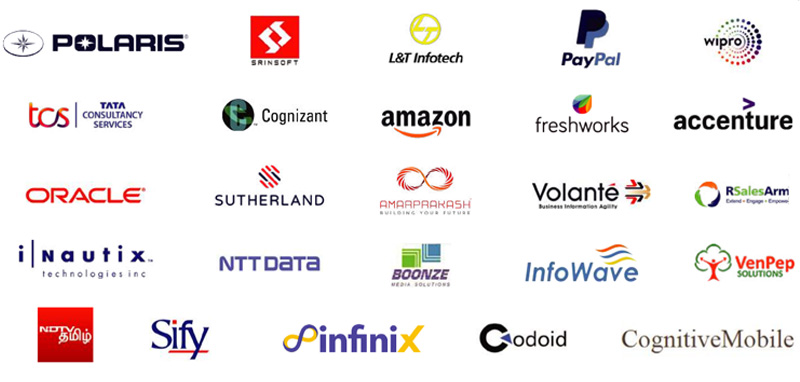 Frequently Asked Question (FAQ) about PLC Training In Chennai
Additional Information of PLC Training In Chennai
Looking for the best PLC Training Institute in Chennai, FITA Academy is the leading training center offering PLC Training in Chennai. Call 93450 45466 for PLC and SCADA course in Chennai.
PLC is an acronym of Programmable Logic Controller is a digital computer used for industrial automation that includes machinery, factory assembly lines, light fixtures, amusement rides, etc. PLC is used in many machines in all types of industries. This controller is designed for multiple arrangements, extended temperature ranges, analog inputs and outputs, resistance to vibration, and immunity to electrical noise.
Prerequisites and Eligibility Criteria for the PLC Course in Chennai 
Prerequisites: There are no mandatory prerequisites that are needed to be fulfilled. Yet having a basic understanding of the Computer and Electronics will be of additional benefit for you to understand the PLC Course at ease. The PLC Course in Chennai at FITA Academy provides a comprehensive understanding of the PLC SCADA concepts and know- how to write programs and control routines according to the industry standards.
Eligibility Criteria: The PLC Course in Chennai at FITA Academy is intended for any fresh graduates namely – Electronics & Communication/ Engineering/ Chemical Engineers/Diploma/MSc with Electrical/ Applied Electronics/ Mechatronics/ Instrumentation and Control.
The PLC Training in Chennai at FITA Academy is also ideal for professionals such as Electronic Engineers, Teaching Professionals, and Technical Support professionals. The PLC Training in Chennai at FITA Academy is rendered by Certified Automation professionals who have 8+ years of experience in Industrial Automation and they train the participants efficiently.
What will you learn in the PLC Training in Chennai at FITA Academy?
An in-depth understanding of the PLC Basics
Installation of SCADA in the Computer
Know-how to link the SCADA to the PLC
Ability to Structure your programs intact with the Blocks and Networks
Demonstrable Programming knowledge of the SCADA/ HMI/ VFD
Control and Monitor the PLC operations
A thorough understanding of how to assemble the panels, how to wire it and configure it.
Efficiently perform the Testing and Troubleshooting operations efficiently
Know-how to communicate and interface the automation functions
Know the difference between Analog and Digital Signals and know where to incorporate these signals into the programs.
PLC is powered by a non-volatile memory to automate the industry process. Modern PLCs offer advanced functionality with motion management, method management, relay management, and sophisticated networking. PLC monitors inputs and different variables like values, creates a selection, and manages output to automate a machine or method. With PLC systems, SCADA (Supervisory Control and Data Acquisition) is used for remote control and monitoring that operates with coded signals over communication channels. Now, industries totally rely on industrial automation, there is a huge demand for PLC and SCADA operators across the world. Taking PLC SCADA Training in Chennai will ensure better prospects for talented professionals.
Why PLC Training In Chennai At FITA Academy?
Chennai is the commercial hub of South India and is home to global manufacturing companies. Most of the companies are looking for trained engineers in the field of industrial automation. But there is a shortage of trained engineers in the field of automation. To cater to the problem, FITA Academy is offering Best PLC Training in Chennai by industry experts designed to fill the vacuum of practical knowledge and industry automation demands. FITA Academy is the best PLC Training institute offering Scada PLC Course in Chennai with automation theory and practical.
Rated as Best PLC Training Institute In Chennai
Our training center is equipped with great facilities and modern instruments that make it the best PLC Training Center in Chennai. Our experienced trainers will offer quality and personalized training for all students. Once completing our PLC Training, we offer placement assistance to all our students.
Interested in our PLC Automation Training in Chennai, Call 93450 45466 to talk with our student's counselor to know about the course syllabus, duration, fees, and placement details.