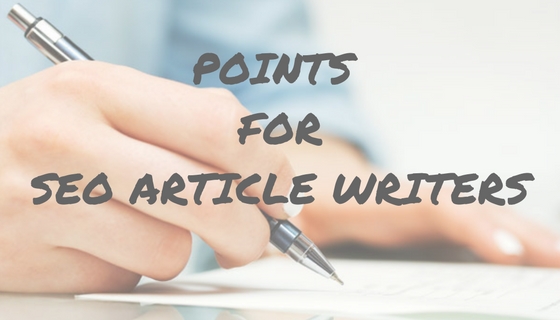 SEO is one important function in the field of digital marketing. One crucial aspect of SEO is writing content. Content is what supports and drives the SEO results that are needed. These are some of the points for SEO article writers who want to gain information through SEO Training in Chennai.
Keyword Research
An SEO writer should have the ability to identify the right keywords that can support your content. These keywords are very crucial when it comes to Google listing. Keywords are essential to make Google put an eye on your content. Use keywords that have immense search volume. Make sure you store your keywords so that you can get back to them and use it again in future. Have a regular check on the ranking for the keywords you have used.
Keyword Usage
It is important to know the right usage of keywords as much as inserting them. The SEO field has witnessed a lot of changes and has become more demanding. This is because of heavy competition on the Google search engine. One should never insert keywords forcibly into your article.  Adding forced keywords will not only be ineffective but also can harm the content's ranking. Your keyword should compulsorily be present in the title and first paragraph of the article. The insertion of keywords should be natural.
Audience
This is something that you should put your thought on before starting your writing process. You should know whom you are targeting. Some writers have entered the stage that they have entirely forgotten to write for the target audience. They write with the attitude that their content is only for Google. This is a very wrong attitude. SEO writers should write for people who are interested to read your content. It is of no use if you are writing only for Google, forgetting the audience. you can learn how to think and write a content as good in our SEO Training course.
Content Count
It is not a title to keep it short and sweet. It is a complete content that you are writing. A Facebook status or Tweet is not that effective when compared to an elaborate content. A short content is known to be lack of any value. Many types of research have proved that search engines give preference and favor lengthy articles and blog contents. You could know more on the word count of an SEO article through SEO Course in Chennai.
Analysis
SEO content is not just an article or one-time writing task. It is an on-going process that continues for a long time. One should look into his/her content and monitor it regularly. Google Analytics is one tool that is used for this. Not only keyword density but also many factors like bounce rate and pages per session are important while writing content. Your content should target to bring less bounce rate to your website.
Correcting
Know how to perfect your content. After writing your content, make sure to perfect the content. Your aim should be to beautify your content. The correcting process should be more than just clearing errors. It should give a pleasing outlook to the content.
PR Function
After your content writing work is over, it doesn't mean that your task is complete. There is a big task that has to be done next. Use the content you have written to generate traffic to your website by publishing in other websites and creating backlinks. Publish your articles in social media so that it will reach more people.
The content that you write as an SEO writer plays a major role in giving your website a big boost on Google. Many institutes train their students on writing effective content through SEO Training Chennai.