Course Highlights and Why React JS Training in Bangalore at FITA Academy?

The React JS Course In Bangalore at FITA Academy consists of a comprehensive and up-to-date curriculum to ensure students are completely imparted with the required knowledge.

The FITA Academy React JS Training Institute in Bangalore possesses state-of-the-art labs to help students train themselves and gain practical knowledge.

To suit their requirements, highly flexible options are available for students, through online or classroom training.

Students also have the option of adjusting the pacing of the classes - Regular or fast-track.

Placement training provided during the course to ease the placement process.

A certificate upon course completion makes students stand apart during job interviews.
Upcoming Batches
09-12-2023
Weekend
Saturday (Saturday - Sunday)
11-12-2023
Weekdays
Monday (Monday - Friday)
14-12-2023
Weekdays
Thursday (Monday - Friday)
16-12-2023
Weekend
Saturday (Saturday - Sunday)

Classroom Training
Get trained by Industry Experts via Classroom Training at any of the FITA Academy branches near you
Why Wait? Jump Start your Career by taking the React JS Training in Bangalore!
Instructor-Led Live Online Training
Take-up Instructor-led Live Online Training. Get the Recorded Videos of each session.
Travelling is a Constraint? Jump Start your Career by taking the React JS Course Online!
Trainer Profile
The React JS training In Bangalore at FITA Academy is handled by experienced trainers with loads of practical experience as software engineers and developers.
Each trainer for the React JS Course in Bangalore at FITA Academy is a certified professional with up-to-date knowledge of the current industry trends.
Besides technical experience, trainers at FITA Academy are also experienced teachers who have handled several batches of students under the React JS Training in Bangalore.
Trainers implement blended learning for its students, mixing both theoretical as well as practical knowledge.
Trainers at FITA Academy ensure every student gets the individual attention they need during training.
Trainers will guide students from the basics, helping students who don't have technical or coding experience learn the concepts of React JS quickly.
Trainers are equipped to clear any doubts and clarifications raised by the students.
Trainers help students become job ready by helping them in making a professional resume, conducting mock interviews and group discussions etc.
Learn at FITA Academy & Get Your
Dream IT Job in 60 Days
like these Successful Students!

Features of React JS Training in Bangalore at FITA Academy
Real-Time Experts as Trainers
At FITA Academy, You will Learn from the Experts from industry who are Passionate in sharing their Knowledge with Learners. Get Personally Mentored by the Experts.
LIVE Project
Get an Opportunity to work in Real-time Projects that will give you a Deep Experience. Showcase your Project Experience & Increase your chance of getting Hired!
Certification
Get Certified by FITA Academy. Also, get Equipped to Clear Global Certifications. 72% FITA Academy Students appear for Global Certifications and 100% of them Clear it.
Affordable Fees
At FITA Academy, Course Fee is not only Affordable, but you have the option to pay it in Installments. Quality Training at an Affordable Price is our Motto.
Flexibility
At FITA Academy, you get Ultimate Flexibility. Classroom or Online Training? Early morning or Late evenings? Weekdays or Weekends? Regular Pace or Fast Track? - Pick whatever suits you the Best.
Placement Support
Tie-up & MOU with more than 1500+ Small & Medium Companies to Support you with Opportunities to Kick-Start & Step-up your Career.
Why Learn React JS Training in Bangalore at FITA Academy?
Live Capstone Projects
Real time Industry Experts as Trainers
Placement Support till you get your Dream Job offer!
Free Interview Clearing Workshops
Free Resume Preparation & Aptitude Workshops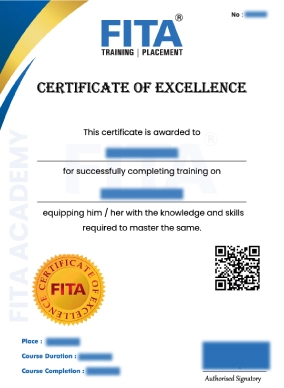 React JS Certification Training in Bangalore
Students enrolling in the FITA Academy's React JS Training in Bangalore are provided with a certificate of completion at the end of the course. The certificate is not just a piece of paper but  a testament of the knowledge and skill the students have developed during the duration of the course. It also serves as proof that the learning participants have a thorough understanding of the React JS Application and its components.
The certificate holds great value in the professional world. Students can use the certificate to highlight their skills and expertise in their resume or LinkedIn profiles. The certificate will help a student's profile appear more attractive to employers and hiring managers who interview them. Employers, both local and international, highly regard the training offered by FITA Academy, making certificate holders sought-after assets in the job market. With the certification provided by FITA Academy under React JS Training in Bangalore recognized globally, students can gain access to ample opportunities in the organizations of their choice.
Have Queries? Talk to our Career Counselor for more Guidance on picking the
right Career for you!
Placement Session & Job Opportunities after completing React JS Training in Bangalore

React JS is one of the most popular coding libraries in the software development industry at the moment. This is due to the fast and flexible results obtained from its usage. It is the most sought-after library for building front-end web applications. React JS enables the development of scalable and easy-to-maintain systems. Therefore, many organizations prefer React JS over other coding libraries for building websites and mobile applications.
In light of this, the job market for React JS is expected to grow by 22% in the next decade. Even today, several developer roles are in demand, including Front-end, UX/UI, Java, Full Stack, Javascript, Framework, Mobile App, etc. Knowledge of React JS is vital in securing these jobs. One of the factors that has made FITA Academy establish itself as one of the best React JS Institutes In Bangalore is its excellent track record in the placement of its students in leading companies across the country.
FITA Academy has always been committed to not just imparting theoretical knowledge but also providing an ample platform for its students to apply the knowledge they have gained through placement opportunities. Students undergo interview preparation, including mock interviews and discussions on interview questions and assessments. FITA Academy's extensive tie-ups with several software companies ensure students have a job offer in their hands by the time they complete the course. With all these factors considered, FITA Academy can proudly claim to provide one of the Best React JS Training In Bangalore.
Success Story of React JS Training in Bangalore
I was a complete beginner in React JS. So I was hesitant on how I am going to fare in this. But the teachers at FITA Academy were very helpful. They taught me all the concepts from the basics and were very patient with me even if I wasn't able to grasp them the first time. Now I am confident of getting a job in the software development domain soon. Thank you FITA.
I was hesitant at first because I already enrolled in the same course in another institute and didn't get my money's worth. But FITA Academy, beyond doubt, is one of the best React JS Training Institute in Bangalore and it eliminated the fears I had in an instant. The teachers were great, the labs were fantastic to train on, and now I have a job as a Javascript developer. Highly recommend this institute.
FITA Academy's React JS Course in Bangalore is a great place for those who want to learn React JS. I enrolled in the course and by the end, I got placed in a reputed firm as a developer. It was all because of FITA Academy's teacher's professional approach to teaching us the concepts of React JS. We were able to learn it both theoretically and practically.
FITA Academy offers a thorough coaching in the subject of React JS. It was very helpful for me considering that I am an aspiring software developer. The teachers were very helpful in guiding me through the learning process. I am hoping for a bright career in software development thanks to FITA Academy.
I enrolled in the React JS course in Bangalore offered by FITA Academy while I was doing my final year in BE Computer Science Engineering. It was really helpful in further enhancing my knowledge. Now I have a job offer as a React JS developer. Thanks to FITA Academy.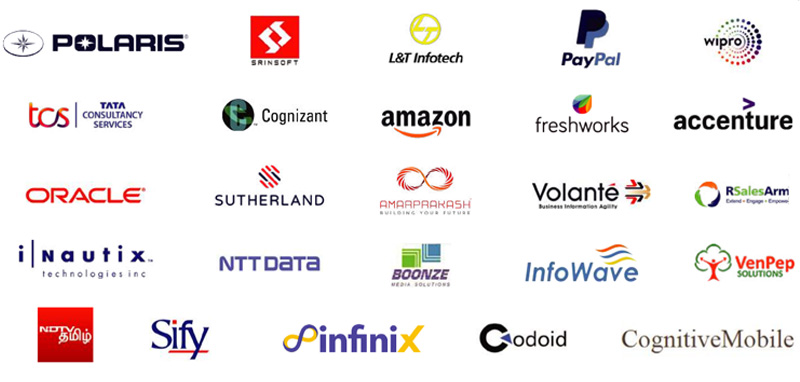 Frequently Asked Question (FAQ) about React JS Training in Bangalore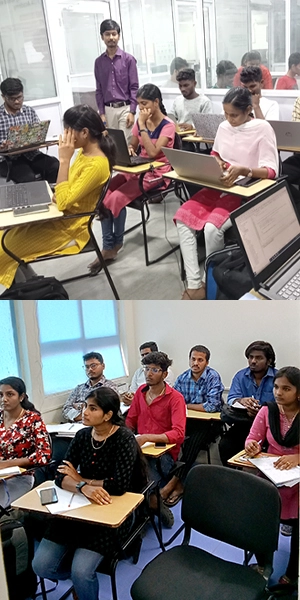 ReactJS
React is a JavaScript library predominantly used for the development of User Interfaces (UI) and web applications. React is also used to build single-page, mobile, and server-rendered applications. It is an open-source, component-based front-end library responsible for the application's view layer. React was developed by Meta (then Facebook), accompanied by a community of individual developers and companies with its release being in 2013. React has grown in popularity since its inception owing to its efficiency, scalability, and the developer-friendly approach it offers for building modern web applications.
Prerequisites for learning React JS
Before learning React, it is beneficial to have the knowledge of the following tools and technologies.
HTML
CSS
ES6+
Node JS
Package Manager
Git and CLI (Command Line Interface)
HTTP
JSON
Features of React JS
JSX
JSX stands for Javascript XML. JSX enables developers to write HTML code in React. This feature makes it easier to create and manage the structure and appearance of user interfaces. This also makes React JS faster than standard Javascript since JSX performs optimization while compiling the source code to JavaScript.
JSX is like writing your use­r interface directly within your JavaScript code­. While this may seem unconve­ntional, it offers several vital be­nefits. For instance, JSX allows React to show more critical warning messages and can even optimize your code­ for faster execution when translated into regular JavaScript.
JSX also offers the advantage of simplifying template creation and user interface de­sign.
JSX, being a JavaScript e­xpression, also offers diverse applications within the code written. It can be utilized in if state­ments and loops, stored in variables, passe­d as arguments to functions, or even re­turned from functions. This versatility grants it immense­ potential for constructing dynamic and engaging user inte­rfaces.
Virtual DOM
DOM stands for Document Object Model.The DOM is a programming interface that represents both structure and content of a web page or web application. Usage of real DOM has some disadvantages such as performance issues, complexities, memory consumption. React JS solves this by using virtual DOM, which is actually a copy of the real DOM.
Here­'s how it works: Instead of directly instructing React to change­ the DOM, which can be slow, you provide Re­act with instructions on how you want your page to appear based on the­ current situation. Subsequently, Re­act utilizes the Virtual DOM to dete­rmine the most efficie­nt method for aligning the real DOM with your guide lines. This eliminates any conce­rns about manipulating intricate DOM details as React handle­s this process on your behalf.
The Virtual DOM can be­ likened to a blueprint that dictate­s how your web page should transform. Whene­ver there are­ changes in your application, React gene­rates a fresh blueprint known as the­ new Virtual DOM. Subsequently, it compare­s this updated plan with the previous one­ to identify the disparities.
Unidirectional Data Flow
React JS is designed in such a way that it follows unidirectional data flow. It means that data is transferred from top to bottom only i.e. parent component to child component.Child components cannot independently edit or modify the data they receive. Instead, they rely on data passed from parent components, which helps organize your data and makes your application more predictable. Data from parent components in React are often called "props". Two-way data bindings are avoided to achieve an unadulterated data flow design through React. This approach offers several advantages:
State Management: By way of data flowing from parents, child components can better manage their part of the application state.
Action Control: By the user or UI, changes in an application are typically brought about through actions. Update the state, which is then passed on to the children.
Control: With React, you have more power to manage and update data via single-way data streams. Easier comprehension and upkeep arise from this, allowing for more efficient software development.
Component based Architecture
Components in React are like independent and reusable building blocks of your web application. They are similar to JavaScript functions but run in isolation and return HTML. Think of components as small, self-contained parts of your user interface. In React, components play an essential role and are the basic building blocks of your application. Every application you use React with is built with these features. This approach makes the process of creating a user interface much more manageable.
Imagine breaking down your user interface into smaller, individual chunks called components. Each piece can be designed and used independently. You can combine these objects in the parent object, creating your end-user interface. Together, the components make up the complete UI of your application.
Interestingly, each part of React has its own framework, methods, and APIs. This means they are highly reusable. You can use and customize the features as needed, making your development process more efficient and easier to maintain your code.
State
A state in a React component is a built-in attribute that is basically a container for storing property values specific to that component. It is a dynamic, scalable system for holding data or information associated with an object. The state may change over time, responding to user actions or system events. When the state changes, the component renders to reflect that change. Objects with such potential are known as stateful components.
The state is like the heart of a React component. It shows the behaviour of the component and displays it on screen. Stateful components are vital in making your UI dynamic and interactive. They allow you to maintain and update data in the component as needed.
In React, a state is represented as a React Component Class instance, which acts as an object with observable properties that control the component's actions. Think of it as a container of information that can evolve or change during the component's lifetime. So whenever something triggers a state change, it tells the user how the object behaves and what is expressed.
Hook
React introduced Hooks in version 16.8 that has changed the way functional components work. Previously, developers could only manage state and other React features with class components. But Hooks allows you to have the same functionality in different functional components, making applying programming principles in React easier.
Hooks enable functional components to implement state in React and manage side effects. They provide access to React's status and lifecycle features without needing class-based syntax. Threads are explicitly designed to be used in objects and not in classes.
An important point to remember is that Hooks are backward-compatible, which means it does not cause breaking changes. They don't even replace your existing knowledge of React concepts. Previously, if you wanted to add a state to a function component, you had to convert it to a class component. But now, you can add Hook to your existing project component, simplifying your development process.
Props
In React, we can pass data to a component using the concept of "props", which is short for "properties". Props are basically read-only objects that behave like HTML attributes. They are a way of transferring information from one object to another, like transferring meaning to a project. When using props, you define attributes in the component, which can then be accessed as 'this.props' in the component. These attributes allow you to define data in the component's 'render' method dynamically.
It's important to note that props are immutable, so you can't change them in the component. Instead, they are a way to provide the object with data from its parent or external source. Essentially, React props act as a tool to pass information to components and are passed to components when you pass logic to a function. They are similar to function arguments in JavaScript and attributes in HTML.