There are abundant openings available for freshers skilled in the below technologies. The conceptual knowledge on the technology and the logical thinking ability to implement the requirement will definitely gain you a good position in a reputed organization. Especially people with excellent domain knowledge are considered as the competent resources in IT industry. But getting a right kind of talent is always a key challenge for any IT company may be a small or bigger one. So we at FITA provide industry oriented training for all IT technologies there by bridging the gap between the academics and industry requirement.
As per NASSCOM report, fresher's skilled on below technologies are critically required man power by IT industry for at least next 5 years.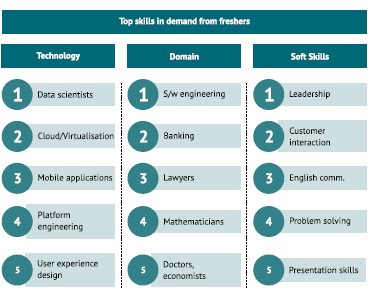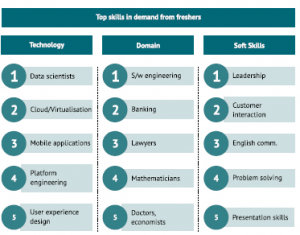 DATA Scientists: Dealing with million tons of data, analyzing the input data collected, applying statistical research methodology to the collected data & producing result oriented, revenue generating business model – altogether being a Data Scientists is not only a trendy job today but also provides huge career opportunity and growth.
Cloud/Virtualisation: Cloud computing is ideally a business process that resulted as the evolution and adoption of existing other technologies. The main achievement of cloud computing is, it takes benefits of all the other technologies , so any one working on cloud computing is expected just to have enough knowledge and not always required to be an expert in one particular technology. Cloud facilitates the business by letting down the cost and resolving many IT obstacles like infrastructure, Data storage etc.,
Mobile Applications: Mobile Application development involves developing application software for handheld devices like tablet, smart phones etc., The application software developed can be pre-installed/downloaded on these portable devices which enable the user to access the product/services offered by any company at ease. Mobile App development has been growing steadily and 2014 analyst report states that there are about 5,29,000 job opening across the world for people who have undergone training on android, ios etc.,
Platform Engineering: The focus of Platform Engineering is solely to improve the capacity & flexibility for any development organization, rather than handling simple and unimportant issues. This platform engineering creates more transparency in term of process for the organization by simplifying engineering communication and providing data analytics. Data analyst are high demand in existing job market as they analyze data in multiple facets and approaches ,  applying diverse technique in multiple science, social and business domains.
User Experience Design: Mobile phones and computers has become integral part of life these days. With rapid growth & usage of smart phones, the User experience design also called UXD,UED is considered highly important. This UXD is a process of enhancing your customer satisfaction by improving the usability, look and feel, ease of handling etc., In simple words one can say that UXD helps and improves Human Computer Interaction by using graphics, animations, visual design etc., Undergoing User Experience Design training and getting skilled on it definitely fetch a high paying job.
Keep reading this blog for current job trends, Job opening & recent technological advancement.