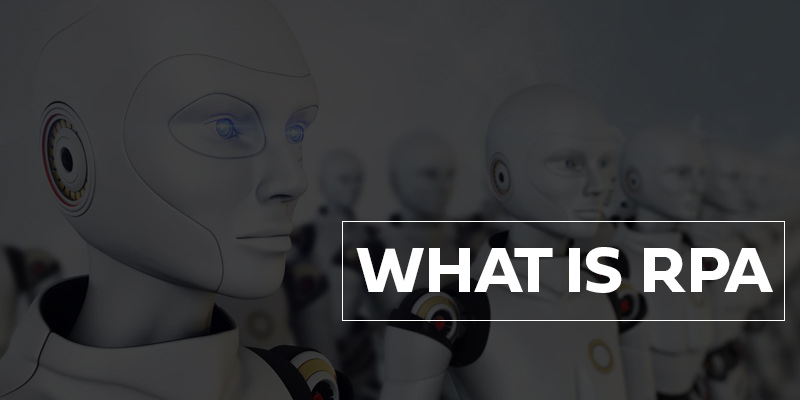 Recently, the IT Industry has gone through tremendous changes and one such significant change is the business process automation. Business Process Automation has just changed the ways of functioning in numerous industries. It is also stated that the usage of Automation techniques in the IT industries are growing rapidly across a diverse range of sectors and the future of Automation is predicted to be stable. When we say automation, Robotic Process Automation which is also popularly known as RPA is set to skyrocket the automation industry.
This is one of the widely adopted techniques not only in the IT industries but also in the Non-IT industries to automate their monotonous and laborious tasks to gain efficiency, accuracy, and cost management. RPA can be implemented with the help of various RPA tools such as Blue Prism, Automation Anywhere, UiPath, HelpsSystems, and Pega Robotics – also called as OpenSpan.
First, let's understand What is RPA and How it works? Robotic Process Automation also called Software Robotics is the method of creating software robots which are programmed to perform or automate the activities of a human interaction with a computer application. These Robots primarily perform organizational tasks that are mundane and time-consuming thereby increasing the productivity of humans. For example, assume an HR working in an organization has to download hundreds of resumes attachments from his email every day. If he spends about two to three hours simply downloading those emails into various folders, just imaging the kind of productivity loss. As this task does not require any human intelligence, better this can be performed in a few seconds by a Software Robot. Similarly, there are hundreds and thousands of such unproductive tasks that are handled by valuable human resources. RPA can help understand their requirements and create a software robot to automate those tasks to help them to focus on more productive work. With the help of RPA tools, anyone who has basic business knowledge or experience can easily design a software robot without any programming. These robots can be deployed to perform tasks such as Manipulation of Data, Form Filling, Data Assembling, Data Entry, Improving communication, and Activating responses within several systems and any such repetitive tasks that are involved in a company. Learn Data Analytics by enrolling in Data Analytics Training in Chennai which will help you to enhance your capabilities in automating business processes.
The prime motive to deploy RPA in any organization is to reduce the human involvement in unproductive tasks that are performed to support the workflow, back-office processes, financial and accounting tasks, transferring data from one application to another and customer care services. By deploying the RPA bots the organizations can function seamlessly, save the maximum time of the human resources, and also aids in reducing the errors significantly. To perform the automation proficiently, RPA tools are used to design the work of a software robot and to execute it according to the requirements with high accuracy.
Future of Robotic Process Automation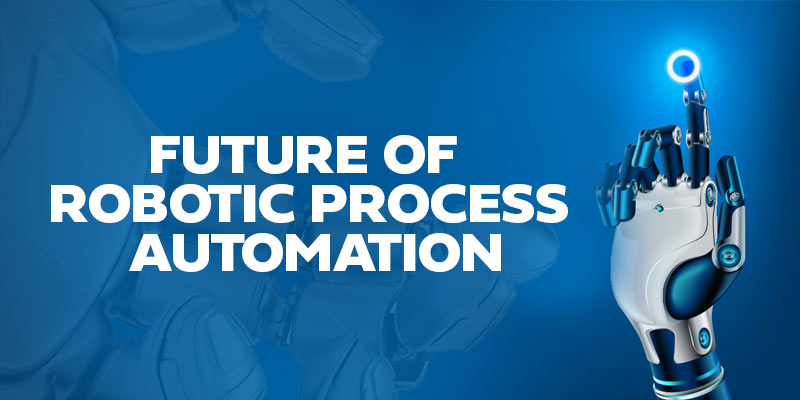 From the above-mentioned points, it is clear that the future of the RPA is wide and enormous for the professionals who desire to step into the Automation industry. And it is definite that upon implementing the RPA techniques the organizations can see finite results of reduced risk, increased accuracy, and productivity in a cost-efficient manner.
Career Scope of RPA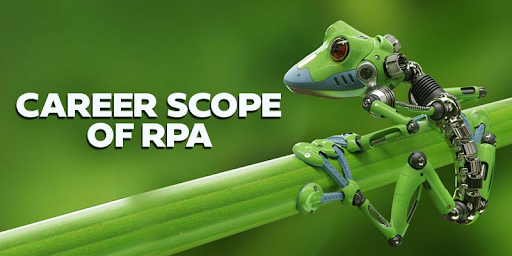 The career scope of RPA is futuristic and secure. It is estimated that the global market value of the RPA is going to raise by the US $2.9 billion at the end of2021 based on the statistical reports submitted by the Forrester. It is because the RPA will be adopted widely among a range of industries such as Manufacturing and Retails, Banking and Financial Services, Educational Sector, Aviation, Oil and Gas, Insurance Sector, Logistics, BPOs, KPOs, Customer Services and HealthCare industries. 
Furthermore, by the end of 2024, the global economy of the RPA is expected to reach US $8.75 billion according to the Reports submitted by the Grandview Research. In India, most of the IT Experts have forecasted that we have two major advantages regarding the global value of the RPA market. India has both the innovative capabilities and workforce that are required for RPA. Over the decade's various companies around the world have relied on India for operation expertise service. With the burgeoning infrastructure, workforce, and technology India is in a very good position to occupy a prominent position in the global value of the RPA market.
According to the reports submitted by the UiPath company, it is anticipated that in India alone more than 2,00,000+ jobs will be created in the RPA industry. Currently, according to the reports submitted by job portals sites of India, there are around 16,436 RPA job opportunities in Monster.com, a total of 23,330 job opportunities in Naukri.comand 530+ RPA job opportunities in Indeed.com. Out of which most of the organizations are seeking candidates a minimum of practical experience in using the RPA tool. RPA Training in Chennai at FITA provides the right blend of conceptual and practical knowledge of the RPA tools along with certification upon completion of the RPA Course and this aids the students to secure the job at ease.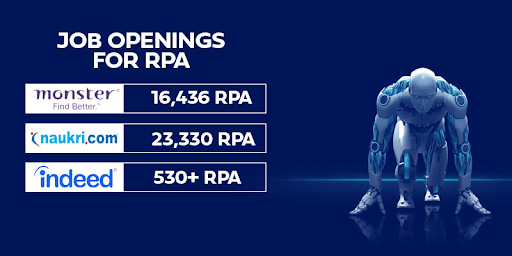 Some of the common job titles that are offered to the candidates upon the position based in the companies are Junior RPA Developer, Senior RPA Developer, Business Process Analysts, Lead Developer, and Senior Lead Developer. Also, the three major RPA roles based titles that are offered to the candidates are Process Designer, Automation Architect, and Production Manager. On average the candidates are estimated to receive Rs. 5,50,00 to Rs 7,30,000 per annum as an entrant RPA Developer. Senior-level candidates who have 3-5 years of work experience can earn around Rs. 7,50,000 to Rs. 9,20,000 per annum. Globally, an RPA Developer earns $ 97,631 per year and with 3-5 years of experience, the Developer can earn around $ 108,325 yearly.
FAQ on Career Scope of RPA 
Is RPA a good career choice?

RPA is a good career choice for both Freshers and Experienced candidates who are looking for the switchover in their careers. Learning RPA will lead to a lucrative career path with wider job opportunities. The job opportunities are equally high for both the Fresher and Experienced candidates. The only thing that is required to grab the job opportunity at ease is to have proper methodical training of the RPA concepts. RPA Training in Chennai at FITA provides in-depth training of the RPA concepts to both the freshers and experienced candidates under the mentorship of Real-time RPA Developers with certification.

What are the programming languages that are used in the RPA?

One of the important advantages of RPA is, it is completely a No-Coding environment. Any individual who has some business knowledge and basic understanding of computers can easily design a software robot using RPA tools. It is only at the very advanced level, that there is a requirement of a programming language. But, having knowledge in the basics of programming will help to design efficient robots.

Does Coding knowledge is required for RPA?

Generally, it is not required to have coding knowledge for the RPA process. However, knowing any of the programming languages aids you in designing software robots efficiently with any RPA tools.

How long does it take to learn RPA?

It depends upon your learning pace. Generally, it requires 1 or 2 months of time when you opt for RPA training with any one RPA Tool. You can also learn more than one RPA tool to improve your career opportunities. However, RPA Training in Chennai provides you a flexible training option such as Weekend, Weekday, and Fast-Track RPA Training options to fasten your learning.

Which are the companies that offer RPA tools? The popular companies that offer the RPA tools are Which are the top 10 industrial companies that use Automation?
Top 5 Robotic Process Automation Tools
The Robotic Process Automation tools are vital for automating the repetitive business processes of the office. Currently, there is a wide range of RPA tools which are accessible in the market. Choosing the best one out of that diverse range of tools can be a challenging one. To avoid the confusion here in this blog we have clearly explained the top 5 primarily used RPA Tools in the market and its features.
Blue Prism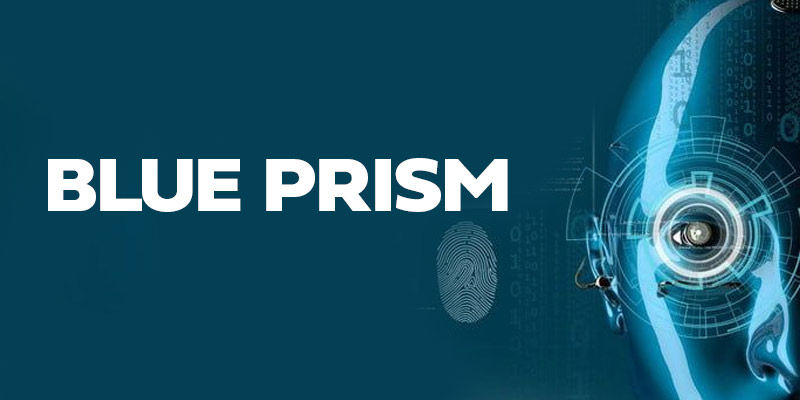 RPA tools aid a business in automating the repetitive business processes. Blue Prism tool provides a simple and easy to use flow chart style drag and drop features that can be used to design automation of the various business processes. The Blue Prism tool is compatible to work on any platform and in any application. To work with these tools the developer is required to have some basic knowledge of the business process and a little outline of programming basics. Blue Prism tool is ideal for medium and large scale companies.
Features:
Automation Anywhere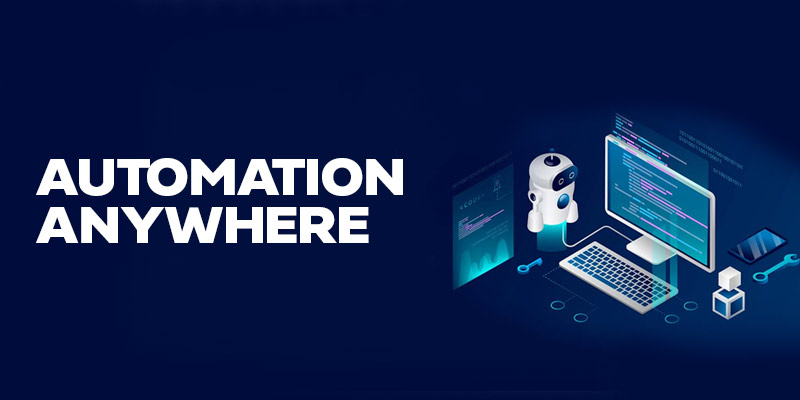 This tool is capable of implementing all the core capabilities. Automation Anywhere is an open-source tool and supports its users with cloud and on-premise services. It is a user-friendly tool and this tool is more suitable for medium and large scale enterprises.
Features:
UiPath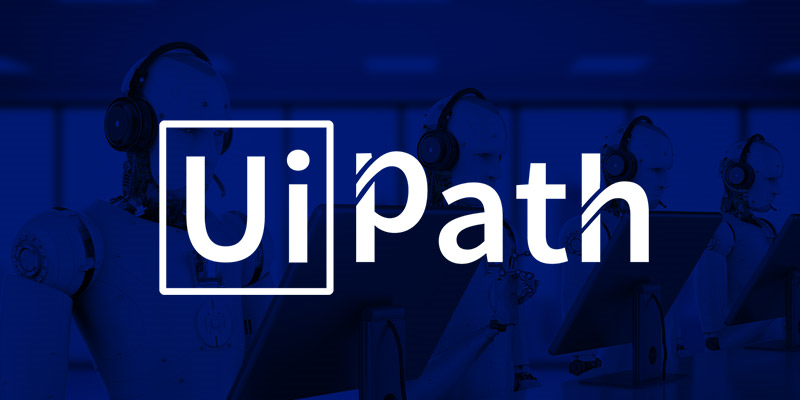 This tool is considered to be the industry-leading open-source Robotic Process Automation tool. UiPath is developed in the way that it can be installed on any Servers, Desktops, Web apps, and Cloud platforms. All the mundane tasks that are performed by humans in their day-to-day life can be automated easily with this tool. The UiPath robots are primarily controlled by an entity which is known as Orchestrator that monitors the triggers and events of the bots to respond quickly. It is a highly extensible tool that can assist in the Citrix environment as well.
This tool has been recently termed as the global leader in the RPA industry at the Gartner's Magic Quadrant 2019. UiPath is currently expanding its territory in the Artificial Intelligence field as well. UiPath can utilize the visual information extraction which is also in the line to explore its way towards improving their machine vision tools. UiPath is devised in the aspect to focus on the optical character recognition and to convert these numbers and letters to machine-understandable formats.
Features:
Pega Robotics also called OpenSpan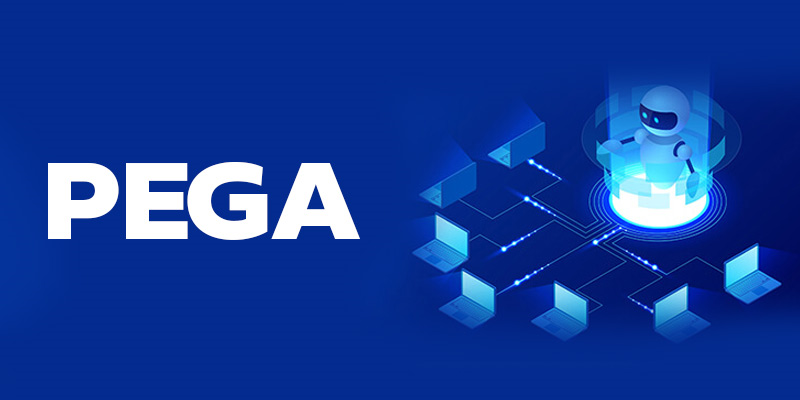 Pega Robotics is an automation tool that can support almost every usage scenario. It is a Business Process Management tool that can operate on almost all the platforms such as Windows, Mac, and Linux. Pega can be used on the desktop servers as well. Also, Pega provides only Cloud-based solutions. This tool can be used for a wide range of business cases such as automating the financial transactions and onboarding the customers, etc. This software is more suitable for Medium and Large scale businesses.
Features:
Help Systems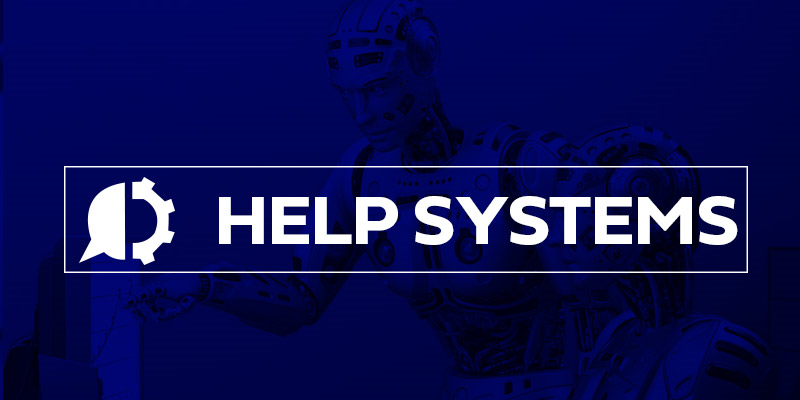 It is a comprehensive RPA platform that is used for automating manual and repetitive processes over your organization. It provides stable, robust, and ease of useability and functionality to scale the automation strategy.
Features
Final thoughts: RPA is going to be one of the lucrative careers for professionals who are planning to begin their career in the IT industry. Since the RPA is expanding across a wide range of sectors the future is going to be secured. The only thing that you must need to have is a professional RPA Online Training using the right tool under the guidance of Real-time professionals to become a RPA expert.
Also Read: RPA Interview Questions and Answers | Interview Tips