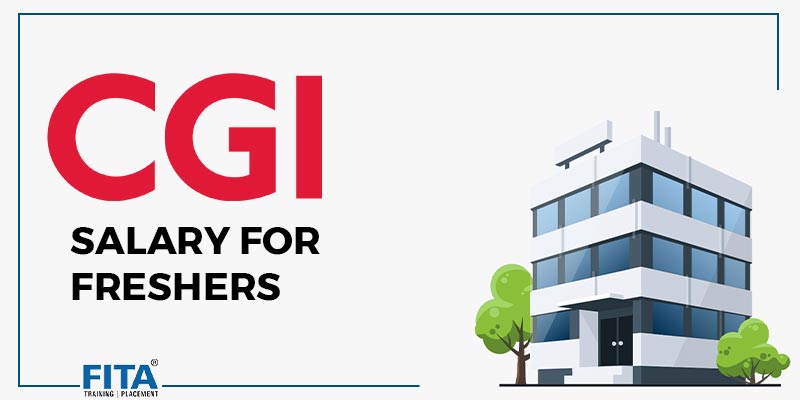 Today's topic is CGI Salary for Freshers. CGI is a Canadian-based Multinational Information Technology company providing majorly Consulting and System Integration Services for all the companies in the world. CGI stands for "Conselliers en Gestion et Informatique" which translates in English as "Consultants to Government and Industries." The other major services the CGI company provides are Application services, Business Consulting Services, IT infrastructure services, IT Outsourcing services, etc. CGI's customers are from every industry namely telecommunications, health, manufacturing, oil, and gas, logistics, retail, consumer services, transportation, and utilities. But CGI has most of its customers from the Finance industry. It also provides its services to Central Governments, State, Provincial and local governments.
Now we shall see the compelling reasons to join CGI and the interview process of CGI and after that, we shall discuss the CGI salary for Freshers.
Why Should I join CGI as a Fresher?
1. Vast Opportunities
CGI is a global company that means you get to work with so many experienced professionals who can guide you properly in your career path. You will receive rewarding support from the Management as well as the student community that assists you in your day-to-day work. Moreover, you will get to work on real-time projects that help you understand the technology precisely.
2. Vibrant Culture
CGI has a Vibrant culture as it is a multinational company meaning people from different parts of the world, work here. You can get to share your ideas with like-minded people, discuss solutions for a complex problem, etc. You have all the freedom to innovate new things and be a leader in the company. CGI believes that an employee's success is directly linked to the company's success, so it means that you not only contribute to the company's growth but also grow personally and professionally and be confident about your skills and knowledge.
3. Get trained by the Experts
At CGI you will be trained by experts and experienced professionals. Also, CGI takes care of the training fees and all other training expenses. While joining you will be provided with a laptop and mobile phone which you can use for your own study purposes. The CGI Salary for Freshers is pretty high which attracts most of the students towards the company.
4. CSR Activities
Like all other IT companies, CGI does CSR activities for the welfare of its communities. It also encourages its employees to do the same under its CSR programs.
5. Work in an Innovative Workplace
CGI is known for its creative work environment where it encourages its employees to be creative, innovative and work to their full potential. It is always satisfying to work in an environment where you can be yourself, share your ideas and thoughts and find solutions for business problems and work with the best technologies.
Some other benefits include,
Relocation compensation
25 days leave per year
Provident funds
Profit participation plan
Share Purchase Plan
Season Ticket Loan
Sports and Social Club
Health and Life Benefits
Voluntary Member Benefits
To get hired by CGI, students can choose any of the top trending courses like Data Science Training in Chennai by FITA Academy and learn the Data Science technology to the fullest.
CGI Recruitment Process
CGI conducts a maximum of four to five rounds of Interviews to select candidates as Software Engineers for their organization.
Written Round
Group Discussion
Technical Round 1
Technical Round 2
HR Round
CGI Freshers Salary is based on the skills and expertise of the candidates.
Academic Qualification set by CGI
65% or above in B.E or B.Tech and 60% and above in Classes X and XII
No arrears at the time of the interview
1. Written Round
Written Round has two sections, one is Aptitude Test and Verbal ability tests. Aptitude Test consists of Mathematical and Logical Reasoning questions and Verbal ability tests your English Fluency skills.
2. Group Discussion
Group Discussion Round is speaking about a topic for a particular period of time. Topics can be about anything and might be related to technology or social issues. The main thing to notice here is to speak confidently and avoid fillers and jargons. Sometimes JAM (Just a Min) is also conducted instead of JD.
3. Technical Round
Those who cleared the first two rounds are called for the Technical Round. There is no definite rule of which questions will be asked in this round. But it can be said for sure that the questions depend on the panel and the subjects you chose to study. To pass this round you need to be clear about what you know and be prepared confidently. Some of the topics asked in this round are, Data structures and Algorithms, DBMS, Operating Systems, Networking, OOPs concepts, and a programming language of your choice. Students from the CSE branch are asked to write codes and students from other than the CSE branch should be familiarised with any two subjects related to their branch. The CGI Company Salary for Freshers is high compared to other companies in the Software field.
4. Technical Round 2
In Technical Round 2, questions are asked about your previous projects, resume, and puzzles. There are so many online sites that will help you with practicing the puzzles.
5. HR Round
In HR Round, HR asks you general questions about yourself, explains the company policies and the company's work culture.
Some generally asked HR questions are,
Tell me about yourself
Why do you want to work for CGI?
Where do you see yourself from 5 years now?
What do you consider as your strengths and weaknesses?
Some basic questions about your resume.
Where to apply for the jobs in CGI?
You can go to the CGI official website and select CGI careers and select the jobs that interest you or you desire.
To become a Software Testing Engineer, students can choose our Manual Testing Training in Chennai or Selenium Training in Chennai to become a Manual Testing Engineer or an Automation Testing Engineer. The CGI Company Salary for Freshers increases after students gain some experience.
CGI Salary for Freshers
The job hierarchy in the CGI is given below.
There are three teams functioning in CGI
Software Team
Business Team
Technical Team
Software Team
Associate Software Engineer
Software Engineer
Senior Software Engineer
Lead Analyst/Technical Lead
Business Team
Associate Business Analyst
Business Analyst
Senior Business Analyst
Lead Business Analyst
Technical Team
Associate Consultant
Consultant
Senior Consultant
Executive Consultant
Director
Vice President
Senior Vice president
President
This is the job hierarchy in the CGI company. Let us discuss each of the basic job roles in detail and the CGI Salary for freshers.
1. Associate Software Engineer
An Associate Software Engineer is a fresher who works as a software trainee or a junior software engineer. He/She is responsible for developing and utilizing software for public and private computer functions. Similar to the Senior Software programmer, the Associate Software Engineer also works on the program conception and developing other software applications. They also need to communicate with customers, team members, and employees of other departments. They also need to work on programming, code needs, developing software applications, and sometimes testing the applications.
Responsibilities of an Associate Software Engineer
Help the project team write code based depending on the software design.
Giving internal support for various teams
Complying with the software development processes
Filing test procedures
Resolving project issues
Skills needed to get employed as an associate software engineer
Proficiency in Coding
Preciseness
Customer service skills
Technical skills
Time Management skills
Team Work skills
Analytical thinking skills
The salary of an Associate Software Engineer in CGI for a fresher is around Rs. 2 to 3 lakhs per annum.
To get hired in the CGI organization, you can also one of our Software Courses like Hadoop Training in Chennai and become a Data Analyst or Big Data Engineer in CGI.
The other courses like Java Training in Bangalore is also conducted for Bangalore students and the training is conducted by industry experts.
2. Associate Business Analyst
An Associate Business Analyst is the who works along with the functional areas of an organization such as Sales, Marketing, Customer support to collect the information of the market's current trend and industry data. They get support from the senior business analysts and other project teams and make sure the products developed are in accordance with the customers' needs and wants. The Associate Business Analyst is also the junior or entry-level position in the IT field.
Responsibilities of an Associate Business Analyst
Develop specifications as asked by sales and account management divisions.
Team up with senior business analysts to file business processes effectively.
Make sure appropriate documents such as manuals, policy files, etc are maintained up to date and are available.
Develop functional requirements of the Business to enhance quality and performance.
Execute requirements analysis by checking logical requirements to clients' requests.
Highlight requirement specifications utilizing standard templates for both use cases and detailed software.
Manage the needs and make sure they are stored in automated systems.
Skills needed to become an Associate Business Analyst
Talent to plan, organize and structure work
Proficient in Word, Excel, and other word processing software.
Display good logical and analytical skills
Display good communication skills
Multi-tasking skills
Proficient in Soft skills
The salary of an Associate Business Analyst in CGI ranges between Rs. 2 to 3 lakhs per annum. The CGI Package for Freshers differs from professional to professional and it increases after getting experience in the company.
3. Associate Consultant
An Associate Consultant or junior consultant is the one who works under the leadership of a Senior Consultant. The main tasks of an Associate Consultant are assessing an organization's internal procedures, mechanisms, and policies. They also should make sure that the above-mentioned procedures are enough and functional. They also ensure that the organization's procedures are in accordance with the industry standards, human resource policies, and guidelines.
Associate Consultant's responsibilities include
Taking responsibility for a short-term or long-term project and addressing the various issues in it.
Enquire about the Management about their needs and requirements.
Collect the necessary Business data.
Do Data Analysis to find and understand issues and problems.
Explain the findings to appropriate personnel.
Give advice or recommendations to improve the business processes.
Come up with plans to implement the recommendations.
Skills expected from an Associate Consultant
HTML
Business Development Strategies
Project management Skills
Proficiency in Data Analysis and Research techniques
Expertise in Business Software and IT Systems
Create Detailed proposals and plans
Outstanding Organizational and team skills
Logical and Analytical thinking skills
The salary of an Associate Consultant in CGI is around Rs. 2 to 3 lakhs per annum. The CGI Salary Structure is designed as per students students' skills, expertise and knowledge in technology.
4. Software Engineer
A Software Engineer is one who designs software for computer systems and applications. Software Engineers are a senior level to the Associate Software Engineer and they are responsible for creating computer systems and applications to solve real-time and real-world problems.
Some of the day to day tasks of a Software Engineer is,
Designing and Managing Software Systems
Analyzing and Testing new software programs
Improving Software for Speed and Scalability
Testing the Code
Providing Consulting to Clients, Engineers, Security Specialists, and other Stakeholders.
Explaining new features to Stakeholders and Internal Customers.
Software Engineer Skills
Knowledge of Object-Oriented Programming
Knowledge of Database Architecture
Efficiency in Agile and Scrum Management
Knowledge of Operating Systems
Cloud Computing Knowledge
Version Control Knowledge
Proficient in Design Testing and Debugging
Having attention for Detail
The Salary of a Software Engineer in CGI is around Rs. 3 to 5 lakhs per annum.
You can also enroll in the Dot Net Training in Chennai which also paves way for you to become a Software Engineer in CGI.
5. Business Analyst
A Business Analyst is a professional senior to the Associate Business Analyst. A Business Analyst in CGI helps the organization to evaluate their processes, products/services, and business model systems and gives suggestions to enhance their processes. This way they help the organization to take potential decisions that help them to see a profit.
The day to day tasks or responsibilities of the Business Analyst is,
Learn what the business does for growth and the ways they do.
Find ways to improve the current business processes.
Find ways to implement the new features.
Explore the new features
Evaluate the effect of implementing new features
Deploy the new features.
Skills expected from a Business Analyst
Logical and Analytical Skills
Leadership skills
Business Processing and Planning skills
Technical Skills
The Salary of a Business Analyst in CGI is around Rs. 4 to 6 lakhs per annum.
Conclusion
We have seen the CGI Salary for Freshers as well as experienced professionals and we have seen their day-to-day tasks (responsibilities) or the skills needed for them. We have also seen the Job Hierarchy of CGI and the different roles in each domain. To know more about CGI and the job roles available in the company, kindly explore and be updated about them, the responsibilities, skills, and salaries for the particular role. The CGI Freshers Salary or the CGI Salary Structure for Freshers always depends on your skill of learning things quickly, how proficiently you can implement your learnings and exhibit your knowledge, expertise and talent.