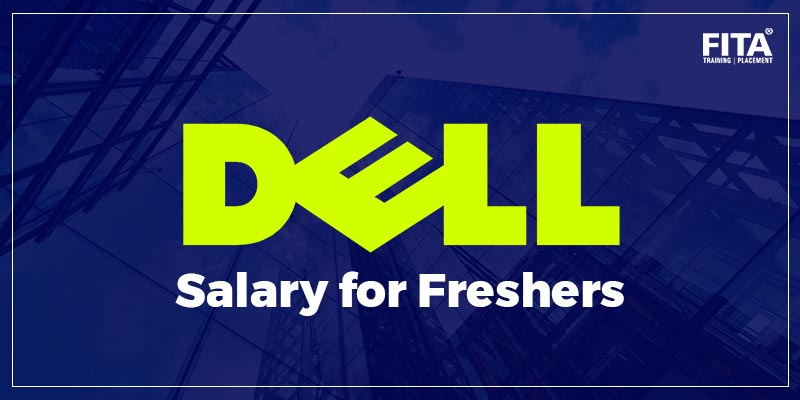 Today let us discuss the Dell Salary for Freshers. Dell Inc is an American-based multinational company that majorly designs and develops Personal Computers and other computer products. Dell was initially named PC's Limited and was called by the same name from 1984 to 1987 and later it was named Dell Computer Corporation from 1988 to 2003. Finally, the corporation name was changed to Dell as its founder was an American entrepreneur Micheal Dell. The company is still one of the leading suppliers of PCs and it is headquartered in Austin, Texas. Dell is specialized in selling Personal Computers, Servers, Data Storage Devices, network switches, software, computer peripherals, HDTVs cameras, printers, and electronics. Dell was a purely hardware-related company until 2009 until it acquired Perot System, which helped it enter into IT services. Dell is a good place for freshers as it believes in recruiting talented people who are full of ideas.
Why Should I choose Dell as a Fresher?
Dell is an awesome place to work and it provides all the facilities for the employees to upskill their knowledge and talents and Dell Freshers Salary is also one of the reasons which attracts students and professionals. Before discussing the Dell Package for Freshers, let us look at the reasons to join Dell as a Fresher.
Dell is a company with a creative workplace that offers many job responsibilities for everyone who want to showcase their talent and ingenuity.
Dell has a good environment for extracurricular activities such as the gym and for other sports.
Dell offers job roles that are very rewarding and beneficial for freshers.
Dell has many onsite opportunities for even freshers.
Dell provides space for freshers to enhance their skills and be competitive players in their work environment.
Dell often does CSR activities through its employees and gives them the space to explore and help the local communities.
Dell considers itself the largest startup company globally as it encourages its employees to demonstrate entrepreneurship every day.
Dell has given the freedom to its employers to work from anywhere.
Dell enables its employees to be active on social media on behalf of the company and act as brand ambassadors.
Dell invests in each one of the employees as it expects everyone to act as entrepreneurs each day and to enhance their skills, Dell provides certification and training programs for free for all of its employees.
FITA Academy offers many software courses for freshers as well as experienced professionals to have extensive and broad knowledge about their favorite technologies like Java Training in Chennai and more.
Dell Salary for Freshers
The Dell Salary for Freshers is pretty good, but eventually, it comes down to the particular candidate's roles, responsibilities, skills, knowledge, and proficiency. Let us see the job roles one by one and their respective salaries.
1. Business Analyst
A Business Analyst is responsible for evaluating his company's business processes and its products, services, and business model. By evaluating, he/she has to find out to enhance its present processes and take beneficial decisions for the profit of the company. The Business Analyst is also responsible for documenting business processes by analyzing the business model and its integration with the technology.
Some of their other responsibilities include
Comprehend the business model of the company and how it implements that.
Understand the ways to enhance current business processes.
Find the steps or tasks that support the deployment of new features.
Illustrate new designs and new features to implement.
Evaluate the effect of deploying new features.
Implement the new features.
Develop detailed business analysis report of the major problems, opportunities, and solutions for the business.
Create a Budget and forecast the necessities.
Plan and Monitor.
Report the findings.
Precisely define the business requirements and report them to the stakeholders.
Skills needed for a Business Analyst
Logical and Analytical Skills
Leadership Skills
Business Process and Planning
Technical Skill
The Salary of a Business Analyst in Dell for a fresher is Rs. 3,65,724 per annum.
To become a software Engineer in Dell, join our Python Course in Chennai or any software-related course at FITA Academy.
2. Data Scientist
Data Scientist is a modern professional, who collects, analyzes, and interprets large amounts of data to find meaningful information in them to help businesses see the ways to improve their growth. A Data Scientist should have knowledge of many technologies such as Big Data, Mathematics, Statistics, and Computer Applications.
Let us look at some of the responsibilities of Data Scientists in Dell.
Find valuable data sources and automate collection processes.
Perform preprocessing of Structured and Unstructured Data.
Evaluate a huge amount of information to find trends and patterns.
Develop predictive models and machine learning algorithms.
Display information using Data Visualization techniques.
Offer solutions and strategies for business challenges.
Team up with engineering and product development teams.
Skills needed to become a Data Scientist
Statistics and Computing
Machine Learning
Deep Learning
Analyzing large data sets
Data Visualization
Data Wrangling
Mathematics
Programming
An average salary of a Data Scientist in Dell is Rs. 2 to Rs. 3 lakhs per annum.
To become a Data Scientist in Dell, join our Data Science Course in Chennai at FITA Academy and learn about the technology in a detailed and precise manner.
The Dell Company Jobs for Freshers is quite vast and thus there are many different job roles for different skilled persons.
3. OBIEEE Consultant
OBIEEE Consultants are professional experts in using Oracle Software. They are responsible for helping clients to use the oracle software to its fullest potential to meet their business needs. The majority of the OBIEEE consultants have a degree in Computer Science or Information Technology.
Some of the responsibilities of the OBIEEE Consultant are,
Design, create, deliver and maintain OBIEEE
Implement a project using the Oracle platform
Launch and Configure the System environments
Create and migrate OBIEEE reports.
Evaluate business challenges and find solutions for them.
Develop data models, access structures, and reports.
Team up with other departments to create BI Models.
Develop functional and technical design specifications.
Maintain Code and design reviews and develop technical presentations
Skills required to become an OBIEEE consultant
Proficiency in Oracle Database
Knowledge of Data Integrator
Knowledge of Warehouse Builder
Technical knowledge in SQL, PL/SQL
Knowledge of HTML, CSS, and JavaScript
Proficiency in OBI Metadata Models
The salary of an OBIEE Consultant for a fresher in Dell ranges between Rs. 2 to 4 lakhs per annum.
If you want to become proficient in any of the software courses, choose our Java Training in Bangalore at FITA Academy where you will be trained immersively for the said course by Industry experts.
4. Technical Support Engineer
A Technical Support Engineer is a professional who assists a company in solving technical issues related to different components of the computer system such as hardware, software, and other network-related problems. He/She is responsible for handling all the technical issues of a computer.
A Technical Support Engineer's responsibilities include,
Find solutions for hardware and software.
Get rid of technical issues and handle account set up and configuration
Enquire customer problems to understand the root of the problem
Keep track of the computer issues and solve them within the time limits.
Communicate with clients through phone, text, or email until you have solved the issue.
Clearly take the unresolved issues to the proper internal teams.
Offer clear and precise feedback to customers.
Refer to the internal database or external resources to give precise technical solutions.
Make sure all issues are properly recorded.
Should be able to manage all open issues and solve them within the given time.
Technical Support Engineer Skills
Having proper experience to develop, enhance and support application systems.
Skill in developing methodologies.
Fluent Communication skills that include both interpersonal and influencing skills.
Proficiency in problem-solving and decision-making.
Should be able to solve the issues soon and also solve the customer issues.
Be an Organized professional.
Should be able to work under pressure.
Be adaptable.
The salary of the technical support engineer in Dell for freshers is Rs. 2 to 4 lakhs per annum. The Dell Salary for Freshers is a major reason many students consider joining Dell.
5. Network Engineer
A Network Engineer is a technical professional who has the essential skills to plan, deploy and manage the computer networks that support in-house voice, data, video, and wireless network services.
Network Engineers needs to
Design an effective network infrastructure for the company.
Improve the existing network systems.
Offer analytical and creative solutions for network-related problems for the company.
Manage precise and concise documentation of the network-oriented queries and their solutions.
Set up both hardware and network equipment like routers, WAN Accelerators, DHCP (Dynamic Host Configuration Protocol), Switches, Proxy Servers, DNS (Domain Name System).
Launch Firewall and Security Systems or third party accessing confidential information to manage a safe communication and connection within different networks.
Manage a database of all the information of the network system for interested parties like clients, stakeholders, business managers, and employees.
Skills required to become a Network Engineer
Skill related to Firewall and Security
Networking Design skills
Knowledge of Programming languages
Cloud Computing
Proficiency in Networking
Knowledge of Operating Systems
Fluent Communication skills
Analytical thinking and problem-solving skills
Time Management skills
Multi-tasking skills
The Salary of a Network Engineer Fresher in Dell ranges between Rs. 2 to 3 lakhs per annum. The Dell Salary for Freshers is quite high and that is one of the major reasons students and experienced professionals consider joining Dell.
Dell is known for providing excellent career opportunities to freshers as well. If you are looking for a Dot Net Training in Bangalore that can help you bag a job in Dell, then FITA Academy is the perfect place for you. We offer industry-leading Dot Net Training that will equip you with the skills and knowledge required to work at Dell.
6. SQL Programmer
A SQL Programmer is someone who is good at using the Structured Programming Language to build and maintain computer database applications. A SQL Programmer's responsibilities include
Illustrating Database tables and structures.
Developing views, functions, and stored procedures.
Developing optimized SQL Queries for integrations with other applications.
Developing Database triggers for utilization in automation.
Managing data quality and database security.
Skills needed to become a SQL Developer
Knowledge of Transact-SQL
Knowledge of .Net Framework
Proficiency in Big Data technology
Efficient in C# Programming knowledge
Knowledge of SQL Server Integration and Reporting
Efficiency in JavaScript, PHP, and HTML
The Salary of a SQL Developer in Dell for a fresher is Rs. 2 to 3 lakhs per annum. The Dell Salary for Freshers is designed according to the skills and experience of the candidates.
7. Server Administrator
A Server Administrator is the one who set up and manage servers and ensure the IT Infrastructure runs smoothly for
Developing new user accounts, restoring lost passwords, and maintaining data security.
Creates and deploys network maintenance standard operating procedures.
Finds and repairs hardware and network malfunctions.
Make sure security firewalls are updated regularly.
Providing regular reports to the management
Server Administrator Responsibilities
Launch and configure internal and customer-facing servers, network devices, and firewalls.
Actively maintain server, network, and firewall systems.
Support Microsoft, Cisco, Citrix, and VMware technologies.
Create and deploy project plans, risk assessments, and contingency plans.
Design and deploy monitoring, configuration management, and reporting functions that will make a hands-off environment.
Document best practices and support procedures.
Offer after-hours support for infrastructure-related emergencies as well as occasional maintenance.
Dell offers a variety of opportunities for those who want to work in information security. FITA Academy offers an Ethical Hacking Course in Bangalore that can teach you the basics of protecting systems from attack. Dell also has a number of positions available for information security professionals, including roles in risk management, incident response, and malware analysis.
Server Administrator Skills
The skill of Problem Solving
Administration skill
Networking Skill
Cloud Deployment Skill
Automation and Scripting
Security and Monitoring
Having the skill of Account Access Management
IoT/Mobile Device Management
Scripting Languages knowledge
Hardware Management
SQL
Conclusion
The Dell Salary for Freshers is given as per employees' skills, knowledge, expertise and proficiency in a technology. All the job roles discussed here need unique skills and expertise. So if you desire a job role, study about it, know the qualifications and skills needed through this blog. Also, explore the additional job roles given in Dell, Dell Salary for Freshers and apply as per your desired job role.