Course Highlights and Why Journalism Course in Chennai at FITA Academy?

Expertly designed Journalism Course modules to meet with the global standards of the Journalism field

Courseware that is curated by Industry Experts to have a clear understanding of the fundamental genres of Journalism - Investigative, Columns, Reviews, News, and Feature writing

Proficient Journalism Trainers with more than a decade of experience in the Multimedia Journalism

Extensive Journalism Training to make you equipped with different writing styles and reporting techniques involved in Journalism

Interactive Instructor-led Journalism Training session in Chennai at FITA Academy.

Regular Recap sessions of the previous classes are provided to strengthen your skills

Smart Classrooms with Experiential learning of Journalism Course in Chennai at FITA Academy.

Professional Journalism Training at an affordable cost with certification upon successful completion of the course

Flexible batch timings - Weekend, Weekday & Fast track Journalism Training in Chennai at FITA Academy.

FITA Academy provides 100% Placement assistance to the eligible students after successful completion of the training

We have tie-ups with more than 1500+ companies ranging from small to large scale companies

FITA Academy has an Active Placement Cell that helps the students to land in their dream careers
Upcoming Batches
09-12-2023
Weekend
Saturday (Saturday - Sunday)
11-12-2023
Weekdays
Monday (Monday - Friday)
14-12-2023
Weekdays
Thursday (Monday - Friday)
16-12-2023
Weekend
Saturday (Saturday - Sunday)

Classroom Training
Get trained by Industry Experts via Classroom Training at any of the FITA Academy branches near you
Why Wait? Jump Start your Career by taking the Journalism Training in Chennai!
Instructor-Led Live Online Training
Take-up Instructor-led Live Online Training. Get the Recorded Videos of each session.
Travelling is a Constraint? Jump Start your Career by taking the Journalism Online Course!
Syllabus
Introduction to Journalism
History of Journalism
Role of Media and Press in India
Basics of Journalism
Reporting
Feature Writing
Role of Technology in Media and Press
Role of a Journalist
News Stories
Training on how to write the news story
Research and finding of Story
Analyzing various dimension of a news
Interviewing
Get acquainted with Interviewing techniques
Know-how to ask the appropriate questions
Prevention of Pitfalls in the Questions
Law and Ethics of Media
Understand defamation
Learn about Copyrights
Rules and Compliance of Press
Radio and TV
The Role of TV, Radio, and the Internet in Journalism
The functioning of the TV newsroom and Radio
Learning to write bulletin news
Types of Journalism
Educational Journalism
Investigative Journalism
Agricultural Journalism
Business Journalism
Arts Journalism
Civic Journalism
Crime Journalism
Celebrity Journalism
Community Journalism
Cyber Journalism
Weather Journalism
Cultural Journalism
Scientific Journalism
Sports Journalism
LifeStyle Journalism
Political Journalism
Fashion Journalism
Defense Journalism
Graphic Journalism
Environmental Journalism
Tabloid Journalism
Trainer Profile
FITA Academy ardently believes in the blended method of learning and we provide the right blend of theoretical and practical knowledge of Journalism during the training program to the students
Journalism Instructors at FITA Academy trains the students with Industry-relevant skills, techniques, and principles that are required to elevate your career further in the Journalism field
Journalism Trainers at FITA Academy are Expertise in the Journalism field
Journalism Trainers at FITA Academy are Real-time professionals, and they provide hands-on training on writing, proofreading, and editing
Journalism Trainers at FITA Academy Upskills the knowledge of the students by providing them an in-depth training of the Journalistic environment and train them on the latest industry-relevant practices
Journalism Trainers at FITA Academy gives the required individual attention to each student and provides extensive training with complete hands-on practices on various forms of writing
Our Trainers assist the students in building their resume professionally and also boost their confidence by providing valuable insights to them about Interview questions and Handling interviews with mock interview sessions
Learn at FITA Academy & Get Your
Dream IT Job in 60 Days
like these Successful Students!

Features of Journalism Course in Chennai at FITA Academy
Real-Time Experts as Trainers
At FITA Academy, You will Learn from the Experts from industry who are Passionate in sharing their Knowledge with Learners. Get Personally Mentored by the Experts.
LIVE Project
Get an Opportunity to work in Real-time Projects that will give you a Deep Experience. Showcase your Project Experience & Increase your chance of getting Hired!
Certification
Get Certified by FITA Academy. Also, get Equipped to Clear Global Certifications. 72% FITA Academy Students appear for Global Certifications and 100% of them Clear it.
Affordable Fees
At FITA Academy, Course Fee is not only Affordable, but you have the option to pay it in Installments. Quality Training at an Affordable Price is our Motto.
Flexibility
At FITA Academy, you get Ultimate Flexibility. Classroom or Online Training? Early morning or Late evenings? Weekdays or Weekends? Regular Pace or Fast Track? - Pick whatever suits you the Best.
Placement Support
Tie-up & MOU with more than 1500+ Small & Medium Companies to Support you with Opportunities to Kick-Start & Step-up your Career.
Why Learn Journalism Course in Chennai at FITA Academy?
Live Capstone Projects
Real time Industry Experts as Trainers
Placement Support till you get your Dream Job offer!
Free Interview Clearing Workshops
Free Resume Preparation & Aptitude Workshops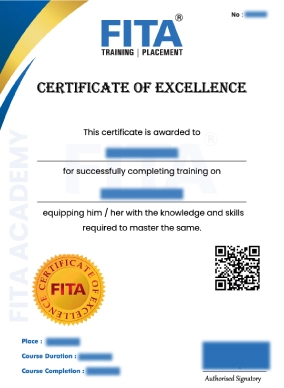 Journalism Certification Training in Chennai
Journalism Course Certification is one of the professional credentials which demonstrate that the candidate has gained in-depth knowledge of the different forms of writing and styles in Journalism. With a real-time project experience provided at the end of the course, this certification states that the candidate has acquired the necessary skills to work as a Journalist. Having this certificate along with your resume helps in prioritizing your profile at the time of the interview, and also it opens the door for a wide range of career opportunities.
Journalism Certification Courses in Chennai at FITA Academy hones the necessary skill sets that are required for a professional Journalist under the guidance of our Real-time professionals. Journalism Course in Chennai at FITA is provided by professionals who have 8+ years of experience in the Journalism field. They upskill your knowledge with the recent developments in the Journalism and Media & Communication field.
Have Queries? Talk to our Career Counselor for more Guidance on picking the
right Career for you!
Placement Session & Job Opportunities after completing Journalism Course in Chennai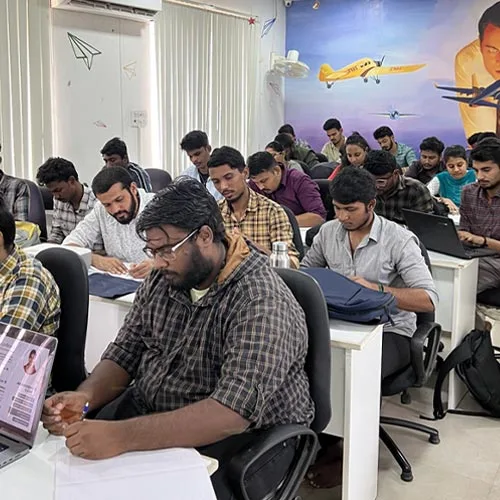 Over the years the scope for Journalism has grown leaps and bounds when compared to other professional sectors. The reason that has paved the way for the tremendous growth of the Journalism sector is because of the increased Internet users. Prior to the Internet, the people had limited access to know about happenings around the world and they had restricted mediums to obtain information such as morning newspapers, weekly magazines, news through television, and radio for a specific time period.
But, with the current technical advent and internet facility, anyone at any time from anywhere can access the News 24/7. Almost all the popular Publishing Newspapers, Magazine, Television News channel, Radio Station that telecasts News are now available on an app in our smartphones with the help of the internet. People now have a gamut of resources to access any information about the globe at their convenience. This mandated the growth of the Journalism field and made it one of the promising careers with a lucrative career scope.
The popular areas where the Journalists are persistently required are Press Information Bureau, News Agencies, Circulation & Public Relations, Legal Affairs Department, Newspapers, Television, Journals, Blogs, Magazine Publications, NGO's and All India Radio station. And over here they have two career options and they are Print Medium and Electronic Medium. Let us see what are the job titles that are offered in this two medium upon the completion of a Journalism Course.
Print Medium Job Profiles
Columnist
Reporter
Proofreader
Editor
Illustrator
Feature Writer
Photojournalist
Critic writer
Cartoonist
Specialized Author/ Essayist
Electronic Medium Job Profiles:
Broadcast Reporter
Researcher
Editor of E-Magazine
News Director
Presenter
Creation Assistant
Animator
News Analyst
StoryTeller
An interviewer at Television or Radio
Independent Correspondent/ Special Reporter
News Station Manager at Television or Radio
On average, it is stated that an entrant Journalists or Reporter earn around Rs. 2,90,000 to Rs.3,70,000 per annum. Journalists with 3-5 years of experience are paid around Rs. 4,20,000 to Rs 6,00,000 yearly. Senior-level Journalists earn around Rs. 7,50,000 to Rs.8,85,000 per annum. The above-mentioned package is just an average collected from different job portal sites. The packages may differ according to the Publications and type of medium you step into. Moreover, with years of experience, you can also work as Freelance Journalists.
Journalism Course in Chennai at FITA Academy inculcates the necessary skill sets required for professional Journalists under the guidance of Experts from the Journalism field. Journalists Trainers at FITA Academy strengthens your fundamentals in journalism by providing you in-depth training on the wide range of topics in Journalism and upskills your knowledge with various forms of writing skills to equip you to become a proficient writer.
Success Story of Journalism Course in Chennai
Journalism Course in Chennai at FITA Academy was the best place to learn about the Journalism field. The Course modules were well designed and had all the topics that are required for a professional Journalism course. Also, my trainer was a Real-time professional who explained in detail about the day-to-day life of a Journalist. This was truly an interesting learning experience. I will surely recommend this platform for freshers who aspire to begin their career in the Journalism domain.
I enrolled for Journalism Course in Chennai at FITA Academy. The overall training experience for Journalism at FITA Academy was too good. I liked their training methods. I am a B.com professional. I am just thinking about beginning my career in the Journalism domain. Over here they taught us everything clearly right from the basics. My Trainer was so polite enough to clarify all our doubts and address the queries. Also, he supported me in building up my resume. Thanks to him. Good Job FITA Academy.
My overall experience at FITA Academy's Journalism Course Training at FITA Academy was excellent. The entire training session went on smoothly with updated course modules with regular assessment sessions. Also, our Journalism Instructor at FITA Academy trained us with numerous case studies and how to address the issues to the public. He was truly an expert in the Journalism field. Thanks, FITA Academy. Great Work.
I really had a very good learning experience at FITA Academy's Journalism Course. Proficient Trainers with Industry-relevant Course modules. Also, the support team approach was too good. They understood my concerns and arranged the classes according to my flexibility. I will surely recommend FITA Academy Training Institute to my friends.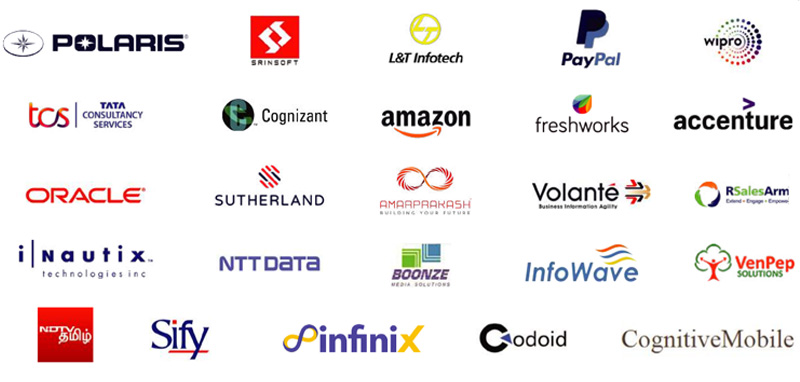 Frequently Asked Question (FAQ) about Journalism Course in Chennai
Additional Information of Journalism Course in Chennai
Journalism is the art of collecting information and writing news for all the subjects/ disciplines and presenting them in all forms of medium such as print and non-print. When we say Print medium it includes – Newspapers, Books, and Magazines. And Non-print medium includes Television, Radio, Internet, Social Media WebSites, Emails, Webcasts, Podcasts, and Blogs. Currently, there is no such subject that does not come under the realm of Journalism. It almost gathers information from all streams like Music, Aeronautics, Weather, LifeStyle Messages, Healthcare, Education, History, Literature, Arts, Science, Economics, Movies, and Entertainment, Sports, Law, Agriculture, Government, Technology, Innovation and much more.
Earlier the collected information from any of the above-mentioned sectors was published only on New prints or a Teleprompter, by a Journalist who has basically graduated from the art of writing school. However, now with all the technical advent the gathered information broadcasted through various channels of media such as Television, Radio, Newspapers, Magazines, and the ubiquitous Internet which almost present every nook and corner of the world.
Therefore, before publishing the news on any Public forum a Journalist has to undergo several processes such as hours and hours of time in coining of the words to penning it down precisely in a word processor or a paper and presenting it to the readers in an engaging and thought-provoking manner so that the readers are able to perceive them properly. In addition to this, they must also abide by the rules and regulations of the Media laws, meet with the datelines, and deadlines that are set to them and also comply with the writing format and norms. On the outset, it may be a simpler one which has a mundane writing task but this is truly a challenging profession where the Journalists try to propel something new in their day-to-day life to nurture their readers.
The general meaning of the term "News" means moving forward to put it in lay man's terms. We can also say the news is something that describes the event, opinion, or a fact that would intrigue the general public. Also, a Journalist is a person who should publish the news that is Newsworthy which is informative and reliable. Moreover, people tend to like the information and facts that are timely and novel. The majority of the population likes to know more about the peculiar events and breaking news and they are captivated by news of these kinds a much more when compared to others. These professionals have constantly kept the public informed about the happenings around the city, state, nation, and around the globe.
Thus, throughout history Journalists have played a predominant role in molding the democracy of a country for the betterment of the people and also in nourishing the general public in large with relevant information and guidance. Journalism Course in Chennai at FITA Academy provides a holistic training of the Journalism concepts and its impact on the real-life world under the mentorship of Real-time professionals. Journalism Course Trainers in Chennai at FITA Academy trains the students with all the essentials that are required to become a professional Journalists with meticulous training on writing, presenting them and continues guidance to have upliftment in your career.
What will you learn in the Journalism Course in Chennai at FITA Academy?
A clear understanding of what news is all about and how to write it.
Know-how to do in-depth research of a story or a fact.
Build your story with captivating headlines.
Demonstrable knowledge of different writing style guides.
A better understanding of the Media Law and comply with it.
Get acquainted with various Reporting methods in Journalism.
Comprehensive understanding of the disciplines such as Communication Studies, Literary Criticism, Anthropology, Cultural Studies, and Science.
Able to write reports by abiding the norms set by the Media Law.
Understand the Significance of the Word Count.
Ability to gather the right information and know-how you should pitch it on the Public Forum.
Eligibility Criteria and Prerequisites to learn Journalism Course 
Eligibility Criteria: Fresher Graduates of any streams who aspires to head-start their career in the field of Journalism can opt for this course. Journalism Course in Chennai at FITA Academy is also suitable for the professional budding writers and bloggers from the Digital and Social Media platforms.
Prerequisites: There are no prerequisites to learn the Journalism Course since it is an entirely different and interesting platform with lucrative career opportunities. However, a basic qualification of High School or College Graduation is required to take the Journalism Course in Chennai at FITA Academy. Journalism Training at FITA Academy provides comprehensive training of the Journalism concepts from its basics to the advanced level under the guidance of real-time professionals.
The Future of Journalism career deems to be one of the futuristic careers that helps aspirants to ripe the benefit of success in the long run as well. Journalism Course in Chennai at FITA Academy aids you to have a clear understanding of the Journalism concepts and its significance under the guidance of renowned scholars.