Course Highlights and Why Sales Training In Chennai at FITA Academy?

Expertly tailored Sales Course modules to meet with the global industry requirements.

Courseware that is developed by Sales Experts to have a clear understanding of the Sales Process and the core skills that should be obtained by a Sales Professional.

Proficient Sales trainers who are Veterans in the Sales and Marketing Process.

Immersive Sales Training to enrich your knowledge with Sales Strategy, Communication, Negotiation skills, and the important attributes that should be inculcated by the Sales Professionals.

Regular Wrap-up of previous Sales Training Classes is provided to the students to strengthen their remembrance.

Enhanced Learning Experience with Smart Classrooms and Applied method of Sales Training in Chennai at FITA.

Professional Sales Training at a nominal cost with certification on the successful completion of the Sales Course.

Convenient Batch Timings - Fast Track, Weekend, and Weekday Sales Training in Chennai at FITA.

FITA provides 100% Placement Support and Training to all the eligible students after the successful completion of the Sales training.

FITA Training Institute tie-ups and network connection with 600+ enterprises ranging from small to large scale companies.

FITA Academy has an Active Placement Portal that helps the students to land in their dream careers.
Upcoming Batches
09-12-2023
Weekend
Saturday (Saturday - Sunday)
11-12-2023
Weekdays
Monday (Monday - Friday)
14-12-2023
Weekdays
Thursday (Monday - Friday)
16-12-2023
Weekend
Saturday (Saturday - Sunday)

Classroom Training
Get trained by Industry Experts via Classroom Training at any of the FITA branches near you
Why Wait? Jump Start your Career by taking the Sales Training in Chennai
Instructor-Led Live Online Training
Take-up Instructor-led Live Online Training. Get the Recorded Videos of each session.
Travelling is a Constraint? Jump Start your Career by taking the Sales Course Online!
Syllabus
Basic Sales Training
Sales Fundamentals
Grooming skills
Preparing for sales interview/structure of sales call
Sales Person Mindstate
Confidence to sell Buying behavior
Personality traits and skills of Sales Person
Questioning and listening skills
Feature Advantage Benefits (FAB) Closures and different types of closures
Advanced Sales Training
What is SPIN?
Objection Handling
FAB ing and Closing
The trade-off and value selling
Customer Profiling
Trainer Profile
FITA Training Academy zealously practices the Experiential method of learning, and we implement the same in our institute. The Sales Course Instructors in Chennai at FITA trains the students with the proper blend of the theoretical and practical concepts of the Sales.
Sales Course Mentors at FITA trains the students with the Industry-oriented skill sets.
Sales Instructors at FITA are the Expertise of the Sales and Marketing Platform.
Sales Course Mentors at FITA are the Real-time Sales Professionals, and they give the students a hands-on experience of the Sales concepts and its strategies.
Sales Trainers at FITA enhance the knowledge of the students by training them extensively on the Sales concepts and the professional skills that are to be acquired by a professional Sales Representative.
Sales Trainers at FITA provide the required individual mentorship to all the students, and they train them efficiently on the Sales tactics with complete hands-on training.
Sales Trainers at FITA aids the students in Building their Resumes professionally, and they boost up the confidence level of the students by giving them useful insights on how to handle the interview with mock interview sessions.
Learn at FITA Academy & Get Your
Dream IT Job in 60 Days
like these Successful Students!

Features of Sales Training In Chennai at FITA Academy
Real-Time Experts as Trainers
At FITA Academy, You will Learn from the Experts from industry who are Passionate in sharing their Knowledge with Learners. Get Personally Mentored by the Experts.
LIVE Project
Get an Opportunity to work in Real-time Projects that will give you a Deep Experience. Showcase your Project Experience & Increase your chance of getting Hired!
Certification
Get Certified by FITA Academy. Also, get Equipped to Clear Global Certifications. 72% FITA Academy Students appear for Global Certifications and 100% of them Clear it.
Affordable Fees
At FITA Academy, Course Fee is not only Affordable, but you have the option to pay it in Installments. Quality Training at an Affordable Price is our Motto.
Flexibility
At FITA Academy, you get Ultimate Flexibility. Classroom or Online Training? Early morning or Late evenings? Weekdays or Weekends? Regular Pace or Fast Track? - Pick whatever suits you the Best.
Placement Support
Tie-up & MOU with more than 1500+ Small & Medium Companies to Support you with Opportunities to Kick-Start & Step-up your Career.
Why Learn Sales Training In Chennai at FITA Academy?
Live Capstone Projects
Real time Industry Experts as Trainers
Placement Support till you get your Dream Job offer!
Free Interview Clearing Workshops
Free Resume Preparation & Aptitude Workshops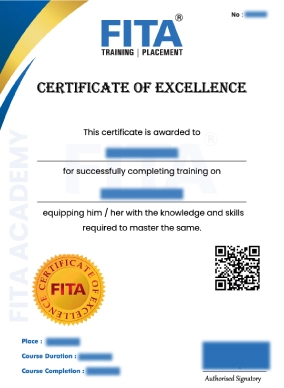 Sales Certification Training in Chennai
Sales Course Certification is one of the professional accreditation specifies that the candidate has gained a wider knowledge of the Sales techniques and strategies. With a real-time project experience provided at the end of the Sales Course, this certification states that the candidate has acquired the necessary skills to work as a Sales Representative. Submitting this Sales Certificate along with your resume aids in prioritizing your profile during the interview and also opens the gate for broader career opportunities.
Sales Certification Course in Chennai at FITA Academy imparts the required professional skill sets that are needed to be acquired by a Sales Representative under the training of the Sales Experts. Sales Training in Chennai at FITA is given by the Sales professionals who have a total of 8+ years of experience in the Sales domain. The Sales Trainers in Chennai at FITA enriches the knowledge of the students and helps them to be a better Sales professional.
Have Queries? Talk to our Career Counselor for more Guidance on picking the
right Career for you!
Placement Session & Job Opportunities after completing Sales Training In Chennai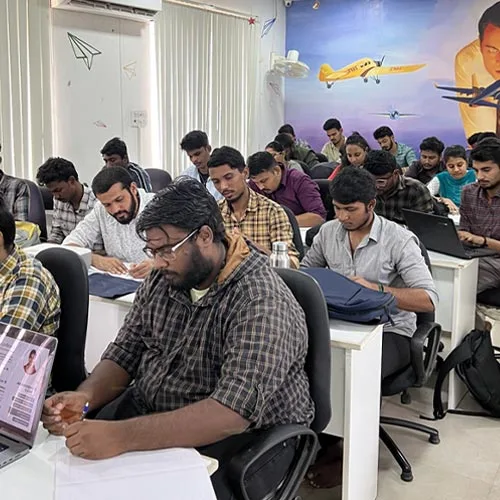 A career in the Sales domain provides tremendous scope for growth with good earning potential. This is a known fact that no businesses can survive without the term "Sales' , also we can state that the Sales is the lifeline of the businesses. Based on the recent reports published by the Bureau Labor of Statistics it is stated that the demand for the Sales Representative and the Sales Manager is expected to grow two-fold times higher by 2022. There is a common perception recently that, with the rise of the Internet and Online Marketing the demand for the Sales Professionals has been diminished. Yet, there are particular fields namely Manufacturing & Wholesales, Software Sales, Technology Sales, Electronic Appliances sales that demand more Sales Representatives who could sell their products to a wide range of customers.
The common job titles that are offered in these fields are Sales Representatives, Insurance Sales Agent, Retail Sales Workers, Cashier, Advertising Sales Agent, Sales Agent, Sales Manager, Marketing Manager, Sales Operation Manager, and Regional Sales Manager. The average pay and salary may differ according to the experiences gained and on the level of the performance. The median salary offered in India for a Sales representative is Rs. 2,70,000 to Rs 3,50,0000 yearly. Globally, a Sales Representative may earn around $ 74,899 yearly. Sales Training in Chennai at FITA equips and trains the students with the required technical and professional skill sets that are mandatory for a Sales Representative under the mentorship of Real-time professionals.
Success Story of Sales Training In Chennai
The Sales Training in Chennai at FITA is the best platform to learn about Sales concepts. My Trainer was truly a Sales Expert who helped me in understanding clearly the various selling styles. Good platform to learn Sales Strategies and concepts. I will recommend this training platform for my friends and Colleagues. Thanks, FITA!

My Sales Course Training in Chennai at FITA was so good. My Sales Trainer thought of all the concepts with numerous real-time examples. Also, the syllabus of the Sales Course was up to the industry norms. What I liked the most in this Sales Training is how to make a sales strategy based on the company's current company situation. My trainer thought this with numerous examples. Thanks to my trainer and FITA Training Academy!
The Sales Training Program in Chennai @ FITA had everything in their course structure which is needed to become an Expert Sales Representative. They groomed us very well right from communication skills to and how to convince the customers to convert them into a useful lead. Thanks to my Sales Trainer who taught us everything in detail. And I like to mention the Support Team who aided me in assigning the classes when I missed it. Also, they had a regular check-up with me on the re-assigned classes. Thanks to them as well.

Sales Training in Chennai at FITA was a well-planned and excellently compiled course syllabus. I had a very nice training experience at FITA's Sales Course. I lacked a little behind in the Negotiation skills, but my trainer identified my problem and helped me a lot to gain efficiency in the negotiation skills. Thanks to my Sales Trainer.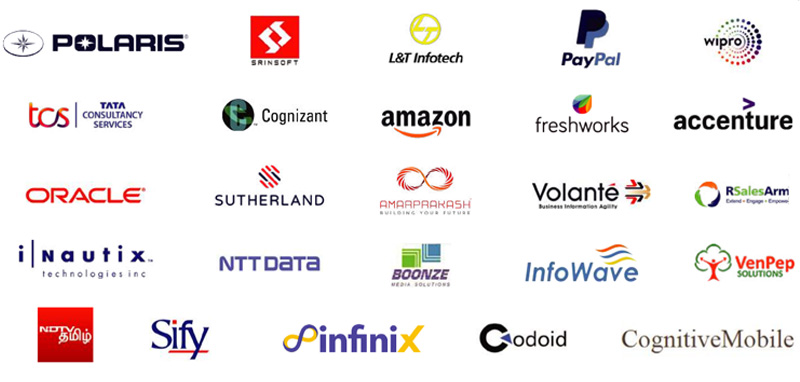 Frequently Asked Question (FAQ) about Sales Training In Chennai
Additional Information of Sales Training In Chennai
Learn Sales Training in Chennai relevant to the market and your requirements! We have customized the Sales Training Program to equip your skills with industry-oriented practices.
What Is "Sale"?
It is a transaction between two parties. In simple words, tangible/intangible in exchange for money! It is a contract between consumer and vendor. Sales can be within the global market or between entities. Global Marketplace creates a constant flow of assets which forms the backbone of economies. A sale which is a completion of the business operation such as clothing, grocery stores is called as different entities.
Sales Training Program
FITA Sales Training Programs offer you real-time job-focused training in Chennai. It includes the basic to the advanced level which is designed to increase your sales rapidly in your organization. The syllabus is based on industry requirements to achieve objectives. Learn how to tackle customers by our trainers. They provide you with tricks to get attracted to clients. It is to fit your needs.
Why FITA Sales Training In Chennai?
FITA Sales Training Course sessions are technically driven by high impact. It consists of many experimental and insights activities. We sustain the impact of learning and wisdom generated with a strong post of the workshop during training hours. Sales Training focuses beyond the temporary feel of the good factor. The results are at the core of our sessions. The faculties are user-friendly with live examples taught by our experts. FITA brings a unique combination driven by a lot of real-life instances throughout the sessions.
Nowadays the market is highly competitive and each organization is looking forward to a sharp share. Sales Training Programs play a vital role in improving sales. It hones their selling skills. Sales Training Course helps to strengthen the skills of every experienced sales representative. It makes them take opportunities in sales and expand their business. FITA provides an environment where mistakes are corrected and learned. Every organization benefits from a sales representative.
Become a day trader by undergoing FITA Sales Training Programs! Understand trading psychology and money management! Speak the language of the market with FITA!
Eligibility Criteria and Prerequisites to learn Sales Course
Eligibility Criteria: This course can be opted by any freshers who are planning to begin their career as Sales Representative or Sales Manager. The Sales Training in Chennai at FITA provides an exhaustive training of the Sales techniques and concepts under the guidance of real-time Sales professionals with certification.
Prerequisites: There are no prerequisites to learn the Sales Course in Chennai at FITA. The Sales Course in Chennai at FITA is compiled with in the manner to have a clear understanding of the Sales Techniques and Strategies right from its basics to advanced level.
What will I learn in the Sales Course in Chennai at FITA?
A complete understanding of the Sales Process.
Know-how to find your key targeted audiences and begin the conversation with no pressure.
Able to build a good rapport with the customers and maintain a cordial relationship with them.
Demonstrable knowledge on how to prepare a proper Sales Report.
Know the different types of selling styles.
Capable of completing your Sales Quota and Professional goals.
Obtain the quality of Enhanced Business Communication to endorse your brand across a wide range of customers.
FITA Sales Training Profile
 Take a look at FITA Trainer Profile for Sales Training Course
 Trainers are members of reputed organizations
 Off-shore and on-shore sales experience
 More than 12+ years of experience in Sales Training
 Worked in a large organization which is recognized gloablly
Have trained more than 100+ students in a big corporate environment
Strong practical and theoretical knowledge