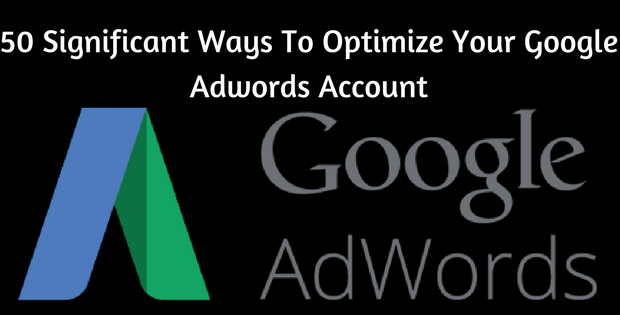 Online Marketing is all about generating traffic to your website. You may create an amazing website and run many A/B testing experiments all day long, but still, your site is no use without visitors/traffic. One of the successful ways to drive visitors to your site can be done through Google Adwords. You can even drive traffic to your site by doing SEO or SMO, but the SEO results take time and gets competitive day by day offering a lower ROI and social media's organic result is diminishing every day. If you are brand new to Google Adwords Management and need to enhance the performance of an account, then the below Points on Optimizing your Adwords account is going to be the absolute bible for you. When you've done setting up your Adwords account, you probably require using few of the intelligent strategies in order to optimize it for the best results in the business. In the AdWords optimization points presented below, we give you 50 Significant Ways to Optimize your Google Adwords Account and eventually get more traffic with lesser cost.
1. Eliminate Low Performing Keywords
The foremost thing you must do is to analyze your keywords well. You need to focus your budget mainly on those keywords which are performing well, instead of wasting your quality time on those keywords which are not. So delete those low performing keywords and use the main ones on your site.
2. Add Negative Keywords Persistently
You can easily get ideas for the negative keywords by using the reports of the search terms. Add those negative keywords to filter the important keywords which you want. You should do it continuously.
3. Explore New Keywords To Use
Explore and find the essential new keywords with the use of search terms report and the keyword planner. These potential keywords can be used to increase traffic.
4. Check Whether All Your Keywords Are Eligible
You must try to adjust bids and change the match types in order to make sure that all your keywords are eligible.
5. Evaluate Your Maximum CPC
You should review and analyze your maximum Cost Per Click. Your max CPC increases if your keywords have the number of conversion rates and Click Through Rates and decrease if your keywords have low conversion rates and Click Through Rates.
6. Try Out Using Your Branded Keywords
You try using your brand power to drive more leads and improve the rates of CTR. So the usages of branded keywords attract leads as the users might search using your brand.
7. Evaluate Adgroup Structure And Campaign
You must strengthen up your campaign structure. First, you should classify campaigns up that is based on daily budgets, targeting location, language settings, initial and final dates, and distribution preferences. Therefore a well-organized account usually lets you aim your ads more powerful.
8. Divide Adgroups
You can divide the Adgroups based on the higher Click Through Rate, higher conversion rates, higher quality score, and higher conversion rates. Regularly analyze your ads.
9. Persistently Test New Ads
Believe there is consistently space for the improvement. So you must continuously focus in order to improve the CTR of your ads.
10. Try Inserting Effective Keyword
Try to meet the accurate search term of customers. Thus inserting the effective keyword provides you a finer message match. It improves CTR and eventually must increase the quality score.
11. Message Match
The landing pages and ads which you are providing should probably match the appropriate search term of the user for higher quality score
12. Exploit The Display URL
You must use the main keywords or some other relevant terms which attract the users and make them click on the ads which you're running.
13. Be Unique
You should not copy ads from your competitors. You need to be unique. Survival along with your competitors is one thing, but you must prove how powerful you are. In that case, you should be more creative and innovative to stay unique.
14. Use Title Case
You need to follow the title case which is referred to each word and should contain capitalized first letter.
15. Apply A Call To Action In Your Ad
Inform the users what to do and they will do it what can be done. For example, it is like informing them that call us today for a free quote.
16. Mark Your Unique Selling Points
You can make use of your USPs to stay different from the competitors and satisfy the users in order to just click on your ads. Add points like a Free demo, Cost-effective, 24/7 customer service, etc.
17. Attract Audiences Using The Headline
You must grab the attention of the users through your headlines. For that, you should not ask questions instead you must provide answers that the users are looking for.
18. Regularly Check New Landing Pages
You need to optimize landing pages continuously. So you should check the various elements on the landing page or new pages. Divide the traffic between the number of two versions of your landing pages. Thus the page contains the higher conversion rate becomes the winner.
19. Don't Question Too Much
Generally, users don't like to fill forms, especially the long ones and they avoid filling them out.
20. Enlarge White Space & Imagery, Reduce Text
Instead of posting complete text content, you can use images and add videos to display your service or product in the content.
21. Provide The Expected One
Your landing page should meet the requirements of the users who are searching for various things.
22. Widen The Conversions By Designing Psychic Landing Pages
Provide all the information which the user needs. This helps them take any decision on the landing page.
23. Use Ad Extensions
The Ad Extensions provide the users as much as information which includes locations, phone numbers, available services, product types, etc.
24. Think About Organizing Ad Extensions
It is a great idea to organize call extensions if you are not able to answer calls which come outside of business hours.
25. Calculate The Performance Of Your Ad Extensions
You can make use of the automated extensions report in order to calculate your ad extensions success.
26. Examine Your Location Settings
Use the targeting location to display your ads only in related locations. Therefore you can refine your reach.
27. Try With Targeted Landing Pages With Specific Location
People react better to more personalized landing pages and ads. So make use of a different landing page which is specific to each and every location that are targeted for a more customized approach.
28. Plan Your Ad To Appear Only During The Office Hours
Do not provide advertisement for the service or product that are not available. For example, an electrician works only from Monday to Friday, and the advertisement should not mention like emergency electrician services during weekends.
29. Adjust Your Bids Based On Results
Have a glance at when your conversions are happening and if there occurs a pattern in the times then you can increase or decrease your bids according to it.
30. Improve Ads CTR
Design captivating and greatly relevant ads. Thus people cannot resist clicking on your ad.
31. Optimize Landing Page Text And Ad Text
You can use language in your landing pages and ads which speaks to the search intent of the individuals. Optimize keywords and relevant keywords in both ads and landing pages to improve the relevancy.
32. Check Out SKAGS
SKAGS is known as the Single Keyword Ad Groups are more relevant and specific. Evaluate the CTR, quality score, relevancy, conversion rate.
33. Duplicate Keywords And Apply A Different Match Type
Test the keywords against one another with different match types which show you which keywords are cost-effective, and have greater rates of conversion. You can bid greater on keywords with match types which have higher conversion rates and CTR.
34. Get Engaged In Remarketing
Remarketing keeps you in the eye line of some user who has visited your site already at a very cheap rate. Remarketing contains a much lesser Cost Per Click and you focus mainly on the relevant audience.
35. Know More About Your Customers
You can use a customer-centric approach and know what attracts them. You can use buyer personas.
36. A/B Check Everything
You need to test landing pages, ads regularly and you can think of anything else to increase the conversion rates and CTR's.
37. Rethink Your Value Proposition
Make a captivating and smart value proposition which entices your target audience.
38. Think And Know Your Sales Funnel
You must build a strong relationship with the prospects and earn their trust, prove your skills, provide them back with something for minor information like an email address. For example, free downloads, t-shirts, whitepapers, free trial, e-books, etc. Just be different from your competitors and attract them by informing why the users should buy from you.
39. Make It Simple To Convert
Inform your users what to do next. Do not provide numerous options to the users. Provide free shipping or a related incentive. Do not ask the users to fill so many fields in the form that literally annoys them.
40. Act Rapidly By Adding Incentive
You can use language and countdown timers to gain users to act quickly. It's like announcing the sale ends on March, only two left in stock, free delivery till next week. It attracts the users for sure.
41. Make Use Of Conversion Tracking
You won't be having any idea how successful was the campaign unless or otherwise you use the conversion tracking. It helps you to evaluate the winners in your a/b tests.
42. Setting Up Bid Modifiers For Mobile
You can spend more amount of money on the channels which are providing you the best conversions. If more no of conversions are coming from the mobile devices, assign more of your budget to mobile.
43. Track Conversions Using Call Forwarding
It can be done using a Google call forwarding number on the ads which you're displaying, permits you to measure how frequently Adwords makes your phone properly ring and track ROI. Around 70% of all the searchers from mobile have called a business from search ads.
44. Focus And Work For High Quality Scores
You can regularly focus to improve your quality scores. Thus it lowers your Cost Per Click. If your quality score is higher, the discount you get on CPC will be bigger. You can lower your CPC and maintain value for money.
45. Should You Focus On First Position?
Being your ads in the First position does not mean more conversions and clicks sometimes. But the 2nd and 3rd position gets you more conversions and clicks with a lower CPC. This can be something else you can check out.
46. Reassign Budget From Less Active Campaigns
If a campaign is not producing anything in return then redirect the budget into a campaign which is getting results.
47. Search Terms Report
The report of the search terms gives you what people searched for before just clicking on your ad. Make use of the search terms report to find negative keywords so that your budget does not get wasted and the new keywords increase the conversions.
48. Bid On Competitors Names
Assign an ad group for the competitor's names and bid on them like other keywords. You should get awareness for your brand and reach the qualified audience.
49. Receive Ideas From Your Competitors
Do not step backward, watch what your competitors are doing.
50. Think Out Of The Box
Don't think the same way as your competitors. Instead just be little different and think out of the box.

Enhancing your Google Adwords account is a continuing process, but as a result, the rewards you get is worth the effort which you've invested. Hope these points help you increase the number of leads for your business. To know more and to become an expert in Google Adwords make use of your quality time, learn Digital Marketing at FITA today!

If you find this article useful, please share it using one of the below buttons.