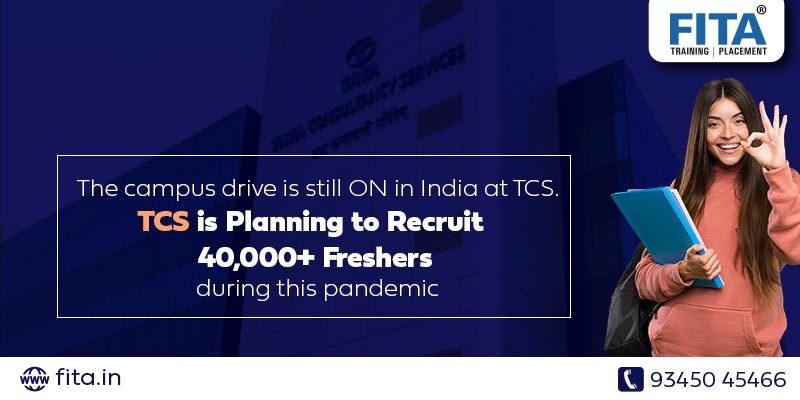 To all the Young Talents out there, here is a piece of good news that will lighten up your hope. There is a very old saying that, there is always a ray of sunshine after the rainfall. Similarly, Tata Consultancy Services which is popularly known as TCS is planning to recruit more than 40,000+ freshers in India during this global pandemic. This drastic move was taken by them to overcome the revenue drop that was faced by the giant IT company TCS at the end of the second quarter of the year 2020.
TCS is now rigorously looking for Fresh talents in the market. They have decided to hire graduates from B.E, B. Tech, and B.Sc background. Grab this precious opportunity to set your career in one of the most reputable IT companies in the world. To grab a job at TCS you must clear the recruitment process successfully.
TCS Recruitment Process consists of a total of four rounds and they are Written Test, Technical Interview, Managerial Interview, and HR Interview test.
Written Test: The TCS written test can be divided into four sections and they are English (E-mail writing), Quantitative Aptitude Test, Programming Logic, and Coding.
Technical Interview: In this round, the Interviewer put forth questions based on your specializations. Most of the questions are based on the technical concepts. Mostly they may ask you scenario-based questions and ask you to provide a solution. This round is conducted to assess your technical competence and analytical thinking. Technical questions in programming languages like Java, C, C++ or Python are generally asked during the technical interview.
Worried about Poor Technical Skills? Take up Python or Java or any of your preferred technical training at FITA. We offer both Classroom & Online training.
Managerial Interview: This round basically depends upon your interviewer. Generally, you may be asked to answer any technical questions, or rather they would ask about the achievements that are mentioned in your resume.
HR Interview: This is the final step to select a candidate and this round is conducted to determine the personality of the candidate. Generally, the questions are put forth based on your qualification, background, family, friends, location, strength, weakness, hobbies, etc. A candidate who clear all the four rounds of the selection process can secure the job.
Apart from the completion of a graduation degree on your resume, getting trained on a market-relevant skill set with practical experience of the technology will help you to secure the job with ease as corporates prioritize freshers trained in technology rather than absolute freshers.
You can register for TCS Freshers Job openings in this portal: 
https://nextstep.tcs.com/
Don't let this pandemic block the beginning of your career, rather use this time productively by getting trained in a technology which is in-demand that helps you to secure a job. Enroll yourself at FITA for personalized online training on all top IT courses & get your dream IT career.