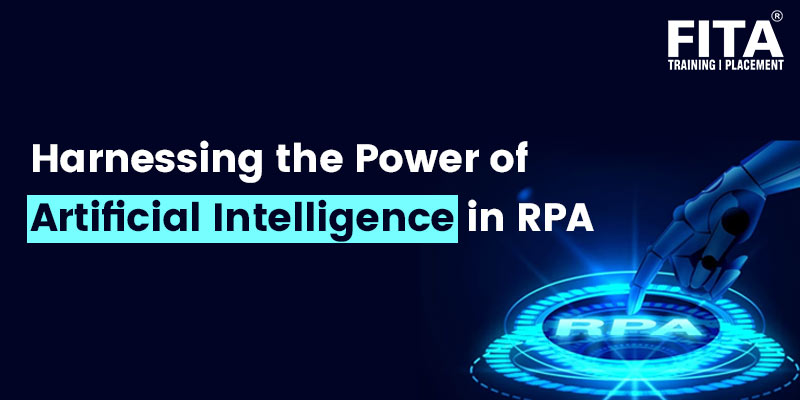 In today's rapidly evolving technological landscape, organisations are constantly seeking innovative ways to streamline their operations and enhance efficiency. Robotic Process Automation (RPA) has emerged as a transformative technology, enabling businesses to automate repetitive and rule-based tasks. However, the addition of Artificial Intelligence (AI) to RPA raises the bar for automation, introducing the concept of Intelligent Automation. In this blog, we will delve into the world of Intelligent Automation, exploring its benefits, applications, and the underlying AI techniques that power it.
Understand new technologies in Robotic Process Automation by joining RPA Training in Chennai at FITA Academy and start learning with real-time projects!
Understanding Intelligent Automation
Understanding Intelligent Automation is like having a superpower in the tech world. It's the ability to grasp the extraordinary fusion of artificial intelligence (AI) and robotic process automation (RPA) and unlock their full potential. Imagine being the go-to expert who can harness the force of AI and RPA, combining them in ways that revolutionise industries and reshape the future.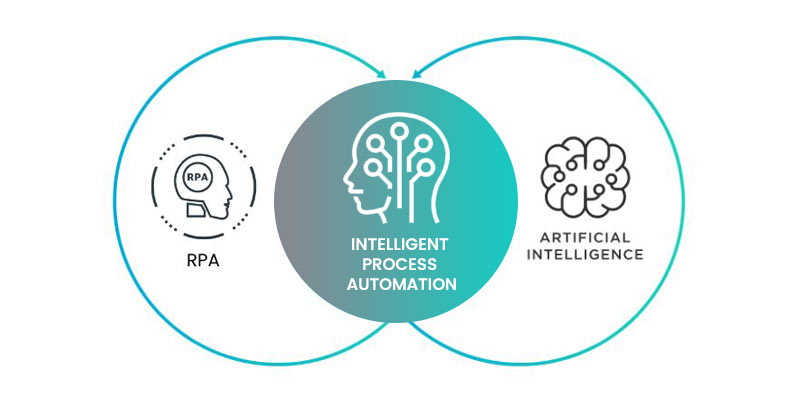 Tech enthusiasts who specialize in understanding intelligent automation possess a secret knowledge base. They delve deeply into computer vision, natural language processing, machine learning, and data analytics. These modern-day sorcerers understand how to weave these technologies together, casting spells of automation that can conquer complex business challenges and make decisions with lightning speed.
But their powers don't stop there. They have an uncanny ability to identify opportunities for automation, revealing hidden treasures of efficiency and cost savings. With their expertise, they can predict the impact of intelligent automation projects and conjure up optimized solutions that maximize productivity and propel organizations to new heights.
Yet, they are not just tech wizards. They are also guardians of ethics and governance. They wield their knowledge to navigate the treacherous waters of data privacy, security, and transparency. Like superheroes, they protect organizations from the pitfalls of AI and automation, ensuring a responsible and compliant approach.
In a world driven by digital transformation, these masters of intelligent automation are the catalysts of change. They hold the keys to unlocking new dimensions of innovation, enabling businesses to soar above their competition. With their expertise, they empower organizations to embrace the future and wield the force of AI and RPA to shape a better tomorrow.
Benefits of Intelligent Automation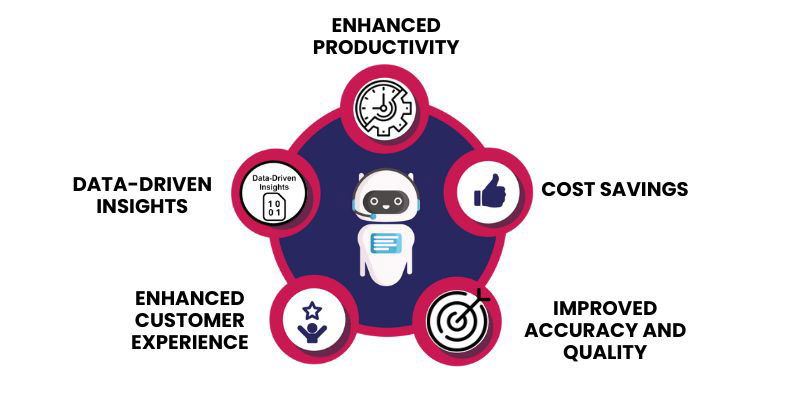 Here's an expanded version of the benefits of Intelligent Automation, incorporating key points:
Intelligent Automation offers a multitude of benefits that have a profound impact on organisations across diverse industries. Combining artificial intelligence (AI) and robotic process automation (RPA) enables businesses to unlock new levels of operational efficiency, cost savings, and innovation.
Enhanced Productivity: Intelligent Automation automates repetitive and rule-based tasks, streamlining processes and increasing throughput. This frees up human resources to focus on strategic decision-making and creative problem-solving, fostering a more agile and innovative workforce.
Cost Savings: By automating labour-intensive processes, organisations achieve significant operational expense reductions, optimise resource allocation, and improve cost efficiency. Intelligent data analytics and predictive capabilities enable data-driven decisions, cost-saving opportunities identification, and business outcome optimisation.
Improved Accuracy and Quality: Intelligent Automation minimises human errors and inconsistencies, leading to enhanced accuracy and precision in task execution. This directly impacts customer satisfaction, as organisations consistently deliver high-quality products and services.
Enhanced Customer Experience: AI-powered technologies like chatbots and virtual assistants enable faster response times, personalised interactions, and seamless customer journeys. This fosters customer satisfaction and loyalty and strengthens brand reputation.
Data-Driven Insights: Intelligent Automation empowers organisations to gain valuable insights from vast data volumes. AI algorithms and advanced analytics unlock patterns, trends, and correlations, enabling informed strategic decisions, process optimisation, and identification of new business opportunities.
The benefits of Intelligent Automation include increased productivity, cost savings, improved accuracy, enhanced customer experiences, and data-driven insights. By harnessing the power of AI and RPA, organisations can achieve operational excellence, stay ahead in a competitive market, and pave the way for future growth and innovation.
Enrol in RPA Training in Pondicherry and learn about the new technologies and trends in the field of RPA with our expert trainers.
Applications of Intelligent Automation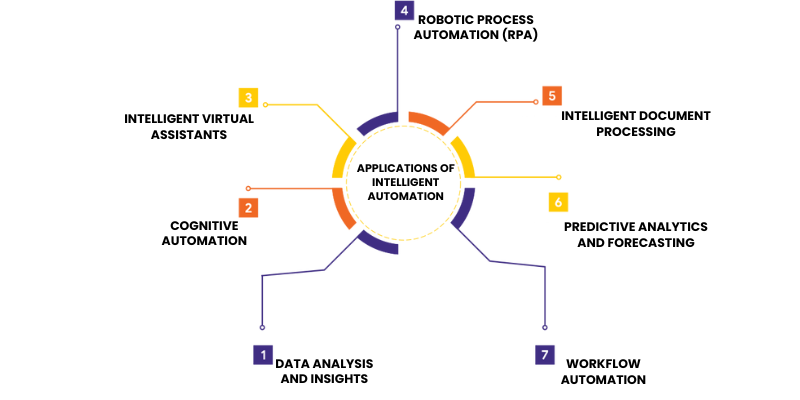 Intelligent Automation, combining artificial intelligence (AI) and robotic process automation (RPA), presents a wide array of technical applications across industries. It's advanced capabilities and automation prowess enable organisations to optimise processes, enhance efficiency, and drive innovation.
Data Analysis and Insights: Intelligent Automation employs AI algorithms and advanced analytics to process and analyse large volumes of data. This enables organisations to uncover valuable patterns, trends, and insights that inform strategic decision-making, identify operational inefficiencies, and drive business growth.
Cognitive Automation: By leveraging natural language processing (NLP) and machine learning, Intelligent Automation can understand and interpret unstructured data, such as emails, documents, and social media posts. This enables automated systems to perform complex tasks, make intelligent decisions, and carry out sophisticated processes without human intervention.
Intelligent Virtual Assistants: AI-powered virtual assistants, chatbots, and voice recognition systems enhance customer experiences by providing personalised and efficient support. These virtual agents can handle customer inquiries, provide recommendations, and guide users through self-service processes, freeing up human resources and ensuring consistent and responsive customer service.
Robotic Process Automation (RPA): Intelligent Automation utilises RPA to automate repetitive and rule-based tasks across various business functions. RPA bots mimic human actions, interacting with different applications, systems, and databases to perform tasks such as data entry, form processing, and report generation. This improves accuracy, reduces errors, and accelerates process execution.
Intelligent Document Processing: Intelligent Automation can extract data from structured and unstructured documents, such as invoices, contracts, and forms, utilising AI methods such as natural language understanding (NLU) and optical character recognition (OCR). This streamlines document processing accelerates data extraction, and eliminates manual data entry.
Predictive Analytics and Forecasting: By analysing historical data and applying predictive algorithms, Intelligent Automation enables organisations to forecast future trends, anticipate customer behaviour, and optimise resource allocation. This aids in demand forecasting, supply chain management, and proactive decision-making.
Workflow Automation: Intelligent Automation optimises end-to-end workflows by automating the flow of tasks, approvals, and notifications. It orchestrates complex processes, ensures seamless handoffs between systems and departments, and enables real-time visibility and control over operations.
Intelligent automation brings forth technical applications such as data analysis, cognitive automation, virtual assistants, RPA, intelligent document processing, predictive analytics, and workflow automation. By harnessing these capabilities, organisations can achieve operational excellence, gain competitive advantage, and drive digital transformation in the ever-evolving business landscape.
By joining the Artificial Intelligence Course in Gurgaon, you will understand about AI from the basics and how to build skills in it with different real-time projects.
Underlying AI Techniques in Intelligent Automation
Intelligent Automation relies on a diverse range of underlying AI techniques to power its automation capabilities and deliver advanced business solutions. These techniques enable systems to understand, reason, learn, and make intelligent decisions, driving efficiency and innovation across industries.
Natural Language Processing (NLP): NLP enables machines to understand and interpret human language. It encompasses tasks such as text classification, sentiment analysis, and entity recognition. NLP plays a crucial role in Intelligent Automation by facilitating communication between humans and automated systems through chatbots, virtual assistants, and language-based data processing.
Machine Learning (ML): ML algorithms enable systems to learn from data and improve their performance without explicit programming. Supervised learning trains models with labelled data, while unsupervised learning discovers patterns and relationships in unlabeled data. Reinforcement learning uses reward signals to optimise decision-making. ML is integral to Intelligent Automation as it powers predictive analytics, anomaly detection, and decision support systems.
Computer Vision: Computer vision algorithms enable machines to understand and interpret visual information. They enable tasks such as image recognition, object detection, and image segmentation. In Intelligent Automation, computer vision techniques are applied in areas such as document processing, quality control, and visual inspection, automating processes that rely on visual data.
Cognitive Automation: Cognitive automation combines AI techniques like NLP, ML, and computer vision to enable systems to mimic human cognitive abilities. This includes duties including comprehending spoken language, recognising images, and making contextual decisions. Cognitive automation is leveraged in Intelligent Automation to automate complex decision-making processes, data interpretation, and reasoning.
Deep Learning: Deep learning is a subclass of machine learning that processes complex data representations by using neural networks with several layers. It excels at tasks like image and speech recognition, natural language understanding, and generative modelling. Deep learning is instrumental in powering advanced capabilities of Intelligent Automation, enabling systems to handle complex and unstructured data.
Reinforcement Learning: Reinforcement learning is an AI technique where an agent learns to interact with an environment to maximise rewards. It is used in scenarios where the system needs to learn through trial and error, refining its actions over time. In Intelligent Automation, reinforcement learning can be applied to optimise decision-making processes, resource allocation, and autonomous systems.
Intelligent automation leverages a variety of AI techniques, including natural language processing, machine learning, computer vision, cognitive automation, deep learning, and reinforcement learning. These techniques enable systems to understand, learn, reason, and make intelligent decisions, driving automation and innovation across industries. By harnessing these underlying AI capabilities, organisations can unlock new levels of efficiency, accuracy, and productivity in the era of digital transformation.
Join our Artificial Intelligence Course In Bangalore which is apt for both beginners and for those who are trying to improve their knowledge in AI.
Intelligent automation, powered by AI technologies, is revolutionising the way organisations approach process automation. By combining RPA with AI's cognitive capabilities, businesses can automate complex tasks, make intelligent decisions, and achieve greater efficiency. The benefits of Intelligent Automation are vast, from improved accuracy and scalability to empowering employees and enhancing customer experiences. As AI continues to advance, we can expect Intelligent Automation to become an integral part of digital transformation strategies across industries, unlocking new possibilities and driving business growth. Embracing this technology today will position organisations at the forefront of innovation and pave the way for a more productive and intelligent future.