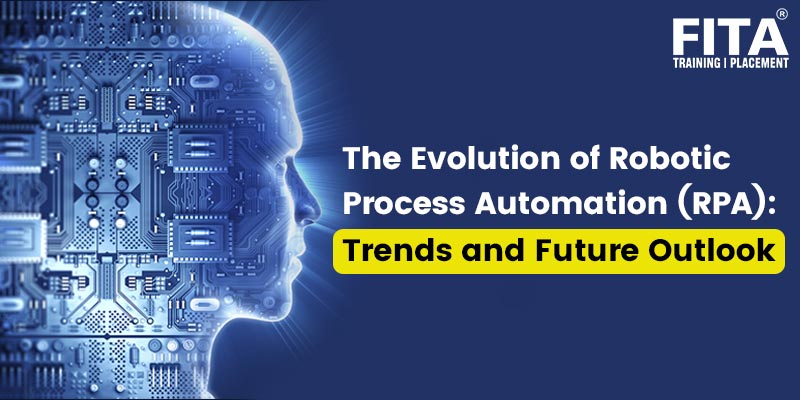 Robotic Process Automation (RPA) has emerged as a game-changing technology in recent years, revolutionising business processes across industries. RPA allows businesses to automate routine, rule-based operations, which frees up staff time for higher-value jobs. We shall examine the development of RPA, present trends, and its prospects for the future in this blog.
The Origins of RPA
The origins of Robotic Process Automation (RPA) can be traced back to the early 2000s when the concept of automating repetitive tasks using software robots emerged. RPA was initially developed as a solution to streamline business processes and increase operational efficiency.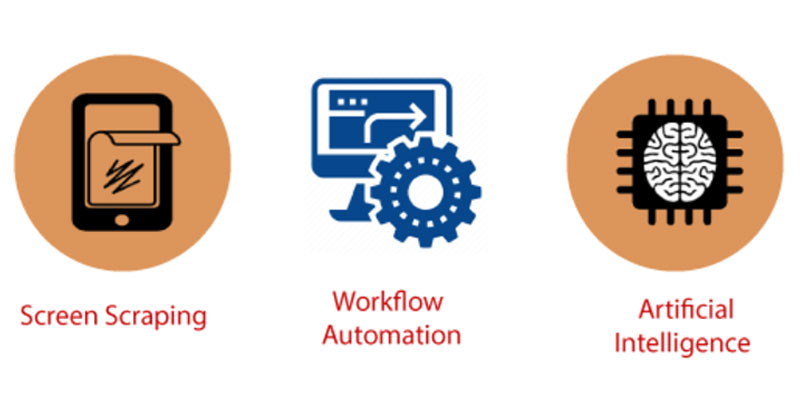 The first wave of RPA can be attributed to screen scraping tools that were used to automate data entry tasks by mimicking human interactions with the user interface. These tools enabled organisations to automate manual processes without making changes to their underlying systems.
As technology advanced, RPA evolved into a more sophisticated solution capable of handling complex tasks. The introduction of rule-based automation allowed organisations to automate decision-making processes by defining logical rules and conditions. This further reduced the need for human intervention and improved process accuracy.
Artificial intelligence and machine learning have both advanced recently, RPA gained the ability to process unstructured data and perform cognitive tasks. This gave rise to intelligent automation, where RPA bots can understand and interpret natural language, make informed decisions, and learn from experience.
Today, RPA has become a vital technology for businesses across various industries. It enables organisations to automate repetitive and rule-based tasks, improve process efficiency, reduce errors, and free up human resources to focus on more strategic activities. The continuous advancements in RPA technology, such as the integration of machine learning and AI, are further driving its adoption and expanding its capabilities.
Understand new technologies in Robotic Process Automation by joining RPA Training in Bangalore and start learning with real time projects!
RPA in Practice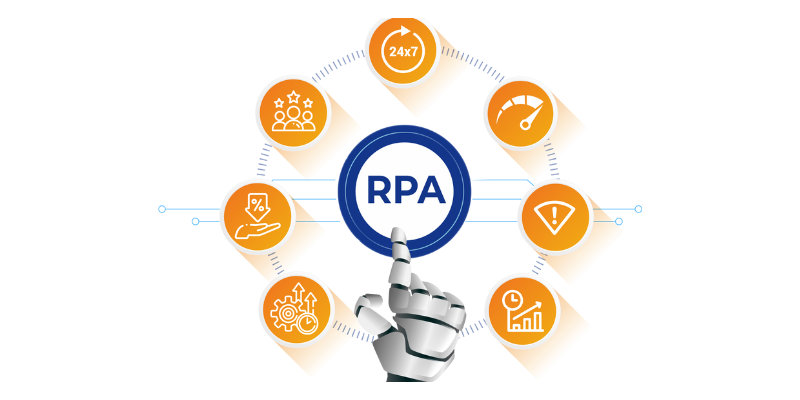 RPA (Robotic Process Automation) in practice refers to the practical implementation and utilisation of RPA technologies within organisations to automate various business processes. It involves the deployment of software robots or bots that can mimic human actions and interact with different applications and systems to perform tasks.
In practice, RPA begins with identifying suitable processes for automation. This involves analysing repetitive, rule-based, and high-volume tasks that are prone to human error or consume significant time and resources. Once the processes are selected, the next step is to design the automation workflow, which includes defining the sequence of actions and rules that the bots will follow.
The implementation of RPA involves configuring the software robots to perform specific actions such as data entry, data validation, data extraction, report generation, and more. The bots are programmed to interact with various applications and systems through user interfaces, APIs, or integration with existing software.
RPA, in practice, offers several benefits. It improves process efficiency by executing tasks faster and with greater accuracy, reduces manual errors, enhances data quality, and enables 24/7 operations. RPA also allows organisations to reallocate human resources to more value-added activities, ultimately boosting productivity and customer satisfaction.
However, successful implementation of RPA requires careful planning, stakeholder engagement, and continuous monitoring. Organisations must ensure proper governance, security, and compliance measures to protect sensitive data and maintain process integrity.
Overall, RPA, in practice, empowers organisations to achieve operational excellence, optimise resource utilisation, and drive digital transformation by automating repetitive and mundane tasks, thereby enabling employees to focus on strategic initiatives and higher-value activities.
Enrol RPA Training in Pondicherry and learn about the new technologies and trends in the field of RPA with our expert trainers.
Key Benefits of RPA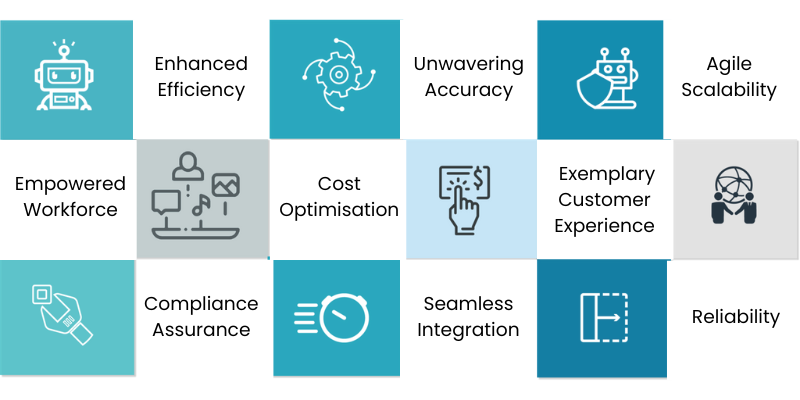 Robotic Process Automation (RPA) revolutionises business operations with a range of compelling benefits. Here are the key advantages of implementing RPA, reshaping the corporate landscape:
Enhanced Efficiency: RPA accelerates productivity by automating repetitive tasks with unprecedented speed. Bots tirelessly execute processes, significantly reducing cycle times and conserving valuable resources.
Cost Optimisation: RPA eliminates labour-intensive activities, curbing costs associated with human errors, training, and turnover. By reallocating human capital to strategic endeavours, organisations achieve optimal resource utilisation and cost savings.
Unwavering Accuracy: RPA bots adhere rigorously to predefined rules, eliminating errors attributable to human factors. Enhanced data accuracy fosters informed decision-making, amplifying overall process quality.
Agile Scalability: RPA seamlessly adapts to fluctuating business demands, ensuring operational agility. Organisations effortlessly deploy or adjust bots to accommodate workload variations, optimising efficiency and cost-effectiveness.
Empowered Workforce: Liberated from mundane tasks, employees can redirect their focus to high-value activities that require human intellect and creativity. RPA augments job satisfaction and engagement and unleashes innovation.
Exemplary Customer Experience: RPA expedites processes, resulting in faster response times, accelerated service delivery, and reduced errors. Customers benefit from enhanced speed, accuracy, and quality, fostering satisfaction and loyalty.
Compliance Assurance: RPA provides robust audit trails, meticulous documentation, and consistent rule-based execution, ensuring adherence to regulatory requirements. Organisations mitigate compliance risks seamlessly.
Seamless Integration: RPA harmoniously integrates with existing systems, obviating the need for extensive software replacements or custom integrations. Leverage current technology investments while modernising operations effortlessly.
From heightened efficiency and cost optimisation to unwavering accuracy and superior customer experiences, RPA technologies propels organisations forward. Embrace this transformative technology and navigate the future with confidence, efficiency, and competitiveness.
Start learning Machine Learning Course in Chennai and build your skill in new technology for a bright future.
Evolving Trends in RPA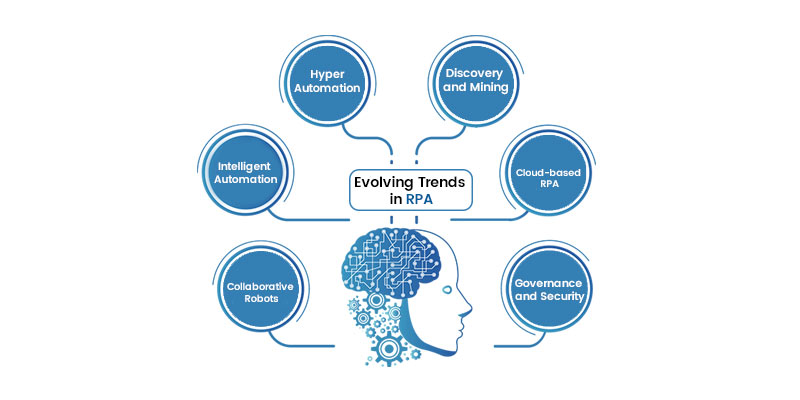 The field of Robotic Process Automation (RPA) is experiencing dynamic evolution, driven by technological advancements and evolving business requirements. Here are the key emerging trends shaping RPA:
Intelligent Automation: RPA is merging with Artificial Intelligence (AI) and Machine Learning (ML) to enable intelligent automation. Cognitive capabilities, including natural language processing and sentiment analysis, empower RPA bots to handle unstructured data, make context-driven decisions, and continuously learn and improve.
Hyperautomation: Hyperautomation encompasses the integration of RPA with complementary automation technologies like process mining, workflow automation, and AI. This convergence facilitates end-to-end automation of complex business processes across systems and departments, maximising operational efficiency.
Process Discovery and Mining: AI-driven process discovery tools analyse user interactions to identify automation opportunities. By capturing process data and generating visual process maps, organisations gain insights into process inefficiencies, enabling effective prioritisation of automation efforts and process optimisation.
Cloud-based RPA: RPA deployments are increasingly shifting towards cloud-based platforms. Cloud-based RPA offers scalability, flexibility, and cost-efficiency, enabling organisations to rapidly scale automation initiatives, leverage cloud-native AI capabilities, and access a wide array of integrations and services.
Citizen Developers: RPA platforms are evolving to empower non-technical business users, known as citizen developers, to create and deploy automation solutions. Low-code or no-code platforms enable business users to build and manage bots independently, reducing reliance on IT resources and accelerating automation adoption.
Governance and Security: With the expansion of RPA implementations, organisations are placing heightened focus on governance and security. Robust control mechanisms, access management protocols, and data encryption are being implemented to ensure compliance, data privacy, and protection against cybersecurity threats.
Collaborative Robots (Cobots): Collaborative robots, or cobots, are redefining RPA by working alongside humans in tasks that require human interaction or decision-making. Cobots leverage automation while complementing human capabilities, fostering efficient human-robot collaboration.
These emerging trends in RPA technologies are reshaping the automation landscape, ushering in intelligent, scalable, and secure automation solutions. Organisations that embrace these trends can unlock significant opportunities to optimise processes, enhance operational efficiency, and achieve impactful digital transformations.
By joining the Artificial Intelligence Course in Pune, you will understand about AI from basics and how to build skills in it with different real-time projects.
Future Outlook
The future outlook of Robotic Process Automation (RPA) holds immense potential as the technology continues to advance and mature. Here are key aspects shaping the future of RPA:
Intelligent Automation: RPA is expected to evolve further with increased integration of Artificial Intelligence (AI) and Machine Learning (ML) capabilities. Intelligent automation will enable RPA bots to handle more complex tasks, learn from data patterns, make autonomous decisions, and engage in natural language interactions.
Process Transformation: RPA will not only automate existing processes but also facilitate process transformation and reengineering. Organisations will leverage RPA to reimagine and optimise end-to-end processes, leveraging automation and data-driven insights to drive operational excellence.
Hyper-Automation Ecosystems: RPA will play a pivotal role in hyper-automation ecosystems, combining RPA with complementary technologies such as AI, process mining, and workflow automation. This holistic approach will enable organisations to achieve seamless end-to-end automation, harnessing the power of multiple automation tools working in synergy.
Augmented Workforce: RPA will augment human capabilities, leading to the emergence of augmented workforces. Humans and bots will collaborate, with bots handling repetitive and rule-based tasks, while humans focus on creative problem-solving, innovation, and customer-centric activities.
Advanced Analytics and Predictive Insights: RPA will increasingly leverage advanced analytics and predictive insights. Bots will analyse vast amounts of data, identify patterns, and provide actionable insights for decision-making, process optimisation, and proactive problem-solving.
Ethical and Responsible Automation: With the growing influence of RPA, there will be a heightened emphasis on ethical and responsible automation practices. Organisations will prioritise transparency, fairness, and accountability while deploying RPA, ensuring responsible handling of data, and mitigating potential risks.
Continuous Evolution and Adaptation: RPA will continue to evolve rapidly, adapting to new technologies, business models, and regulatory requirements. Organisations will need to embrace a culture of continuous learning, flexibility, and adaptability to leverage the full potential of RPA in the ever-changing digital landscape.
The future of RPA technologies is poised for remarkable growth and innovation. Intelligent automation, process transformation, hyper-automation ecosystems, augmented workforces, advanced analytics, and responsible automation practices will define the future landscape of RPA, enabling organisations to achieve unprecedented levels of efficiency, agility, and competitiveness.
The evolution of robotic automation process tools has witnessed significant advancements, empowering organisations to achieve unprecedented levels of efficiency and productivity. As RPA continues to mature and align with emerging technologies, the future looks promising, with increased intelligence, collaboration, and transformation across industries. To leverage the full potential of RPA and types of robotic process automation, organisations must stay abreast of the latest trends.