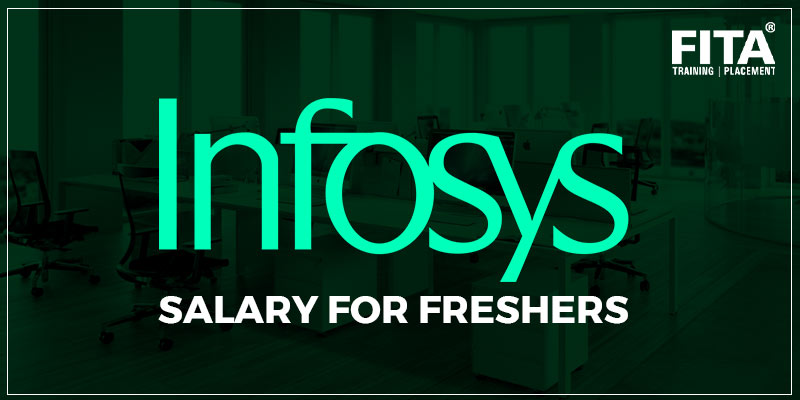 Today let us talk about the Infosys Fresher Salary. Infosys or Infosys Limited is an Indian-based Conglomerate providing software services to its clients. The company was founded in 1981 by a group of seven engineers named N.R Narayana Murthy, Nandan Nilekani, S. Gopalakrishnan, S.D. Shibulal, K. Dinesh, N.S. Raghavan and Ashok Arora. Infosys became the second-largest IT company in India after TCS in 2020 by the revenue it earned in that particular year. In Forbes Global 2000 ranking it acquired 602nd position for the largest company in the world. In 2021, Infosys is the fourth Indian company to cross the $100 million in market capitalization.
The company was first named Infosys Consultants Private Limited in 1981, then changed to Infosys Technologies Private Limited in 1992, and in the same year, the name was again changed to Infosys Technologies Limited, and finally in 2011 it acquired the name Infosys Limited. Infosys provides many services, some of them are Software Development and Independent Validation Services to industries like Finance, Insurance, Manufacturing, and other industries. Also, some of its popular products are Finacle, a universal banking solution for retail and corporate banking.
NIA, Next-generation Integrated AI Platform, Infosys Consulting, Cloud-based enterprise services, Infosys Information Platform (IIP), EdgeVerve Systems, Panaya Cloud Suite, Skava, Engineering, and Digital Marketing Services. Infosys has its development centers in 123 places, including India, the United States, China, Australia, Japan, the Middle East, and Europe.
Why should I join Infosys as a Fresher?
Before we get to the main topic, let us look at some of the top ten reasons why working at Infosys is rewarding.
1. Working with Latest Technologies
Infosys is known for working with the latest technologies available in the IT industry. It helps its employees follow the same principle. Thus, Infosys employees are allowed to practice and work with the latest technologies, helping them enhance their knowledge and skills. This is one of the big advantages of working in Infosys.
Infosys Fresher Salary is one of the other advantages many students consider joining Infosys.
2. Popular Training Programs
If you get the chance to work at Infosys, you will undergo the Harvard Manage Mentor training which is a popular course at Infosys consisting of 30 courses that are based on the Harvard Business School Framework that help leverage the management skills of the employees.
3. You think like an Entrepreneur
Infosys believes in helping grow its employees with an entrepreneurial mindset. This means it is a new opportunity for everyone in the company to grow their knowledge and skills. It also means finding the complex problems on their own and also coming up with their own solutions for the same.
4. Develop Solutions for Popular Brands
Working in Infosys means getting the opportunity to work with popular brands and the most important thing is developing solutions for their business problems. Working with popular brands across the world means getting the opportunity to travel abroad and work in the most developed countries.
The Infosys Basic Salary for Freshers is one of the critical reasons Infosys is famous for.
5. Do Extracurricular Activities
Yes. Infosys is more than just a platform for coding. It is more like an international school or college campus with other platforms for extracurricular activities. Infosys has 16 libraries, 3 bowling alleys, 23 Gyms, 16 shopping centers, 11 Swimming pools, 8 Cricket pitches, and 36 food courts.
6. CSR Activities
Every multinational company does CSR activities to help their communities come up and lead a good lifestyle. Infosys is also one among them who does CSR activities often and also encourages its employees to do the same to donate money or necessities to low-privileged people.
7. You can showcase your individuality
Infosys is one of the many international companies that have a diverse workforce. Employees or people are from different ethnicities, cultures, and backgrounds and Infosys highly welcomes this. It has a talent pool of many skilled employees who are encouraged to showcase their uniqueness and talents.
8. You can be the game-changer
Yes, Infosys believes in employees who think who can perform beyond the call of duty and highly encourages them to come up with new ideas and solutions for their business needs. This way employees can grow to be leaders and game-changers for the company. It is not just about doing what you are asked to do but seeing the whole picture and getting the hang of it. Think beyond the boundaries and perform to your fullest. This is what Infosys expects from you.
9. You will get to work in an enthusiastic environment
Infosys is not a serious place to work for. Rather it is an enthusiastic environment where you will meet like-minded people who are equally enthusiastic about their work. Moreover, Infosys has an internal education program like Infosys Global Hackathon where you can express and experiment with your ideas and talents and find solutions for critical problems like air pollution mapping and for other industries like health, automation, software applications, robotics, and more.
10. Join the Clubhouses
Infosys has over 100 clubhouses where you can participate in music sessions, read novels and literature and engage in a photography competition, etc. There are many things to do at Infosys Clubhouse and the above-mentioned are some of the fun activities that happen at Infosys Clubhouse.
To join Infosys and be the best in your field, choose any of the training programs provided by FITA Academy like Cloud Computing Training in Chennai or any other course and attain expertise in the field.
Let us now see the various job roles for freshers and what is the Salary in Infosys for Freshers.
Infosys Salary for Freshers
The Infosys company mainly has three divisions under which professionals work. They are,
Delivery Stream
Consulting Stream
Technology Stream
Job Levels at Infosys Limited for Delivery Team
Trainees
Systems Engineer
Senior Systems Engineer
Technical Analyst
Technical Lead
Project Manager
Senior Project Manager
Group Project Manager
Delivery Manager
Senior Delivery Manager
Assistant Vice President
Vice President
Job Levels at Infosys for Consulting Stream
Associate Business Analyst
Associate Consultant
Senior Associate Consultant or Business Analyst
Consultant
Senior Consultant
Lead Consultant
Principal Consultant
Industry Principal
Senior Industry Principal
Job Levels at Infosys for Technology Stream
Technology Architect
Senior Technology Architect
Principal Technology Architect
Senior Principal Technology Architect
To become a Software Engineer in Infosys, join our Java Training in Chennai at FITA Academy or you can also choose other software courses.
Let us see each of the basic job levels with the responsibilities and the Infosys Salary Structure for each of the job roles.
1. System Engineer Trainee
This position is given to the freshers who recently graduated from the college. This is the basic level job position in the Infosys company. They are assigned the basic level responsibilities and given the training to learn the technologies and tools. Let us now see the responsibilities of the Assistant System Engineer Trainees.
Responsibilities of the System Engineer Trainee
Analyze the root cause of the issue and execute solutions or suggested changes.
Perform analysis on the new changes before transforming them to the live production system.
Execute changes in production with minimum impact on the current functionality and users.
Monitor the system to make sure the users are not affected.
Restore systems from clashes and unprecedented failures. Reassess performance parameters with database administrators and system engineers to identify obstacles.
Attend meetings with the client manager to reassess the issues. Team up with other departments involved in the application development during issues.
Skills needed for a System Engineer Trainee
Knowledge of Core Programming languages such as Java, C and C++.
Knowledge of advanced Java technologies like Java Servlets, JSP, Java Beans, and EJB.
Knowledge of Scripting languages like JavaScript, UNIX, and Python.
Proficiency in Front-end languages like HTML, CSS, and XML.
Proficiency in PL/SQL and SQL.
The Salary of a System Engineer Trainee in Infosys is Rs. 3,42,356 per annum.
If you want to be proficient in a programming language, choose our Python Training in Bangalore where you will be trained by industry experts who have maximum experience in the field.
The Infosys Salary Structure is designed according to your experience and skills.
2. Systems Engineer
A System Engineer is responsible for managing the engineering, business, and management aspects of the project or a system and ensures all the parts work properly. Systems Engineers see the whole picture of the project and additionally oversee the engineering aspects and should analyze details like cost, organizing the schedule that is linked with a project.
Responsibilities of the System Engineer include
Oversees the existing systems to make sure structural integrity.
Monitor the development and installation of new hardware and software.
Launch and Configure the Operating Systems and other software and test the launched software for obstruction detection and other issues.
Offer technical support to IT and support staff
Make sure the constant availability of technical resources.
Illustrate and deploy security systems to maintain data security.
Develop custom scripts to lessen the need for manual intervention.
Skills needed to become a System Engineer
Problem-Solving skills
Expertise in Data Architecture
Coding Skills
Proficiency in Cloud Computing
Expertise in Virtualization software like VMware, Virtual Box.
Communication skills
Customer Skills
Time Management skills
The salary of a System Engineer in Infosys is around Rs. 3 lakhs to 4 lakhs per annum.
Students can also choose the Web Designing Training in Chennai at FITA Academy and be the best Web Developer in their domain. The Salary in Infosys for Freshers is pretty high compared to other IT companies.
3. Associate Business Analyst
A Business Analyst is a key professional in an organization. He/She is the one responsible for achieving the company's goals. Some of their day-to-day duties include evaluating business data, financial data, preparing reports, complying with the company's business procedures, and delivering information to stakeholders.
Some of their other responsibilities include,
Developing an in-depth business analysis, highlighting the problems, opportunities, and solutions for the business.
Creating a Budget and forecasting the results.
Pre-planning and overseeing the business strategies.
Variance analysis
Alloting price to the products.
Reporting
Properly briefing the business requirements and reporting them to the stakeholders.
Skills Expected from an Associate Business Analyst
Verbal and written communication skills
Leadership and Consultative skills
Logical and Analytical thinking skills
Problem-Solving skills
Being precise and delivering a high level of accuracy
Organizational Skills
Expertise in Business Structure
Comprehending Networks, Databases, and other technology.
The Associate Business Analyst salary for a fresher in Infosys ranges from 2 to 4 lakhs per annum. The Infosys Basic Salary for Freshers is quite decent so the freshers get a good take-home salary.
4. Associate Consultant
An Associate Consultant is the one who analyses the project requirements based on the customer's needs and specifications. He/She is also responsible for making the team deliver the project efficiently. They also test the system applications and network infrastructure to suggest the potential modifications for improvised performance and efficient navigation.
Some of their responsibilities are,
Communicate with clients and the project team to enhance the project work.
Reassess and edit all customer communication documents.
Give training to customers on project deliverables.
Answer customers' questions and queries in a timely manner.
Give business resolutions and suggestions to customers to meet the project goals.
Interact with customers to precisely understand the project requirements and vision.
Keep a high level of professionalism and competence while communicating with customers.
Oversee and report the project status to customers often.
Skills required to be an Associate Consultant
Consulting expertise
Technical expertise
Knowledge of the business processes
Fluent communication skills
Precise attention to detail
Logical and Analytical skill
Problem-solving skill
The Salary of an Associate Consultant in Infosys ranges between Rs 3 to 4 lakhs per annum.
Manual Testing Training in Chennai course is also available at FITA Academy for students to learn all the important and advanced concepts of Testing and be the competitive Manual Testing Engineer in your workplace.
6. Technical Architect
A Technical Architect also called an IT Systems Architect is a System Management Specialist who develops, manages, and deploys IT systems for a business or IT company. A Technical Architect needs both IT or System Knowledge and Management Skills to achieve success in the Technical Architect career.
A Technical Architect has many responsibilities and they are,
Teaming up with Managers and Customers and discussing the technical requirements.
Finding the hardware and software components that will be needed.
Briefing plans to designers and developers
Properly planning the workloads of the technical team
Overseeing the progress of the project and making sure it is completed on time.
Reporting the progress to Managers and Customers.
Executing technical works depending on the level of your seniority
Checking the systems' work as said
Recommending future IT needs to Managers or Clients.
Skills Expected from a Technical Architect
Data Modeling
Comprehending Frameworks
Understanding Deisgn tools
Knowledge of UML
Analyzing the requirements
Finding complex issues
Communication skills
Analytical and Logical thinking
Problem Solving skill
The salary of a technical Architect in Infosys ranges between Rs. 2 to 4 lakhs per annum.
Conclusion
The Infosys Freshers Salary purely depends on your skills, expertise and knowledge of that particular field. Infosys hires more freshers each year so make use of this opportunity by getting certified in the advanced and latest technologies. There are more job roles in Infosys and Infosys Package for Freshers, so kindly explore the different job roles and study them before applying. FITA Academy provides training and certification programs for everyone to make them experts in the particular technology and attain proficiency. We also provide placement support for students to expose them to the job opportunities available in their field.