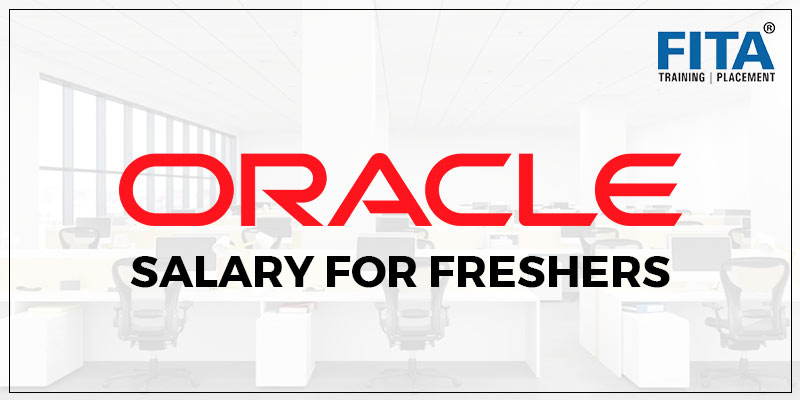 Oracle is an American Conglomerate that runs majorly IT services and it is headquartered in Autin, Texas. Oracle holds the position as the second-largest IT company in the world by revenue and market capitalization. The company has produced many products such as the Oracle Cloud Infrastructure under which Analytics and BI, Compute, Containers and Functions, Content Management, Database Services, Data Lakehouse are the services that are utilized. Then the OCI services, Database Software, Java, Linux, Hardware, and Exadata are the other products delivered by the Oracle Corporation.
The Industries it serves are Automotive, Communications, Construction and Engineering, Consumer Goods, Financial Services, Hospitality, Industrial Manufacturing, Life Sciences, Media and Entertainment, Food and Beverages, Health Care, Retail, etc.
The Oracle Salary for Freshers is high compared to other companies in the IT domain.
Oracle Salary for Freshers
Oracle is an awesome place to work as there is immense opportunity for everyone with expert knowledge. Since the company deals with many software products such as Cloud, Database, ERP (Enterprise Resource Planning software), CRM (Customer Relationship Management), and many more there are many more job roles and domains for freshers and experienced professionals to work. Some of the job domains available in Oracle are Sales, Engineering and Development, Consulting, Corporate, and Software Jobs. Let us discuss some of the most prominent job roles in the Oracle company.
SQL and PL/SQL Developer – A SQL Developer is one who is proficient at using the Structured Query Language which is used to develop and manage computer database applications. Candidates joining as SQL or PL/SQL Developer need to possess complete knowledge about complex SQL queries, table integrity, transaction management, function, procedure, package, etc. The salary of a fresher SQL Developer in Oracle ranges between Rs. 3 to 4 lakhs per annum.

The Oracle Freshers Salary depends on your skill, expertise, knowledge, and proficiency in technology.

Database Administrator – A Database Administrator is a professional who manages and secures data in one or more data systems so that the client can perform analysis for Business Operations. Database Administrators handle data storage, organization, presentation, utilization, and analysis from a technical point of view.
Some other familiar jobs include Oracle Testing Engineer, Oracle Java Developer, Associate Consultant, Oracle Cloud Finance Analyst, etc. The Oracle Freshers Salary for these professionals ranges between Rs. 2 to 4 lakhs per annum.
Why Should You Choose Oracle as a Fresher?
1. Awesome Perks (Benefits) – Working with a big brand like Oracle has many benefits. Apart from providing value and a good pay scale to its employees, oracle has many awesome benefits for them.
Wellness Plans – They provide a broad medical plan that covers life insurance, disability, and critical illness.
Retirement Plans – Oracle deducts 12% of employee's salary as Provident fund. Oracle also provides superannuation and NPS.
Oracle provides childcare services and has an Onsite Gym for its employees.
Assists with Relocation – They also assist their employees with relocation and also provide for their security deposit.
2. Training Programs and Career Development Opportunities – Oracle provides a professional and healthy environment for its employees to grow in their careers. They provide a lot of certification programs to upskill the skill of their employees. They also have an internal talent development team through which employees can discuss new opportunities and the resources to utilize to enhance their career skills and also move to the next level. The Oracle Company Salary for Freshers is designed to the candidates' experience, skills, and knowledge.
3. Work with Advanced and Latest technology – As we already saw Oracle is an IT giant so it is obvious that its employees will be working with the latest and newest and advanced technologies. Oracle has developed great products like MySQL, Oracle Database, Virtualbox, etc. So oracle will definitely train its employees to learn the newest technologies to fix the skill gaps. This is one of the reasons many Engineers dream is to work in the Oracle company.
4. A Diverse and fast-paced work environment – Oracle has a diverse and fast-paced work environment. The employees are from different ethnicities so you can find the work environment appealing and creative with full of ideas and enthusiasm. Since Oracle is a big Conglomerate, you find yourself competitive and energized to come to the office every day and work with the same enthusiasm. Oracle prefers hiring freshers more as they have an ideology that freshers will be more enthusiastic, full of ideas, and dynamic professionals. This makes Oracle a powerful and creative environment to work in.
Salary
Again Salary is not a constraint when it comes to working in Oracle.  A big corporation like Oracle does not hold back when it comes to paying expert knowledge professionals. So if you think you are the right fit and have all the skills and proficiency, you are always welcome in the Oracle corporation. Professions like SQL Developer or PL/SQL Developer and Database Administrator are always paid high. So when it comes down to the Oracle Salary for Freshers, it depends on your knowledge, skills, proficiency, and performance in your working environment. There are more job opportunities available in Oracle, so explore them and make the best use of them.
We provide an extensive training program for students to learn the Oracle Course in Chennai at FITA Academy through which students can learn the essential concepts of Oracle and its applications.
We also provide the Oracle Course in Bangalore for Bangalore students so they can gain a broad knowledge of the Oracle Database.