Course Highlights and Why Selenium with Python Training in Bangalore at FITA?
The Selenium with Python course in Bangalore at FITA Academy provides a complete understanding of using Selenium With Python for test automation across various platforms.
Learners are introduced to different types of Selenium with Python automation tools.
FITA Academy's Selenium with Python Training Institute in Bangalore provides the convenient mode of training for the Students. It can be customized depending on whether you are an expert or a beginner in the course.
Learners are trained in handling Selenium with Python and its various features, such as Pinterest robot framework, cross-platform support, etc.
Selenium with Python training in Bangalore provides the best mix of theoretical lessons for a solid and practical understanding of technical skills.
We provide excellent placement opportunities to the students who have completed the course successfully.
Upcoming Batches
| | | | |
| --- | --- | --- | --- |
| 23-09-2023 | Weekend | Saturday (Saturday - Sunday) | |
| 25-09-2023 | Weekdays | Monday (Monday - Friday) | |
| 28-09-2023 | Weekdays | Thursday (Monday - Friday) | |
| 30-09-2023 | Weekend | Saturday (Saturday - Sunday) | |

Classroom Training
Get trained by Industry Experts via Classroom Training at any of the FITA branches near you
Why Wait? Jump Start your Career by taking the Selenium with Python Classroom Training in Bangalore!
Instructor-Led Live Online Training
Take-up Instructor-led Live Online Training. Get the Recorded Videos of each session.
Travelling is a Constraint? Jump Start your Career by taking the Selenium with Python Course Online!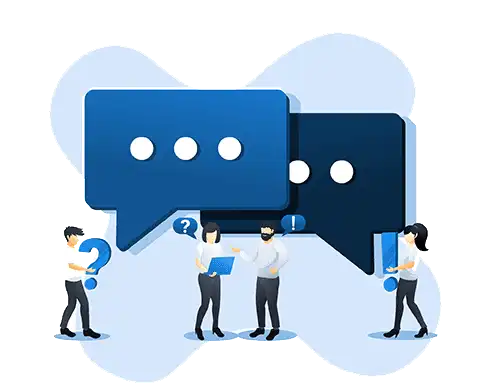 Have Queries? Talk to our Career Counselor
for more Guidance on picking the right Career for you! .
Trainer Profile
Trainers at FITA Academy believe that blended learning will enable the students to learn the best.
The Selenium With Python Course in Bangalore is designed carefully to meet global standards in industry and prepare the learners for a better understanding.
Trainers are industry experts with 10+ years of experience in software development.
The trainers apply various training techniques, such as real-time sessions, group sessions, case studies, and group work, to provide an exciting and valuable learning experience.
Whether you are a fresher or an expert, our trainers will effectively train you to use Selenium test automation tools with Python.
Trainers will offer support and feedback as needed so that you can feel confident and inspired to take on practical assignments to develop your skills.
Features
Real-Time Experts as Trainers
At FITA Academy, You will Learn from the Experts from industry who are Passionate in sharing their Knowledge with Learners. Get Personally Mentored by the Experts.
LIVE Project
Get an Opportunity to work in Real-time Projects that will give you a Deep Experience. Showcase your Project Experience & Increase your chance of getting Hired!
Certification
Get Certified by FITA Academy. Also, get Equipped to Clear Global Certifications. 72% FITA Academy Students appear for Global Certifications and 100% of them Clear it.
Affordable Fees
At FITA Academy, Course Fee is not only Affordable, but you have the option to pay it in Installments. Quality Training at an Affordable Price is our Motto.
Flexibility
At FITA Academy, you get Ultimate Flexibility. Classroom or Online Training? Early morning or Late evenings? Weekdays or Weekends? Regular Pace or Fast Track? - Pick whatever suits you the Best.
Placement Support
Tie-up & MOU with more than 1500+ Small & Medium Companies to Support you with Opportunities to Kick-Start & Step-up your Career.
Selenium with Python Certification Training
About Selenium with Python Certification Training in Bangalore
at FITA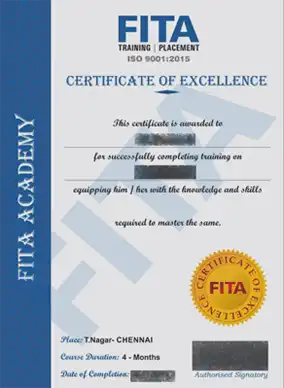 Selenium with Python Certification Training in Bangalore
The Selenium with Python Course in Bangalore and its Certification program offered by FITA Academy is a valuable credential that can enhance your professional profile when presented alongside your CV during interviews. This certification serves as an official validation of the technical expertise you gain throughout the training course. Upon successful completion of the Selenium with Python Training at FITA Academy, you will acquire a comprehensive understanding of automation testing processes and their practical applications. The program is conducted by experienced Selenium testing experts who not only impart essential testing knowledge but also provide intensive, hands-on training to students.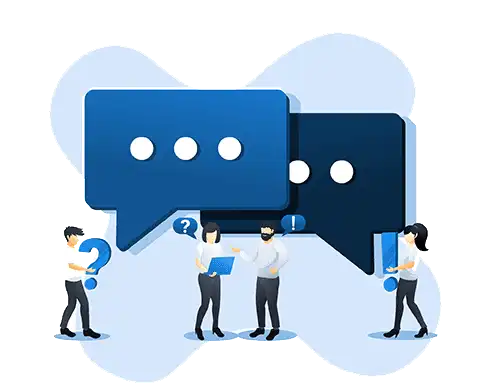 Have Queries? Talk to our Career Counselor
for more Guidance on picking the right Career for you! .
Job Opportunities After Completing Selenium with Python Training in Bangalore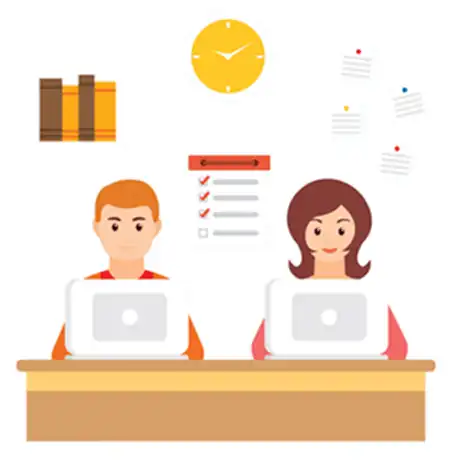 In the constantly evolving realm of technology, Selenium with Python Course in Bangalore emerges as a prominent programming language course, offering promising career prospects for aspiring tech professionals. Recent reports from Forbes highlight Python's coveted status as the most sought-after skill in 2020. Impressively, Python boasts a substantial developer base of 8.2 million, surpassing other popular languages like Java, which has 7.2 million developers, as per data from SlashData.
Python's phenomenal growth can be attributed to its versatility and adaptability. Renowned for its simplicity, Selenium with Python serves as an ideal choice for newcomers. Its applications span diverse domains, including web application development, game development, and Data Science. Moreover, Python plays a pivotal role in shaping the future of emerging technologies such as Artificial Intelligence, Networking, and Big Data.
 Leading organizations like NASA, Google, Yahoo Maps, YouTube, Dropbox, Facebook, Amazon, PayPal, Instagram, Quora, Spotify, Flipkart, Slack, Uber, and IBM rely on Python for their operations. Proficiency in Python unlocks a wide array of career opportunities, with job titles such as Software Developer, Software Programmer, Python Developer, Software Engineer, Data Analyst, and Research Analyst being commonplace in these organizations. Leading job portals in India reveal a staggering number of Python job openings, ranging from 20,000 to 40,000+ on each site, underscoring the surging demand for Python developers.
Selenium with Python professionals in India enjoy competitive salaries, with entry-level Python Developers earning annual incomes between Rs. 3,60,000 to Rs. 4,20,000. Those with 3-5 years of experience can expect to earn approximately Rs. 4,50,000 to Rs. 6,20,000 per year, while seasoned experts boasting 5+ years of experience and specialized skill sets command salaries ranging from Rs. 6,50,000 to Rs. 8,00,000 annually. Globally, Python Developers earn an average annual salary of $71,789, with compensation packages varying based on experience, skill sets, and organizational policies.
Embark on a promising career journey by mastering Selenium with Python at FITA Academy. Our comprehensive training program equips you with the skills needed to excel in this dynamic field, opening doors to a world of opportunities in the ever-expanding technology landscape. Join us today to shape your future with expertise in Python.
Student Testimonials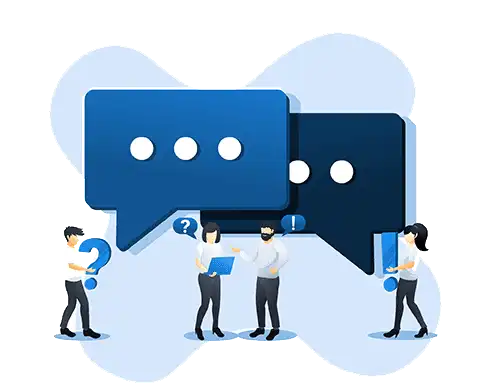 Have Queries? Talk to our Career Counselor
for more Guidance on picking the right Career for you! .
Additional Information
Selenium with Python Course in Bangalore is one of the foremost broadly utilised computerisation testing systems and tool packages for functional testing software applications and other online services. To examine the behaviour and functionality of a software application in a real-world setting, auto testing, also known as test automation, employs software to execute automated test scripts and compare the actual results with the expected standard outcomes. Functional tests are a quality assurance measure to ensure that the application is functional and that all end-user requirements are significantly and satisfactorily met. At present, Python is among the most demanded programming languages. It is considered an all-rounder and provides its consumers with many advantages. Utilising software like Flask Django and other similar technologies, you can build websites using Python. Selenium can also be used for web automation tasks. Python can also be utilised for machine learning, Data Science, etc. It is a favoured language among programmers due to its honest syntax and the abundance of libraries and packages it offers.
Learning Python is managable. It brags of one of the most significant designer communities in the world and is prepared to help you with any issues you may have. It is an open source free to use at a high level.
Types of Selenium Tools
Selenium Integrated Development Environment
IDE was designed to speed up the creation of robotisation writings. It is a fast photocopying instrument and can be utilised by engineers with no programming knowledge at all.
Selenium features a few disadvantages:
It does not support data-driven testing.
It does not carry out database testing.
It does not provide a point-by-point test account.
It can't swap to web driver scripts.
Selenium Remote Control
In the beginning, a device called Selenium Core was designed. It is a Java script skill set that explains and carries out several commands using the browser's Javascript translation.
Be that as it may, the programme can't get to the elements of other spaces like Yahoo.com. Replicas of selenium core and net browser had to be introduced to prove they came from the exact origin. The server pretends to be a client and assists with the system HTTP.
Selenium Web Driver
Unlike Selenium Remote control web drivers, you don't need a centre motor like Selenium Remote control. The web driver supports programming languages like Python, Ruby, PHP and Pearl. Among others, and can be used with other systems like testNG and JUnit for testing.
The design of the Selenium webdriver is plain and easy to understand.
Selenium Test Script
Selenium test code is given in a programming language, whether in JAVA or Python.
JSON Wire Protocol
Gives a custom a transparent component to exchange information between a server and a client.
Browsers Drivers
Selenium employs a specific driver particular to each browser to get a safe connection with the browser.
Browsers
Selenium web drivers propose different web browsers to experiment with and run applications on.
Advantages of using the Selenium Testing Tool
Selenium has proven to be a replica, hence making it solid.
Selenium became an open source; hence, anyone willing to learn can begin at no cost.
Selenium holds many programming languages like Python, PHR Pearl and Ruby.
Selenium supports various browsers like Chrome, Firefox, and Opera.
Selenium is easy to execute and doesn't need to be built to have an in-depth knowledge of the instrument.
Selenium has the bonus of re-usability and add-ons.
As an essential angel of learning about Selenium with Python Training Institute in Bangalore, let us learn the hindrance of selenium testing.
The Restriction of Selenium Testing
Considering that the programming language is an open source to the learners, it does not have an engineering community.
The Selenium will not allow desktop and versatile apps to be tested and relied upon.
Selenium offers a focused back for picture testing.
Selenium has limited backlogs for test administration. The course regularly uses devices like JUNIT testNG for this cause.
Selenium with Python Training Institute in Bangalore is an open-source Robotization test system for testing different functionalities of web-based applications. Selenium permits the utilisation of an assortment of programming dialects, such as Java, Ruby, PHP, Python, C, Perl, etc., to script mechanised testing on web applications. Selenese comprises a set of commands utilised in Selenium computerization testing of web-based applications.