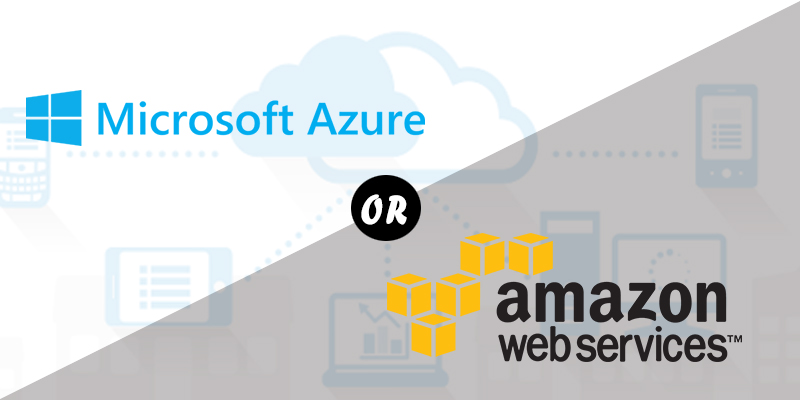 The two biggest names in public cloud computing are Amazon Web Service (AWS) and Microsoft Azure. Which is the best cloud service? Before deciding on that, let's talk about the key differences between these two giants in cloud services.
What are AWS and Azure?
AWS
Amazon web service (AWS) is the cloud service platform of Amazon. It provides services for many domains and helping businesses to scale and grow. The different domains are storage, delivery, compute, and other functionality. These domains can be utilized for the services, which can be used to deploy and create various types of applications in the cloud platform. AWS Training gives you much clarity about numerous applications of the cloud platform. AWS services are divided into three types:
Infrastructure as a service (IaaS)
Software as a service (Saas)
 Platform as a service (PaaS)
Cloud service provides advantages such as:
Cost minimization.
Management overhead reduction.
Azure
Microsoft's Cloud service platform is Azure. It provides the service in many domains it helps the company to scale and grow its business. The different domains like networking, compute, and storage. Azure service is divided into three types:
 Platform as a Service 9SA(PaaS)
Software as a service (SaaS)
Infrastructure as a service (Iaas)
Compute:
AWS
For the calculation process and computing on data, AWS has computers to perform. By the cloud service provider, we can scale thousands of processing nodes. For scalable computing ad AWS uses elastic compute cloud (EC2) as a primary solution.
Azure
Azure uses vital machines for computing purposes and also to extend the sale for large. In Azure, Dockers containers use container service and Dockers container registry uses Container Registry.
Database:
AWS
In all clouds, they allow implementing a database in SQL and NoSQL. By using RDS, AWS uses a relational database as a service. For NoSQL, DynamoDB can be used and for caching, the elastic cache can be used.
Azure
SQL database is mostly used in Azure. SQL Database of Azure is a database-as-a-service (DBaaS). NoSQL used for Cosmos DB and caching purpose used for Redis Cache.
Networking:
AWS
Using different products AWS cloud provides afford network and partners to interconnect with data centers. For networking, AWS uses a virtual private cloud. For cross-premises connectivity, AWS uses API connectivity. During load balance, AWS uses Elastic load balancing.
Azure
For content delivery and networking Azure uses a virtual network. For cross-premises connectivity, Azure uses a VPN gateway. During content delivery, it manages with load balancing and application gateway.
Open-source developers:
AWS
AWS is one of the outstanding sources for open source developers, it allows Linux users several integrations for open source applications.
Azure
Azure provides the provision for enterprise users. They can use directory account to log in on the cloud platform of Azure and execute .net framework on the window, Linux, and macOS
Cloud Services Comparisons
Its an overview and difference between Microsoft Azure and Amazon Web Services. Now you have a better idea than before about the service offered by AWS and Azure. Choice is based on your requirements. You can choose AWS Course if you are interested in a wide range of services and tools. Also, you can choose Azure if you are interested in a good platform as a service (PaaS).