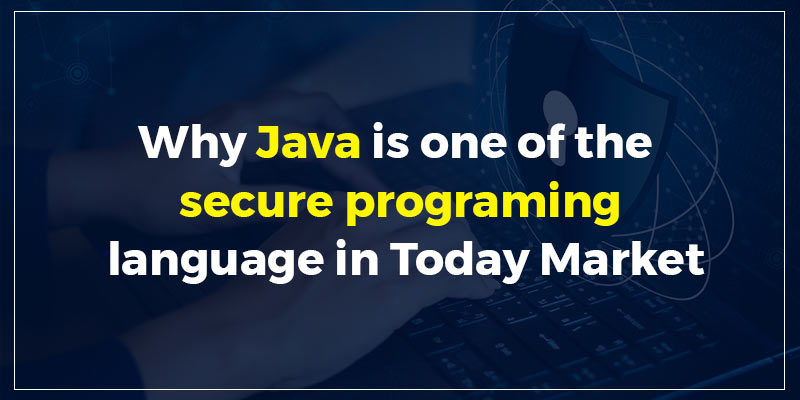 Java is one of the secure programming languages because it has automatic memory management, which removes the need to free space. Java was designed so that it is challenging to have errors since they are caught at compile time rather than having to debug them later on in runtime.
Also, hackers find it harder to break into Java applications compared with other programs written in C++ or Objective-C. Many security libraries are available for use with Java.
What is Java Security?
Java Training at FITA Academy provides you with complete knowledge about java security which refers to the process of ensuring that only intended users can access protected functions, data, or objects. If an application has a bug that allows someone other than the intended user to access restricted resources, the programmer must fix it or face dire consequences. 
The continued growth of Internet use means that online applications are essential for business and commerce, so anyone who gains unauthorized access to another person's information could damage significantly. 
And since many corporations use their computer networks and networks provided by ISPs (Internet service providers), corporations must tightly control network security at all times. 
For example, if an application running on a web server doesn't encrypt passwords sent from web browsers to the server before processing them, hackers can intercept the unencrypted passwords. Therefore, learning how to write Java code that is secure is essential no matter what kind of application you're developing.
Secure Coding Best Practices for Java Developers
Secure coding means more than just writing bug-free code, more than not using default class files or making sure all your strings are allocated in non-writable memory; it also means restricting access to the sensitive operations and data in your application appropriately depending on who needs access to them and who should not have access to them.
Java is the most widely used computer programming language because Java Online Course offers an object-oriented approach to programming that enables building powerful software applications.
 If an attacker has gained unauthorized access to a system, it is vital to ensure that they cannot gain access to data or other resources to which they should not have access.
Java Security: How Secure Is My Application?
For your application to be secure, you need to build and deploy it so that malicious users cannot intercept network transactions and steal sensitive information like passwords, credit card numbers, etc. 
The first line of defense against this type of security problem is the transport layer security (TLS), which uses TCP port 443 by default for encrypting and decrypting network traffic. In Java, the standard implementation of TLS is part of the Java Secure Socket Extension (JSSE) API.
Conclusion
There are many benefits when you are a Java programmer, such as satisfaction in your work, being able to be an expert in programming, working for elite organizations, recognition across the globe, and many more.
If you program to have fun or is it your hobby, you can learn how to optimize your programming skills to benefit your career. Are you looking to master Java programming for a career? Participate in the Java Training in Chennai, which is specifically designed for students and professionals to offer students in-depth and hands-on instruction to master the best practices in the industry.