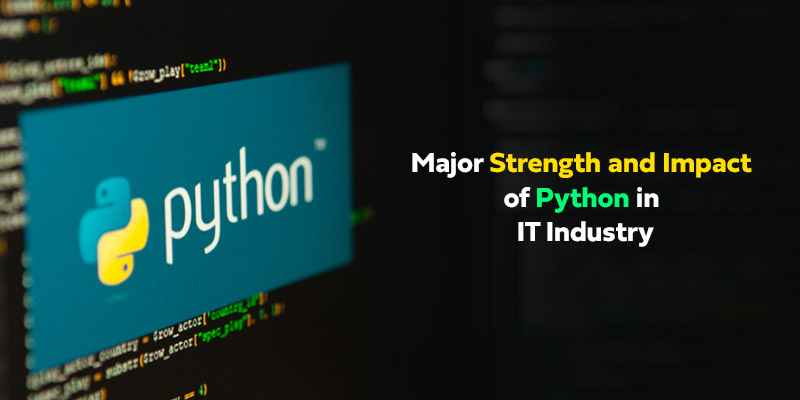 Today, Python is one of the easiest languages to start coding with less code means less room for mistakes and ultimately faster development time. This also makes it easier to understand, read and run when compared with other programming or scripting languages.
The primary reason for its high demand today is that it offers an easy way to write codes for complex problems. It is currently being used in Artificial Intelligence, Robotics, Quantum Computing, Cybersecurity, and Back-End Web Development, Web Scraping, Automation, and Testing.
The Major Strengths of Python
Python is a flexible programming language that may be used for a wide range of applications. Python syntax is applicable to almost any field, from web development to machine learning.
The first major strength of Python is its readability. This means that the code you write in Python will be much easier to understand for other developers since it's written in plain English rather than an obtuse programming language.
This also makes it easy to maintain and avoid bugs, as other coders can pick up your project very easily. One additional key benefit is that because Python has fewer lines, bugs are easy to fix. Compared with other languages where a line of code may have more functions, syntax errors are easier to find and fix.
How Pythons Training Impact to IT Industry
Python is also being taught at most universities nowadays, which means there is a massive pool of people who knows Python but haven't started their career yet – meaning they'd gladly work for less.
The Indian IT industry is vast on Python training, with some of the best Python experts working in the country. An increasing number of companies are looking to build new products using technologies like AI, Big Data, and Machine Learning which are an integral part of contemporary web development.
Thanks to its flexible memory management, ability to load modules at runtime without recompiling, built-in unit testing framework, and easy deployment options, it's being used in modern web development by thousands of companies around the globe. 
Python has also proved itself as an efficient back-end language powering most modern websites today. 
It's simple enough for newcomers but sophisticated enough for experts who use it daily in cutting-edge Technologies. If you want to start a career in Python, FITA Academy experts can Python Online Course to you.
Learn Python
Python is also an ideal language for beginners to start with as it supports object-oriented programming, so if you have little to no experience in coding, Python will give your a headstart. 
Since companies like Google and Yahoo are using it!, developers know that learning Python will open doors. It is also one of the most popular languages on GitHub – where coders store their codes – outnumbering all other languages, including C++, Java, Javascript, and PHP.
Ending Note
Python has become a top choice for creating applications that involve machine learning or intelligence with its ever-growing popularity among web developers by leading Python Training in Chennai.
Like any other language, Python has its own set of pros and cons, but as a beginner, starting with Python is the best thing you can do.