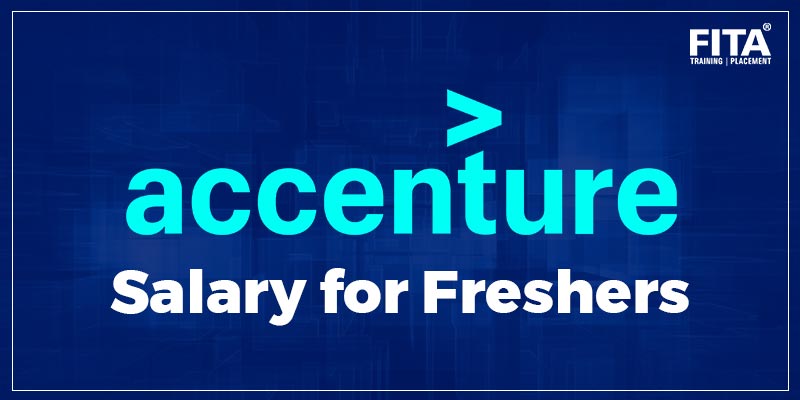 Today, let us talk about the Accenture Salary for Freshers. Accenture is a multinational company providing IT services to businesses around the world. Before discussing the topic, let us understand the company and the services it provides. Also, let us see the reasons to join Accenture as a Fresher and its interview process and finally the Accenture Freshers Salary.
About Accenture
Accenture is an Ireland-Origin multinational company that delivers professional and IT services to businesses around the world. It is one of the Fortune 500 companies as it reported a revenue of $50.53 billion in 2021. It has its headquarters in Dublin, Ireland. Julie Sweet is the CEO of the Accenture company since 2019. Some of its professional services include Accenture Consulting, Accenture Interactive, Accenture Technology, and Accenture Operations. Accenture Consulting offers business strategies, technology strategies, operation strategies, and business and management consulting services. Accenture Interactive provides Digital Marketing, Analytics, and Mobility Services. Accenture technology mainly focuses on providing services such as technology software, implementation, delivery, research, and development. Finally, Accenture operations concentrate on Business Process Outsourcing, IT Services, Cloud Services, Managed operations, and security.
First, let us see the reasons to join Accenture as a Fresher, Accenture Interview Process, and the let us see the Accenture Fresher Salary.
Reasons to join Accenture as a Fresher
1. The Brand speaks for itself
Accenture has become a brand now that working for a multinational company like Accenture is a dream for every IT professional and freshers. The company has put lots of effort and hard work to help the company have a wide reach. Therefore you can be assured that working in a company like Accenture helps you move forward in your career by holding main roles and responsibilities.
2. Work-Life Balance
Most of the employees working in Accenture accept that they have a good work-life balance. Since this is one of the most desired advantages by most of the employees, they can be very well confident that they will experience a good work-life balance.
3. People/Colleagues
Since Accenture is a multinational corporation you can expect to work with people from different cultures and countries. There will be all kinds of professionals working in the top, mid and entry-level which will help you to learn and acquire knowledge from all these professionals.
4. Work Environment/Work Culture
People who have worked in Accenture accept that they have a healthy working environment/work culture. Due to its diversity, you can meet so many like-minded people and share your thoughts and ideas with them, and together find successful business solutions for the problems.
The Accenture Fresher Salary for candidates around the world is high compared to other companies.
Accenture Interview Process
Accenture basically conducts the interview in four rounds to select freshers as Associate Software Engineers. Let us see about each round in detail.
Round 1- Testing your Cognitive and Technical Ability
In Round 1, your basic English skills and technical skills are tested. The topics on which the round is based are,
Testing your English Ability
Analytical reasoning ability
Numerical Ability
Knowledge of MS Office
Knowledge of Pseudocode
Testing your knowledge on the fundamentals of Network Security and Cloud.
The first round will be conducted for nearly 1 ½ hour is 90 min.
Round 2 – Testing your Coding skills
In Round 2, your coding skills are tested. There are two coding questions asked in Round 2.
The first question is based on the basis array concept.
The second question is based on the linked list.
You can use the following programming languages to solve both the questions which are C C++, .Net, Java, Python.
The total time given for the second round is 45 min.
Round 3 – Testing your Communication skills
The third round is not an elimination round. The skills that are tested in the third round are,
Sentence Mastery
Vocabulary
Fluency
Pronunciation
The time given for the third round is 20 min.
Final Round
The final round is a mix of HR and Technical Interviews. Mainly the questions are asked about the details in your resume. The questions are from your final year project also. Some other questions are about the company you are going to work for and some situation-based questions.
The final round may take less than 30 minutes.
Now let us discuss the job levels for freshers as well as the job hierarchy in Accenture and the Accenture Freshers Salary.
Accenture Salary for Freshers
Accenture has four separate streams that constitute its entire working force. The four streams are,
Operations
Strategy and Consulting
Technology
Corporate Functions
Since our stream is technology-based let us see the technology-based roles in Accenture. Accenture follows a hierarchy in assigning job roles for its employees which are called Levels. The hierarchy in Accenture is as follows.
Associate Software Engineer or ASE or Trainee
Software Engineer
Software Analyst
Senior Analyst
Consultant Team Lead or Specialist
Associate Manager
Manager
Senior Manager
Associate Director
Managing Director
After the training is done, employees start to work on Real projects. Let us discuss the roles one by one in detail.
The Accenture Salary Structure changes from professional to professional and it increases after students gain some experience.
1. Google Cloud Developer
A Google Cloud Developer is the one who develops highly scalable cloud applications using Google's suggested practices and tools. The professional certainly has knowledge about cloud-native applications, developer tools, managed services, and future generation databases.
A typical Google Cloud Developer Responsibilities include,
Designing and Deploying Cloud Infrastructures.
Offering support for developing Google Cloud Environments.
Aiding end-user requirements and business needs with evaluating, designing, developing, and testing the modules.
Teaming up with the technical department to find new solutions and support modernization.
First-hand experience on migration from on-prem resources to the cloud.
Work on the development of the GCP Architecture knowing the needs and requirements of the company.
Working with Google Cloud SQL to handle the user data or client data.
Google Cloud Developer Skills
Knowledge of Databases like SQL, MySQL, and MongoDB.
Knowledge of programming languages like Python, Ruby, and Pearl.
Linux Knowledge.
Proficient knowledge in Google Cloud Platform.
Knowledge of Information Security.
Knowledge of Microservices and SpringBoot.
Proficiency in Compute Engine, Application Engine, and Kubernetes Engine.
Should know how to work on Big Data in Google Cloud.
The Salary of a Google Cloud Developer in Accenture is around Rs. 5 lakhs to 6 lakhs per annum.
Becoming Google Cloud Developer is your dream? Then join FITA Academy's Google Cloud Developer Course in Chennai and master the technology.
Python Training in Bangalore is conducted for Bangalore students to help them master the Python Programming Language.
2. Oracle Developer
An Oracle Developer is the one who develops and maintains Oracle Database using the Oracle Technology Stack. They develop either new applications or convert the existing applications to run in an Oracle Database Environment. To do these tasks they need to closely work with Database Administrators.
The Responsibilities of the Oracle Developers are,
Deploying the Data Model required by the application.
Developing Schema Objects and deploying rules for Data Integrity.
Selecting a programming environment for a brand new development project.
Writing Client-side PL/SQL and procedural code which uses SQL statements.
Developing the API with the chosen development tool.
Developing a Globalization support environment for creating globalized applications.
Oracle Developer Skills
Proficiency in Java Programming Language
Knowledge of SQL
Knowledge of BI (Business Intelligence)
Proficiency in PL/SQL
Knowledge of Databases
Understand Business Processes
Skills in Unix, XML and HTML.
The Salary of an Oracle Developer in Accenture is around Rs. 5 to 6 lakhs per annum.
To become an Oracle Developer in Accenture, enroll in our Oracle Course in Chennai at FITA Academy and learn all the concepts related to the Oracle Database.
The Accenture Freshers salary depends on the skills and expertise of the candidates.
3. Data Architect
A Data Architect is an IT professional who designs and manages Data Systems and defines policies for how data is stored and accessed. He/she also aligns various data sources within an organization and incorporates new data technologies into existing IT infrastructures. Data Architects also act as the bridge between the IT and other departments of an organization and closely work with related professionals like Data Engineers, Data Miners, Data Scientists, and Data Analysts.
Create Database solutions to store and get company information.
Launch and configure information systems to make sure the functionalities work well.
Evaluate structural requirements for brand new software and applications.
Move Data from legacy systems to new solutions.
Design Data Models and Flow Charts.
Enhance System performance by testing, troubleshooting, and incorporating new elements.
Enhance new and current database systems.
Set Design and backup procedures.
Data Architect Skills
Comprehending Database Structure Principles.
Evaluate and Analyze System Requirements.
Proficiency in Data Mining and Segmentation Techniques.
Proficiency in SQL and Oracle.
Proficiency in Ms Excel.
Getting familiarised with Data Visualization tools such as Tableau and R.
Analytical and Logical Skills
Problem-solving skills
The Salary of a Data Architect in Accenture is around Rs. 5 to 6 lakhs per annum.
The Accenture Fresher Salary is pretty high compared to other Software companies in India.
4. Informatica Developer
The Informatica Developer is the one who develops, maintains, tests, and debugs the Informatica software applications that are necessary to support the business needs of an organization. They are also responsible for developing solutions for databases that correspond with the needs of their organization.
The other responsibilities of an Informatica Developer are,
Take care of the data storage of a company or organization in a proper way.
Utilize Informatica Software to design and maintain data storage systems.
Analyze the data requirements of your company.
Find faults or errors in the available data.
Evaluate Data Warehousing Systems.
Solve and offer solutions to any kind of issues that arrive.
Do precise technical documentation highlighting the entire process.
Create Data Warehousing Systems by utilizing Informatica tools.
Incorporate Warehousing systems within a company's existing systems.
Informatica Developer Skills
Efficient in Computer Programming and Coding.
Immersive knowledge of Operating and Database Systems.
Comprehending Informatica components.
Having the capability to deploy components into production.
Give production support to implemented components.
Handling ETL tools efficiently.
Getting familiarised with different software development processes.
Proficient knowledge of SQL.
The Salary of an Informatica Developer in Accenture is around Rs. 4 to 5 lakhs or Rs. 5 to 6 lakhs per annum.
To become Informatica Developer in Accenture, join our Informatica Course in Chennai and gain profound and precise knowledge of the Informatica technology by getting trained under the industry experts.
5. Data Analyst
A Data Analyst is an IT professional who finds meaningful information from big sets of data to help businesses take desired actions for the welfare of the company.
Some of the roles and responsibilities of the Data Analysts are,
Utilizing automation tools to extract data from the important – primary and secondary sources.
Getting rid of corrupted data and eliminating the coding errors and problems.
Creating and Managing databases, data systems.
Conducting analysis to check the quality of data.
Utilizing Statistical tools to find, evaluate and interpret patterns and trends in complex data sets might be helpful for predicting the business needs.
Evaluate local, national, and global trends that may create an effect on both the organization and the industry.
File reports for the management to help them understand the trends, patterns, and predictions.
Collect, clean, and model and finally interpret and present the data to the management, clients, and stakeholders.
Data Analyst Skills
Solid Mathematical skills to help businesses gather, measure, organize and evaluate data.
Knowledge of Databases like SQL and Oracle.
Knowledge of programming languages like R and Python.
Technical skills like database design development, data models, data mining, and segmentation.
Handling packages like Business Objects, Programming (JavaScript, XML, or ETL frameworks), or databases.
Efficient in handling platforms like Hadoop and Apache Spark.
Proficiency in handling data visualization software like Tableau and Qlik.
Analytical and Logical Reasoning skills
Problem-solving skills
Having an eye for detail
The skill of presenting the information efficiently
Fluency in Written and Communication skills
The salary of a Data Analyst in Accenture is around Rs. 5 to 6 lakhs per annum.
To become a Data Analyst or a Data Scientist in Verizon, join our Data Science Course in Chennai to learn all the essential and imperative concepts of Data Science technology and to understand its practices clearly.
Conclusion
Through this blog, we have seen the Accenture Package for Freshers along with the corresponding job roles and their responsibilities. The Accenture Company Salary purely depends on the skillsets, knowledge, expertise, and proficiency in technology. To get one of these demanding roles, join FITA Academy and get certified in the popular technologies and programming languages and establish your career in popular companies like Accenture and get a high Accenture Fresher Salary. Apart from the above-mentioned roles, there are so many other job roles available in the Accenture company. So kindly explore them and make the best use of them.