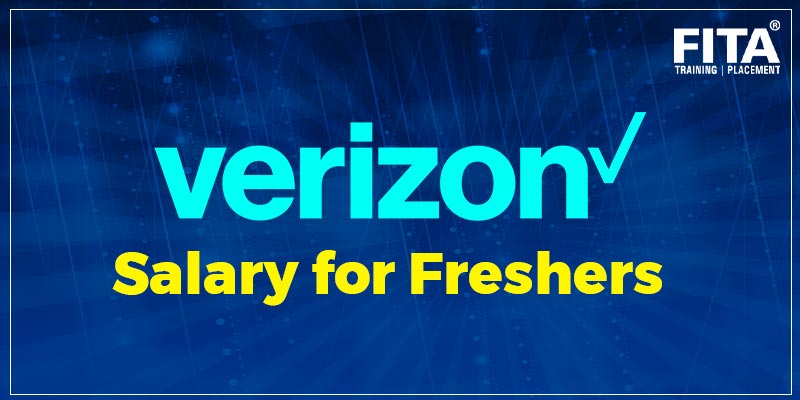 Today we are going to discuss Verizon Salary for Freshers. Verizon is an American company that supplies or distributes mobile network or wireless network to all of the American people. First, it operated as a separate network under the name Verizon Wireless. But, after a reorganization in 2019, it came under Verizon Business and is now the largest wireless carrier in the United States, having 142.8 million subscribers as of 2021. Verizon offers many internet products and services to the American people, like networks for mobile phones, home phones, and other internet-based services. Further, Verizon offers mobile phones, home phones, etc., that use their 4G LTE Network.
Some of its wireless services are,
Wireless Phone Services – Verizon also sells smart mobile devices that are run by Android Os and Apple's iOS. Both the brands use Verizon's 4G LTE Network.
Wireless Home Phone – This service was introduced in February 2015 to provide its users with a wireless home phone connection that uses Verizon's Cellular Network.
Now, as we have seen a brush-up of Verizon and its services, let us know the strong reasons to work for Verizon as a Fresher and then see the Verizon Salary for Freshers.
Why should I work for Verizon as a Fresher?
Innovative Work Environment – Even though Verizon is an established company, it doesn't stop innovating. Being innovative and creative helps the company come up with new solutions for the problems people face. Verizon provides one of the most reliable wireless networks for mobile phones and this was achieved within a short span of time within 10 years. This shows the drive and commitment of the employees and also the management and working along with these people will boost your knowledge and skills.
Be a Part of the Advanced Technology – Verizon offers a 5G Technology mobile network to all its customers. So if you join Verizon you get to be a part of the advanced technology that is 5G. 5G helps in connecting people to the network quicker and faster and it is one the fastest network in the current world. So being a part of this advanced technology helps you to get equipped with the best technical knowledge and drives you to achieve more in your career.
Motivating Work Environment – Since the company is full of young and aspiring minds, you will feel definitely motivated to give your best. Apart from this, the company has a diverse work environment meaning people from different parts of the world work here. So you have a lot more opportunities to mingle with like-minded people and learn from the best.
Space for Growth – Verizon is an excellent company to grow and advance your career professionally. Verizon is known for giving world-class training programs to its new and experienced employees. You can learn a new thing every day and get exposed to the best technology right in front of you, which you can learn about it so much and implement in your work.
Bright Employees – The management of Verizon picks the right employees for its company. They are given award-winning training programs and assist them in their careers. Working for Verizon is like helping yourself grow professionally, where you can learn so much from your fellow employees, team leads, and other people in the organization.
More compensation benefits – Verizon provides salaries and benefits that are more than basics. Moreover, it offers performance-based incentives, yearly hikes, and health insurance benefits.
As we have seen the reasons to work for Verizon as a Fresher, let us move on to the hiring/interview process in Verizon and then know the Verizon Fresher Salary for different job profiles.
Verizon's Interview Process
Verizon's Interview process takes place in 3 rounds. Online Test, Technical Round, and HRRound.
Online Test – Round 1

In Round 1, the company conducts an online test in the format of Multiple Choice Questions (MCQ), for which they provide 90 minutes to complete answering the questions. This section does not have any negative marking but has an average score to clear the exam. The MCQs are from Computer Science basics and coding questions. Students passing this round move on to round 2, the technical round.

Technical Round – Round 2

In Technical Round, they ask questions about programming languages, the latest technologies, databases, SQL queries, and more. So the round will be more technical-oriented, asking questions from the above-mentioned topics and questions based on your resume.

HR Round – Round 3

This is the last round of the interview process. In this round, HR asks basic questions like "Tell me about yourself?", your strengths and weaknesses, career aspirations, "why Verizon?", "open to relocation?" and also questions based on your project.
Now, finally, let us see about the fresher job roles in Verizon and the corresponding Verizon Salary Package for Freshers.
1. Software Engineer
Software Engineers also called Software Developers design or write software (codes) for computers and operating systems. If you like to think out of the box and do analytical or logical thinking easily, you can find the Software Developer job more rewarding.
The day to day tasks or responsibilities of a Software Engineer is,
Design and manage the software systems.
Analyze and test new software programs.
Improve software for speed and performance.
Writing and testing the code.
Team up with clients, engineers, security specialists, and stakeholders.
Show the new features to stakeholders and customers.
Skills needed to become a Software Developer
Efficient in coding languages like Java, Python, C C++, or Scala.
Efficiency in Object-Oriented programming concepts.
Knowledge of Database Architecture.
Should know how to perform Agile and Scrum Project Management.
Knowledge of Operating Systems.
Knowledge of Cloud Computing.
Knowledge of Version Control.
Should know how to perform Design Testing and Debugging.
Should have an eye for detail.
The salary of a Software Engineer in Verizon is around Rs. 5 lakhs to 6 lakhs per annum which is above average than the other software engineers working in other IT Companies.
If you need additional software developer skills like testing, you can choose FITA Academy's Software Testing Training in Chennai and comprehensively learn the Software testing processes.
We also conduct Java Training in Bangalore for students in Bangalore and they are trained by industry experts to help them gain a broad knowledge of Java Programming knowledge.
2. Solutions Architect
A Solutions Architect is an IT professional who bridges the gap between the IT team and the Business Operations team. A Solution Architect finds out what are the needs of his/her organization and how the needs can be fulfilled using the company's IT team.
The responsibilities of the Solutions Architect are,
Evaluating the technology environment.
Conduct brainstorming sessions to know the potential solutions for business needs or problems.
File the testing requirements.
Find areas where the IT team can support business goals and needs.
Team up with a business unit to find IT strategies and to enhance current IT implementations.
Develop and transmit software and services across organizations.
Share with clients the ideas and internal stakeholders to find appropriate solutions.
Solutions Architect skills
Knowledge of SAP (Systems, Application, and Products in Data Processing).
Knowledge of Cloud Computing technologies like AWS and Azure.
Knowledge of Apache and Kafka.
Proficiency in Informatica.
Efficiency in Data Management.
Knowledge of Software Development Life Cycle.
Knowledge of Big Data Analytics.
Having experience in Enterprise Architecture.
Comprehending IT Security, Infrastructure, and governance.
The Salary of a Solutions Architect in Verizon is around Rs. 5 to 6 lakhs per annum.
Becoming a Solutions Architect is easy by joining FITA Academy's AWS Training in Chennai and learning the cloud concepts precisely.
3. Security Engineer
Security Engineers otherwise called Information Security Engineers are professionals whose main role is to monitor the security of the networks and computers and implement solid security in them so that either the network or systems cannot be hacked by an outsider.
The main responsibilities of a Security Engineer
Creating a list of security standards and practices.
Developing new ways to resolve existing security issues.
Suggest security improvements to management.
Install and use software such as firewalls and data encryption programs.
Guide with the installation and processing of new security products and procedures.
Scan the networks to find the issues.
Perform penetration testing.
Oversee networks and systems for security breaches and intrusions.
Create Automation scripts to handle and track incidents.
Security Engineer Skills
Knowledge of Computer Networking
Knowledge of Operating Systems
Proficiency in Network Security
Knowledge of both computer hardware and software
Proficiency in computer programming
Should know how to implement virus protection software.
Knowledge of Encryption
Should know the Risk Identification and Management process.
Communication skill
Analytical and Logical thinking
Problem-solving skills
The salary of a Security Engineer in Verizon is around Rs. 5 lakhs to 6 lakhs per annum.
To become a Security Engineer at Verizon, students can choose the Ethical Hacking Course in Chennai and master the concepts of network and computer security.
4. Cloud Security Architect
A Cloud Security Architect is an IT professional who monitors an organization's Cloud Computing Strategies. The Strategies include Cloud Adoption plans, Cloud App Design, Cloud Management, and Monitoring. They also monitor Application Architecture and deployment in Cloud Environments, including Public, Private, and Hybrid Cloud.
Responsibilities of a Cloud Security Architect
Develop a well-performing cloud strategy and manage the adaption process.
Often analyze cloud applications, hardware, and software.
Create and organize cloud systems.
Team up with the IT Security team to oversee the company's cloud privacy.
Solve the technician issues within the given time.
Provide help in infrastructure movement techniques, including bulk application transfers to the cloud.
Find the top cloud solutions that can solve the needs of the company.
Cloud Security Architect skills
Knowledge of Java, Python, or C#.
Knowledge of Networking.
Proficiency in Data Storage and fundamentals.
Knowledge of Security handling
Knowing Cloud technologies like AWS and Azure.
Communication in Verbal and Written.
The Salary of a Cloud Security Architect (fresher) in Verizon is around Rs. 4 to 5 lakhs or 5 to 6 lakhs per annum.
To become a Cloud Security Architect in Verizon, choose our AWS Training in Chennai or Cloud Computing Training in Chennai to broaden your knowledge of the cloud computing technology and be an expert in the same.
5. Full Stack Developer
A Full Stack Developer is the one who develops both the front-end and backend of a website or a software application. Since they are developing both sides of the websites and applications, they need to know or know different programming languages and databases and be skilled in Graphic Design and UI/UX Management.
Responsibilities of a Full Stack Developer
Guiding with the design and development of the software.
Find the eros and debug the software to enhance its performance.
Write precise code for the front-end and back-end of the software.
Create user interactions on the web applications themselves.
Develop servers and databases to store the data of the application.
Make sure cross-platform compatibility and the application are enhanced.
Make the applications responsive ie to be compatible with all the platforms.
Create APIs and Restful Services.
Be updated about the technological advances to enhance the software.
Converse with the decision-makers about the effectiveness of the new technologies.
Be aware of the security, maintenance, and scalability when developing a website or application.
Full Stack Developer Skills
Knowledge of front-end programming languages like HTML, CSS, and JavaScript.
Knowledge of Back-end programming languages like Python, Ruby, and PHP.
Knowledge of Version Control Systems like Git and Github.
Knowledge of APIs like REST and SOAP.
Proficiency in Databases like JSON, SQL, and NoSQL.
Skill in Graphic Design and Visual Communication.
Knowledge of Apache or Nginx servers.
The Salary of a Full Stack Developer in Verizon is around Rs. 4 to 5lakhs per annum.
To join as a Full Stack Developer in Verizon, enroll in our Full Stack Developer Course in Chennai at FITA Academy and learn the technology from basics to advanced concepts.
Conclusion
The Verizon India Salary for Freshers is high compared to the freshers who are working in other IT companies. If you want to gain high-level skills, knowledge, and expertise, enroll in FITA Academy and learn the course of your choice. We provide extensive training for all the courses and the training is taken by industry experts who have first-hand knowledge and experience in the related technology. Therefore the Verizon Salary for Freshers in India depends on your competency level, knowledge, and expertise. To utilize the opportunity and work in established companies like Verizon.