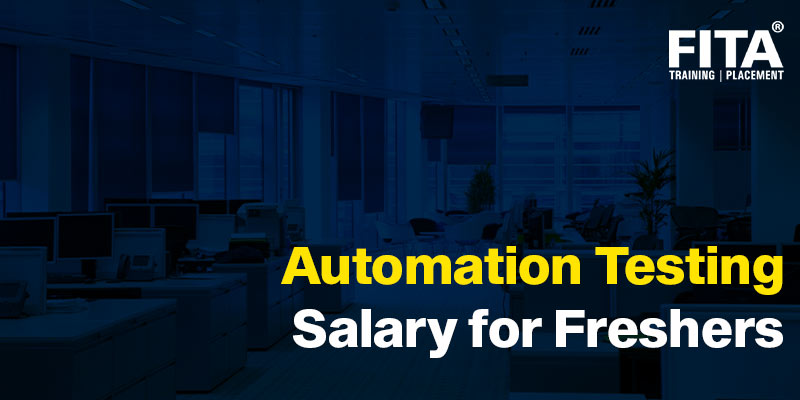 Every product you hold in your hands and every website or application that you scroll in a day has undergone several tests before hitting the market. Automation Testing salary in India for freshers is exciting! People working in the technology sectors would have been familiar with the software tests. They develop software and put it through numerous tests to get it right. This is a part of the production cycle and is indispensable for the outcome to be as good as the consumer expects. Automation testing is software testing another software. Wondering its possibilities? Let's catch up with the Automation Testing knowledge from the scrap.
What is Automation Testing?
The term 'Automation' refers to a method of automating a manual process through the use of technology. The aim is to eliminate manual, monotonous, and tedious tasks. Automation Testing is the process of testing software and other products of technology to make sure they meet the demands of the consumers. Though these tests can be done manually, the company has greater benefits when it is automated.
In addition to entering test data into the system under test, the automation testing software also compares expected and actual outcomes by providing complete test reports. Software Test Automation necessitates considerable financial and human resources. Without eliminating the human labour the Automation Testing salary in India for freshers is well-bounded.
Software Testing is a set of several repeated test cycles which is performed for the successive development of the software. This can be easily carried out with the Automation Testing Software. The goal is to reduce the number of test cycles performed manually and not to eliminate manual labour. The automation software is written in C#, JavaScript, and Ruby programming languages by the Automation Developers. The Quality Assurance (QA) Automation Tester writes the test scripts for all the tests which are required to carry out the tests repeatedly. Learning Software Testing course in Bangalore might give you an expansive knowledge on this whole process.
Automation Testing Salary for Fresher
Automation Testing software can improve production scale and provide speedy delivery and streamlined releases. This has attracted a large assortment of business firms and companies to install automation software in their process. Proportionally, the demand for Automation Testing jobs has created a huge vacuum. Popular companies like Barclays, Deloitte, Mphasis, Capgemini, and Accenture have huge vacancies for Automation Testing freshers. The Automation Testing salary for freshers is given in the bar chart.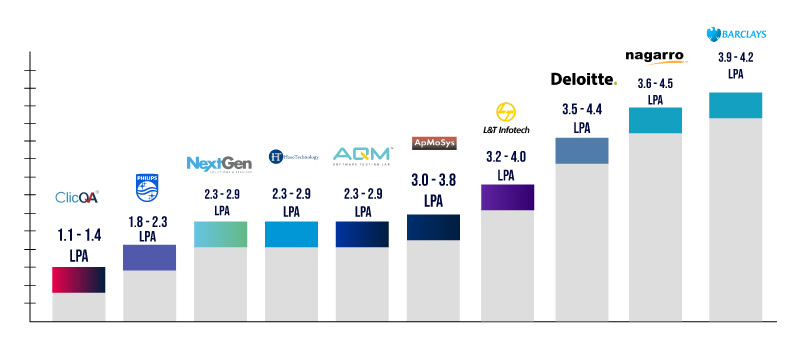 Also, check the Software Tester Salary for Fresher, to decide which category you wish to focus on, in this domain. The domain has the most sought-after job that has vacancies on a huge scale in this fast-growing technological world.
Why Automation Testing?
Using automation technologies allows for more regular testing, which improves overall functionality. Software development cycles necessitate recurrent testing, typically of the same test.This is feasible with automation testing, allowing team members to focus on other tasks. It can also provide more accurate and consistent results than manual testing. It ensures whether the product is market-ready or ready to move on to the next stage of development. This affirmation encourages the team to keep growing.
Manually, it is challenging to test multilingual sites. Automation comes in aid in such situations and helps in developing user-friendly products all over the world. Another significant benefit of automation is running it overnight without human intervention and completing the test report. The advanced level establishes a Continuous Integration environment in which the new build is automatically tested after each code push. We can develop Jobs using CICD solutions like Jenkins that execute test cases when a form is deployed and email the test results to stakeholders.
All these benefits of Automation Testing lead to abundant job vacancies in the Software testing sector. This makes the Automation Testing salary for fresher attractive among the other job opportunities. The Software Testing Course in Chennai is yet another advantageous course that can fetch you a job in this field.
What and What Not To Be Taken for Automation
It is not possible to automate all testing simultaneously. As a result, you must first pick which tests to automate. Let's consider the kind of tests that can benefit from automation and, as a result, should be automated:
Tests that have high possibilities for error-prone when carried out manually.
Long and mundane tests
Extensive tests with multiple data set requirements.
Tests that are difficult to be carried out manually.
High risks tests and other time-consuming tests.
Tests that need to run on more than two software and hardware.
Tests that have to be executed on an ad-hoc basis.
There are specific tests that happen to be effective only by manual efforts. Though the software fails to perform these tasks, the Automation Testing salary for fresher remains unchanged. This is because of the development of numerous software in the market. The few tests that are hard to automate with any software include
Tests, where the correct input keeps changing every time.
Tests with conditions to search for a reported bug. These ad-hoc tests cannot be performed by automation. Yet, if you have created the bug, the automation is suitable for carrying out the function.
Tests with features that are still evolving cannot be performed by automation.
Automation Testing Salary based on Location
The Automation Testing Salary in India for freshers also changes concerning the location. The same job post can fetch you a high salary package depending upon the IT hub you choose to relocate. The average Automation Testing salary for fresher depending on the various IT hubs in India is graphed below,
Types of Automation Testing
Knowing the types of automation will help you choose the suitable test for the product created or developed by your team. The Automation Tests under Software Testing can be classified based on three parameters. They are
Phases of tests
Types of testing
Types of tests
Learn more similar information in the Software Testing Interview Questions and Answers to easily crack the interview and get placed. The Automation Testing salary in India for freshers remains standard besides, the type of test or frame or tool that has been chosen to perform the test. The salary package for Automation Testing is comparatively higher than the salary package of any fresher who works in manual testing.
Automation Tests based on Types of Testing
Functional Tests
Functional testing verifies each function/feature of the program and focuses on if the product performs based on the needs of the clients. You validate the actions you take in the software via functional testing. It can be done both manually and automatically. Testing a website's login functionality is an example of functional testing.
Non-Functional Tests
Non-functional testing examines how a product acts and checks non-functional characteristics such as performance, dependability, and usability. It is based on the expectations of customers. You validate the software's performance through non-functional testing. Manually completing the task is difficult. Testing how long it takes for a website's dashboard to load is an example of non-functional testing.
Automation Tests based on Phases of Testing
Unit Tests
The smallest component of the software is referred to as a unit. All of the different portions of the code must function properly for the complete product/software to function properly. Unit testing provides a detailed perspective of the code's performance. Unit testing is typically preferred by developers.
API Tests
Application Programming Interface (API) is the interface between database and UI. API testing examines the application's end-to-end functioning. The method does not require keyboard inputs and outputs, and testers will not have access to the source code. Instead, the software is designed to make API calls to obtain the output, and the testers take note of the system/application response to ensure that it functions properly.
UI Tests
UI testing examines the validity of visual elements on the system's interface, such as fields, buttons, labels, links, text fields, and pictures. For a better user experience, these elements must be presented correctly and function as intended. The application's functionality in managing user actions, which are done via their keyboard, mouse, and other input devices, is also tested during UI testing. Its primary goal is to deliver a user-friendly interface and experience.
User Interface (UI) is one of the highly demanding jobs on LinkedIn. Choosing the web development field would be the most promising career in the future. Web development is the umbrella term under which production and testing take place. Join UI UX Design Course in Chennai to take up a career in the production section of web development.
Automation Tests based on the Types of the Test
Smoke Tests
Smoke testing is also called Build Verification Test (BVT). It is carried out at the early stages of application testing. Smoke testing is performed whenever a new feature or capability is added to an existing build, and it serves as a checkpoint before moving on to the next level of testing.
Integration Tests
I&T testing, string testing, and thread testing are all terms used to describe integration testing. Its purpose is to ensure that all of the application's components are communicating properly. In other words, because software is made up of many smaller modules, testers arrange them logically and test them as a group in integration testing to identify weaknesses while maintaining the interaction between the software modules.
Regression Tests
Regression testing is used to ensure that the produced and tested software continues to function correctly after modifications have been made. Bug fixes, configuration tweaks, and program enhancements are all possible changes. This is accomplished by re-running the application's functional and non-functional tests.
Security Tests
As a tester, you don't want to be responsible for data breaches, lost revenue, or a bad reputation as a result of unauthorized access. Security testing, which uncovers the underlying dangerous threads, vulnerabilities, threats, malware, and other dangers in the software program, is performed to avert such incidents and prevent hostile intrusion. Security testing enables you to identify all flaws and vulnerabilities in the system's security, which you may address quickly by devising appropriate solutions.
Performance Tests
Even if your product is subjected to a severe workload, it must function without latency. So, before releasing your product to the public, you should test it for responsiveness, speed, stability, dependability, and robustness under a specific workload.
Acceptance Tests
The final level of testing before a product is released to the market is the Acceptance Test. It is done to ensure that all needs of the user, business, and customer requests are met to assess whether or not the product is ready for delivery.
To gain extensive knowledge in the types of software and automation tests, check out the Software Testing Tutorial now! Learn everything about software testing and build a strong career in the field of web development.
Automation Testing Salary based on Experience
Automation Testing is a promising career in the future. Since automation reduces time, labour and cost, there would be a large number of companies installing automation in their test processes. The structure growth of the salary package for an automation tester is given below.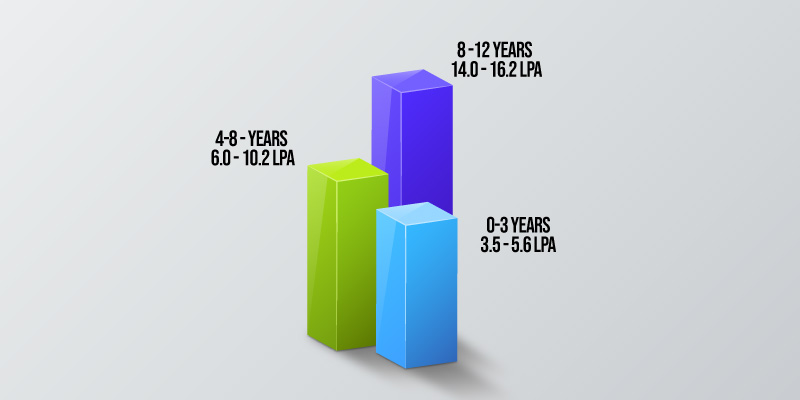 Popular Automation Testing Tools
Automation tools should be chosen based on the type of test and the product you have developed. Below are some of the widely used automation tools,
Selenium – Web applications and web browsers are tested with this tool. It supports multiple platforms and browsers as it has many powerful tools for testing website applications. Since Selenium is the most highly used automation tool, learn Selenium Training in Bangalore to attract the interview panel and get placed.
Sikuli – GUI testing is performed with this open-source automation tool.
JMeter – Performance tests are carried out with this tool.
QuickTest Professional (QTP) – Automated Regression Testing is carried out with the help of this tool. It identifies the gaps between expectation and reality as well as detects the error it holds.
JUnit and NUnit – Both these tools are used to perform unit tests.
TestNG – More than a tool, it works like a framework supporting Selenium, Appium, REST Assured, etc. Check out our Selenium Tutorial to gain knowledge about the tool from the scrap.
SoapUI – This tool is used in API testing.
Appium – Native app testing and Mobile app testing is carried out with this tool.
Automation Testing Salary based on Skills and Tools
With great skills comes a great salary package! You can increase your Automation Testing fresher salary in India by learning the required skills. Automation Engineer fresher salary can be increased by learning programming languages like C#, JAVA, Python, etc. This Python Tutorial might help you if you don't have any idea about the Python programming language.
Learning any one of the programming languages could be beneficial in writing the automation software. This can open up Automation Developer job opportunities in the IT sector. Join Java Training in Chennai to get trained as a professional Automation Developer.
| S.No. | SKILLS | SALARY APPROXIMATION |
| --- | --- | --- |
| 1 | Python | 3.4 LPA to 4.1 LPA |
| 2 | Java | 3.2 LPA to 4.0 LPA |
The magnitude of Python in developing websites, software, and task automation are unimaginable. Join Python Training in Bangalore to become a master in both roles with rewarding promotions and hikes. Industrial Automation Testing salary for fresher can be increased with the knowledge of working in the popular automation tools like Selenium, SoapUI, Ranorex, Appium, etc.
| S.No. | SKILLS | SALARY APPROXIMATION |
| --- | --- | --- |
| 1 | Selenium | 3.3 LPA to 4.5 LPA |
| 2 | Appium | 2.0 LPA to 4.0 LPA |
The future entirely depends upon the technology in this Internet era. This means more production of technological gadgets and the development of numerous websites and applications. This emphasizes the mass demand for Automation Testing. In addition, learn Selenium Training in Chennai to upgrade the Automation Testing salary for fresher. Make a choice that is wise!