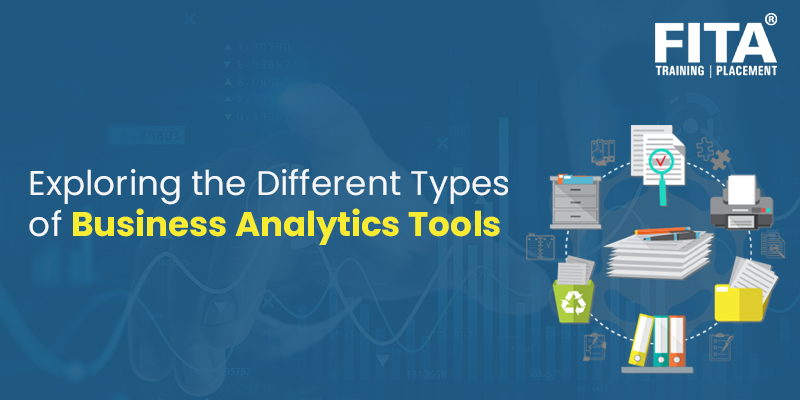 Business analytics is widely utilized by numerous renowned companies such as Starbucks, Accenture, Amazon, Splunk, Google, Uber, and IBM. This approach helps them tailor product recommendations, make informed logistical choices, and gain deeper insights into markets, customers, and internal operations. It's worth noting that it's not only large corporations that benefit from business analytics; nearly 70% of small businesses allocate over $10,000 annually towards various forms of data analysis.
What is Business Analytics?
Business Analytics refers to the utilization of statistical techniques, technologies, and practices to examine past data and extract valuable insights that can enhance strategic decision-making. This particular branch of data management solutions leverages business intelligence and encompasses diverse methodologies such as data mining, statistical analysis, and predictive analytics.
Multiple types of business analytics aid in the examination and conversion of data into meaningful information, enabling the identification and anticipation of current trends and outcomes. This, in turn, facilitates smarter, data-driven decisions in the business realm.
Interested in learning Big Data Analytics? Join FITA Academy's Big Data Analytics Courses in Chennai and start learning from the basics concepts.
Types of Business Analytics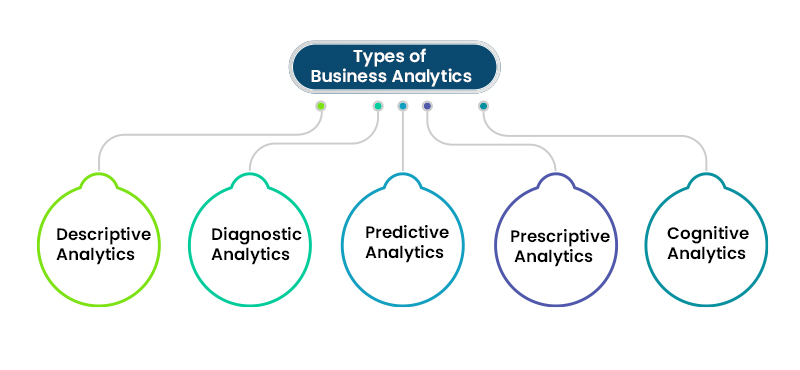 There are four widely recognized types of business analytics: descriptive, diagnostic, predictive, and prescriptive. A newer type, known as cognitive analytics, has emerged, incorporating artificial intelligence (AI), machine learning (ML), and deep learning techniques. While each of these analytics types is effective on its own, their true power is realized when combined together.
Descriptive Analytics
Descriptive Analytics examines historical data to understand how a unit responds to specific variables. It involves tracking key performance indicators (KPIs) to gain insights into the current state of a business. The process includes determining relevant metrics, identifying necessary data, collecting and preparing the data, analyzing it for patterns, and presenting the findings in visual formats for non-experts.
Diagnostic Analytics
Diagnostic Analytics aims to understand the reasons behind past events. It utilizes techniques such as drill-downs, data mining, and correlations to uncover underlying factors. This type of analytics is often used as a precursor to Descriptive Analytics and can help explain outcomes in various domains like finance, marketing, and cybersecurity.
Predictive Analytics
Predictive Analytics utilizes historical data trends to forecast the likelihood of future outcomes. It employs data mining, machine learning algorithms, and statistical modeling to make predictions. This type of analytics helps improve areas such as customer service, efficiency, fraud detection, and risk management, enabling businesses to make informed decisions and identify opportunities.
Prescriptive Analytics
Prescriptive Analytics generates recommendations for handling similar future situations based on past performance. It employs tools, statistics, and machine learning algorithms to analyze internal and external data. Prescriptive Analytics provides insights into what may happen, when, and why, enabling businesses to make proactive decisions and optimize their operations.
Cognitive Analytics
Cognitive Analytics is a newer type that combines Artificial Intelligence and Data Analytics. It leverages multiple analytical techniques to analyze large datasets, uncover customer behavior patterns, and identify emerging trends. Cognitive Analytics explores unstructured data sources like images, text documents, emails, and social media posts to extract valuable insights and find optimal solutions to business questions.
Learn Data Science Course in Chennai and take your first step into being a data scientist.
What Business Analytics Types Do Different Companies Prefer?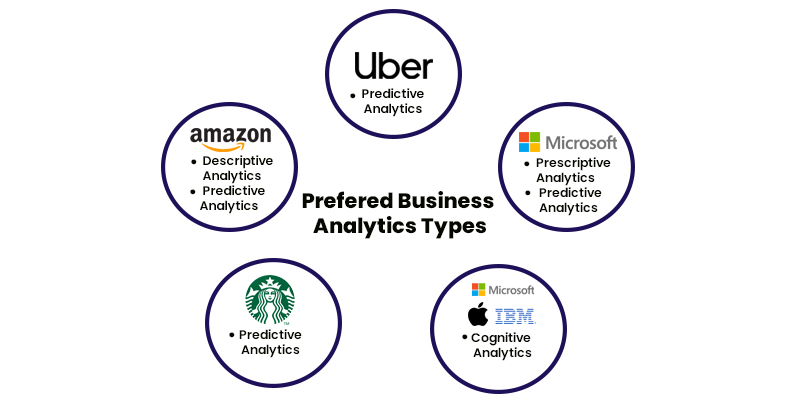 Prominent companies employ a variety of business analytics types, often incorporating multiple types in a sequential manner, starting with Descriptive Analytics and culminating with Prescriptive Analytics.
Amazon utilizes Descriptive and Predictive Analytics by analyzing customers' historical shopping data to predict the likelihood of future purchases. These analytics methods also enable Amazon to personalize product recommendations for its customers.
Microsoft focuses on Prescriptive and Predictive Analytics to enhance productivity and collaboration within their organisation.
Uber leverages Predictive Analytics to estimate real-time demand, which aids in optimizing its operations and improving customer support.
Starbucks benefits from Predictive Analytics to forecast customer purchases and offer enticing promotions.
Leading IT firms like Apple and Microsoft, and IBM employ Cognitive Analytics in their respective virtual assistants—Siri, Cortana, and Watson—to analyze unstructured data and provide intelligent responses and solutions.
By utilizing these diverse business analytics types, these companies gain valuable insights and make data-driven decisions that drive their success.
What Types of Business Analytics are Right for You?
Each type of business analytics holds significant importance depending on specific requirements. However, among the various types, Prescriptive Analytics stands out as particularly crucial and is commonly chosen by many companies.
When it comes to analyzing regular reports for everyday business operations, Descriptive Analytics is the most suitable choice.
For making predictions about future scenarios using machine learning and deep learning techniques, Predictive Analytics is preferred as it offers a more advanced approach.
When the objective is to identify the best possible options and obtain actionable insights instead of simply monitoring data, Prescriptive Analytics is the ideal choice. It is particularly beneficial for healthcare decision-makers aiming to optimize processes and reduce production costs.
In the realm of social media campaign analytics and digital marketing, Diagnostic Analytics is valuable for assessing the effectiveness of campaigns and identifying areas for improvement.
These four techniques can be utilized sequentially, or one can directly employ Prescriptive Analytics if the key areas requiring optimization have been identified.
A closer look at the business strategies of top companies reveals that Prescriptive Analytics and Cognitive Analytics take the lead in this spectrum.
Join a Machine Learning in Bangalore and take your first step into being a data scientist.
Business Analytics Tools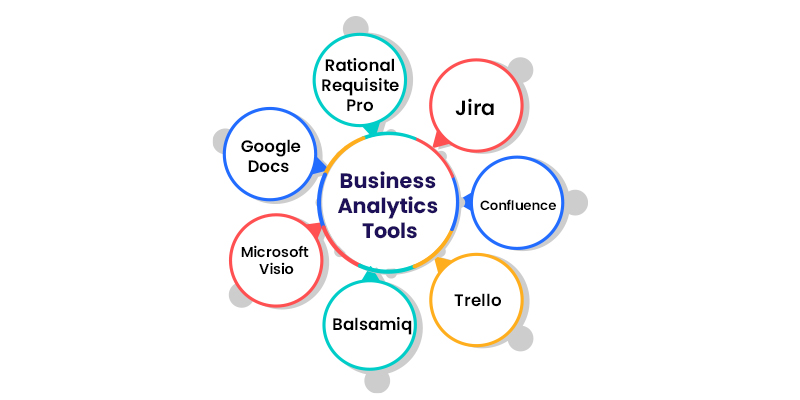 Business analytics tools provide users with the ability to gain accurate and profound insights, ranging from basic statistical functions in spreadsheets to advanced applications involving predictive modelling and data mining.
These tools play a crucial role in analysing various business reports and data, ultimately delivering optimal outcomes for users. For instance, one such tool is OmniSci, which empowers users to interactively query, visualise, and facilitate Data Scientist workflows across vast amounts of data.
Business analysts also utilise a range of other tools, including:
Jira
Confluence
Trello
Balsamiq
Microsoft Visio
Google Docs and Spreadsheets
Rational Requisite Pro
These tools provide essential functionalities and support the work of business analysts in effectively managing and analysing data, collaborating on projects, and documenting requirements.
Business Analytics Jobs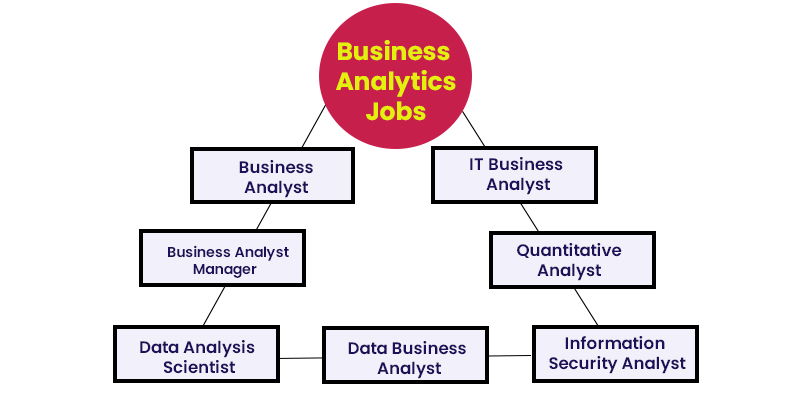 Based on Glassdoor data, the average annual salary for a business analyst is approximately $68,346. With a strong understanding of business analytics, you can pursue various career opportunities in the field, including:
Business Analyst: This role involves analysing business processes, identifying areas for improvement, and providing data-driven insights to support decision-making and drive organisational growth.
Business Analyst Manager: As a business analyst manager, you would oversee a team of analysts, guide their work, and ensure successful project completion. You would be responsible for aligning business goals with analytical strategies and driving effective collaboration within the team.
Data Analysis Scientist: This position involves applying advanced statistical and computational techniques to analyse large datasets, uncover patterns, and extract meaningful insights. Data Analysis scientists play a crucial role in helping businesses make data-driven decisions and solve complex problems.
Data Business Analyst: In this role, you would focus on leveraging data to drive business value and inform strategic decision-making. You would work closely with stakeholders to identify data needs, design data collection processes, and analyse data to support business objectives.
Information Security Analyst: Information security analysts are responsible for protecting an organisation's computer systems and networks from potential cyber threats. They assess security risks, develop and implement security measures, and monitor systems for any suspicious activities.
Quantitative Analyst: Quantitative analysts, also known as "quants," use mathematical and statistical models to develop investment strategies, assess financial risks, and make informed trading decisions. They work primarily in the finance industry, utilising their strong analytical skills to support investment and trading activities.
IT Business Analyst: IT business analyst straddle the divide between business requirements and technological options. They collaborate with stakeholders to understand requirements, design and implement IT systems, and ensure that technology aligns with the organization's goals and objectives.
Learn Big Data Analytics Courses in Coimbatore with experienced trainers and real-time projects.
Despite the increasing need for professionals in the field of business analytics, there is a lower inclination among individuals to pursue careers in this domain. In order to excel in the present business landscape, it is essential to possess the ability to comprehend and effectively communicate with data.