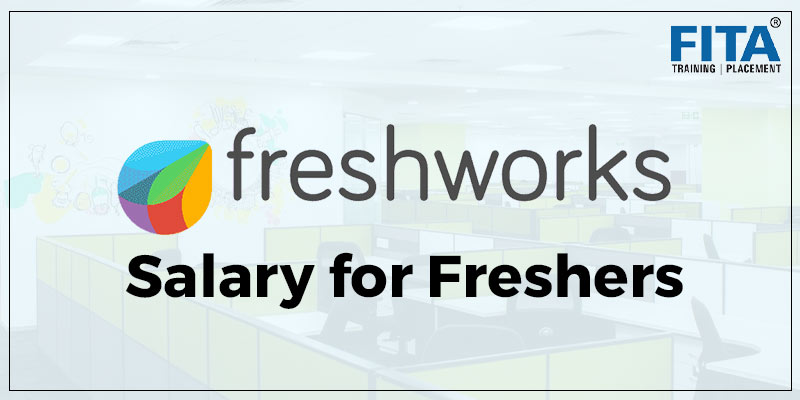 Freshworks is a Cloud-based Software Solution company founded by Girish Mathrubootham and ShanKrishnaswamy in Chennai in 2010. The company builds software products for companies of all sizes from big to small and medium-sized companies. Some of the sectors it covers are Customer Service, IT Service Management, HR Management, Sales Automation, Marketing Automation, Sales Automation, and more. The products it has built are Freshdesk, Freshsales, Freshmarketer, Freshservice, and Freshteam. Its Software Products and Services are used by more than 1,30,000 organizations in the world.
There are many roles available for freshers under each domain in Freshworks as Freshworks is a big company having 1000+ employees with offices worldwide. Freshworks has many domains like Accounting, Administrative, Customer Service, Design, Education, Engineering, Finance, Human Resources, IT and Development, Logistics, Marketing, Sales, Production, and Public Relations. Let us see some of the basic job roles, responsibilities, and salaries in Freshworks. The Freshworks Salaries for freshers are determined as per the candidates' proficiency in technology.
Before jumping into the topic, let us understand what are the compelling reasons to join Freshworks and the team?
It's Fascinating

Freshworks always believe in doing things differently. They have maintained the same approach till now and that's why they were able to compete with big corporations very soon after the company was launched. Moreover, Freshworks come up with fresh ideas and implement them differently thus they are able to provide a unique and quick solution to the companies which have a difficult time providing valuable service to the customers.

Healthy Working Environment

Freshworks has a healthy working environment where everyone can share ideas and implement them together for the growth of the company. Freshworks like people with innovative ideas and knows ways to deploy them successfully. This is the potential reason for them to achieve success sooner in a small amount of time. Besides Freshworks has a diverse working environment where people from different parts of the country and even different parts of the world work together. This makes it lively for you to work and bond with tech-savvy people like you. The Freshworks Salary for Freshers is high in the field and incentives are also given based on the performance.

Ordinary People, Extraordinary things

The People at Freshworks do extraordinary things by doing things differently. At the end of the day we all want to make money but doing our work satisfyingly and impacting the lives of others is what a successful business would do.

Be the Reason for Change
As we already saw, Freshworks aims to bring change to the business world by developing beneficial and valuable products and services. That is the driving force of Freshworks company and if think you have innovative ideas and can be the reason for change then Freshworks is definitely the company for you.
FITA Academy is one of the best Software Training Institutes in Chennai as it offers first-hand training for many software courses like Java Training in Chennai and more. The Freshworks Salaries are one of the most things that attract the employees towards Freshworks.
Let us now see the job roles one by one each
Freshworks Salary For Freshers
1. Graphic Designer
A Graphic Designer is someone who gets across their idea and information through compelling visual concepts. They use design software for creating visuals that attract audiences. They methodically merge design elements to create visually appealing layouts, advertisements, reports, logos, etc. Some of the responsibilities of the Graphic Designer are,
Learn Design briefs and decide the wants and needs.
Explain strategies to clients to engage target audiences.
Find the best ways to illustrate and get across the clients' vision while following the best design practices.
Develop designs using Illustrations, Photo Editor, and Layout Software.
Pick Colours, Images, Toppogrpahy, and layout for communication materials including websites, logos, yearly reports, advertisements, and social media posts.
Develop drafts for client review and revise them based on the feedback received.
Team up with other members such as marketing, sales, and business operations throughout the various phases of the project.
The Salary of a Graphic Designer in Freshworks ranges between Rs. 2 to 3 lakhs per annum.
2. UI/UX Designer
The UI/UX Designer is the one who deals with both the User Interface and User Experience Design. He/She deals with designing the User Interface elements like menus, buttons, layouts, etc. Then he checks whether the designed elements are working in the desired way. Let us now see the responsibilities of the UI/UX Designer,
Developing User-centered designs by learning the user requirements and user feedback.
Developing User flows, wireframes, prototypes, and mock-ups.
Transforming requirements into style guides, design systems, design patterns, and inspiring user interfaces.
Illustrate UI elements such as input controls, navigational components, and informational components.
Develop Original graphic designs ex: images, tables, and sketches.
Find and Solve UX problems.
Team up with a product, Engineering, and Management teams.
The Salary of a UI/UX Designer in Freshworks ranges between Rs. 3 to 4 lakhs per annum.
To become a UI/UX Designer in Freshworks, students can choose UI UX Course in Chennai at FITA Academy and gain all the necessary skills and knowledge.
3. Visual Designer
A Visual Designer is responsible for designing for a variety of platforms that include internet and intranet sites, movies, games, wearables, etc. They are also responsible for designing digital projects based on creative and client meetings.
Some of the roles and responsibilities include,
Provide the look and feel for various interfaces, including websites, mobile devices, apps, wearables, and games.
Perform within brand guidelines to design layouts that establish a brand's style or voice through visual touchpoints.
Create user-centered interaction models, wireframes, or screen mockups.
 Create logos, icons, and infographics.
Closely team up with IT and business teams to solve difficult issues like interaction models and data visualization.
Gain basic coding knowledge to work hand-in-hand with coders.
Develop and organize production assets.
The Salary for a Visual Designer in Freshworks ranges between Rs. 3 to 4 lakhs per annum.
4. Data Analyst
A Data Analyst is a professional who gathers, cleans, and interprets data to find the hidden information in the data. Mostly Data Analysts help businesses find their customer's current needs and want and what might be their future needs so that businesses can come up with solutions and build products and services according to their needs. Now let us see the roles and responsibilities of the Data Analysts.
Utilizing automated tools to extract data from primary and secondary sources.
Getting rid of corrupted data and fixing coding errors and problems.
Building and maintaining databases, data systems, and rearranging data in a readable format.
Analyzing and assessing the quality and meaning of data.
Exude data by reviewing reports and performance indicators to find and rectify code problems.
Utilize Statistical tools to find, analyze and interpret patterns and trends in complex data sets which might be useful for the diagnosis and prediction.
Authorizing numerical value to important business functions so that business performance can be evaluated and compared over a period of time.
Assessing local, national, and global trends that affect both the organization and industry.
The Salary of a Data Analyst for a fresher in Freshworks ranges between Rs. 2 to 4 lakhs per annum.
The Freshworks Salary for a Data Analyst is given above and the salary might vary according to the experience and salary.
5. Front-End Developer
A Front-end developer is the one who develops the client-side of the website using the front-end languages such as HTML, CSS, and JavaScript. He/She is responsible for developing a user-friendly UI that works seamlessly for the visitors. Also, a front-end developer has to keep updating his knowledge of the development field as the tools and technologies related to front-end development keep changing continuously. Some of their responsibilities include,
Improving the User Experience.
Utilizing front-end languages like CSS, HTML, and JavaScript to bring the website's client-side to life.
Building and managing the user interface.
Deploying Design on Mobile Website.
Developing tools that enhance site interaction regardless of the browser.
Maintaining Software Workflow.
Maintaining SEO best practices.
Getting rid of bugs and testing for usability.
The salary of a fresher front-end developer in Freshworks is Rs. 3 lakhs to 5 lakhs per annum depending on the location of the company and their skillsets.
The Freshworks Salaries boost its employees to be more productive and valuable to the company.
6. Technical Writer
A Technical Writer is a Professional who converts technically difficult documents to clear and concise information for the users. A technical writer should have major skills like writing skills, technical skills, knowledge of technologies, communication skills, must be detail-oriented, and should have teamwork skills. Some of the responsibilities of the technical writer include,
Design, develop and modify technical documents including user specifications, manuals, and test plans to facilitate the software and product development.
Discuss with software and technology subject matter experts to assess, modify and review complex documentation for all departments, employees,
Evaluate the user and employee needs and technically document them.
Understand complex software/product features and functions and convert them into a precise readable format.
Team up with product designers and developers to study product samples and write instructions in an easier way to understand.
Inform senior technical writers about the progress and assessment of the technical content.
Review the content created by team members and other writing staff.
The Salary of a Technical Writer in Freshworks ranges between Rs. 2 lakhs to 4 lakhs per annum.
7. Data Scientist
A Data Scientist is an IT professional who deals with large sets of data to extract meaningful information from them. A Data Scientist should have a broad knowledge of many technologies like Computer programming, Mathematics, Statistics, Data Visualization, Big Data, etc. Data Scientists help organizations to come to a conclusive decision to serve customers in a better and more beneficial way. Let us see what are the important responsibilities of a Data Scientist in Freshworks.
Put forward the right questions and begin the discovery process.
Get Data, clean, and process the data.
Put data together and save the data.
Initiate Data investigation and exploratory data analysis.
Pick one or more essential models and algorithms.
Implement Data Science techniques such as Machine learning, Statistical Modelling, and Artificial Intelligence.
Quantify and improve results.
Show the final result to stakeholders.
Do changes based on feedback.
Do the process again to solve a new problem.
The salary of a fresher Data Scientist in Freshworks ranges between 2 to 5 lakhs per annum.
FITA Academy offers Data Science Course in Chennai for aspirants teaching the basic, advanced, and core concepts of Data Science through the best industry experts.
8. Web Developer
A Web Developer is one who is responsible for creating and maintaining websites. A Web Developer can be a front-end developer, back-end developer, full stack developer, and webmaster. So let us consider a full stack web developer here so that we can discuss the complete responsibilities of a web developer.
Building front-end website architecture.
Developing user interactions on websites.
Building back-end website applications.
Developing servers and databases for functionality.
Do cross-platform optimization for smartphones.
Do responsiveness for applications.
Team up with Graphic Designers for web design features.
Monitoring a project from conception to completed product.
Designing and developing APIs.
Meet both the requirements such as technology and the users.
Stay updated on developments in web applications and programming languages.
The salary of a full stack web developer in Freshworks is Rs. 3 to 4 lakhs per annum.
Students who wish to become Full Stack Web Developer in Freshworks can choose FITA Academy's Full Stack Developer Course in Chennai.
For Bangalore students, we conduct Python Training in Bangalore to help them learn the programming language in a more efficient way.
9. Systems Engineer
A Systems Engineer takes care of Engineering, Business, Management factors of a project or a system. he/she is responsible for designing, developing, testing, and evaluating software as well as computers by using their knowledge of computers, engineering, and mathematics. Some of the responsibilities of the Systems Engineer are
Oversee existing systems to maintain structural integrity.
Monitor the development and installation of new hardware and software.
Launch and configure operating systems and other software.
Offer technical direction to IT and support staff.
Make sure consistent availability of technical resources.
Deisgn and deploy security systems and redundant backups to maintain data safety.
Develop custom scripts to lessen the need for human intervention.
The salary of a Systems Engineer in Freshworks is around Rs. 3 to 5 lakhs per annum.
10. Software Engineer
A Software Engineer is one who implements the principles of software engineering to design, develop, test, and analyze computer software. In other words, it is the in-depth study of engineering to design, develop and maintain the software. The responsibilities of a software engineer can be divided into categories.
Development
Developing Software, performing Modeling, Simulation, and Testing.
Doing Quality Assurance checks.
Performing Object-oriented Design.
Analysis
Evaluating user requirements, software, and code.
Performing Systems Risk and Reliability Analysis.
Performing Object-Oriented Analysis.
Maintenance
Overseeing Systems performance
Completing maintenance and software integrations for existing systems.
Managing compliance with industry standards.
Innovation
Performing application development for the full cycle of software.
Finding and reviewing new technologies before implementation.
Planning and Project Management
Develop and carry out project plans.
Develop technical specifications.
The Freshworks Software Engineer Salary for a fresher is around Rs. 3 to 4 lakhs per annum.
To become a Software Engineer in Freshworks, students can choose Python Training in Chennai or other related courses at FITA Academy.
Conclusion
The Freshworks Fresher Salary purely depends on your knowledge, skillsets, and performance. There are more job opportunities available in Freshworks and the work environment is also diverse and healthy. So before joining for a job role, study about it and know the roles and responsibilities of the particular job role.