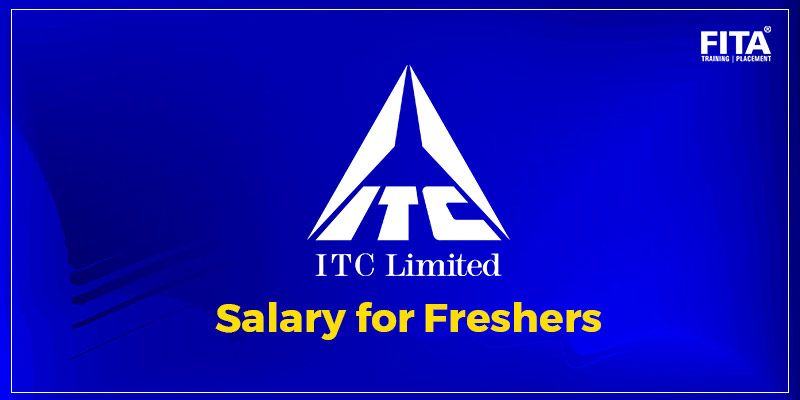 ITC Limited is an emerging conglomerate company based in Kolkata. It has been serving diversified areas such as Hotels, FMCG, Packaging, Paperboards, Speciality Papers, Agriculture, and Software services. Since its foundation, the company has created broader opportunities for students and young professionals to initiate their fresher careers with a good ITC salary. Besides, it has been famous for its solid waste recycling for more than 14+ years. Aspirants looking for a great professional career can go for the ITC career page.
To be one of the employees in ITC, choose any of the Software Courses at FITA Academy where you will be trained through industry and technology experts, and through them, you can gain first-hand and rewarding knowledge.
Before discussing the topic, ITC Salary for Freshers, let us know the exciting reasons to join ITC Technology Solutions as a Fresher.
Why Should I join ITC as a Fresher?
ITC is one of the Top Companies in India – ITC is one of the top companies in India, so joining it, you will have plenty of opportunities to enhance your knowledge. The training program is conducted to impart the essential knowledge to freshers so that it will be easy for them to work. The training program will be top class as top experts in the company will conduct it.
ITC Provide Amazing Perks – ITC provides its employees unique perks (benefits) such as Medical insurance, allowances, marriage loans, etc. It also has an in-built Gym that helps its employees be fit and healthy. Some other perks include stationery, bags, t-shirts, coffee mugs, umbrellas, etc. The ITC package for Freshers is high compared to other companies in India, which is also one of the fantastic perks in ITC.
Cab Facilities – ITC provides cab facilities for all of its employees, including morning and night cab facilities. Also, ITC's office buildings are located in the centre of the metropolitan cities, so that it will be easy for its employees to commute and reach the office.
Exponential Growth –  Since ITC is one of the top IT companies, you will get to work with the latest and most advanced technologies in the field. You also get to meet people from different countries, so there is a high chance of meeting many like-minded people with whom you can discuss the business needs and come up with efficient solutions for them. The ITC Salary for Freshers helps you in your growth to achieve financial stability in your life.
Interview Process of ITC
Let us now see the Interview Process of ITC then we can see the ITC Salary Structure for Freshers.
ITC conducts three rounds of Interviews for Freshers to select the candidates and place them in the correct job position. Let us see the rounds one by one in detail.
Round 1 –  Aptitude Test
In Round 1, an Aptitude test is conducted to test the candidates on various skills. The Aptitude test has three sections: Quantitative Ability, Logical Reasoning, and English Comprehension.
Quantitative Ability – The Quantitative Ability section contains basic mathematics, applied mathematics, and engineering mathematics questions.
Logical Reasoning – The Logical Reasoning Section contains questions on Coding Deductive Logic, Data Sufficiency, Objective Reasoning, Data Arrangement, Coding Pattern Recognition, Number series Pattern Recognition.
English Comprehension – The English Comprehension section contains questions on Vocabulary such as Synonyms, Antonyms, Contextual Vocabulary, Grammar topics such as Error Identification, Sentence Improvement, Construction, and Comprehension Reading.
Round 2 – Technical Round
Technical Round is the second round in the ITC interview process. Those who cleared the aptitude test are called for the second round. In the second round, you can expect questions related to programming and coding. So you should be well versed in concepts such as OOPs, DBMS, Computer Networks, and Operating Systems. You should also be fluent in any programming languages such as C C++, Java, or Python. You may be tested on your coding skills, which you have to write using pen and paper.
Additionally, you should be prepared on answering questions about the latest technologies such as Artificial Intelligence, Big Data, and so on. You will also be asked about your project and internships in the technical round.
Round 3 – HR Interview
This is the final round in the ITC Interview Process and the crucial round where your overall strengths and weaknesses are tested. So read about various HR interview questions and answers on the net and be prepared to answer them all.
Some of the questions that might be asked during the HR round are,
Tell me about yourself?
What do you consider as your strengths and weaknesses?
Why should we hire you?
Why do you need this job?
Explain your final year project?
The candidates who clear all the rounds are selected for the particular position in the company. The ITC Salary Structure, which is provided during the joining time, varies in depth from a professional to a professional.
Eligibility Criteria
Candidates must have scored 60% and above in X and XII.
They must have scored 60% marks in graduation.
Between twelfth and graduation, a minimum of the one-year interval is allowed.
UG or PG in BE, Btech, ME, MTech or MCA.
There should be no backlogs at the time of the interview.
We have seen about the reasons to join ITC then the ITC Interview Process. Now let us see the job roles available in ITC Technology Solutions and the ITC salary for freshers engineers.
ITC Salary for Freshers
1. Programmer Analyst
A Programmer Analyst is a professional who develops software applications for business needs. They not only develop but also test, analyze and manage the software applications. They are also called Systems Analysts or Application Programmers.
The Responsibilities of the Programmer Analyst
Finding the bugs in the programs.
Creating support documentation for applications and system patches.
Replying to support requests.
Managing the company website and intranet site.
Finding and arranging project requirements.
Launch Troubleshoot systems.
Creates and manages applications and databases by analyzing the client's needs and requirements.
Find the requirements by communicating with the Clients.
Provide software support to issues whenever necessary.
Programmer Analyst Skills
Having the capability to direct complex technical projects.
Having experience in working with network protocols, computer hardware, and software.
Having outstanding knowledge of data backup, recovery, security, integrity, and SQL.
Fluent Written and Verbal communication skills.
Having an eye for detail.
A programmer analyst's Salary in ITC for a fresher is around Rs. 2 to 3 lakhs per annum.
To become a Programmer Analyst in ITC, join our software course like Java Training in Chennai or Python Training in Chennai at FITA Academy, which will help you master the language.
For Bangalore-based students, we conduct the Java Training in Bangalore also at FITA Academy, where students will undergo the training through industry experts who are coding experts and have real-time knowledge of the language.
2. Software Programmer
A Software Programmer is the one who develops software for the system as well develops software applications for their company.
Software Engineer Responsibilities
Write new codes for new programs.
Updating the existing programs.
Finding and getting rid of the coding errors.
Writing programming codes for different operating systems.
Make sure the programs are safe and secure against cyber security issues.
Explore and design new software programs for business applications, computer games, and computer operating systems.
Analyze the software and systems that make computers and hardware work.
Develop programs by finding the business needs.
Find the areas for modification in the existing programs.
Software Programmer Skills
Coding Skills in Java, Python, C#, .Net, Mean, and Ruby.
Software Development skills.
Knowledge of Object-oriented Design concepts.
Software Testing and Debugging skills.
Analytical Thinking and Logical Thinking skills.
Fluency in Written and Verbal communication.
The Salary of a Software programmer in ITC is around Rs. 2 to 3 lakhs per annum.
To become a Software Engineer, join our DevOps Training in Chennai at FITA Academy and learn the language from basics to advanced topics.
3. UX Developer
A UX Developer is a professional who ensures the users have the best time or experience while navigating the website. They ensure all the UI features work correctly and it is working as per their functions.
The Responsibilities of a UX Developer
Developing designs for business requirements.
Developing user flows, wireframes, prototypes, and mockups.
Converting requirements into style guides, design systems, design patterns, and attractive user interfaces.
Creating UI elements such as input controls, navigational components, and informational components.
Developing Graphic Designs.
Finding UX problems.
Teaming up with a product, engineering, and management teams.
Inducing the customer feedback, usage metrics, and usability findings into design in order to improve user experience.
UX Developer Skills
Knowledge of Prototyping, Wireframing, User flows, and Mockups.
Knowledge of Visual Design and Design Software.
Proficiency in User research and Usability Testing.
Knowledge of Agile Management.
Proficiency in Information Architecture.
Understanding Application Development.
Collaboration skills.
Communication and Presentation Skills.
Time Management skills.
The Salary of a UX Developer in ITC for a Fresher is around Rs. 2 to 3 lakhs per annum.
To become a UX Developer in ITC, join our UI UX Course in Chennai at FITA Academy and learn the technology to the fullest.
4. Dot Net Developer
A Dot Net Developer is a Web programmer who has a strong understanding of the .Net frameworks for creating different online software, applications, development, and interfaces.
The Responsibilities of the Dot Net Developers are,
Creating text-based applications.
Writing codes to access applications.
Solving system-related defeITC.
Estimating the risk.
Creating procedure and policy documents to run applications.
Designing different systems for an application and tracking them.
Dot Net Developer skills
Proficiency in ASP.NET MVC
Skills in Coding
Knowledge of programming languages such as C#, F#, VB.Net.
Knowledge of database applications such as SQL Server, NoSQL, and Oracle.
Understanding and being proficient in client-side technologies such as HTML, CSS, JavaScript, and Bootstrap.
Knowledge of Budget Design.
Time Management Skills
Problem-solving skills
The Salary of a Dot Net Developer in ITC for a Fresher is around Rs. 2 to 3 lakhs per annum.
To become a Dot Net Developer in ITC, join our Dot Net Course in Chennai at FITA Academy and learn the programming language's basics, essential and advanced concepts.
5. Quality Engineer
A Quality Engineer is the one who monitors the development of a product through its entire cycle to make sure the product has quality. He is responsible for monitoring all the development stages of a product and making sure the quality of the product is convinced at no stage.
Responsibilities of the Quality Engineer
Develop and deploy quality standards.
Oversee workflows, processes, and products.
Develop quality documentation.
Team up with Operation Managers to find the opportunities for improvements to workflow and controls to make sure they correspond with the reliability of the codes and regulations.
Reassess the systems and processes to develop continuous improvements and efficiencies.
Examine and test the processes and products to make sure they meet the standards.
Quality Engineer Skills
Knowledge of Maths and Computers.
Communication skills
Being Curious
Critical Thinking Skills
Being Accurate and flexible
Coding Skills
Analytical and Logical Thinking skills
Team Work skills
Creativity and Time Management Skills
The Salary of a Quality Engineer for a Fresher in ITC is around Rs. 2 to 3 lakhs per annum.
Conclusion
In this Blog, the ITC Salary for Freshers, we have discussed the job roles available in ITC and their corresponding salaries in detail. Additionally, we have also seen the job responsibilities and skills for each job profile. There are more additional roles available in ITC, and the ITC infotech salary package for fresher also varies according to their job responsibilities. So kindly explore them and make the best use of the information. In the end, the ITC infotech salary for freshers is designed according to a candidate's skills, knowledge, proficiency, and expertise in technology.